Investment Thesis
On December 20 th, 2017, the Trump Administration officially passed The Tax Cuts and Jobs Act, representing the first major tax reform America has seen since the 1980's. The new tax legislation reduces the tax rate on American corporations to 21%, down significantly from the previous marginal rate of 35%. While some companies will not see a dramatic change to their cash flows as a result of this bill, other companies, such as Ulta Beauty (ULTA), are poised to benefit immensely. Ulta is currently trading at around $212/share, but the full impact that tax reform will have on Ulta's underlying value is not yet priced in. Ulta will see a material increase in its cash flows due to the reduction in tax rates, which the company will re-deploy to create value for its shareholders. Additionally, Ulta has proven to be a well-managed industry leader that is outperforming its competition. For these reasons, I render Ulta to be an undervalued stock and a solid long-term play.
Company Overview
Ulta Beauty is currently the largest beauty retailer in the USA, offering customers a wide selection of cosmetics, fragrances, skin care products and salon services. With a market cap of $14.5 Billion, Ulta competes in the United States beauty products and salon services industry, while currently operating 974 stores across the country. Led by CEO Mary Dillon, the company is looking to eventually expand it s store count to between 1400-1700, adding around 100 stores per year. Cosmetic products continue to make up the largest share of Ulta's revenue (51%), with skincare and haircare products each accounting for 20% of total revenues. While 2017 Q4 earnings are not being released until early March 2018, analysts estimate that the company will realize $5.9 Billion in revenue in FY 2017, representing a 22% YOY increase. This translates into an estimated $522 Million in Net Income and an EPS of 8.42, indicating that EPS is expected to see a 29% YOY increase. Ulta's stock hit a 52-week high in June 2017, after reaching a price of $313. Following a steep sell-off that lasted until October 2017, where its stock price hit $190, the stock has since rallied up to its current level.

 Understanding Tax Reform
Before analyzing the impact that tax reform will have on Ulta's fundamental value, it is imperative to first understand how tax reform will benefit certain company's and sectors on a broad level. Simply put, any marginal tax rate reduction adds directly to a company's free cash flows. As an equity investor, shareholder value is generated through a company's ability to generate and effectively deploy such free cash flows. This is precisely why the Tax Cuts and Jobs Act has had such a significant impact on the markets recently, and quite frankly, has been a major catalyst for the historic bull run we are currently witnessing. American company's that were previously subject to the full 35% tax rate will see a 14% increase in free cash flows this year, which will be deployed by company's in attempt to increase shareholder value. It is important to note, however, that certain sectors were not previously subject to the full tax rate, and therefore will not benefit as much from lower rates.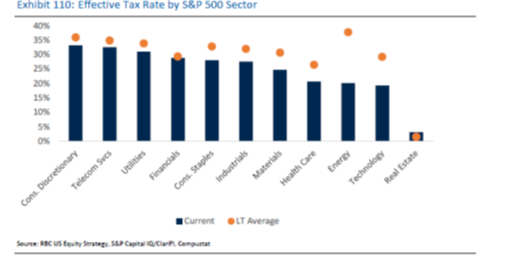 As is seen in the chart above, company's in sectors such as Tech and Energy will not see a material increase in free cash flows, since their marginal tax rates had already been near or even below the new 21% rate. Companies in most sectors, however, had been subject to tax rates well above 21%. These companies will inevitably see increases to their net earnings, EPS and free cash flows in 2018, and I believe that this presents equity investors with an opportunity to capture additional value in this unprecedented bull market.
How Will the Additional Free Cash Flows Be Deployed?
Though it is now clear that tax reform will benefit many companies in the form of increased free cash flows, another question remains: How will companies deploy this extra cash to create shareholder value? Deployment of extra cash will mostly take place in the form of share buybacks, capital expenditures, dividends, debt pay down and M&A. Of these potential uses of cash, I believe that efficient companies choosing to buyback shares, increase dividends and/or invest in additional capital will be best positioned to create shareholder value. Companies with large debt liabilities on their balance sheets can also use the extra cash proceeds to pay down existing debt and even offset the impact of rising interest rates. However, this means that these companies would forgo a potential return on its cash flows that can be realized through investment in capital. Lastly, excess cash can be used by companies to acquire other firms. M&A's are empirically proven to destroy value more often then create it, and for this reason I believe that for most companies, there are more efficient ways to allocate the proceeds from tax reform.
ULTA: Tax Reform is Not Priced In
With a comprehensive understanding of the impact lower tax rates will have on some company's, it is now possible to demonstrate that Ulta is an undervalued stock, due to the fact that the shareholder value Ulta will generate with its excess cash proceeds has yet to be fully priced into the stock.

The chart above illustrates that Ulta has historically been subject to tax rates above the previous 35% top marginal rate. Since Ulta operates solely within the United States, it is easy to understand why this was the case. With the new tax legislation, Ulta's effective tax rate will now be near 21%, meaning that Ulta's incremental increase in free cash flows will be larger then most companies. Though the exact tax rate that Ulta will pay is still unknown, the company stands to potentially increase its free cash flow by 16.5% in 2018, assuming that it will be subject to a 21% rate.
Forward-looking analyst estimates are also shown above, and one thing immediately becomes clear: analysts covering the stock have yet to factor in lower tax rates when revising Ulta's forward-looking EPS figures. As a result, I adjusted Ulta's projected 2018 EPS using its new tax rate, as is seen below: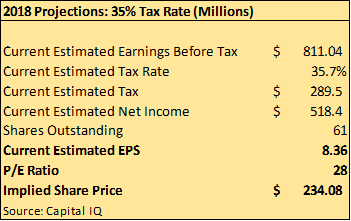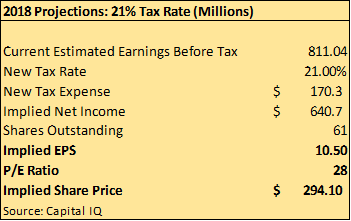 When adjusting for Ulta's new tax rate, as opposed to the 35.7% rate assumed in current analyst projections, the forward-looking 2018 EPS becomes revised up to 10.50. When taking into account Ulta's current P/E multiple of 28, it seems as if the stock is rather fairly priced at the unadjusted estimated EPS of 8.36. However, after appropriately adjusting the forward-looking EPS and assuming a constant P/E multiple, Ulta's implied share price increases by over 38% to around $294.
 Discounted Cash Flow (NYSE:DCF) Analysis
In attempt to further validate my investment thesis, I performed a DCF analysis in attempt to estimate Ulta's implied share price based on the present value of its future cash flows.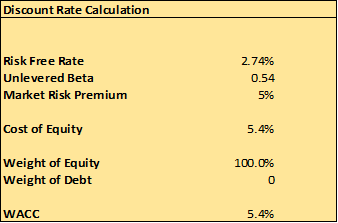 I applied the CAPM formula to calculate Ulta's cost of equity, which effectively represents Ulta's WACC given that the company has no long-term debt on it's balance sheet. Since Ulta has no long-term debt, I used unlevered beta as an input into the model, while assuming a market risk premium of 5%. Historically, the market risk premium has ranged from 3.5%-5.5%, and I decided to use the high end of the range to reflect current market conditions.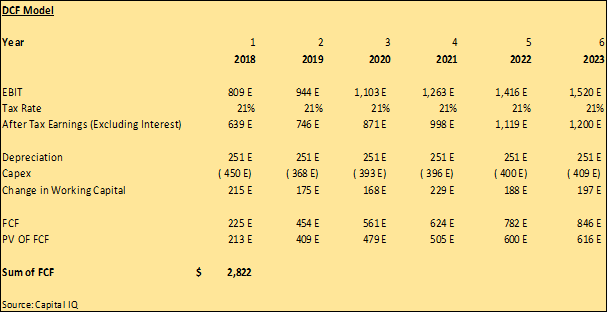 Using consensus analyst projections, I created a basic DCF model that estimates the present value of Ulta's future free cash flows. However, I did so assuming that Ulta will be subject to a lowered 21% tax rate, and used my own estimates to project future changes to working capital. Working capital came out to 20.74% of revenues in 2017, and I simply carried this rate forward to future years, as can be seen in the following exhibit.

Finally, to calculate the estimated present value of future cash flows, I discounted the cash flows for each future period using my estimated WACC of 5.4%.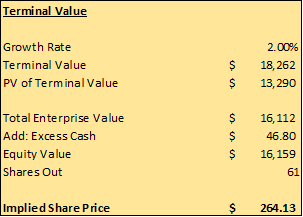 In the last step of my DCF model, I estimated the present value of Ulta's terminal growth rate using the Gordon Growth method. The terminal growth assumption was made based on The OECD's long-term U.S. GDP forecast, which comes out to around 2%. By adding the present value of future free cash flows to the present value of Ulta's terminal value, I was able to compute an implied enterprise value for the company. Lastly, I added the excess cash on Ulta's balance sheet to this enterprise value to determine the company's equity value, and an implied share price of $264.13 (a 24.5% upside). 

 Given that any DCF model is highly dependant on WACC and terminal growth rate assumptions, the above sensitivity analysis illustrates the range of implied share prices for various WACC and terminal growth rates. It is important to note that the free cash flow projections in my DCF model do not incorporate additional returns on capital that Ulta will realize through the deployment of its tax savings. It is therefore likely that the implied share price given by the model is understated, and thus one should give more credence to the higher end of the sensitivity range provided above.
2018 Outlook: How will Ulta Deploy Excess Cash?
It is now clear that Ulta will benefit immensely from tax reform, as the company stands to add substantially to its free cash flow balance moving forward. I have illustrated that the market has yet to fully adjust its valuation of Ulta, and the company has therefore become undervalued. According to RBC Capital Markets Equity Research, forward revisions for the consumer discretionary sector, in particular, has been slow and yet to pick up. Ulta seems to be an example of a consumer discretionary that has yet to be appropriately revised upward, simply because it is currently difficult for analysts to model the future impact of tax reform. Ulta can deploy its cash proceedings from tax reform in several ways, and it is now up to management to decide how to best allocate that capital. Therefore, it is necessary to analyze what management is likely to do with the extra cash, and how shareholder value can be created from cash deployment.

The above excerpt taken from Ulta's 2016 annual report provides several key insights. Firstly, Ulta has no long-term debt on its balance sheet, while management is seeking to expand Ulta's store count and double the company's market share by 2019. As previously discussed, Ulta can choose to deploy its tax reform proceeds through share buybacks, capital expenditures, dividends, debt pay down and M&A. Without any debt, Ulta can focus on other value-creating uses of cash. The company does not pay out dividends, and management has not indicated any upcoming changes to its dividend policy. Furthermore, Ulta's management has historically preferred to expand organically, as the company has never acquired another player in its 28-year history. Given that valuations in the market are currently extremely stretched, it seems unlikely that management would suddenly choose to pursue an acquisition. With this in mind, I believe that management will create shareholder value through additional capital expenditures and share repurchases that will be enabled because of tax reform.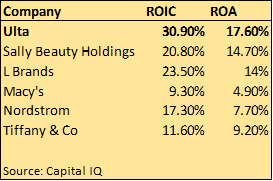 As is seen above, Ulta's return on invested capital (ROIC) and return on assets (ROA) are considerably higher then its industry competitors. This indicates that management is doing an outstanding job of allocating capital towards high quality assets that generate shareholder value. Thus, if management decides to use its extra cash proceeds to accelerate expansion and invest in capital assets (which seems to be the likely scenario), investors should be confident that additional value will be created rather then destroyed. Of course, this is highly unlikely to be already priced into the stock, as it is simply too early to predict the precise impact on future cash flows that such investment will have.
In addition to increasing capital expenditure, it is conceivable to believe that tax reform will incentivize management to ramp up its share repurchasing program. Through buybacks, Ulta's management can redistribute capital to shareholders and ultimately increase value for shareholders. In 2017, management repurchased a total of 1.2 Million shares at a cost of $309 Million, and have indicated that they are committed to repurchasing more shares in the future. With excess cash now on hand, and a management group that is actively seeking to ramp up buyback activity, it is likely that we will see additional value-creating buybacks in 2018.
Overall, it is clear that tax reform will allow provide Ulta with additional free cash flows that will be deployed to increase shareholder value, whether it be in the form of capital investment or share buybacks. More importantly, since Ulta's management has yet to announce its exact plans on the deployment of tax proceeds, it is difficult for analysts to incorporate these additional returns on capital into Ulta's future cash flow projections. Thus, the full impact of tax reform has yet to be priced into the stock, and I can reasonably conclude that there is an opportunity to capture additional shareholder value that has yet to be realized.
Comparing Ulta against its Competitors
Though Ulta will be a beneficiary of tax reform, virtually all of its industry competitors were also previously subject to top marginal tax rates near 35%. Since it's competitors will also see significant increases in free cash flows, an obvious question needs to be posed: Why should the fund choose to invest in Ulta as opposed to one of its competitors? When comparing Ulta's performance against its competition, the answer becomes clear.

As is evident above, Ulta has been significantly outperforming its competition. While competing retailers have struggled to grow revenues and profits, Ulta has done so tremendously despite the recent difficulties plaguing the retail sector. Even more impressive is the fact that Ulta's management has led a successful expansion without taking on long-term debt. This gives Ulta greater financial flexibility to finance its future expansion plans, and allows management to allocate tax proceeds towards more efficient uses. While highly levered competitors may be forced to use tax proceeds to pay down debt, Ulta's debt-free capital structure will allow the company to re-invest these proceeds and generate returns on capital that are unrivaled by its competitors.
Conclusion: Ulta's Stock is set to Rise in 2018
After performing a thorough analysis on the impact that tax reform will have on Ulta's valuation, it is evident that the stock is undervalued by the market at $238. Ulta is a company that will benefit immensely from tax reform, and this has yet to be priced into the stock. In addition, Ulta continues to outperform its competition while management has sustained a strong balance sheet and impressive returns on invested capital.  Based on this track record, I am confident that management will allocate tax proceeds towards efficient uses that will create shareholder value. Ulta's growth and expansion will continue in 2018, and I believe that tax reform will act as the catalyst that will drive Ulta's price back towards its previous 52-week high. Based on my implied share price and DCF analysis, I am assigning a price target range between $290-$300, and recommend placing a long-position in the stock.
Disclosure: I/we have no positions in any stocks mentioned, but may initiate a long position in ULTA over the next 72 hours.