Northwest Resources' (ASX: NWR) managing director presented to investors this week in Sydney at the "Stars in 2012 Series" - and answered questions from the floor which included the company's project similarities to Northern Star Resources' (ASX: NST) Paulsens.
The comparison comes from both company's having high-grade narrow vein gold projects located in Western Australia.
[* EDITOR NOTE: Northern Star was trading around $0.03 in 2010, and last traded at around $1.25 due to the company's production success at the Paulsens Gold Mine.
In May 2010, Proactive Investors wrote that Northern Star Resources was worth $0.30 when it was trading at $0.045 and no other group we are aware of was covering NST].
Northwest's Blue-Gold Spec Project has a resource of 329,000 ounces at an average grade of 15.8 grams per tonne gold.
THE PRESENTATION CAN BE ACCESSED HERE
Question from John Phillips, chief operating officer for Proactive Investors
You have compared Northwest Resources' Blue-Gold Spec to Northern Star Resources Paulsens, and just so investors know Northern Star was $0.03 two years ago and now well over $1, I understand the companies are at different stages - but how soon can you get Northwest to where Northern Star is now?
John Merity, Northwest Resources
"There is a development timeline at Northwest and as we move through to our Definitive Feasibility Study and Project Financing, and then on into production, you can see that the production profiles are pretty much the same at around 70,000 ounces of gold.
"It might be regarded as a cheeky comparison - but I don't think that it is due to the similar mining widths and mining styles.
"Well managed underground mining delivers these sought of returns (referring to Northern Star's share price increasing around 40-fold in two years) - and I think that Northwest has the mining team in Western Australia to deliver.
"Don't let the antimony cloud your judgement on this - it is just a vehicle for us to sell the gold - and in fact I think as the antimony price goes up - my cash costs go down."
Comparison between Northwest and Northern Star
The table has all of the details, plus Doray Minerals (ASX: DRM).
It is worth noting that the annualised production of both companies is pretty much the same, but Northwest has total costs per ounce of $833 (incl. Sb credits) - whereas Northern Star has total cash costs of $1,016.
The initial mine life for Northwest is 59 months, compared to Northern Star's 8 months (which has now been extended).
Northwest is currently targeting production in around a year, which places Northern Star about two years ahead of them.
Highlighting the undervaluation of Northwest, the company has a market cap. of just $24 million with the preliminary economic assessment of the project having an NPV (12%) of $137 million and an IRR of 62%.
Northern Star has a market cap. of well over $500 million - or more than twenty times that of Northewest.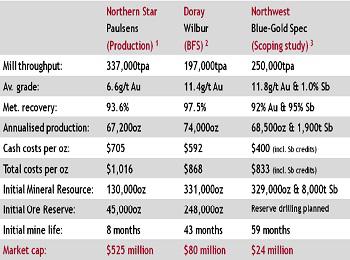 Proactive Investors is a market leader in the investment news space, providing ASX "Small and Mid-cap" company news, research reports, StockTube videos and One2One Investor Forums.