Mutiny Gold (ASX: MYG) has taken another significant step on the path to production by signing an agreement with GR Engineering Services for the immediate start up of design and construction of the processing plant at the company's high grade Deflector deposit.
Maintaining momentum towards the December quarter 2013 production start-up, Mutiny has already ordered long lead items.
The positive news has been flowing all week for Mutiny, which included an increase in the JORC Reserve by a further 63,000 ounces of gold equivalent to 415,000 ounces of gold Eq, along with support from the market with a US$2 million placement to a strategic North American investor.
John Greeve, managing director, commented on the decision to award the EPC contract to GR Engineering, and said that the deal represents an exciting new phase for the company.
"We are pleased to have a well respected EPC company like GR Engineering working with the Mutiny team to bring the high-grade, low cost Deflector copper-gold project to development.
"What is particularly pleasing is the strong commitment GR Engineering has made to begin work on Deflector immediately, which is a strong reflection on the quality of the Deflector project.
"We look forward to working closely with GR Engineering as we continue to achieve further important Deflector development milestones."
The proposed Deflector plant is comprised of a three stage crushing circuit incorporating a conventional jaw and two cone crushers, single stage ball mill, gravity recovery centrifuges, flotation circuits, concentrate thickener and filter followed by tailings storage; all at a design capacity of 480 ktpa for oxide and transition ore and 380 ktpa for the primary ore. (See picture of the flowsheet).
Agreement with GR Engineering
The agreement also facilitates GR Engineering's commencement of phase 1 of the design and engineering process for the Deflector Project's processing facility, with Mutiny targeting a production start-up for the plant by the December quarter of 2013, subject to the date for site mobilisation and timing to project funding.
GR Engineering, which has confirmed it will start work immediately, has been intimately involved with the project during the course of the Bankable Feasibility Study and Definitive Feasibility Study, completing the initial design and cost estimates.
As part of the agreement, GR Engineering has been engaged to commence early initiation activities including engineering design, office mobilisation of key personnel, procurement of long lead equipment items and the preliminary engagement of sub-contractors and site works planning, enabling the Project to progress while finance is finalised.
The recently completed due diligence by Mintrex Engineering on the GR Engineering DFS capital cost estimates and GR Engineering's extensive knowledge of the Project were instrumental in the selection of GR Engineering as the preferred candidate to deliver the Project on an EPC basis.
Deflector on target
Alongside the signing of the EPC agreement with GR Engineering, the Deflector Project remains on target for production to commence in the December quarter of 2013 through:
- Procurement of the ball mill;
- Completion of the accommodation camp tender process;
- Completion of the mining contract tender process; and
- Near completion of all permitting requirements.
Deflector project Process Flowsheet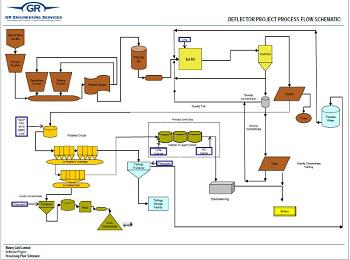 - Crushing Ore and Storage: ore extracted from the mine will be trucked to the surface and delivered to the ROM pad where it will be stockpiled. It will then be fed through a three stage crushing process. The Primary Crusher will be a single toggle jaw crusher with the Secondary and Tertiary Crushers being cone crushers.
- Grinding: crushed ore will be ground using a 4.2m diameter, 5.3m long primary ball mill with 1650kw motor.
- Gravity Recovery: gravity recovery will be used to recover the gravity gold via two centrifugal concentrators.
- Rougher Flotation: comprises a bank of eight forced air, mechanically agitated cells (8m3 each).
- Cleaner Flotation: comprises of a bank of five forced air, mechanically agitated cells.
- Concentrate Dewatering: concentrate from the cleaner circuit is pumped to the 5m diameter, high rate, concentrate thickener, followed by a concentrate filter to produce a cake for bagging and transport.
- Tailings Storage: an existing tailing storage facility will be expanded for the project, with adequate capacity to store 7 years of process tailings.
- Total Recovery of gold is approximately 93% including gravity and flotation.
Analysis
The start up of the design and construction of the processing plant at Deflector is another sign of the momentum building and how far Mutiny's MD John Greeve and his team has come in the past 1-2 years.
With long lead items to be ordered early, this provides impetus toward a Q4 2013 production start-up target.
Recent newsflow has been strong; catalysts for increasing the share price and valuation are ahead.
Proactive Investors believes Mutiny Gold will amply reward medium to long term investors given the quality, exploration upside and attractive financial returns from planned production at Deflector.
Proactive Investors Australia is the market leader in producing news, articles and research reports on ASX "Small and Mid-cap" stocks with distribution in Australia, UK, North America and Hong Kong / China.