Aspire Mining Ltd (ASX: AKM) owns a 100% interest in the Ovoot Coking Coal Project located in the Khuvsgul province of northern Mongolia.
RECENT DEVELOPMENTS
Following June 2012 elections, Mongolia established a new coalition government led by Prime Minister Norov Altanhuyag of the Democratic Party.
His appointment is likely to herald a friendlier investment climate. In addition, that Mongolia will work more closely with its "third neighbors" (Japan, Korea, USA, Australia, Canada etc) to attract foreign investment needed to develop mines and build essential infrastructure. This is a significant development that could prove a boon toAspire Mining as it develops Ovoot Coking Coal Project.
The change in government in Mongolia heralds potentially large scale increases in resource investment. The new government has vowed to boost the country's economy, setting the goal of achieving annual economic growth of 14 to 15 percent per annum over the next eight years. In November 2012 the Mongolian Government completed a US$1.5 Bn bond issue to support the development of infrastructure projects in the Country such as the Tavan Tolgoi deposit, the Tavan Tolgoi Railway and Sainshand Industrial Park. The issue was 10-times oversubscribed. The Government is intending to complete a further $5 Bn bond issue during early 2013.
The Mongolian Foreign Minister has recently been quoted that "Mongolia is pro economic freedom, pro foreign investment" and on this front, Mongolia's new Government is "not closing the door on any country or company". Officials in China have also been quoted recently that "China is interested in cooperating with Mongolia on processing mineral and energy products and infrastructure construction", an encouraging progress forward considering the failed Chinese Chalco bid for SouthGobi Resources earlier this year.
Based on existing Coal Reserves, Aspire's Ovoot Project is the second largest coking coal Reserve in Mongolia after the very large government owned Tavan Tolgoi deposit, and already sits comfortably as a teir 1 asset after only having 30% of the 509km2 Ovoot Basin explored by the Company to date.
Ovoot registered a Maiden JORC Probable Coal Reserve of 178Mt in May 2012 and increased this further in November 2012 to 219Mt. Ovoot's JORC Coal Resource totals 257Mt (156Mt Measured, 86Mt Indicated, 15Mt Inferred).
Ovoot is an exceptional deposit that contains high grade coking coal with a 96-97% vitrinite and high washing yields that identifies it as one of the highest value in-situ coal deposits in the country, and in the world. Indicative washed coal quality testwork indicates that Ovoot coking coal is a premium quality superior coal with blend carrying capacity which when blended with lower quality coals, would produce a better coke product. Aspire is currently completing coke oven testwork which will be used to attract Customers and a Strategic Partner/s this coming year.
Mongolia is the single largest source of coking coal imports into China which contains the world's largest steel industry and is the world's largest consumer of coking coal.
Drilling and evaluation of the entire Ovoot Basin is only 30% complete, and already forms the center piece of a proposed $2.8B mineral resource and rail infrastructure development program that will boost the entire economy of northern Mongolia.
The establishment of key infrastructure in the region includes roads and the construction of a major rail link that will provide access from the Ovoot mine-site to markets in Russia, Europe, China, Japan, South Korea and India.
Share Price: $0.081
Market Cap: $50.2M
Issued Shares: 620.6M shares (undiluted basis)
Cash: $14.3m (September Qtr 2012)
EV/Resource tonne: $0.12
EV/Reserve tonne: $0.14
ANALYSIS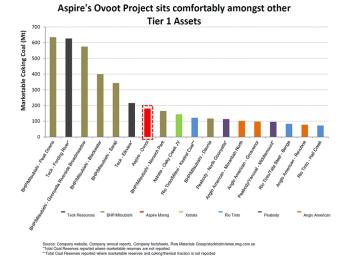 Aspire has raised $60M over the past two years, and is well funded with $14.3m in cash at 30 September 2012.
Pre-Feasibility Studies demonstrate that Ovoot is one of the world's lowest capital cost coking coal developments. Its size and quality has demonstrated the Ovoot Project is also a very large and valuable coking coal asset in a global context, and would be competitive as a top 10 coking coal producer if compared to 2011 producers.
Completed work programmes consisting of geotechnical and infill drilling, underground mine studies, technical studies as well as on-going exploration are aimed at multiple targets; have already increased the size and quality of the resource, and resulted in a low operating cost project with a relatively low capital intensity.
Xstract Mining Consultants independently validated the data generated by the Pre-Feasibility Studies, and confirmed that Ovoot is capable of supporting a production rate of 184 Mt of coking coal over a 20 year LOM; producing an extremely impressive US$1.7 bn Net Present Value.
Ovoot shows a superb financial return that is driven by a low 9:1 strip ratio (BCM:ROM tonne), and a high conversion of ROM to final high grade coking coal product for export into Russia, China, and Asian seaborne markets.
We believe that the fall back in the share price of Aspire Mining has been overdone. The new government has opened dialogue with neighboring countries regarding investment in infrastructure in Mongolia.
With a current EV/Resource Tonne of $0.12, ranks Aspire Mining at the lower end of valuations for coal developers relative to its peers.
On our analysis, we calculate a valuation of Aspire Mining at closer to $0.35, based on the value of the resource in the ground and applying an appropriate discount for sovereign risk, infrastructure and funding risk.
MANAGEMENT
David McSweeney serves as Non-executive Chairman, and is a lawyer with over 20 years of experience in the resources sector that includes project management, finance, commercial and legal structuring, and corporate development. He founded Gindalbie Metals Ltd, commissioned two gold production centres, and further developed the business for iron ore production with a market capitalisation of $300M.
David Paull serves as Managing Director, and has over 20 years of experience in the resource sector. Prior to Aspire he was previously the Executive General manager Business Development and Marketing that managed the sale of over half the world's annual tantalum requirements and two thirds of the global lithium supply.
Neil Lithgow is a Non-Executive Director with over 20 years experience in mineral exploration, economics and mining feasibility studies for base metals, coal, iron ore and gold. He previously worked for Aquila Resources Ltd and Eagle Mining Corporation.
Sado Demchigsuren Turbat is a Non-executive Director with over 12 years resource sector experience in Mongolia, and is a key resource person on Mongolian mining industry policy and regulative framework. Mr Turbat currently serves as Managing Director of Behre Dolbear Mongolia LLC.
Andrew Edwards is a Non-Executive Director, who recently retired from PricewaterhouseCoopers as a senior partner in their Corporate Advisory division after 25 years of service.
Mark Read is a Non-Executive Director, and past CEO and Managing Director of ASX listed engineering and technology company Sedgman Ltd. He was responsible for expansion into emerging high grade coal regions that included Mongolia and Mozambique.
Ross Tromans is a Non-Executive Director, a current employee of Rio Tinto, as well as CEO and President ofSouthGobi Resources Limited. He has over 30 years sales and marketing experience in the coal and energy sector, covering Asian and North American markets.
Phil Rundell is Company Secretary, and was a former partner of a big four accounting firm.
During the June 2012 Quarter, the company appointed James Benson to the role of Ovoot Project Director. Based in Ulaanbaatar James will be the company's senior representative in country and will drive the further development work and construction of the Ovoot Project and associated rail. James' experience includes the development of several large mining and rail projects in the former Soviet Union and Mongolia.
SHAREHOLDING AND FUNDING
On a fully diluted basis Aspire Company Directors hold 32.02%, South Gobi Resources hold 14.23%, Noble Group 7.22%, Mongolian investors 18.50%, and others with 28.03%.
The Company has issued 241.18M unlisted options exercisable at $0.05 that expire on 12/02/15, and 6.48M unlisted performance rights.
Aspire held cash of $14.3M at the end of the September 2012 Quarter.
THE OVOOT COKING COAL PROJECT REVEALS ITS MASSIVE SIZE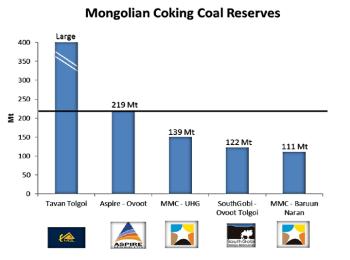 Aspire has 100% ownership over the Ovoot coking coal deposit that is located in northern Mongolia, encompasses 509 square kilometres, and currently contains the second largest known Reserve of coking coal in Mongolia; ranking behind the Mongolian Government owned Tavan Tolgoi deposit.
A Pre-Feasibility Study Revision was recently completed in December 2012, and based on JORC compliant Probable Coal Reserves of 219 Mt, of which 211 Mt is attributable to a single, large Open Pit and 8 Mt to an Underground operation. The deposit hosts 257 Mt of Coal Resource (156 Mt Measured, 86 Mt Indicated and 15 Mt Inferred) being identified within 30% of the property.
The top of the Ovoot open pit coal body commences at a depth of 58 metres, and requires the removal of 35M bulk cubic metres of overburden prior to the commencement of mining. A very significant volume of this barren material is free digging and requires no drilling or blasting.
The current mine plan envisions extraction of coal over an open pit area that is approximately 5 kilometres in length, and 2 kilometres in width.
A two stage mine plan is contemplated with Stage One establishing saleable production of 6 Mtpa of high grade coking coal delivered via 235 kilometres of sealed road to a planned new railhead 60 km east of Moron, the capital town of the Khuvsgul province. The new railhead ("Point A") is part of Phase 1 (of a two phase) rail extension that will see the Trans-Mongolian railway extended from its current terminus at the town of Erdenet some 550 kms away from Ovoot. The rail project is being progressed by Aspire's Mongolian rail infrastructure subsidiary Northern Railways LLC. Aspire plans to fund Phase 2 of the rail construction which will connect Ovoot to Point A enabling the delivery of coking coal to Russian, Chinese and global markets.
Stage Two production is planned for commencement in 2018, inline with Phase 2 Rail, and boosts the total saleable production rate of up to 12 Mtpa of high grade coking coal from 15 Mtpa of raw feedstock.
A Revised PFS was recently completed with the inclusion of the updated 219Mt Reserves, 257 Mt Resource, and 20 year mine life at Ovoot. The revised PFS was prepared on the basis of an Owner-Operator model and highlighted a very low ex-mine gate operating cash cost of only $36/t over life of mine.
Three product streams are proposed that include a by-pass coal that carries an ash cut off of 12%, and is estimated to average 20% of the total Reserve, followed by a washed coal product, and finally a blended product of by-pass and washed coal. The high quality of the coal is expected to significantly reduce the CAPEX for the process plant.
Aspire was granted its Mining Licence for Ovoot in August 2012 and is now considering a pre-rail road based operation which will consist of trucking coal from Ovoot to place on rail at Erdenet. The initial tenure on the mining licence is for 30 years with the option to extend it for a further two, 20 year periods.
INFRASTRUCTURE, POWER, WATER
Electricity may be sourced from a new coal fired power station that is located 70 kilometres to the south-west, supplied from an 110Kv power line that runs across the Ovoot Project area.
Drilling programmes have confirmed that water is prolific within and around the Ovoot Project area, and will be sufficient to supply the volumes required to operate a large wash plant.
Rail access to export markets will reduce Ovoot transport costs by two thirds, improves feed security and opens up more export markets.
Aspire has established a subsidiary Northern Railways LLC as a special purpose infrastructure company that is responsible for developing the Erdenet to Ovoot rail line that has an estimated CAPEX of US$852 billion (including a 20% contingency) for the 346km Erdenet - Point A rail (Phase 1), and a further $563m (including a 20% contingency) for the 235km Ovoot to Point A section (Phase 2).
The Company has researched and prepared operating cost assumptions that confirm that rail tariffs on the proposed line are sufficient to provide attractive financial returns following a Pre-Feasibility Study completed over the rail alignment in February 2012.
In July 2012, a review of the Rail Pre-Feasibility Study alignment suggested an alternative southern alignment which could result in a reduction of the overall distance by approximately 50km, and result in capex and additional opex cost savings. Aspire is currently completing a revision to the Rail Pre-Feasibility Study over the alternative southern alignment due for completion this Quarter. The entire Erdenet - Ovoot rail line will provide a significant boost to the northern Mongolian economy for export of agricultural produce, mined ores, development of local business and tourism.
Aspire has in place a non-binding Memorandum of Understanding with the Mongolian subsidiary of rail giant JSC Russian Railways to discuss the development of the Erdenet - Ovoot rail line. This could potentially result in a strategic partnership between Russian Railways and Northern Railways to build, own, and operate the line.
More recently, Aspire entered into several agreements with one of its largest shareholders Noble Group, who support the development of the Ovoot Project and Northern Railways. The key outcomes of the agreements include the provision of a two year US$5million unsecured loan, contribution to the pre-development costs of Northern Railways, negotiations to provide working capital to support a 75,000 t/month operation at Ovoot and provide a mechanism to access Noble's Russian seaport, and introduce Northern Railways to potential strategic rail infrastructure investors.
The development of the Ovoot Coking Coal Project alone could drive the Khusvgul GDP average to be more consistent with the Government's 2020 estimate of US$20,000 per person, however which by 2011 data, falls below the national average.
ROBUST PRE-FEASIBILITY STUDY INDICATES LONG TERM HIGH PROFITABILITY
Stage One CAPEX has been estimated at US$814.9M, which includes a 20% contingency of US$91.8M, and excludes Phase 1 rail infrastructure that will be handled by Northern Railways. CAPEX includes US$264m for a mining fleet, US$98.2M for a sealed road, US$86.7M for pre-stripping operations, US$12.3M for mine mobilisation and establishment costs, US$23.1M for a camp and office complex, US$13.1M for an airstrip, US$19.6M for power, water and communications, US$2.1M for off-site power links, US$187.4M for a coal handling and preparation plant, and US$6.1M for a tailings storage facility.
Stage Two CAPEX is estimated at US$525.6M, and includes a 20% contingency of US$43.6M. This includes US$241M for additional mining fleet, US$13.2M for mine mobilisation and establishment, US$5.1M for power, water and communications, US$198.0M for a second coal handling facility, and US$1.6M for tailings storage. In addition, Aspire plans to fund the US$563m (including 20% contingency) cost to construct the Phase 2 rail which will see the Ovoot Project linked directly to Erdenet.
OPEX CURRENTLY ESTIMATED AT US$115PT FOB TO RUSSIA AND CHINA
The Pre-Feasibility Study envisions ROM production of 224 Mt to produce 184 Mt of coking coal over a 20 year LOM that is operated by Aspire under an Owner-Operator model. LOM OPEX is estimated at an average US$115 per tonne (excluding royalties), and assumes that sales are split 50/50 for FOB to Russian Far East Ports, and sales to Chinese Customers at the Chinese border.
The Study identified an average ex-mine gate cost of US$36 per tonne of coking coal produced over the LOM, and is driven by a low strip ratio and a high conversion of ROM to final high grade product.
This translates into an FOB cost to Russian Far East Ports of US$131 per tonne, and US$99 per tonne at the Chinese border (just US$91/t during the initial 5 years of production). Rail tariffs are based on standard haulage rates charged over the Trans-Mongolian rail system, and assumes that access to the rail discount that is provided to Mongolian coal that is shipped into Russia will be provided. Further opex cost savings may be identified following the completion of the revised rail PFS, due in the March 2013 Quarter.
Utilising a long term average coking coal price of US$200 per tonne produces a US$1.7 bn NPV (12% after tax) and net cash surplus after all capital and tax of US$8.3 bn (calculated in real 2012 dollars). (Current hard coking coal price is US$160 per tonne).
Mine costs have been sourced from contractors operating on similar projects within Mongolia. Aspire anticipates being able to fund the expansion to the full 12 Mtpa production rate by utilising internal cash flow generated by production, along with project debt.
Ovoot coking coal has been classified as a low ash quality blending feedstock for coke manufacture and already displays a rare combination of high rank combined with high fluidity. Coal coke oven testwork is currently being completed to confirm that Ovoot coking coal meets the specifications for a high caking, high fluidity fat coking coal classification.
Initial washed coal quality testwork indicates an ash product of 9.5%, volatiles of 25 - 28% and CSN's of 8 - 9 all on an air dried basis. Modelling of wash yield versus raw ash content demonstrates the excellent liberation nature of Ovoot coking coal, and allows for a high cut point around a density of 1.6 for generating a marketable coal product.
POTENTIAL RAIL CAPITAL AND OPERATING COST SAVINGS
Rail infrastructure is a key challenge for Ovoot given its location.
An independent review of the Rail Pre-Feasibility Study (Rail PFS) which was completed in February 2012, has been undertaken by Calibre Rail, a world leader in bulk commodity rail design.
The review highlighted that an alternative southern direct rail alignment connecting Ovoot to Erdenet (bypassing Moron) could result in capital expenditure savings of approximately US$188 million, due to the shorter distance of track (approximately 50km shorter) and more agreeable terrain.
The review has also identified the potential to significantly reduce operating costs and run longer trains along the rail path.
Calibre's assessment addressed the question of "what is the most efficient path" for Ovoot Project coking coal to reach Erdenet. Calibre's study suggests an alternative southern alignment some 50 kilometres to the south of Moron, connecting the Ovoot Project directly to Erdenet could provide substantial savings to the Ovoot Project.
The result of using larger trains will result in fuel savings of approximately 11% per tonne of coal transported, as well as lower locomotive leasing and maintenance costs.
This alternative southern alignment, its capital and operating costs are being reviewed in more detail in a second iteration of the Rail PFS expected to be completed this Quarter.
RUSSIAN RAIL GIANT JSC RUSSIAN RAILWAYS
Aspire entered into a non-binding Memorandum of Understanding (NASDAQ:MOU) with Infrastructure Development LLC (NYSE:ID), the Mongolian subsidiary of rail giant JSC Russian Railways, to explore the development of a strategic partnership between the Company and ID to build, own and operate an extension of the existing Trans-Mongolian Railway at Erdenet through to the Ovoot Project via the town of Moron.
This MOU provides a framework for Aspire and ID to discuss amongst other things, the application for a rail concession for the Erdenet - Moron - Ovoot rail line, investment and network rail capacity and integration.
NOBLE GROUP SUPPORT
Noble Group, currently one of Aspire's largest shareholders have agreed to enter into good faith negotiations with Aspire to provide working capital debt facilities which would support a 75,000 tonne per month initial operation at the Ovoot Project, as well as provide access to Noble's own Far East Russian Port acquired recently.
In return, and subject to Aspire shareholder approval, Noble would be issued a placement of 35 million shares in Aspire raising Noble's interest in Aspire to 14.9%. In addition Noble would be granted a Board seat and marketing rights over 10% of all Ovoot coal over the first 20 years of production, in addition to their right to market 50% of the initial 5 million tonnes of production.
Noble have also agreed to offer support for Northern Railways to assist with pre-development expenditures associated with completing the necessary assessments required by the Government of Mongolia by:
• Agreeing to contribute 10% of pre-development capital for Northern Railways,
• Providing a US$5 million, two year, unsecured loan to Northern Railways,
• Make accessible to Northern Railways, Noble's existing logistics capabilities in Mongolia, Russia and China, and
• Introducing Northern Railways to potential strategic infrastructure partners, and support the creation of a funding syndicate for the construction of the Northern Rail Line.
In the event that a rail concession is granted, Aspire have agreed to provide Noble with a seat on the Board of Northern Railways and an option to fund 10% of the development capital in Northern Railways in exchange for an additional 10% in marketing rights.
MONGOLIA POWERING ECONOMIC GROWTH THROUGH RESOURCES SECTOR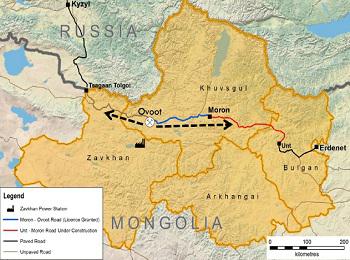 Mongolia is a resource rich country with a population of only 2.8 million people that operates as a parliamentary republic that was established after the collapse of Soviet style communism. The country now has a multi party system and operates a market economy with a constitution that guarantees full freedom of expression, and maintains close ties with the west.
The country has traditionally herded animals and produced a variety of crops.
Mining operations now constitute 80% of all exports, and are largely responsible for a growth rate of 17.3% in 2011, and have created one of the fastest growing global economies.
Tellingly, Mongolia is the single largest source of coking coal imports into China which contains the world's largest steel industry and is the world's largest consumer of coking coal.
A new foreign investment law is in place that is not dissimilar to regimes enacted in other jurisdictions such as Australia and Canada, and seeks to balance the need for foreign investment capital, and to protect Mongolian national interest, limit anti-competitive behavior, and strike a balance with its neighbours in Russia and China.
Mongolia recently agreed to a $7 billion railroad expansion through Russia to break China's grip on the landlocked economy, which allows the Chinese to demand discounts on various commodities.
ASPIRE MAINTAINS FOCUS ON BALANCED REGIONAL DEVELOPMENT
The development of Mongolia's resource assets is currently unbalanced and is concentrated along the southern border with China and already exceeds US$9.2B with major resource projects at Ovoot Tolgoi, Tavan Tolgoi, Oyu Tolgoi and Ukhaa Ukudag, and plays to Chinese strength.
Aspire has laid out a regional strategic plan that entails over $2.8B of mineral resource and rail infrastructure investment in northern Mongolia. This region is much closer to Russia and serves as a counter balance for the sale and shipment of commodities.
The construction of a rail line that links Ovoot with the outside world opens up the entire region for development, and construction of additional mining projects in the area and allows local commerce to flourish and tourism to grow.
Aspire is already contributing to local community development to improve education and healthcare in the region having recently helped to fund the completion of a local 20 bed hospital at Tsetserleg, providing onsite medical services to local communities, reforestation initiatives, and donations to local Herder families, sporting events, and other community social events.
Other projects located in the vicinity of Ovoot and owned by the Company include the Zavkhan Iron Ore Project (earning a 70% interest), and the Nuramt and Jilchigbulag Coal Projects, each with a 100% interest.
KEY RECENT CHANGES TO MONGOLIAN GOVERNMENT
Following elections in June 2012 Mongolia established a new coalition government made up primarily of the Democratic Party (70.45%) with the balance including the Civil Will Green Party (4.5%) and the Justice Coalitions (25%). Prime Minister Norov Altanhuyag of the Democratic Party was appointed shortly thereafter. Presidential elections are due to be held in mid-2013.
Mongolia is gripped by a mining boom that is set to transform its economy, but political uncertainties have shadowed efforts to attract foreign investment needed to develop mines and build essential infrastructure.
The new government has vowed to boost the country's economy, setting the goal of achieving annual economic growth of 14 to 15 percent over the next eight years.
TIMELINE AND CATALYSTS
• Attract Strategic Partner/s to assist with the development of the Ovoot Project
• Obtain a rail concession for the Erdenet - Ovoot rail line
• Marketing discussions to attract Customers
• Progress towards completion of Bankable Feasibility Study.
• Funding negotiations in 2013.
• Further exploration drilling, where only 30% of the Ovoot Basin has been explored.
ANALYSIS
Mongolia has supplanted Australia as the number one supplier of coking coal to China.
Aspire Mining is in the early stages of developing one of the world's largest undeveloped coal resources; and has over the last two years drilled 30% of that resource to develop a PFS capable of supporting a production rate of 184Mt of high quality coking coal for a LOM of 20 years from the Ovoot Open Pit.
This early stage work has defined JORC Probable Coal Resources of 257MT (156Mt Measured, 86Mt Indicated, and 15Mt Inferred) for further development, along with numerous exploration targets identified on the Ovoot tenements.
The coal contained within the Ovoot Open Pit exhibits a very low average strip ratio of 9.1 Bcm (excluding pre-strip) over LOM, compared with Australian coal mines with ratios of 15-17, and contributes to an extremely low cash mine operating cost of US$36 per tonne that offsets higher transportation costs; and exhibits one of the lowest cash cost and capital intensity profiles per tonne of mineable coal resource for any global greenfields development.
Projected coking coal output of 184mt over 20 years places Ovoot within the top five global production centres for this type of coal.
Wood Mackenzie's analysis of the Ovoot coal confirmed that the Ovoot coal would easily meet global seaborne market requirements. Pricing would be based on hard coking coal price benchmarks.
Ovoot coal is considered "fat coal" with similarities to coal found in Russia. It has very high fluidity and high levels of the reactive vitrinite assists batch performance.
It complements and improves the performance of semi soft and lean or one third coking coal; coals that don't swell so much. It will be a blending coal making up ten percent of a batch, Aspire may be able to sell this product all over the world. The demand is likely to be strong beyond China into Korea, Japan, India, Taiwan, Thailand, and Turkey and in Eastern Europe. All those places are potential markets for an Ovoot product.
Aspire also has the support of Noble Group Ltd, which is one of the world's largest commodity trading and logistics companies that moves coal into most major global markets, and has strategic alliances and relationships across Russia and China.
The quality and potential size of Ovoot has not been missed as South Gobi Resources Ltd (CVE: SGQ), a subsidiary of Turquise Hill and Rio Tinto, owns a 19.9% stake in Aspire via a placement. Noble also owns a 10.1% stake which provides evidence of its strategic appeal.
Aspire is cashed up, and has the full support of the management team that owns 32.02% interest (on a fully diluted basis), and who continue to add to that position with recent on market share acquisitions announced by three directors.
The recent political changes in Mongolia are more positive for Aspire given the infrastructure required in the north of the country where the Ovoot Project is located.
The Chinese see Mongolian coal resources as providing a long term supply of quality coking coal for their steel industry; and are now moving to acquire strategic assets at a time of market weakness.
Proactive Investors believe that, while changes in administration are early days, the changes could potentially be the missing link in the development of infrastructure to service Ovoot. In addition, parts of the market may have missed the potential opening up of investment into Mongolian infrastructure as a result. As well as the looking enormous demand from China for coal which Ovoot can help supply.
Valuation Guide
We believe that fall back in share price of Aspire Mining has been overdone.
With a current EV/Resource Tonne of $0.12 and EV/Reserve tonne of $0.14, ranks Aspire Mining at the lower end of coal developers relative to its peers.
On our analysis, we calculate a valuation of Aspire Mining at closer to $0.20-$0.25, based on the value of the resource in the ground and applying an appropriate discount for sovereign risk, infrastructure and funding risk relative to projected returns.
While coal sector stocks have re-traced significantly in recent months, medium to long tern demand for coal from Asian markets is not likely to have abated. In fact, we would argue that if anything it is likely to require additional coal to "power" increased urbanisation and greater demand for western goods as incomes rise for end uses that require coking coal.
Given the high quality of Ovoot coal, we believe that over time a way forward will be found in terms of an infrastructure solution in Mongolia to "move" Ovoot product to ports.
For the long term value investor, Aspire shares can be acquired at a valuation which does not reflect the inherent intrinsic value (or high quality) of the coal resource at Ovoot or the development work done to date.
In fact, current share price of $0.078 is less than at June 2010. Herein is the opportunity for investors - to acquire all the value created by Aspire since that time - at no extra cost. i.e a discount to its intrinsic worth.
Proactive Investors Australia is the market leader in producing news, articles and research reports on ASX "Small and Mid-cap" stocks with distribution in Australia, UK, North America and Hong Kong / China.