Investment company, Charter Pacific Corporation (ASX:CHF) has received high grade exploration results from an iron ore project in Mauritania, that show potential for a marketable concentrate to be produced at relatively low cost.
Investors may recall that Mauritania was the West African country where Sphere Minerals had worked up over 2.7 billion tonnes of contained iron ore resources and 154,000 tonnes of contained reserves before it was taken over by Xstrata Resources for US$516 million.
Key points:-
- DTR Concentrates up to 69.76% iron and mass recoveries up to 43.7%
- Similar geology to Sphere Mineral's Leibtheinia deposit
- 4.4 billion tonne Exploration Target
- Interest from Europe and China in the Kaoua prospect
- Jindal Steel and Power Limited, one of India's major steel producers is exploring on adjacent permit to Kaoua prospect
- Production costs using a dry sinter process as low as $32 a tonne in Mauritania (Source: GlencoreXstrata)
The results were from a phase 1 trenching program on the magnetite banded iron formations (NYSE:BIF) at the iron ore Kaoua El Khadra Permit (Permit 792).
The prospect is proximal to the regional centre of Akjoujt and a sealed road to Nouakchott currently being used to transport iron ore to the Port.
Underlying the strength of the Davis Tube Recovery (DTR) high grade, low contaminant results is an underlying massive iron Exploration Target at Kaoua of 4.4 billion tonnes of iron.
Charter Pacific managing director Kevin Dart said: "The success of the Kaoua project will be the low cost of production in Mauritania compared to other global players. Studies of similar iron ore projects in West Africa support production costs of iron ore to be approximately a third of those in Australia.
"Research has shown that production costs in Mauritania using a dry sinter process is approximately $32 per tonne (GlencoreXstrata / Sphere Minerals).
"We have recently received inquiries from other European countries (France and Italy are the largest importers of iron ore from Mauritania) in respect of our iron ore project."
"With China and India now investing in Mauritania, the market fundamentals for our venture are strong even allowing for the fluctuations in iron ore pricing when combined with the low cost of production in West Africa will keep our project globally competitive."
"The long term view for iron ore remains strong, as demonstrated recently at conferences in Beijing with major players forecasting that China's demand for iron ore is likely to keep rising for the next decade."
Dart noted that Jindal Steel and Power Limited, one of India's major steel producers, has acquired an adjacent Permit to the east of Permit 792 and are also conducting a trenching and drilling exploration program."
"With established rail and port facilities already in place in Mauritania, and a new heavy-haulage road in close proximity to Permit 792, points to a low cost of production compared to other major iron suppliers globally.
"The Mauritanian Government has initiated a review for the establishment of a third port for the expansion of future iron ore exports."
GlencoreXstrata developing Sphere's Mauritania iron ore project
GlencoreXstrata recently confirmed its commitment to iron ore mining in Mauritania, by providing $40 million in funding to Sphere Minerals for ongoing iron ore project works.
Charter Pacific exploration results in more detail
Davis Tube Recovery (DTR) concentrate analysis showed low levels of deleterious components SiO2, Al2O3, P and S assays and a high of 69.76% Fe concentrates, which is consistent with the previous rock chip sampling undertaken.
A total of 1,911.3 metres of trenching was completed and 505 samples were taken along 2 metre composite intervals over 26 trench locations on Permit 792.
Trench 5-2 produced the best results with 3 significant intercepts sampled between 16 metres and 104 metres along the trench separated by between 4 metres and 12 metres of internal dilution consisting of schist.
There was some variability in mass recoveries likely affected by oxidation of the BIF to goethite iron oxides which are non-magnetic.
It is expected that BIF below the base of oxidation will produce more consistent results and this will be tested in the upcoming drilling program.
Most BIF intercepts were measured as shallow dipping within the trenches and this resulted in true thickness calculations coming in at a discount to the lengths sampled in the trenches. This will be further tested in the upcoming drilling program.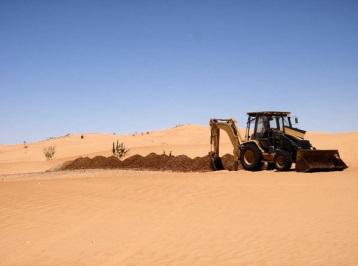 Trenching at Kaoua El Khadra in Mauritania
Next steps
Charter Pacific now intends to conduct further trenching and an initial drilling program to determine deposit characteristics at depth. The program will be planned and executed by Charter Pacific's consultants, SEMS Exploration.
An RC drilling program will define down-hole thickness and grade of BIF, which will establish parameters for next phase of diamond drilling and metallurgical sampling.
An incountry manager was appointed in Mauritania, Abdel Kader Ould Saleh Ould Bohey who ws administrator of the largest mining companies in Mauritania (iron, copper, gold) and author of several publications on the geology and mines of his country.
Kader was awarded the Order of National recognition on 2 January 2007 for his efforts and long standing commitment to the mining industry in Mauritania.
Mauritania iron ore
Mauritania already hosts one large iron ore producer, the Societe' Nationale Industielle et Miniere' (SNIM) which mines at Zoueratte, north-northeast of Charter Pacific's Kaoua prospect.
It produces around 15 million tonnes of iron ore per year. Interestingly, it operates the longest iron ore train in the world between Zouerate and Nouadhibou in Mauritania.
Other large iron ore discoveries include the 2.5 billion Lebtheinia Iron Deposit, belonging to GlencoreXstrata after its acquisition of Sphere Investments.
TransAfrika Resources has an estimated 1.2 billion tonnes of iron formation identified on the Kaouat Iron Ore Project, south of Charter Pacific's Kaoua's prospect.
Geology
Significantly, Charter Pacific's Kaoua BIF is a northern extension of the Kaouat BIF deposit owned by TransAfrika Resources, which is contained in the Archean Saouda Group, to the south and BIF units from the Ijibbitene Group in the east.
The Archean Saouda Group forms part of the Reguibat Shield which also contains the Lebzenea Group, hosting Sphere Minerals Leibtheinia deposit and the Tiris Group which hosts the SNIM owned Zouerate iron ore deposits and mines.
Infrastructure
Three International Airports
Two deepwater ports - Nouakchott expanded 2012 - the Autonomous Port of Nouakchott, PANPA for short, is located near the West African Atlantic coast and offers competitive storage facilities and warehousing tariffs.
It is also adjacent to Mauritania's capital city. Current capacity following the 2012 expansion is 6 million tonnes per annum. - Nouadhibou expanded 2012 - formerly known as Port-Etienne, this port is located in the North of the country, close to the border of Morocco (Western Sahara).
The economic base is fishing and fish-processing, but also export of iron ore which is transported via the railways from central Mauritania. The port will allow SNIM to meet the needs of its current and potential customers by reducing the waiting time of ships before and after loading.
Bulk rail facilities - consists of a single, 704-kilometre (437 mile) railway line linking the iron mining centre of Zouerate with the port of Nouadhibou, via Fderik and Choum. reputedly the heaviest and one of longest trains in the world.
The total traffic averages 16.6 million tonnes per year.
Exploration Target
A previously unexplored BIF has been discovered in the Eastern section of the permit.
The potential Exploration Target has been increased to 4.4 billion tonnes of iron (magnetite) from a 130 kilometre long interpreted strike horizon.
Field inspection and sampling confirms earlier exploration results and confidence in the Exploration Target.
Development Options
Charter Pacific with today's results will aim to prove the Kaoua El Khadra iron ore project as a viable significant high grade iron ore source in West Africa via an existing sealed road Akjoujt to Nouakchott Port.
Charter Pacific is targeting a low strip ratio (less than 2:1, waste:ore)
There is open pit mining potential based on the BIF outcropping at surface over significant widths.
As further information from trenching and drilling programs becomes available, the potential stripping ratio will be further developed.
Charter Pacific intends to conduct metallurgical testing to determine a coarse grained magnetite product suitable for use as Sinter Feed to furnaces.
Following successful implementation of dry grinding in other West African magnetite projects, Charter Pacific intends to pursue the viability of this processing method which offers significant capital cost savings over wet grinding and pelletisation.
Analysis
The primary objectives of early stage exploration at Kaoua Permit 792 to define the mineralisation width and grade have been met in spades, demonstrating potential that a marketable concentrate could potentially be produced.
With a massive Exploration Target, there are geological similarities between GlencoreXstrata / Sphere's Mauritania Lebtheinia iron ore deposit and Charter Pacific's Kaoua prospect surface expression, the project areas are largely flat, would ease the development of necessary infrastructure.
The attraction for GlencoreXstrata, TransAfrika Resources, Societe' Nationale Industielle et Miniere and Charter Pacific is the low costs of production relative to western iron ore producers.
GlencoreXstrata has found that production costs in Mauritania using a dry sinter process are around $32 per tonne.
That Jindal Steel and Power Limited, one of India's major steel producers, has acquired an adjacent Permit to the east of Charter Pacific's Kaoua Permit and is also conducting a trenching and drilling exploration program, is another significant positive.
While under the radar, Charter Pacific has fielded interest from Europe and China in the Kaoua Permit iron ore project, this interest in terms of a funding or financing structure for the project's exploration and development could not be ruled out.
Charter Pacific also owns two gold permits (Permit 1963 and 1869) covering 793km2. Mauritania is home to the 11.1 million ounce Tasiast gold discovery owned by Kinross Gold.
At a market cap. of around $6 million, Charter Pacific represents an outstanding opportunity to "ride" the coat-tails and path worn by previously ASX-listed Sphere Minerals in Mauritania.
Proactive Investors Australia is the market leader in producing news, articles and research reports on ASX "Small and Mid-cap" stocks with distribution in Australia, UK, North America and Hong Kong / China.