Peak Resources (ASX: PEK; OTCQX: PKRLY) has produced an ultra-high purity (99.9%) neodymium - praseodymium rare earth oxide using Solvent Extraction Pilot Plant at ANSTO Minerals, from a bulk sample of mineralisation from the company's wholly-owned Ngualla Rare Earth Project in Tanzania.
Peak said that the purity is expected to exceed the requirements of off take customers.
The production is an important milestone for Peak as this high value strategic commodity, used in the manufacture of permanent magnets, is forecast to provide over 50% of Ngualla's projected revenue.
Earlier in the year Peak announced reductions in both operating and capital costs following a revised Scoping Study.
The enhanced results deliver an improved NPV and IRR of US$1.768 billion and 60%, on the December 2012 10,000 tonne per annum base case scenario. The option to double production rates to 20,000tpa REO delivers NPV10 of US$3.833 billion and IRR of 77%.
The neodymium - praseodymium oxide is the second of four separated oxide products due to be produced following the mid and heavy rare earth oxide announced in May.
With the ability to produce separated high purity rare earth oxides, this adds significant value to the project and allows access to wider markets for Ngualla's products.
Ngualla is one of the very few rare earth projects outside of China to have successfully produced a high purity separated product, and is the highest grade of the large undeveloped rare earth deposits.
Critical rare earth products to underpin Ngualla's revenue
Neodymium - praseodymium are high value strategic commodities used as magnet feedstock in the renewable energy, green and high technology industries.
The oxide is currently worth approximately $54,000 to $57,000 per tonne, with the neodymium - praseodymium comprises 52% of the value of Ngualla's future production and together with the mid to heavy REO produced at ANSTO in May represents 75% of the forecast revenue for Ngualla.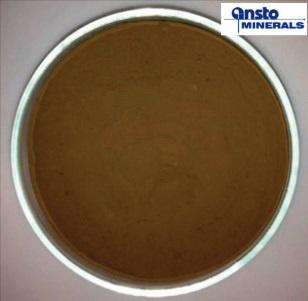 Picture: High purity (99.9%) neodymium - praseodymium rare earth oxide product produced from Ngualla mineralisation by the Solvent Extraction Pilot Plant at ANSTO Minerals.
Additional products in coming months
High purity cerium and lanthanum oxides will complete the four separated products to be produced by the Solvent Extraction Pilot Plant at ANSTO over the coming months.
Samples and analysis of the products are available to potential customers for assessment during negotiations for off take agreements.
Technical Report
A second high purity rare earth product has been produced at ANSTO Minerals (Australian Nuclear Science and Technology Organisation) test facility near Sydney.
The separated, high purity neodymium - praseodymium oxide was produced by the second stage of the Solvent Extraction Pilot Plant following the medium and heavy rare earth oxide produced in May.
The chloride feed solution for the Pilot Plant is derived from a 1.3 tonne bulk sample of Ngualla weathered Bastnaesite Zone mineralisation using the simple sulphuric acid leach recovery process.
Samples are available for assessment by potential off take customers.
Analysis
Ngualla has the potential to become the next major rare earth supplier with high grade mineralisation and a simple, proven metallurgical process supporting a low cost operation. Peak continues to execute and hit milestones.
What distinguishes Ngualla from other rare earth development projects is the combination of Ngualla's large size, high total grades, and high critical rare earths grades.
Ngualla is primed to be a low cost operation, with the lowest capital requirement of all emerging rare earth producers.
The major news will continue to flow with a Pre-Feasibility Study in progress assessing the potential benefits of locating the beneficiation and acid leach recovery process units at the Ngualla mine site and the solvent extraction separation plant located off site, closer to infrastructure, utility and port facilities.
Peak is also moving forward with discussions to finalise a formal agreement with a strategic partner that will see Ngualla fully funded through to production.
The company continues to fast track the development of Ngualla with the aim of becoming a low cost, long term producer of high purity rare earth oxide products in 2016.
Proactive Investors Australia is the market leader in producing news, articles and research reports on ASX "Small and Mid-cap" stocks with distribution in Australia, UK, North America and Hong Kong / China.