IPB Petroleum To Drill Test Browse Basin With CalEnergy
Please Note: Blog posts are not selected, edited or screened by Seeking Alpha editors.
Short Only
Seeking Alpha Analyst Since 2009
Proactiveinvestors is a leading multi-media news organisation, investor portal and events management business with offices in New York, Sydney, Toronto, Frankfurt and London. Proactiveinvestors operates five financial websites in four languages providing breaking news, comment and analysis on hundreds of listed companies across the globe daily. We are one of the fastest growing financial media portals in the world. The group also operates hugely successful "investor forums" where three or four companies present to an audience of high net sophisticated investors, fund managers, hedge funds, private client brokers and analysts. Ian Mclelland founded Proactiveinvestors in 2006 as a way to channel his own views on companies small and mid-cap public companies. What started as a hobby quickly turned into a full time job as the website's readership exploded. One2One forums were added later in 2006, and within two years the company had expanded its operations into Canada and Australia. In 2009 the company expanded into Germany and finally into the US in 2010. Proactiveinvestors is now one of the fastest growing global financial media organizations in the world receiving more than one million visitors per month, with investor forums held across the globe on a regular basis.
IPB Petroleum (ASX: IPB) is an Australian oil and gas exploration company that listed on the ASX on 30 April 2013. The Company has built a strategic position in the oil prone southern margin of the Browse Basin, offshore North Western Australia.
Key Investment Points
- Total Mean Prospective Resources of 672 MMbbls of oil in their three Permits
- Including 160 million barrels oil resources from newly acquired WA-485-P Permit
- Farm-out Agreement with CalEnergy potentially worth $32.4m
- First well Pryderi-1 likely to be drilled fourth quarter 2013
- De-risked for Pryderi-1 well
- IPB is 100% free carried for Pryderi-1 well
- Deemed 75% chance of hydrocarbon discovery being 60% oil probability with an overall 45% chance of oil discovery
- Share price could start to appreciate in the lead up to the spud-date Q4/2013
Share Price ($): 0.24
Market Cap ($m): 23.5
Shares on Issue (m): 98.8
Cash (30/05/13)($m): 2.9
SUMMARY
An independent review by ISIS Petroleum Consultants of the M.australis play in the Company's recently acquired WA-485-P permit has resulted in an increase to the Mean Prospective Resources (unrisked recoverable) by 160 million barrels of oil totalling approximately 670 million barrels of mean prospective oil resources net to IPB across two of its three Browse Basin Permits.
Following listing on the ASX in April 2013, the Company was awarded in May a 100% interest in Petroleum Exploration Permit WA-485-P in the Browse Basin offshore North West Australia for an initial period of six years.
The Company signed a Farmout Agreement in September 2012 with CalEnergy Resources (Australia) Limited, a subsidiary of Berkshire Hathaway's MidAmerican Energy Holdings Company.
The Agreement is a two stage investment totalling $32.4m to earn a 25% to 60% interest in WA-424-P plus an option for a 25% interest in WA-471-P. Under the license terms, the Pryderi-1 well must be drilled by CalEnergy and is estimated to cost $15m.
An Independent Technical Experts Report estimates that there is a 75% chance of a hydrocarbon discovery at the Pryderi Prospect. In the event of a discovery, there is a 60% probability that the hydrocarbon phase would be oil which results at in 45% chance of an oil discovery.
BROWSE BASIN
The Company has an interest in three petroleum exploration permits; WA-424-P, WA-471-P and recently acquired WA-485-P (Figure 1). The blocks lie on the Yampi Shelf and Prudhoe Terrace of the Caswell Sub-basin in water depths of up 200 metres, some 86km to 120km offshore north Western Australia.
The Caswell Sub-basin is well explored. Six gas and condensate fields have been discovered; Torosa, Brecknock, Calliance, Ichthys, Prelude and Crux (Figure 1).
Woodside and its joint venture partners are considering the use of floating liquefied natural gas processing technology for the multi-billion dollar Browse LNG/Condensate Project that includes the Brecknock and Torosa fields estimated to contain reserves of 15.5 trillion cubic feet of gas and 417 million barrels of condensate, while Japan's Inpex Corporation is developing its giant 12.8Tcf Ichthys gas field to feed a 8.4 million tonne per annum LNG facility in Darwin.
There are also several other gas discoveries in the Caswell Sub-basin as well as both oil and gas discoveries in Gwydion-1 and Caswell-2 ST2.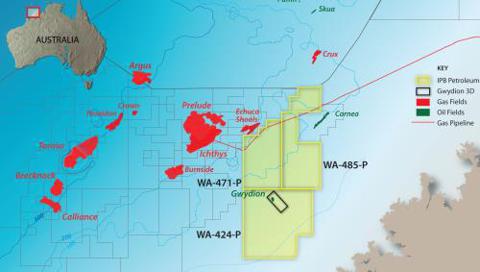 Figure 1. Location of permits WA-424-P, WA-471-P and WA-485-P in the Browse Basin, offshore North West Australia.
1. WA-424-P (IPB 75%, CALENERGY 25%)
The Company acquired petroleum exploration permit WA-424-P in 2010 from a subsidiary of Nexus Energy Limited in exchange for the granting of a 3%-4% royalty (less PRRT). The WA-424-P permit contains the Gwydion-1 and Caspar-1A wells, covering an area of approximately 6,175km2 on the Yampi Shelf in the Browse Basin (Caswell Sub-basin).
The Gwydion-1 well (Figure 2) was drilled by BHP Billiton Limited in 1995. The well discovered a 14.5m gas column in poor quality glauconitic sand (micaceous and characteristically green in colour with very low weathering resistance and friable) above a 10m oil column in good quality Hauterivian/Barremian (134-125Ma) clean sand.
The Caspar-1A well located 8km west of Gwydion-1 was drilled by BHP Billiton Limited in 1998. The well intersected very good quality reservoir sands 15m thick at the level that contained oil in the Gwydion-1 well however, these sands were water-wet and non-commercial.
The Pryderi Prospect (Figure 2) lies in an underexplored region of the Browse Basin adjacent to the existing oil discovery at Gwydion in the same permit. The presence of gas in the main Barremian/Hauterivian-aged reservoir sand generates high amplitude on the seismic data around the Gwydion-1 well. The Company believes that success at the Pryderi Prospect could open up a significant new oil province along the southern margin of the Browse Basin.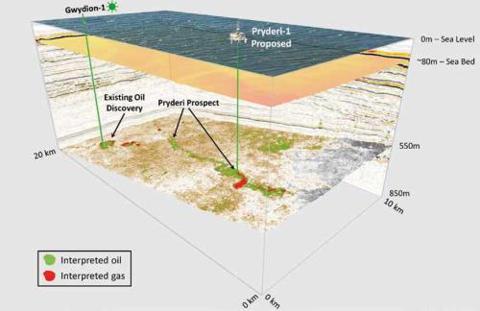 Figure 2. Schematic diagram of the Gwydion-1 well and the Pryderi prospect.
The Independent Technical Experts Report concludes that the WA-424-P block contains Mean Contingent Resources (in the Gwydion Discovery) of 6 million barrels of oil recoverable and Unrisked Mean Prospective Resources of 679 million barrels of oil in prospects and leads. Of these unrisked resources, 47% are attributed to the Pryderi Prospect and associated 2D Pryderi Channel Leads.
The large but high risk Tristram Lead accounts for 40.3% of the unrisked resources while a further 9.4% is attributed to the Valanginian "Mordred" group of leads.
IPB and CalEnergy have secured a 12 month extension of the permit work program until 12 July 2014 and expect to drill the Pryderi well in the fourth quarter of 2013, subject to regulatory approvals and securing a rig.
2. WA-471-P (IPB 100%)
The Company was awarded petroleum exploration permit WA-471-P in May 2012 (Figure 3). The permit lies immediately north of the WA-424-P permit and covers an area of approximately 3,310km2 on the Prudhoe Terrace area of the Browse Basin (Caswell Sub-basin).
Notably, oil-prone rocks identified further to the north suggests the permit is located along the oil migration pathway for the oil discovered at Gwydion.
The Company proposed a guaranteed work program to an estimated value of $24 million over the first three years of the Permit.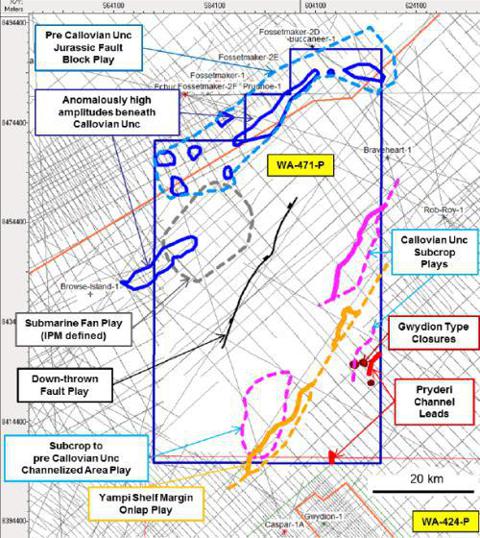 Figure 3. WA-471-P Indicative Leads
While no wells have been drilled to date on this license, a number of past exploration wells have been drilled close to the block boundary but did not find commercial hydrocarbons.
The 2D seismic data in the block highlights the potential for stratigraphic traps at deeper levels to the Pryderi Prospect, which lie closer to the oil-prone source rocks identified further to the north.
These structural/stratigraphic closures have amplitude anomalies that are similar to those observed at the Gwydion/Caspar plays.
The Company intends to evaluate this potential further through the acquisition of 3D seismic data once the Pryderi-1 well has been drilled.
3. WA-485-P (IPB 100%)
The WA-485-P permit (Figure 4) was acquired after the company's analysis and interpretation of existing available 2D seismic indicated that a substantial continuation of the M.australis horizon oil play in WA-424-P, which is the subject of upcoming Pryderi-1 exploration well, extends into the new permit.
An independent review by ISIS Petroleum Consultants of the play in WA-485-P has increased IPB's net share of Mean Prospective Resources (unrisked) associated with this play by 66% from 241 million barrels to 401 million barrels of oil.
This grants the company greater upside potential in the event that Pryderi-1 is successful.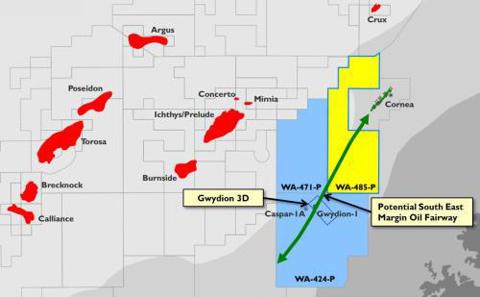 Figure 4. WA-485-P location
FINANCIALS
At 31 May 2013, the Company had $2.9m in cash and no debt.
The Company has a Farmout Agreement with CalEnergy Resources (Australia) Limited owned by MidAmerican Energy Holdings Company potentially worth $32.4m. The key details of the Agreement are that CalEnergy:
i. Will fund 100% of the cost of drilling the Pryderi Prospect exploration well in the WA-424-P permit estimated to cost around $15m to earn a 25% interest in the whole permit. CalEnergy will earn a 60% interest in the permit's current Gwydion Discovery and the neighbouring Mathonwy/Gilfaethwy structures.
ii. Have an option for 3 months after drilling the Pryderi well to increase its interest in the balance of the WA-424-P permit to 60% by spending further funds at CalEnergy's discretion on exploration, appraisal and or development activities up to a total amount of $32.4m.
iii. Have the option to participate at a 25% interest in the WA-471-P permit that can be exercised for a nominal cost within 3 months of the date of the Pryderi well being drilled. The Company will remain the operator of this permit.
BOARD OF DIRECTORS
Shane Tanner serves as Non-Executive Chairman as well as a member of the Audit Committee since October 2010. He is Chairman of Vision Eye Institute Limited, Funtastic Limited, and Paragon Care Limited. Mr Tanner has strong and varied commercial and financial experience over a 30 year period.
Brendan Brown, Managing Director founded the Company in May 2009. He has over 20 years of experience in the oil and gas and finance industries. He commenced his career as an engineer with BHP Petroleum Limited (now BHP Billiton Limited) and has been involved in various projects including Jabiru, Challis, Skua and Griffin oil field developments. He has also worked as an analyst and corporate adviser with ANZ Investment Bank and assisted Nexus Energy Limited as an independent advisor.
Philip Smith was appointed Technical Director in October 2010. He has over 30 years of experience working as an Exploration Geoscientist. His career commenced in London with Phillips Petroleum Limited and Kufpec before coming to Australia to join Woodside Petroleum Limited and then BHP Petroleum Limited. He was involved in oil and gas discoveries in Elang, Laminaria, Maple and Argus.
Craig Mathieson was appointed Non-Executive Director in August 2012. He brings 10 years of experience from the financial sector. He currently sits on the board of Funtastic Limited and Great Western Exploration Limited. He has also gained a banking and commercial background while working with ANZ and St George Banks.
Geoffrey King was appointed Non-Executive Director in January 2013. He brings over 30 years of experience within the oil and gas industry. He was directly involved in oil and gas discoveries at Macedon, Pyrenees, Montara, Argus and Gwydion.
PRICE CATALYSTS FOR 2013-2015
- Successful drilling of Pryderi-1 Well, currently anticipated in Q4/ 2013, estimated to take 12 to 15 days to drill a potential appraisal well.
- Positive results from seismic data for WA-471-P by mid-2014
- Farmout of WA-471-P by end 2014
- Potential Farmout of WA-485-P.
- Well Planning and drill commitment of WA-471-P by early to mid 2015
ANALYSIS
IPB has negotiated a 100% free-carry with diversified energy group, CalEnergy, which is part of MidAmerican Energy Holdings, a Berkshire Hathaway company in September 2012 to earn various stakes in IPB's permits by spending as much as $32.4 million, including the planned drilling of the 40 million barrel Pryderi prospect in Q4/2013.
The potential of the Basin has not been lost on CalEnergy, which provides and de-risks the Pryderi-1 well for IPB holders
The Browse Basin is home to huge gas resources and more than $40 billion in gas export projects. IPB seeks to focus on the oil potential of the Browse Basin's southern margin.
IPB's permits contain the small Gwydion oil discovery by BHP Billiton in 1995 which although small, did serve to confirm that oil has migrated to the southern margin.
IPB is backed by seasoned industry professionals who have been working away since 2009 at establishing the company as a Browse Basin specialist.
The latest in seismic survey technology has thrown up multiple plays across IPB's acreage with the independent expert assessing the potential (net to IPB) of more than 500 million barrels of oil at the (unrisked) mean prospective resource level.
The permits are characterised by relatively shallow water (maximum depth of approximately 90m) and shallow drill targets (average depth of between 600-900m) which should provide an attractive, low cost environment for exploration and development in comparison with other deeper water projects.
With a deemed 75% chance of a hydrocarbon discovery that in turn has a 60% oil probability, Pryderi has an overall 45% chance of oil discovery, providing good leverage for investors (assume 40% residual interest).
Success at Pryderi has estimated NPV10 net to IPB of $272 million, well above the company's current market capitalisation of $23.5 million.
In addition, the first phase of IPB's farm-out to CalEnergy has a total implied value of $45 million.
We would expect the share price could start to appreciate in the lead up to the spud-date of Q4/ 2013.
Success at the Pryderi Prospect could open up a significant new oil province along the southern margin of the Browse Basin.
Disclaimer: There are a number of risks associated with the Company's business and the inherently uncertain nature of oil and gas exploration including exploration and development risk, operations risk, environmental risk, funding risk and permit commitments.
Proactive Investors Australia is the market leader in producing news, articles and research reports on ASX "Small and Mid-cap" stocks with distribution in Australia, UK, North America and Hong Kong / China.
Seeking Alpha's Disclosure: Past performance is no guarantee of future results. No recommendation or advice is being given as to whether any investment is suitable for a particular investor. Any views or opinions expressed above may not reflect those of Seeking Alpha as a whole. Seeking Alpha is not a licensed securities dealer, broker or US investment adviser or investment bank. Our analysts are third party authors that include both professional investors and individual investors who may not be licensed or certified by any institute or regulatory body.