OncoSil Medical (ASX:OSL) is a targeted brachytherapy treatment developed under an exclusive worldwide license from pSiMedica Limited (a subsidiary of pSivida Corp (ASX: PVA)) for its proprietary BrachySil™ product that deploys defined radioactive isotopes.
Recommendation: Speculative Buy
ASX Code: OSL
Share Price: $0.16
52 Week High: $0.17 Low: $0.02
Issued Shares: 242.0M
Market Cap: $38.7M
Cash: $2.1M
Enterprise Value: $36.6M
Key Points
- The new management team at OncoSil Medical (ASX:OSL) in June of 2013 have rung significant change to guide OncoSil™ through the regulatory path and achieve more rapid commercialisation.
- OncoSil Medical Limited is a Medical Device company that recently acquired OncoSil™, a medical device technology that is ready for global registration studies.
- OncoSil™ is a localised radiation potential therapy treatment for pancreatic cancer that would meet a major unmet clinical need.
- Pancreatic cancer remains a huge challenge for physicians. The annual global incidence of pancreatic cancer affects more than 280,000 people who have a median 5 year survival rate of less than 5% utilising current drug regimes.
- OncoSil™ has successfully completed Phase II studies for pancreatic cancer, and aims to capture a significant part of the global market for pancreatic drugs that are expected to exceed $1.2 billion by 2015.
- OncoSil™ is a Class III medical device, not a drug thereby requiring significantly less funding and time required undertaking a registration study.
- The capital investment to develop and globally register OncoSil™ as a medical device is a tiny fraction of the cost of developing an effective drug that achieves the same outcome. This provides a much higher return for investors.
- Market studies have indicated the potential for commercialised revenues for OncoSil™ treatment are from US$432 million to $705 million.
- There are share price catalysts for OncoSil Medical which has established an approximate 30 month timeline to undertake a global registration study, and commence formal applications for the right to sell OncoSil™ in major global markets. Each milestone and timeline achieved will further de-risk the company and place it more firmly on the radar of potential acquirers.
Background
OncoSil™ is an active implantable medical device that contains the radioactive isotope of phosphorus known as phosphorus - 32, which is closely bonded within an internal microcrystalline structure. The device is a beta emitter that is highly cytotoxic (toxic to cells) that are within a short target range of around 1 cm, and has poor penetration beyond that distance. The device is well suited for local administration to tumours, while minimising systematic toxicity.
In February of 2013 NeuroDiscovery Limited announced acquisition terms for a 100% interest in U.K. based cancer treatment company Enigma Therapeutics Limited and ownership of OncoSil™. The purchase was completed in April of 2013, and included payment of 75 million shares, and name change from NeuroDiscovery Limited to OncoSil Medical Limited.
Enigma had already completed two successful Phase II studies of OncoSil™ in pancreatic cancer that included a total of over 10 years of investment and research in patents, pre-clinical, clinical, and manufacturing trials. OncoSil™ is classified as a class III medical device that is implanted in the body, and does not release any drugs or chemicals, or interact in any other way with body tissues.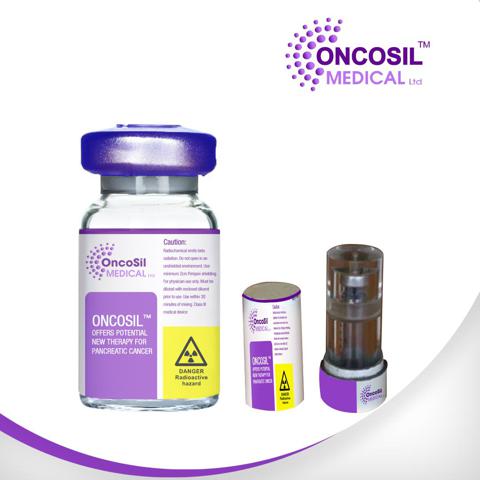 ONCOSIL™ MEDICAL DEVICE
Details of Two Pilot Trials:
- The first fixed dosed study included 17 patients with pancreatic cancer. All patients received a single intra-tumoural implantation of OncoSil™ containing a radiation dose of 100Gy. Patients also commenced gemcitabine treatment 2 weeks prior to implant or within 3 days of implantation. Patients were assessed for response at 8, 16 and 24 weeks; and for safety for up to 24 weeks.
- Analysis of all patients demonstrated significant tumouricial activity with a disease control rate of 82%. Patients experienced an average reduction in pain of 35%, with a maximum reduction of 69% at 8 to 11 weeks following implantation.
- Median progression for survival was 121 days. Median overall survival was 309 days or +10 months, which compared with a typical 5.7 months for gemcitabine treatment. Efficacy was measured at 4 partial responses, 10 stable disease, and 3 with progressive disease.
- The second study took place in 2010 and included 6 patients with pancreatic cancer who received a single intra-tumoural implantation of OncoSil™ in ascending radiation doses of up to 400Gy. Patients also commenced gemcitabine treatment 2 weeks prior to implant or within 3 days of implantation. Patients were assessed for response at 8, 16 and 24 weeks; and for safety for up to 24 weeks.
- The study confirmed that the 400Gy radiation dose was well tolerated and that no adverse events with the device occurred. The tumour control rate was 100%, and confirmed stabilisation of tumour growth. Unfortunately the study was stopped at an early stage due to a change in focus by the previous owner.
New management team in place
The management team at OncoSil Medical was restructured in June 2013 to allow for a more rapid and efficient global roll-out of OncoSil ™. It now includes:
- Martin Rogers who serves as Non-Executive Chairman. He is also Chairman of Consegna Ltd, and a Non-Executive Director of Prima Bio-Med Ltd (ASX:PRR) and Cellmid Ltd (ASX:CDY).
- Dr. Neil Frazer who serves as Chief Executive Officer and Managing Director and has 25 years of drug development experience in Europe and the United States. He has conducted numerous Phase I - IV Studies that have led to product registration in numerous jurisdictions.
- Dr. Roger Aston is an accomplished scientist and biotechnology entrepreneur who has been involved with many start-ups and major pharmaceutical companies. He has been involved with multiple FDA and EU product registrations, and is currently a Director of Regeneus Ltd., IDT Ltd., Immuron Ltd., Pitney Pharmaceuticals Ltd., and Cynata Ltd.
Current Status
OncoSil™ has been developed for direct implantation into solid tumours. The micro-particles are designed to remain localised within the tissues, and deliver a retained and targeted dose of beta radiation directly into the tumour and the pain conducting nerves around it. The product is easy to use and is administered via ultrasound guided endoscopy that takes a short 15 to 30 minutes to complete, and delivers targeted radiation for up to 3 months.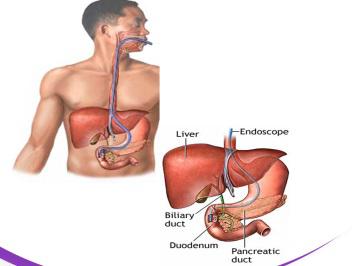 ONCOSIL™ - EASY TO USE AND ADMINISTERED VIA ENDOSCOPE DIRECTLY TO THE PANCREAS
OncoSil Medical initiated a US FDA gap analysis in early August of 2013, and is an important step in defining the regulatory pathway to a pre Investigational Device Exemption "IDE" meeting with the US Food and Drug Administration. This follows in the footsteps of highly successful and commercialised precedents for Investigational Device Exemptions granted by the FDA for localised radiation treatments of hepatic and prostate cancers.
OncoSil Medical has contracted with regulatory consultancy Emergo Group as experts to support both the US FDA IDE submission and the European submission. The firm has extensive experience in the support of global and US medical device submissions. Emergo will initially compile an FDA Regulatory Pathway report that is based on current data that is applicable to the development of OncoSil™.
The IDE submission includes manufacturing data, protocol, investigators brochure, and clinical safety and efficacy data that have been generated to this date. OncoSil will then determine if a simple reference device comparison / 510(k) submission, or a Pre Marketing Authorisation is appropriate.
The Company is also planning a global clinical study in 2014 that is designed to provide data on the safety and efficacy of the OncoSil™ device.
This registration study will be a randomised open label clinical trial that will be combined with gemcitabine/ Abraxane™, which has recently become a standard treatment for pancreatic cancer. Dosing with gemcitabine/ Abraxane™ will commence two weeks prior to implantation with OncoSil™, or within 3 days of implantation. Approximately 100 to 300 patients will be included in the study, and many will be tested with a single intra-tumoural implantation of OncoSil™.
The study will evaluate survival rates from pancreatic cancer, pain relief, product safety, and validate device supply logistics.
Manufacturing
In July of 2013 OncoSil Medical initiated a co-operation and cost sharing agreement with Eckert & Zeigler, which is a global leader in the manufacture of devices, radio-chemicals, and radio-pharmaceutical precursors utilised to treat serious diseases and for medical imaging.

Eckert & Zeigler own a state of the art manufacturing facility that is located in Braunschweig, Germany. The initial stage of this relationship relates to the manufacture and supply OncoSil™ devices for the pivotal registration study from the Good Manufacturing Practice compliant Braunschweig facility. The company has an established track record for high quality manufacturing over many decades, and includes successful completion of auditing by global regulatory authorities.
Manufacture of OncoSil™ involves mixing silicon with phosphorous that is heated, and atomised with water to create Si-P micro-particles. These are graded to 30 microns, etched with acid to create porosity, and then placed in a high neutron flux reactor for irradiation. The finished product is then shipped in lead containers to medical facility pharmacies where the OncoSil™ is reconstituted for patient dosing.
The companies are currently negotiating a formal process development and manufacturing agreement that is expected to develop into a global strategic manufacturing alliance. This will establish the capability to meet long term demand for OncoSil™, and provide for a reduction in manufacturing costs as sales of proprietary radioactive devices increases.
Additional benefits include the use of an established expertise in the global shipping of radioactive packages, and ability to provide research support for the development of second generation products.
Current treatment for pancreatic cancer
Median survival rates for locally advanced pancreatic cancer are between 4 to 6 months, and the prognosis for patients is generally poor, even with treatment.
The standard treatment for this type of cancer is Roche's gemcitabine plus Abraxane™, and additional treatments include erlotinib, Whipple surgery, chemotherapy, and beam radiation treatment. All contribute significant side effects that destroy the quality of remaining life, and have low survival rates.
OncoSil™ trials have proven that the device can significantly extend life, and reduce painful side effects.
Patents & Intellectual Property
OncoSil Medical has developed a multi-layered blanket of protection that includes a broad based patent portfolio that has been granted in the United States, European Union, Japan and elsewhere. This includes coverage on the therapeutic product and the manufacturing method.
Trademark protection for OncoSil™ has been granted in Australia, New Zealand, United Kingdom, European Union, United States, Japan and Singapore.
Know-how, expertise and trade secrets cover (1) brachytherapy clinical trial management, (2) manufacturing and distribution logistics, (3) core technologies and full toxicology package; and (4) detailed market research data completed by Navigant Consulting Inc.
Catalysts and Milestones - Valuation inflection points next 6-12 months
- Q3-Q4 2013 - Commence application for Conformité Européenne marking with European Medicines Agency. This is a mandatory conformity marking for products that are sold in the European Economic Area that includes 27 member states and Iceland, Norway and Liechtenstein.
- Q4 2013 - Commence Pre-Investigational Device Exemption "IDE" application with U.S. Food and Drug Administration.
- Q4 2013 - Commence Australian application with Therapeutic Goods Administration for Register of Therapeutic Goods, and with Pharmaceutical Benefits Scheme.
- Q1 2014 - Global Registration Study.
Valuation
OncoSil Medical has issued 242 million shares that are trading at $0.16 for a market capitalisation of $38.7 million. Total investment into the OncoSil™ technology currently stands at $25 million.
This compares with an "average cost" of $1.3 billion to bring a new drug to market by Eli Lilly, and can easily run $4 to $11 billion for major drug developers when failed drugs are factored into each approval.
OncoSil Medical confirms a global incidence of pancreatic cancer at 280,000 per annum, of which 192,000 occur in the United States, Japan, Australia and Europe. This includes 28,800 to 47,000 patients that the Company has deemed to be suitable candidates for treatment with OncoSil™.
The Company estimates that each treatment should gross approximately US$15,000, and equates to assumptions for annualised gross revenues peaking at US$432 million to $705 million. A breakdown of costs for manufacture, supply, and treatment are not yet stated, but are indicative of the very significant revenue stream potential for OncoSil Medical after global approvals are granted to sell the device.
While the share price has fairly "motored" - rising over 5-fold since June 2013 - with the advent of a new management team; it is also against a re-rating of most listed stocks in the Australian biotech and medical device sectors.
For OncoSil there is a significant "prize" - the opportunity to move farther down the road to commercialize a novel radiation therapy for pancreatic cancer in Europe, United States and Australia.
At each successful milestone achieved by OncoSil, it further de-risks the company making it easier for a potential acquirer to seize an opportunity. It would be usual to believe that in 2014/15 with its aggressive timelines, OncoSil would move onto the radar of a number of companies interested in the technology.
Proactive Investors Australia is the market leader in producing news, articles and research reports on ASX "Small and Mid-cap" stocks with distribution in Australia, UK, North America and Hong Kong / China.
Disclaimer
You understand and agree that no content published constitutes a recommendation that any particular security, portfolio of securities, transaction, or investment strategy is suitable or advisable for any specific person. You further understand that none of the information providers or their affiliates will advise you personally concerning the nature, potential advisability, value or suitability of any particular security, portfolio of securities, transaction, investment strategy, or other matter.
You understand that the Site may contain opinions from time to time with regard to securities mentioned in other products, including company related products and that those opinions may be different from those obtained by using another product related to the Company. You understand and agree that contributors may write about securities in which they or their firms have a position, and that they may trade such securities for their own account. In cases where the position is held at the time of publication and such position is known to the Company, appropriate disclosure is made.
However, you understand and agree that at the time of any transaction that you make, one or more contributors may have a position in the securities written about. You understand that price and other data is supplied by sources believed to be reliable, that the calculations herein are made using such data, and that neither such data nor such calculations are guaranteed by these sources, the Company, the information providers or any other person or entity, and may not be complete or accurate.
From time to time, reference may be made in our marketing materials to prior articles and opinions we have published. These references may be selective, may reference only a portion of an article or recommendation, and are likely not to be current. As markets change continuously, previously published information and data may not be current and should not be relied upon.
The contributors make every effort to ensure that the information and material contained in this report is accurate and correct and has been obtained from reliable sources. However, no representation is made about the accuracy or completeness of the information and material and it should not be relied upon as a substitute for the exercise of independent judgment. Proactive Investors does not accept any liability, including negligence, for any loss or damage arising from the use of, or reliance on, the material contained in this report. There are general risks associated with any investment in securities. Investors should be aware that these risks might result in loss of income and capital invested.
WARNING: No recipients should rely on any recommendation (whether express or implied) contained in this document without obtaining specific advice from their advisers. All investors should therefore consider the appropriateness, in light of their own objectives, financial situation and/or needs, before acting on the advice.
DISCLOSURE: Proactive Investors, its directors, associates, employees or representatives may not effect a transaction upon its or their own account in the investments referred to in this report or any related investment until the expiry of 24 hours after the report has been published.