Tiger Resources (ASX:TGS) is the 60% owner of the Kipoi Copper Project, in the Democratic Republic of the Congo, and holds this interest through Société d'Exploitation de Kipoi which is the operator of the project.
Recommendation: Speculative Buy
ASX Code: TGS
Share Price: $0.305
52 Week High: $0.38 Low: $0.16
Issued Ordinary Shares: 674.8M
Options: 13.6M
Market Cap: $205.8M
Cash: $22.7M
Enterprise Value: $183.1M
Key Points
- The Kipoi Copper Project is a world class, high-grade copper project. Production is currently sourced from 2.7Mt of ore at 7% Cu, to produce 113,000 tonnes of copper concentrate from Stage One operations utilising a Heavy Media Separation (HMS) Plant.
- The first half of 2013 saw revenue soar to $94.664M for a cash operating profit of $49.030M.
- Tiger is now the fourth largest ASX listed copper producer by volume and forecasts 41,000-43,000 tonnes of copper production in 2013 at a cash cost of US$0.48/lb, and 21,000 tonnes of copper production in 2014 at a cash cost of US$0.30/lb. This generates extremely high profit margins.
- Completion of SXEW plant in mid-2014 will lead to Stage Two annualised production of 50,000 tonnes of copper cathode for a Life of Mine of at least 9 years.
- The SXEW plant is expected to produce LME grade copper at cash cost of US$0.72/lb for 2014 to 2015, and reduce Life of Mine cash costs to US$1.13/lb. Low cash operating costs for the SXEW plant will be maintained by treating feedstock from mined material.
- Financing discussions are well advanced. Tiger has received off-take proposals for copper cathode from 8 trading houses. Given project quality of Kipoi, we assume debt finance will be secured.
- Tiger carries a fraction of the value of Oz Minerals capitalised at A$1.3B, with annualised cash costs of US$1.65 - US$1.85/lb to produce 85,000 tonnes of copper and 125,000 of gold at ~0.84% Cu, PanAust capitalised at A$1.4B, with cash costs of US$1.37/lb to produce 83,000 tonnes of copper at 0.12% Cu; and Sandfire capitalised at A$1.0B with cash costs US$1.37/lb to produce 64,000 tonnes of copper and 43,000 of gold at 5.2% Cu.
- There is also corporate appeal with Tiger, as Chinese groups and banks are actively seeking copper producers with low quartile costs. Valuation of Tiger is A$0.58 to A$0.76 per share.
Background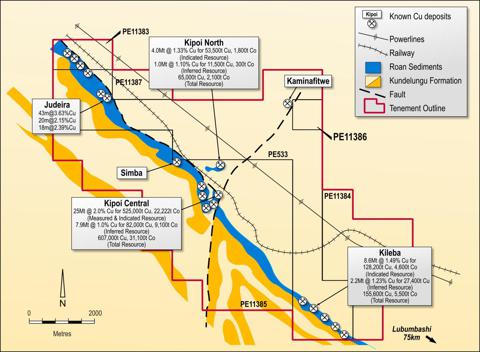 KIPOI MINING LICENCE
Kipoi is located 75km northwest of Lubumbashi, the capital of Katanga Province, and is in the central part of the Katanga Copper Belt within the Democratic Republic of the Congo or DRC. Lubumbashi has a population of approximately 1.5 million people and serves as the mining capital of the country.
The DRC is ranked as the 8th largest global producer of copper, and is the 2nd largest producer in the continent of Africa. Major project operators include Freeport McMoran Copper and Gold, Lundin Mining, ENRC, Jinghuan, MMG, Ivanplats and Glencore.
The Katanga Copper belt forms part of the DRC and Zambian copper belt that currently hosts the 4th largest global copper reserve. Mineable copper grades can reach 2.5% to 5% and are amongst the highest in the world.
The Kipoi Mining Licence covers an area of 55 square kilometres and contains a 12 kilometre-long extensively copper-cobalt mineralised segment Upper Roan sediments. The project hosts five known copper deposits known as Kipoi Central, Kipoi North, Kileba, Judeira and Kaminafitwe.
Stage 1 Processing via Heavy Media Separation Plant - Copper Concentrate Production
The first stage of production at Kipoi Central utilised a Heavy Media Separation plant that commenced production of copper concentrates in June of 2011. The HMS plant has performed extremely well and produced at up to 17% above nameplate capacity over the last six quarters. Operations are scheduled to continue for an additional 14 months.
The HMS stage is processing 2.7 million tonnes of ore at a grade of 7% Cu to produce 113,000 tonnes of copper.
During 2012 the Company mined 940,282 tonnes of ore, and the HMS plant processed 1,009,694 tonnes of ore to recover 36,966 tonnes of copper in concentrate. High grade, medium grade and low grade Run of Mine along with floats and slimes have been stockpiled for SXEW processing.
Approximately 80% of copper concentrates are currently sold to smelters within the DRC, with the balance sold to a copper smelter in Zambia, and has the approval of the DRC government. Kipoi produces up to 42,000 tonnes of concentrates per year at an average grade of 25% copper.
The annualised cash operating cost reported at $0.76 per pound of copper produced, and with the addition of stockpile movement costs, royalties and concentrate export selling costs brought the total to $0.94 per pound.
For the year ending 2012, in U.S. dollars, the project generated revenue of $146,381,000 from sale of concentrates, and incurred costs of goods sold of $92,362,000, exploration and evaluation costs of $17,684,000, administration and finance expenses of $10,117,000 and taxes of $15,703,000. After tax profit was $10,546,000, and profit attributable to Tiger Resources was $1,883,000 or $0.0028 per share.
When other comprehensive income items were included the after tax return increased to $12,639,000. Total equity increased by 16.8% from $84,524,000 to $98,240,000, and included current and non-current assets of $153,941,000 along with current and non-current liabilities of $55,417,000. Cash balance was a very healthy $34,463,000.
Production guidance from the HMS plant for 2013 is in the range of 41,000 to 43,000 tonnes of copper concentrate at an OPEX of $0.48 per pound. Production for 2014 is estimated at 21,000 tonnes of copper concentrate at an OPEX of $0.30 per pound.
The first half of 2013 saw production of 20,604 tonnes, and included a record output of 4,442 tonnes of copper established in the month of June.
In the first half of 2013 the project generated record revenues of $94,664,000 from sale of concentrates, and incurred costs of goods sold of $63,825,000, exploration and evaluation costs of $1,179,000, administration and finance charges of $8,846,000, and taxes of $8,928,000. After tax profit was $14,142,000, and profit attributable to Tiger Resources was $4,203,000 or $0.0094 per share.
Total equity is now $111,244,000, an increase of 13.2% since the end of 2012. Current and non-current assets increased to $162,594,000, and current and non-current liabilities amounted to $51,350,000.
The first half of 2013 also includes capital expenses related to construction of the SXEW plant that were derived from free cash-flow. Cash flow from the project is so strong that it is conceptually possible to complete the plant while incurring only a minor debt level.
Tiger also has an outstanding obligation to the vendor of the Kipoi project area that includes a payment of US$2.75 million for each 50,000 tonnes of probable copper resources identified within the project area that exceed 350,000 tonnes. Payments have been completed for 217,125 tonnes, and a liability exists for resources that exceed 567,125 tonnes of copper.
The mine and plant have completed 3 million man hours of operation, and remain injury free, and is a testament to excellent management practices.
Current Reserve and Resource Status
Current JORC compliant Measured and Indicated Resources for Kipoi Resource totals 37.8 million tonnes at 1.8% Cu for 674,000 tonnes of copper. Additional JORC compliant Inferred Resources total 11.1 million tonnes at 1.1% containing a total 121,000 tonnes of copper, for a grand total of 795,000 tonnes of copper across Measured, Indicated and Inferred Resources.
At June 30, 2013 the company has a stockpile from the HMS operation at Kipoi of of 4.2Mt at 2.5% Cu for 101.7kt Cu. The content from the stockpile will be used in the first two years of the SXEW operation.
Current JORC compliant Probable Reserves for Stage 2 SXEW at Kipoi Central, Kileba, and Kipoi North total 21.9 million tonnes at 1.41% Cu for 308,000 tonnes of copper. Additional mineable Probable Reserves are located at the Kipoi Central Stockpiles of 4.9 million tonnes at 2.8% Cu that contain 137,000 tonnes of copper for a grand total of 445,000 tonnes of copper.
Current Status - Stage 2 SXEW Plant processing and production of copper
In January of 2013 the Company completed a very positive Definitive Feasibility Study for a Stage 2 SXEW plant that established an annualised production rate of 50,000 tonnes of LME Grade A copper metal. Cash operating costs are estimated at US$0.72 per pound for the first two years, and US$1.13 per pound for the remaining seven years of the life of the mine.
The project is expected to generate an after tax Internal Rate of Return of 44%, and a Net Present Value of $378 million using an 8% discount rate. The DFS applied a copper price of US$3.40 per pound from 2014 to 2017 and US$3.00 per pound from 2018.
The DFS established an initial project capital cost of $160.9 million. Life of mine capital costs that include sustaining capital and mine closure costs total $383.5 million. A 16 month payback for initial capital cost is also clearly indicated.
Tiger has already spent $60 million to develop the SXEW plant and expects production of refined copper metal to commence in mid-2014.
Feedstock will be sourced from 445,000 tonnes of copper contained within reserves identified at Kipoi Central, Kileba, Kipoi North and Kipoi Central Stockpiles. Additional ore will be sourced from the nearby Lupoto Project and possibly from Judeira on a longer term basis.
Lupoto, and La Patience and Judeira Projects
Tiger retains a 100% interest in the Lupoto Prospecting Licence that covers 140 square kilometres and is located 10 kilometres to the south of the Kipoi mining area.
A JORC compliant resource has been drilled at Sase Central that hosts an Indicated Resource of 9.6 million tonnes at 1.39% Cu for 134,000 tonnes of copper and 5,000 tonnes of cobalt; and an Inferred Resource of 2.8 million tonnes at 1.21% Cu for 34,000 tonnes of copper and 1,000 tonnes of cobalt. Total Indicated and Inferred Resources currently stand at 168,000 tonnes of copper.
A feasibility study is scheduled for completion at Sase Central at the end of 2013. Mineralisation has been tested to a shallow depth of only 150 metres, and is amenable to open pit treatment. Lupoto also contains multiple targets at Kapampala and Mwana, and soil sampling has identified a copper-in-soil anomaly to the north of Sase, and may also be drilled in the future.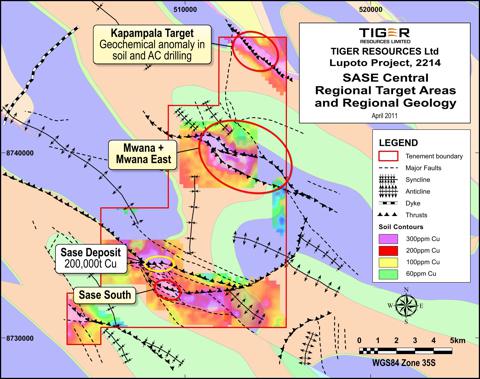 LA PATIENCE EXPLORATION PERMIT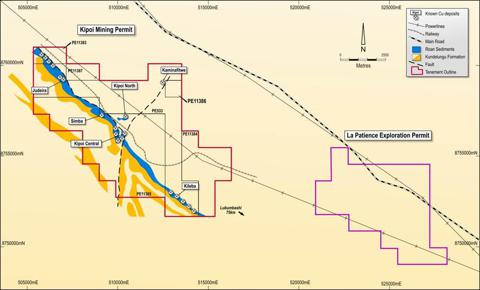 SASE PROSPECTING LICENCE
Tiger retains a 100% interest in the La Patience Exploration Permit which is located approximately 8 kilometres to the east of current mining operations. Soil sampling has identified a copper-in-soil anomaly that is found in the centre of the permit. A geophysical survey has also identified two centrally located anomalies which will be drilled tested before the end of 2013.
Tiger also completed a diamond drilling programme at Judeira South which is located within the Kipoi Project area, and approximately 4,000 metres along strike to the northwest of current mining operations. This work has expanded the width and depth of high grade oxide mineralisation. Trenching has also been undertaken to get a better understanding of the mineralised structure, and assist with the preparation of a maiden resource estimate.
Strategic holding in Chrysalis Resources
In August of 2012 Tiger acquired a 19.9% interest in Chrysalis Resources (ASX: CYS), and entered into a strategic alliance with the junior explorer. Chrysalis holds a number of early stage projects in Zambia that are located within the Zambian copper belt and cover 3,000 square kilometres. These include Shikila which hosts a maiden resource of 96,000 tonnes of copper, and Mwango that is located 5 kilometres from the Blackthorn discovery at Kitumba.
Copper market
Spot copper is currently trading at US$3.21 per pound and is above its 100 day moving average. LME stockpiles of copper are near 6 month lows at 575,000 tonnes after retreating from a 5 year high of 675,000 tonnes reported in June of this year. Prices rallied sharply after the FOMC issued a no tapering announcement from the U.S. Federal Reserve.
The "slight" surplus in the copper market is likely to persist for the next 12 months, with new mine supply volume coming online and few signs of strong demand acceleration.
However, further out, there exists a significant supply challenge, with current producers facing lower grades, pressures and project delays.
This is why a significant amount of funding is finding its way back into the copper sector in the past couple of months and likely in the next six months. China is also looking to lock in long term supplies and their outlook is considerably longer than 12 months.
Catalysts
- Completion of $80 million debt funding package for SXEW plant
- Continued strong cash flow growth from HMS plant operations
- Flow of resource data from Lupoto, La Patience and Judeira
- Commissioning of SXEW plant and increased production of copper cathode in mid-2014
- Corporate or strategic interest
Valuation
Tiger Resources has issued 674.8 million shares that are currently trading at A$0.305 for a market capitalisation of $250.8 million. The Company is currently producing concentrates at an annualised rate of 41,000 to 43,000 tonnes per annum, and in mid-2014 will switch over to production of copper cathode at 25,000 tonnes to start as well as 25,000 tonnes from HMS for a mine lift of 9 years.
Current JORC resources are at 445,000 tonnes of copper, and are forecast to increase to around 800,000 tonnes with the addition of Kipoi Central (190,000 tonnes) and Sase Central (160,000 tonnes). Additional resource upside may flow from exploration and development of identified targets at Sase, La Patience and along trend at Kipoi.
A number of significant copper mines have recently been acquired that include:
- Capstone purchase of a 100% interest in the Pinto Valley Copper Mine in Arizona from BHP for $650 million. Pinto is expected to produce 60,000 tonnes of copper concentrates and 5,000 tonnes of copper cathode per year, at $1.80 per pound for 5 years. The property has significant exploration upside.
- Lundin purchase of a 100% interest in the Eagle Mine in Michigan from Rio Tinto for $325 million. Lundin will also invest an additional $400 million to complete a CAPEX of $770 million. The mine will produce 20,000 tonnes of nickel, 20,000 tonnes of copper and small quantities of gold, platinum and palladium each for a mine life of 8 years. Cash cost to produce copper is estimated at $2.00 per pound, and the property has significant exploration upside.
- China Moly purchased an 80% interest in the Northparkes Copper and Gold Mine in New South Wales from Rio Tinto for $820 million. The mine is expected to produce 54,000 tonnes of copper and 72,000 ounces of gold each year in a concentrate form. Mine life is projected for up to 2 decades.
The Kipoi Mine and associated satellite copper deposits have potential for a mine life that exceeds 15 years at an annualised production rate of 50,000 tonnes of copper cathode. This places Kipoi within the same peer group as Pinto, Eagle and Northparkes, and should be confirmed from resource upgrades, commissioning of the SXEW plant, and scale up of production to full plant capacity that is completed into late 2014.
Kipoi should draw an additional premium as it has the lowest cash costs within this peer group. The first two years of production will process previously mined feedstock ay an OPEX of US$0.72 per pound, and then at US$1.13 per pound for the remaining Life of Mine.
Our valuation is based on annualised production of 50,000 tonnes per annum and sum of the parts, which equates to $650 to $850 million. This equates to a valuation of $390 to $510 million for the 60% interest held by Tiger Resources, or A$0.58 to A$0.76 per share.
Proactive Investors Australia is the market leader in producing news, articles and research reports on ASX "Small and Mid-cap" stocks with distribution in Australia, UK, North America and Hong Kong / China.
Disclaimer
You understand and agree that no content published constitutes a recommendation that any particular security, portfolio of securities, transaction, or investment strategy is suitable or advisable for any specific person. You further understand that none of the information providers or their affiliates will advise you personally concerning the nature, potential advisability, value or suitability of any particular security, portfolio of securities, transaction, investment strategy, or other matter.
You understand that the Site may contain opinions from time to time with regard to securities mentioned in other products, including company related products and that those opinions may be different from those obtained by using another product related to the Company. You understand and agree that contributors may write about securities in which they or their firms have a position, and that they may trade such securities for their own account. In cases where the position is held at the time of publication and such position is known to the Company, appropriate disclosure is made.
However, you understand and agree that at the time of any transaction that you make, one or more contributors may have a position in the securities written about. You understand that price and other data is supplied by sources believed to be reliable, that the calculations herein are made using such data, and that neither such data nor such calculations are guaranteed by these sources, the Company, the information providers or any other person or entity, and may not be complete or accurate.
From time to time, reference may be made in our marketing materials to prior articles and opinions we have published. These references may be selective, may reference only a portion of an article or recommendation, and are likely not to be current. As markets change continuously, previously published information and data may not be current and should not be relied upon.
The contributors make every effort to ensure that the information and material contained in this report is accurate and correct and has been obtained from reliable sources. However, no representation is made about the accuracy or completeness of the information and material and it should not be relied upon as a substitute for the exercise of independent judgment. Proactive Investors does not accept any liability, including negligence, for any loss or damage arising from the use of, or reliance on, the material contained in this report. There are general risks associated with any investment in securities. Investors should be aware that these risks might result in loss of income and capital invested.
WARNING: No recipients should rely on any recommendation (whether express or implied) contained in this document without obtaining specific advice from their advisers. All investors should therefore consider the appropriateness, in light of their own objectives, financial situation and/or needs, before acting on the advice.
DISCLOSURE: Proactive Investors, its directors, associates, employees or representatives may not effect a transaction upon its or their own account in the investments referred to in this report or any related investment until the expiry of 24 hours after the report has been published.