Carnarvon Petroleum (ASX:CVN) retains producing oil and gas interests in Thailand and highly prospective off-shore exploration interests in Western Australia.
Recommendation: Speculative Buy
ASX Code: CVN
Share Price: $0.068
52 Week High: $0.11 Low: $0.04
Issued Ordinary Shares: 935M
Options: Nil
Market Cap: $63.6M
Cash: $19.9M
Enterprise Value: $43.7M
Key Points
- Thai oil production at L44/43 & L33/43 in Thailand is revitalised with strong production focused new operator Towngas. Carnarvon retains a 40% interest and nets annualised oil production of 200,000 barrels from gross production of 500,000 barrels.
- There is potential for a significant rise in oil production over the next 12 months.
- Development now aimed at both volcanic and sandstone reservoirs.
- Net 2P oil reserves at L44/43 & L33/43 increase to 12.2 million barrels, and 3P reserves grow by 47% to 35.5 million barrels.
- 2.4 million Barrels of proved undeveloped reserves can be quickly accessed at a low cost of US$1.0 - $1.5 million per well, with 5 to 8 wells planned in the current financial year.
- Additional boost in Thai production to flow from water-flood project commenced in August, and other projects on drawing board.
- Apache & JX Nippon set to drill Phoenix South, which is a large four way closure within WA-435-P and has multi TCF potential for gas. Drilling is scheduled for November 2013 to January 2014.
- Carnarvon retains a 20% interest in WA-435-P & WA-437-P and is free carried for drilling of one well at Phoenix South and one well at Roc, at a cost of $50 to $100 million.
- Future farm-out of WA-436-P to focus on new Zeeter 3D seismic survey, and follow successful drilling of Phoenix South well.
- Phoenix South could be a "game-changer" for Carnarvon and further share price rises could occur in lead up to spud date.
- Estimated share price target of $0.151 to $0.182 per share within 12 - 18 months.
Background
L 44/43, L 33/43 & SW1A Carnarvon holds a 40% stake in these exploration and production concessions that are located in the Phetchabun basin and are approximately 300 kilometres north of Bangkok. Towngas is the new operator with 60%. The partners maintain an active drilling campaign in this highly prolific basin and plan numerous production, appraisal and exploration wells.
Current oil production from this Joint Venture is sourced from sandstone and igneous reservoirs that is transported by road, direct to the refinery. The partners maintain a low cost, scalable operation.
In 2010 2 exploration wells produced over 1,000 barrels per day from L33/43. Recent 3D seismic has targeted the shallow and productive igneous horizons that these wells intersected. Significant further potential is also expected in intervals related to the main WBEXT, WBV1 and WBV2 igneous reservoirs that produced oil 5 kilometres to the south.
L 52/50 & L53/50 Carnarvon holds a 100% stake in both blocks. They cover approximately 6950 square kilometres in the Khian Sa Basin in Southern Thailand, and are adjacent to a number offshore oil-producing basins in the Gulf of Thailand that include the Chumphon Basin.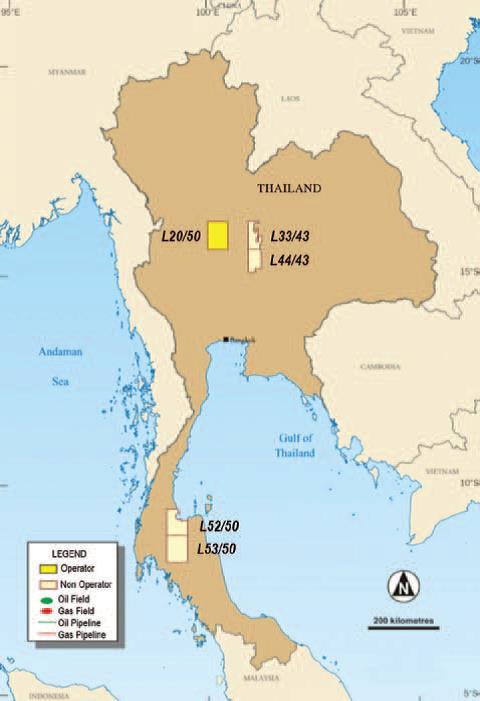 THAILAND ASSETS
The Company has acquired 314 kilometres of 2D seismic data that has identified a number of prospects including the Ta Chana prospect which has an internally assessed mean potential of 80 million barrels of recoverable oil. Carnarvon continues technical work and is seeking a farm-in partner to drill the Ta Chana Prospect and evaluate a number of additional prospects.
L20/50 Carnarvon retains a 0% interest, but is entitled to a commercial entitlement in any discovery and oil production. This includes a payment of US$4.7 million, and a 2% overriding royalty that is capped at US$5.5 million.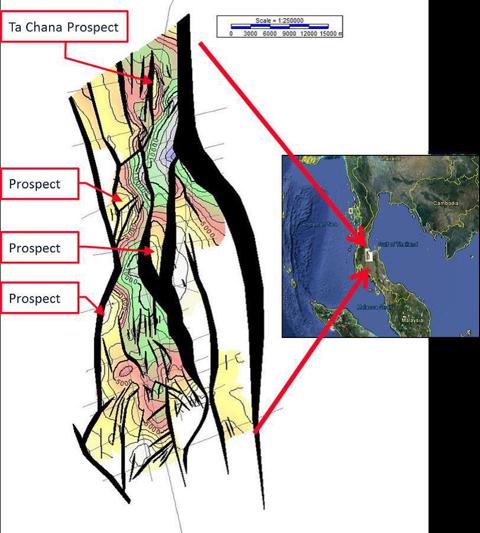 L52/50 7 L53/50 AVAILABLE FOR FARM IN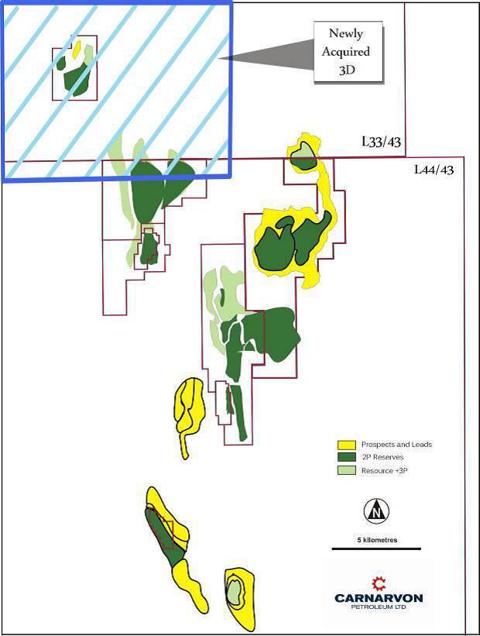 OIL FIELDS AND LEADS WITHIN L44/43 & L33/43, NOTE POTENTIAL IN L33/43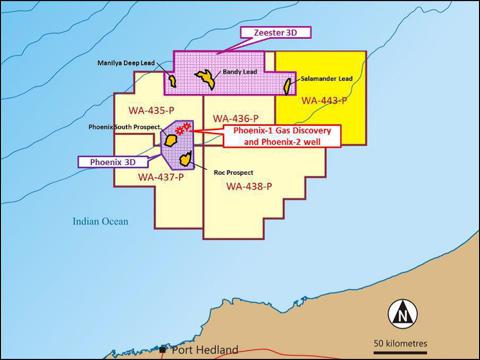 WA-435-P & WA-437-P IN WESTERN AUSTRALIA ON THE NORTH WEST SHELF
WA-435-P & WA-437-P - THE PHOENIX PROJECT
Carnarvon retains 20%; remaining interests include Finder Exploration 20%, JX Nippon 20%, and Apache holding operator status with 40%.
The two permits cover approximately 28,000 square kilometres of contiguous acreage that are considered to be highly prospective for discovery of hydrocarbons. The permits include gas discoveries made in the early 1980's by BP at Phoenix-1 and Phoenix-2, and were considered uneconomic due to low gas prices at the time they were made.
Demand and pricing of North West Shelf LNG and domestic gas has increased, and has the potential to make the historic discoveries economic.
Recent 3D seismic data has upgraded the Phoenix South Prospect as a multi trillion cubic foot prospect, and is proximate to proven gas in lower Triassic reservoirs found in the Phoenix-1 well.
Additional technical work within WA-435-P uncovered a potential new oil prospect and a new stratigraphic gas prospect.
The Roc Prospect also has targets in the lower Triassic reservoir that are drill ready and of a similar size to the Phoenix South Prospect.
WA-436-P & WA-438-P - PERMITS CONTIGUOUS WITH PHOENIX PROJECT
Carnarvon holds a 50% interest, with the remaining 50% held by Finder Exploration as operator.
The joint venture partners continue technical work that will include evaluation of Zeester 3D when available. The partners have already identified a stratigraphic play along the margins of the basin within the Zeester 3D data area. These plays have been identified within the North Sea, and are known to contain significant volumes of oil and gas.
WA-443-P - CONTIGUOUS WITH WA-436-P AND ZEESTER 3D
Carnarvon holds a 100% interest and operatorship.
The Zeester 3D seismic survey across the WA-435-P and WA-437-P permits also extends into a portion of the WA-443-P permit. The seismic acquisition covered the Salamander lead that was identified in a regional technical review of the north-western section of this block.
The stratigraphic play concept identified in the adjacent block also has the potential to extend into WA-443-P, and geological and geophysical studies are currently being carried out on this block in conjunction with similar work in the adjacent permits.
Financial Year to June 30 2013 financial year
In 2013 Carnarvon Petroleum reported oil sales of $18,304,000 down from $30,411,000 in 2012. After the deduction of cost of sales of $13,007,000, administration expenses, exploration expenditure write-off of $1,105,000 reported a pre-tax profit of $1,500,000 down from $6,885,000 in the prior year.
The net operating margin was a healthy $26.50 per barrel of oil produced.
The Company reported current and deferred income tax expenses of $9,873,000, that included $6.2 million associated with exchange rate differences of balance sheet tax related items, and a loss of $ 8,385,000, or a loss of $0.01 per share, down from a loss of $0.004 per share in 2012. Comprehensive income reported an exchange rate gain of $10,102,000 for a profit of $9,717,000, and a significant improvement over the gain in the previous year of $572,000.
Cash and cash equivalents stood at $19,525,000, and current assets totaled $31,821,000. Non-current assets included oil and gas assets of $108,374,000 for total assets of $144,364,000.
Current liabilities are a low $4,291,000, and non-current liabilities included $43,245,000 for deferred tax liabilities, and total liabilities of $47,536,000.
Total cash held at the end of the most recent September quarter was $19.9 million, and includes cash held as security for bank guarantees and requirements of Thai authorities.
Net oil revenue for the September quarter was $4.9 million on the sale of 48,299 barrels of oil, and produced an operating positive cash flow of $2.7 million.
The prior June quarter produced and sold 44,035 barrels of oil for net revenue of $4.1 million, and pre-tax cash flow of $2.1 million.
Highlights for 2013 financial year
During the 2013 financial year, progress was achieved in the Phoenix area exploration permits with drilling now being planned around the end of the 2013 calendar year.
In Thailand, significant technical work has been undertaken albeit with field development activity slower than anticipated and results are therefore delayed.
The company has also been very active in assessing other opportunities throughout South East Asia and Australia and is hopeful that its efforts will yield a result soon.
Notably, the focus on its Thailand production asset has resulted in an increase in developed sandstone reserves.
Carnarvon share of Current Reserves at SW1, L44/43& L33/43
Reserves were independently verified at the end of calendar 2012 by Chapman Petroleum Engineering.
Carnarvon holds a net interest of 1.5 million barrels of developed reserves from wells already drilled and in production. The gross 1P reserve is 3.8 million barrels and will support production for 7 to 8 years.
Undeveloped proved reserves add approximately 2.5 million barrels to Carnarvon's net position. The recovery of this oil will require the drilling of a further 33 wells. Recovery has a high degree of certainty based on historic data.
An additional 8.3 million barrels net to Carnarvon are defined as probable. This will require the drilling of 83 wells, and there is an equal chance that this reserve will produce at higher or lower levels to the estimate.
Less certain are an additional 21.3 million barrels of possible reserves net to Carnarvon. These reserves require an estimated additional 139 wells to evaluate.
The WBEXT-2C development appraisal well at the northern limit of L44/43 has produced 12,000 barrels of oil to date. The well was drilled over the entire igneous sections and identified 2 to 3 prospective oil zones. It was completed over the lower section of the WBV II igneous. The well is within the Wichian Buri Extension production licence and provided a boost to production rates.
Back pressure and variable rate testing will continue on this well to more fully understand the flow regimes from both zones before a workover program is likely to block off the lower water zone. A further oil zone in the upper WB VI has been interepreted from well logs and is a candidate for future development with this well or another well.
Catalysts - Drilling and Work Programmes
- L33/43 Thailand - Exploration drilling based on newly acquired L33/43 3D seismic and development drilling at WBEXT based on revised technical understanding following the successful WBEXT-2C well. The recently acquired 3D data is in the final stages of processing, with a number of prospective areas having already been identified. Eight well pad locations have been identified and are the subject of EIA applications ahead of the final interpretation. EIA approval is anticipated, and drilling is expected to commence, in the fourth quarter of this year. Several development locations are ready in the WBEXT production license.
- L20/50 Thailand - Siam Moeco Ltd now holds a 100% interest and has completed 3D seismic. Drilling is expected to get underway in 2014. Carnarvon is not exposed to any exploration and development expenditure, and retains upside to a hydrocarbon discovery via a cash payment and an overriding royalty.
- WA-435-P & WA-437-P Apache and JX Nippon have agreed to fund and drill Phoenix South and Roc with a cap of $50 million per well. The Apache contracted Atwood Eagle semisubmersible drilling rig will drill both wells.
- Drilling likely to commence around December 2013 and be completed in February 2014 for Phoenix South. Drilling of the Roc Prospect is contingent on data generated from the first well.
Oil price buoyant
The 200 day moving average for NYMEX Light Sweet Crude for the November contract is at US$98 per barrel, and indicates that the futures price of US$102.91 per barrel is slightly overbought. Producers need a spot price of around US$100 per barrel to continue investment in new sources of oil.
At these levels Carnarvon can garner a net operating margin that falls into a range of $25 to $30 per barrel, and is a very competitive oil producer.
Our Valuation
Carnarvon has issued 935 million shares that are currently priced at $0.068 per share for a market capitalisation of $63.6 million. The company holds cash of $19.9 million, and the enterprise value placed on its operations is just $43.7 million.
The partners are aiming to boost production significantly, and potential exists for an increase of at least 50%, which roughly equates to a quarterly positive cash flow of $3.2 million or $12.8 million per year in 2014. Long term operations are sustainable.
The farm-in with Apache and JX Nippon bring two multi-billion energy producers and developers of energy into the development of WA-435-P & WA-437-P, and amplify the development potential of the adjoining WA-436-P, WA-438-P and WA-443-P permits.
Apache and JX Nippon will retain a 60% interest and spend up to $50 million for the completion of one well at Phoenix South, and possibly commit an additional $50 million for an additional well at Roc.
This equates to a value of $16.6 to $33.3 million ($0.024 to $0.048 per share) for the interest retained by Carnarvon, and will obviously be contingent on exploration success. Upside potential is very significant and in risk/reward terms offers investors a significant opportunity.
The consideration paid is broadly in line with other deals for exploration prospects completed on the North West Shelf that include sales by Tap Oil and Octanex to energy majors.
We expect the Carnarvon share price to gain further in the lead-up to the December tentative spud date of Phoenix South.
The potential of this prospect is a genuine "company maker" and based on our estimates, it could provide a double or triple "play" at the current market cap.
That aside, at a current price of $0.068 per share therefore, with an increase in oil production from its Thai operations ($0.13 per share); and adding the contingent valuation for the Apache and JX Nippon farm-in equates to a share price range of $0.151 to $0.182 per share.
This makes no allowance for the remaining Thai and West Australian interests.
As such, we do not believe the recent price rise in any way adequately reflects the potential of current underlying value of its assets and represents an opportunistic Speculative Buy opportunity.
Proactive Investors Australia is the market leader in producing news, articles and research reports on ASX "Small and Mid-cap" stocks with distribution in Australia, UK, North America and Hong Kong / China.
Disclaimer
You understand and agree that no content published constitutes a recommendation that any particular security, portfolio of securities, transaction, or investment strategy is suitable or advisable for any specific person. You further understand that none of the information providers or their affiliates will advise you personally concerning the nature, potential advisability, value or suitability of any particular security, portfolio of securities, transaction, investment strategy, or other matter.
You understand that the Site may contain opinions from time to time with regard to securities mentioned in other products, including company related products and that those opinions may be different from those obtained by using another product related to the Company. You understand and agree that contributors may write about securities in which they or their firms have a position, and that they may trade such securities for their own account. In
cases where the position is held at the time of publication and such position is known to the Company, appropriate disclosure is made.
However, you understand and agree that at the time of any transaction that you make, one or more contributors may have a position in the securities written about. You understand that price and other data is supplied by sources believed to be reliable, that the calculations herein are made using such data, and that neither such data nor such calculations are guaranteed by these sources, the Company, the information providers or any other person or entity, and may not be complete or accurate.
From time to time, reference may be made in our marketing materials to prior articles and opinions we have published. These references may be selective, may reference only a portion of an article or recommendation, and are likely not to be current. As markets change continuously, previously published information and data may not be current and should not be relied upon.
The contributors make every effort to ensure that the information and material contained in this report is accurate and correct and has been obtained from reliable sources. However, no representation is made about the accuracy or completeness of the information and material and it should not be relied upon as a substitute for the exercise of independent judgment. Proactive Investors does not accept any liability, including negligence, for any loss or damage arising from the use of, or reliance on, the material contained in this report. There are general risks associated with any investment in securities. Investors should be aware that these risks might result in loss of income and capital invested.
WARNING: No recipients should rely on any recommendation (whether express or implied) contained in this document without obtaining specific advice from their advisers. All investors should therefore consider the appropriateness, in light of their own objectives, financial situation and/or needs, before acting on the advice.
DISCLOSURE: Proactive Investors, its directors, associates, employees or representatives may not effect a transaction upon its or their own account in the investments referred to in this report or any related investment until the expiry of 24 hours after the report has been published.