Kogi Iron (ASX: KFE) continues to build the investment case for its Agbaja iron ore project in Nigeria with optimisation of a barging study reducing both operating and capital cost estimates.
Optimisation has reduced estimated barging and transhipping costs to around US$19 per dry metric tonne free on board, or $0.0297 per tonne kilometre.
This was due to the removal of the proposed re-handle of iron ore concentrate at Port Warri and its replacement with a river barge to ocean going barge transfer station at Escravos in the Niger River Delta, which would also reduce capital cost estimates.
"The company is pleased with the outcome of the barging optimisation work which demonstrates that barging transportation of iron ore concentrate is not only a readily available and effective transport solution, but a most economic option," managing director Iggy Tan said.
"Barging is widely accepted as a lower cost form of bulk commodity transport compared to both rail and trucking, so the proximity of river transport remains a unique competitive advantage of the Agbaja Iron Ore Project.
"Our estimated FOB transport cost of just under 3 cents/tonne per kilometre, or around $19.00 per tonne of concentrate, puts us in good stead for a highly competitive overall operating cost estimate in our PFS."
Optimised Barging Study
The optimised Niger River involves iron ore concentrate being pumped about 22 kilometres from the Agbaja Plateau down to the Banda barge loading facility located on the west bank of the Niger River.
The concentrate will then be filtered to reduce the moisture content to less than 10% and conveyed to a covered stockpile.
Barge loading from the stockpile will take place using a travelling, luffing, telescoping barge loader filling Mississippi-type barges in a four barge configuration.
Each barge configuration will be 286 metre by 21 metre barge and is designed to carry loads of 4,800 tonnes to 8,000 tonnes, depending on river water levels. This will be propelled by shallow draft four engine push boats with a preferred speed of 10 knots.
Iron ore concentrate will be transported about 602 kilometres from Banda along the Niger River to the Escravos Transfer Station at the Niger River Delta, a journey time of about 33 hours.
At the Escravos Transfer Station the concentrate will be transferred to a 20,000t ocean going sea barge.
The Escravos stockpile will allow the ocean barge to be loaded at a rate of 4,000t/hr and will minimise loading wait times and river barge cycles.
The 20,000t self-propelled and self-unloading ocean going barge will then transport the concentrate to a floating transhipment storage facility with a storage capacity of 200,000t in the Gulf of Guinea about 33 kilometres offshore that will allow loading of Panamax and Cape size OGV's for global export markets.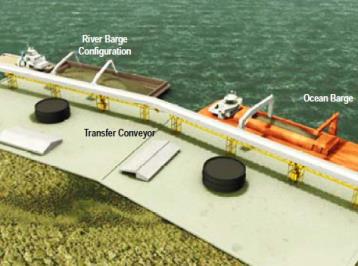 Proposed Escravos Transfer Station
Agbaja Iron Ore Project
Kogi had last week reduced the strip ratio at the Agbaja project to 0.55 to 1 over 21 years from the original 0.72 to 1 based on the higher geological confidence of the 466 million tonne at 41.4% iron Indicated Resource.
This reduced waste material movement by 23% and overall material movement by 9%. Together with cost quotations received from leading mining contractors, this has allowed the company to estimate mining costs at US$8 per tonne of concentrate.
Agbaja has an overall Resource of 586 million tonnes at 41.3% iron with potential for further growth given that just 20% of the prospective area has been drilled tested.
Analysis
The optimisation of the Niger River Barging Study lands further support to the investment case for Kogi Iron's Agbaja iron ore project being a low cost source of iron production in Nigeria.
With low mining costs and now low transport costs while iron ore prices hold firm, Kogi is an iron ore player to watch as it moves to develop the potential of its Agbaja Project.
The upcoming Preliminary Feasibility Study will provide a clearer picture of the project's economics.
Proactive Investors continues to view Kogi's current share price of $0.096 and market cap of $16 million as being undemanding.
Proactive Investors Australia is the market leader in producing news, articles and research reports on ASX "Small and Mid-cap" stocks with distribution in Australia, UK, North America and Hong Kong / China.