Condor Blanco Mines (ASX:CDB) will place shares worth up to $2,000,000 into a fund that is to be managed and operated by UK corporate broker Beaufort Securities to fund the "Marianas" Iron Ore Project in Chile.
In addition, a Heads of Agreement has been signed for integrated debt funding and an acquisition of development project named the "The Duel" Hard Coking Coal Project in South Africa.
The acquisition of the coking coal project would see a geographical and commodity diversification for Condor away from Chile and iron ore.
Condor will place over 83 million shares to be issued today, which will top up Condor's immediate cash requirements.
Under the agreement Condor has the right to place stock of up to $2,000,000 in total into the fund that is to be managed and operated by Beaufort. The stock is to be placed at a 5-day Volume Weighted Average Price, at no discount to market.
Further placement is subject to a floor restriction and usual shareholder approvals.
The first tranche received approval in advance at the last General Meeting of Shareholders on 29 November 2013. The decision not to discount issues under the facility reflects Condor's unwillingness to enter into dilutive issues that might undermine market perceptions.
Heads of Agreement for Debt Financing
Condor has also applied for debt financing of up to €10 million. This is to be borrowed from a European financial institution, with bank bonds of the same face value being provided as security to the financial lender.
These bonds have in turn been securitised against the upcoming cash flows of the Marianas Iron Ore Project
The funds earmarked for Marianas either solely or as a joint venture under the Heads of Agreement already signed with Lacerta Finance and Mining Spa to treat iron ore tailings.
The funds may also be used for Condor's commitment to the drilling program for The Duel Joint Venture.
The advantage of Marianas is that projected cash flows can be used as security to tap European and international capital markets for debt funding.
Marianas is able to produce magnetite concentrate at very low cost with minimal CAPEX.
Coking Coal Acquisition in South Africa
Condor has entered into a Heads of Agreement with Hong Kong company Signet Coking Coal Limited that will see it have the right to acquire a majority stake of up to 50.3% in The Duel and Tshipise 2 projects held by Signet's and the Universal Annex Project held by Exotic Coal Exploration Proprietary Limited.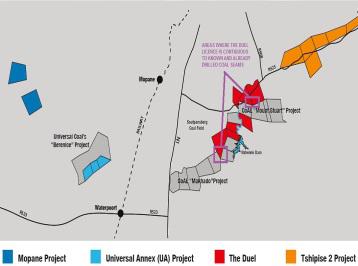 Figure 1: Location of coking coal project to be acquired by Condor Blanco Mines in South Africa
The acquisition is subject to several conditions precedent including 60 days technical due diligence and upcoming shareholder approval.
Condor reports the tenements surround existing projects, and particularly the Makhado (including Telema & Gray) and Mount Stuart Projects owned by Coal of Africa Limited (ASX:CZA).
These projects have JORC compliant gross in situ tonnes of 879.74 million tonnes and 407.16 million tonnes respectively, for a total of over 1 billion tonnes of which 466.62 million tonnes is at the highest (measured) level of confidence.
Importantly, the position of the coal seams on the CoAL tenements suggests direct continuity through the south-western license of The Duel. This has been confirmed by drilling on The Duel in May 2012. The program consisted of two Reverse Circulation drill holes (500m apart) and one diamond core drill hole to a depth of almost 300 metres.
Monetisation options - The Duel Coal Project
The position of The Duel Hard Coking Coal Project as a block of coal sitting between two already drilled licenses, lends the project as either a stand along or a consolidation for the adjacent mines, which are currently under development.
All the projects are located in the Soutpansberg Coalfield of South Africa. Soutpansberg (home to four prominent projects and two operating mines) is known for high quality Hard and Semi-soft coking coal. In addition, coal quality increases from west to east along the coalfield.
The first round funding on The Duel is the start of the mineability proving phase. Condor and the management of Signet firmly believe that there are multiple paths to realising value at The Duel.
The Duel can act as a standalone production asset, but also carried the potential of being a takeover target. Independent mines have the benefit of being able to draw on lower overhead medium sized production operators, and this is the path Condor will be pursuing from the outset.
The projects covered by the Heads of Agreement cover four independent areas that could become independent mines.
Exploration targets are based on conservative estimate of combined opencast extractable coal materials of +14m in thickness from area above Karoo sediments.
Coking coal analysis from The Duel project would rank the coal quality as "Hard Coking Coal", comfortably comparing with rivalling coal from Queensland.
Significantly, all of the projects under the Heads of Agreement with Signet are within close proximity (or indeed directly on) main arterial roads and linking rail sidings.
Condor managing director, Mr Glen Darby said: "This is an incredible leap forward for Condor. To gain the finance needed to bring Marianas into production at enhanced scale, but as well to bring a second even larger production project into Condor is exceptional. The Duel investment also comes with an accomplished South African management team, including decades of mining and project development experience".
Analysis
The grass is not growing under the feet of Condor chairman Dr Paul Crosio and managing director Glen Darby, ringing in multiple funding and acquisition deals across commodities and geographical zones.
Gaining equity and debt funding to develop Marianas into production holds the key as the project has low CAPEX, low OPEX and on our estimates a high IRR and quick payback - with a potentially quick path to earning cash flows by treating iron tailings.
The acquisition of a South African coking coal project, named The Duel - flanked by existing projects is a diamond in the rough which looks an interesting play for Condor as a full Bankable Feasibility Study is due to commence in the coming year for the project.
Proactive Investors Australia is the market leader in producing news, articles and research reports on ASX "Small and Mid-cap" stocks with distribution in Australia, UK, North America and Hong Kong / China.