New Talisman Gold Mines (ASX: NTL, NZX NTL) is a dual-listed (Australian and New Zealand) explorer and gold developer that is fast tracking gold development and production from the Talisman mine.
Recommendation: Speculative Buy 6-9 month target of $0.021 per share
ASX Code: NTL
Share Price: $0.01
52 Week -:
High: $.021
Low: $.006
Issued Ordinary Shares: 565.9M
Options: 8.5M
Cash: NZ$0.33M /A$0.31M Funding of NZ $2.26M / A$2.1M underway
Market Cap: A$5.6M
Enterprise Value: $4.55M
Major Shareholders
Hamish Elliott Brown: 6.6%
HFT Nominees: 5.8%
Top 20: 44.2%
Directors
Managing Director: James Murray McKee
Executive Director: Matthew Geoffrey Hill
Director: Dr. Ian James Pringle
- Talisman is located on the Coromandel Peninsula which is a prolific gold field located at the northern end of the North Island of New Zealand, and currently includes Newmont Mining as operator of the nearby Waihi Mine.
- Talisman produced 1 million high grade ounces of gold and 3 million ounces of silver, and New Talisman has proved up a JORC compliant resource of 205k oz inclusive of a JORC compliant reserve of 28800 oz au.
- Mineralised potential within the talisman permit area has been estimated at 0.55 million to greater than 2 million ounces of gold. Additional silver potential is measured at 1.5 million to 6 million ounces.
- New Talisman Gold Mines is currently completing a rights issue that is raising NZ$2.26 million. This will fund a $1 million bulk sampling programme that is forecast to become cash flow positive within 7 months and will conclude in 17 months.
- Permits have been obtained to annually process up to 10,000 cubic metres of remnant ore and underground bulk samples. An off-site agreement to toll treat this feedstock is expected shortly. The mine is well supported by existing infrastructure including roads and water supply.
- The bulk sampling programme is intended to validate parameters for a Phase One gold production programme focussed on the current JORC compliant reserve of 28,800 oz AU. The full production programme will require funding of NZ$5.4 million.
- Annualised production is forecast to reach 12,115 ounces of gold and 36,000 ounces of silver over an initial mine life of 5 years. Phase Two will is expected to lead to a significant increase in production.
- We forecast a 6-9 month share price target of $0.021 per share on an undiluted basis (see analysis and valuation), and is based on validation of the production model.
- Phase One is expected to commence in 18 months after initiation of bulk mining, and is forecast to generate NZ$68.2 million in revenues and a total cash surplus of NZ$23.4 million, or an annualised 5 year average of NZ$4.64 million. At 4 - 6 times free cash flow this will produce an estimate valuation of $18.6 to $27.9 million or $0.033-$0.059 per share (undiluted).
BACKGROUND
New Talisman Gold Mines Ltd (ASX: NTL, NZX NTL) retains a 100% interest in the Talisman Mine, Rahu Project which is immediately to the north of the Talisman mine and a wholly owned subsidiary known as Coromandel Gold Ltd which holds a significant land position within the Coromandel Peninsula in the North Island of New Zealand. NTL also holds 17.9 million shares in Broken Hill Prospecting Ltd (ASX: BPL) representing a current interest of 20.8% in BPL valued at $0.75 million.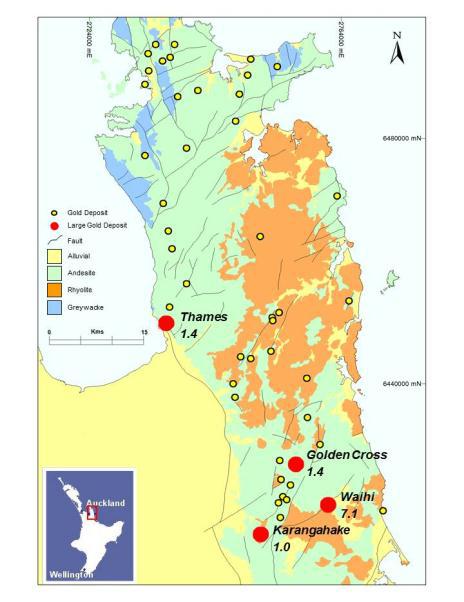 MAP ONE: THE COROMANDEL PENNINSULA IS THE SITE OF HISTORICAL AND CURRENT GOLD PRODUCTION ALONG ITS 85 KILOMETRE LENGTH

DIAGRAM ONE: NEW TALISMAN MINES HOLDS SIGNIFICANT GOLD POTENTIAL AT MOUNT KARANGAHAKE, TAUKANI HILL AND RAHU RIDGE
COROMANDEL PENINSULA IS A SIGNIFICANT GOLD PROVINCE
Alluvial gold was discovered on the Coromandel Peninsula in the 1850's and was quickly followed by gold production from quartz gold in 1862. Major gold production to the current date includes Thames with 1.4 million ounces, Golden Cross 1.4 million ounces and Waihi which is operated by Newmont with 7.1 million ounces of gold.
Gold mining at Mount Karangahake took place between 1875 to the 1940's and occasionally until 1992, and reported historic production of gold with silver credits. New Talisman Gold Mines has completed an exploration programme within Mount Karangahake at the 8 Level of the historic Talisman Gold Mine and announced gold reserves and resources developed by New Talisman. Underground production of gold and silver ore is forecast to commence within 6 months.
TALISMAN GOLD MINE -RESOURCE POTENTIAL
New Talisman Gold Mines owns a 100% interest at Mount Karangahake which had historic production of 1 million ounces of gold, and 3 million ounces of silver from two mines, the Talisman and Crown Mines. The vein systems within these two mines extended over a strike length of 1,000 metres and depth of 700 metres.
Both historic mine areas are now held under a single 25 year permit to mine that covers 299 hectares and lies between the towns of Waihi (population 3,900) and Paeroa (4,300) in the Hauraki goldfield.
Historic gold and silver production from various vein systems included:
- Crown / Welcome vein is estimated over a width of 0.6 to 1 metres and produced 366,411 tonnes at an average grade of 15.6 g/t gold and 12.2 g/t silver to yield 351,736 ounces of bullion (combined gold and silver ounces).
- Maria vein is estimated at a width of 1 to 3 metres and produced 687,043 tonnes at an average grade of 27.8 g/t gold and 128.6 g/t silver to yield 3,510,691 ounces of bullion.
- Woodstock Vein produced 49,165 tonnes at an average grade of 15.3 g/t gold and 71.6 g/t silver for 139,767 ounces of bullion.
- Mystery vein was discovered in the late 1980's and was never mined. The Company has evaluated the Mystery vein on 8 Level and estimated at 1.8 metres in width. Chip sampling over the extent of the vein has assayed at grades exceeding 50g/t Au
The Talisman Mine was mined on 16 Levels and good access is available on 8 Level where the Company has completed refurbishment for extensive channel sampling and drilling. Talisman comprises the Maria, Crown/Welcome and Mystery veins and 8 Level leads into Crown, Mystery Woodstock and Dubbo veins.
Gold resource potential is very extensive and is marked in yellow on Diagram One on Page Two. Geological resource potential is estimated at 0.55 million to +2 million ounces of gold, and 1.65 million to 6 million ounces of silver plus gold and silver in remnant stockpiles.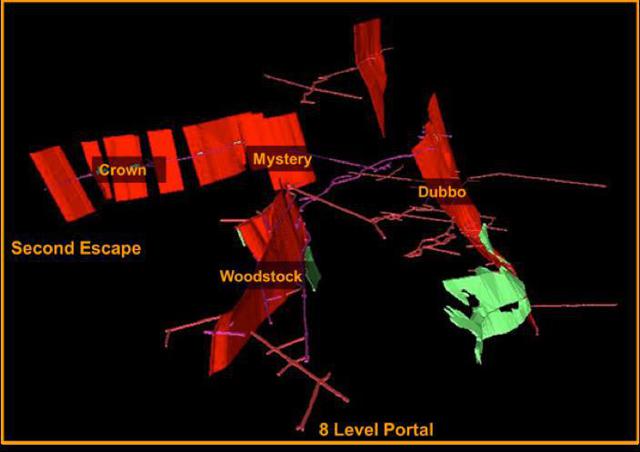 DIAGRAM TWO: 8 LEVEL PORTAL LEADS INTO WOODSTOCK, DUBBO, CROWN AND MYSTERY BLOCKS - RED INDICATES CURRENT RESOURCES AND GREEN IS MINED
The Woodstock block is located 160 metres from the 8 Level portal and represents immediate on reef development potential that is also accessible from the 7a Level. The initial resource target is estimated over a strike length of 335 metres and includes an initial target resource of 92,100 tonnes at a grade of 4.7 g/t au for 13,800 ounces of gold.
The Dubbo block is an immediate on reef development that is accessed from the 8 Level portal and possibly from the 9 Level. The initial resource target is estimated over a 204 metre strike length and includes an initial resource target of 23,000 tonnes at a grade of 38.3 g/t au for 26,800 ounces.
The Mystery block is an unmined virgin target that is accessed from the 8 Level portal. The initial resource target is estimated over a strike length of 105 metres and includes an initial resource target of 7,400 tonnes at a grade of 17.7 g/t au for 4,200 ounces of gold. This block has potential to develop into a long life mining opportunity.
The Crown / Welcome blocks represent medium term and long life development potential that is accessed from the 8 Level. The initial resource target is estimated over a combined 335 metre strike length and includes an initial development target of 46,500 tonnes at a grade of 8.8 g/t au for 13,200 ounces of gold.
CURRENT JORC RESOURCES
The current JORC compliant Resource Estimate included:
- Inferred Resource of 507,000 tonnes at 8.5 g/t Au for 139,100 ounces of gold, and 27.2 g/t Ag for 442,800 ounces of silver
- Indicated Resource of 197,690 tonnes at 5.0 g/t Au for 31,660 ounces of gold and 26.5 g/t Ag for 168,140 ounces of silver
- Measured Resource of 212,500 tonnes at 5.0 g/t Au for 34,000 ounces of gold and 27.5 g/t Ag for 187,900 ounces of silver
- Grand total of 917,390 tonnes at 6.9 g/t Au for 204,760 ounces of gold and 27.1 g/t Ag for 798,840 ounces of silver.
JORC RESERVES CONFIRMED IN SEPTEMBER OF 2013 FOR MINING FEASIBILITY STUDIES
In September of 2013 Hatch Goba conducted a gap analysis on the Pre-Feasibility study and found it to comply with the requirements of a Techno-economic study. The company then announced an Ore Reserve for the mine as follows:
- a Probable Reserve of 19,600 tonnes at 8.5 g/t au for 5,400 ounces of gold and 36.9 g/t ag for 23,300 ounces of silver
- Proved Reserves of 62,900 tonnes at 11.6 g/t au for 23,400 ounces of gold and 51.6 g/t ag for 104,500 ounces of silver
- Grand total of 82,500 tonnes at 10.8 g/t au for 28,800 ounces of gold and 48.1 g/t ag for 127,800 ounces of silver (at a cut-off grade of 1.7 g/t au).
ROBUST PRE-FEASIBILITY STUDY COMPLETED IN APRIL OF 2013
In April of 2013 the Company announced the completion of a Pre-Feasibility Study for underground mining at Talisman that confirmed an initial Phase One life of mine of 5 years to generate NZ$68.2 million in revenues to generate a cash surplus of NZ$23.4 million.
Start-up capital to generate this level of revenue was estimated at NZ$5.4 million.
Production from Phase One is forecast to peak at an annualised extraction rate of 35,000 tonnes of ore to produce 12,115 ounces of gold and 36,000 ounces of silver.
Phase One operations incorporate funding for additional resource development that is expected to build into Phase Two operations that will exceed 5 years.
A sub-level stoping method will be deployed to exploit steeply dipping, narrow vein deposits, and allow mining crews to switch between hand-held and long bore-hole drilling techniques. Gold ore reserves located below the 8 Level will be extracted via a trackless mine fleet that will traverse between stopes along a series of small ramps.
Majority of the ore will initially be derived from the Mystery and Dubbo sections.
The Company has completed rehabilitation of the mine access road and hardstand area.
KEY INFRASTRUCTURE
A sealed road leads to within 1 km of the mine site and access to the portal is via a well maintained unformed road. Lines carrying 3 phase power are equipped to the mine site and can be reconnected at minimal cost, service water is available within the mine.
A stable and fit for purpose engineered landfill immediately outside the No 8 portal provides sufficient area for ore transport requirements, engineering infrastructure, offices and stores area.
CURRENT DEVELOPMENTS
The Company has completed initial testing to confirm that Talisman ore does not contain unwanted contaminants and is in discussions with a local treatment facility to process feedstock. Further metallurgical testing is expected to confirm that the feedstock is suitable for the proposed toll treatment process circuit.
The Company currently has cash of NZ$334,745 and maintained a very lean cash burn of NZ$181,523 for the March quarter. The Company is also completing a one for two rights issue to fund development and production from the Talisman Mine.
To prepare for initial mining activity New Talisman Gold Mines has:
- Restructured the board and executive team
- Identified a mining team to carry out bulk sampling and mining activities
- Completed a Pre-Feasibility Study
- Announced a maiden JORC Reserve for gold and silver
- Agreed an access arrangement to the Talisman Mine with the dept of conservation
- Obtained a Resource Consent from Hauraki District Council
- Completed a bulk sampling project plan
- Launched a Health and Safety Management plan.
RIGHTS ISSUE
New Talisman Gold Mines has launched a one for two renounceable rights issue priced at NZ$0.008 / A$0.008 per share date 5 May 2014 to shareholders registered in both Australia and New Zealand.
The issue will consist of a maximum of 287,981,751 new shares that will raise a total of NZ$2.26 million before costs. The Company forecasts that a minimum raise of NZ$1.7 million, and a minimum gold price of US$1,200 per ounce will result in a positive cash flow within 12 months of commencement of bulk sampling.
Rights trading is set to close on 27 May 2014, and application for shares closes on 3 June 2014.
BULK SAMPLING PROJECT - NEXT 18 MONTHS
The Hauraki District Council granted resource consent and the Department of Conservation granted an access arrangement that allows for trial mining to commence at a rate of approximately 400 tonnes of fresh rock per month. The total tonnage that can be removed from the property is currently set at an annualised rate of 10,000 cubic metres and includes high grade gold stockpiles that can be processed via toll treatment.
These high grade stockpiles carry gold grades that range from less than 1 g/t and up to 10,000 g/t gold. Proceeds from treating the stockpiles will be re-invested into development of the Talisman Mine.
Initial work will entail installation of surface infrastructure that includes compressors and power generation capacity to support underground mining.
This will be followed by mine refurbishment that will include replacement of old supports in existing mine tunnels to allow safe ingress and egress of personnel and machinery into the mine works. Engineering services will then be installed from the mine portal to the working faces that will allow for bulk sampling via drill and blast to take place.
Installation of surface plant, refurbishment of mine tunnels and installation of engineering services to the mine face is expected to take approximately 6 months before the first fresh ore is hauled to the surface for processing.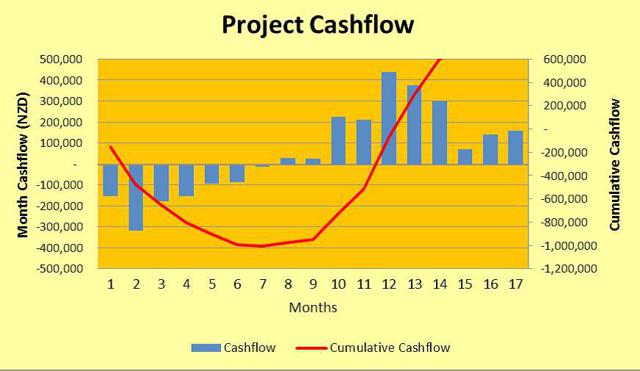 DIAGRAM THREE: PROJECTED CASHFLOW GENERATED FROM PROCESSING OF UNDERGROUND ORE RESERVES AT TALISMAN
The projected cash flow model is based on a gold price of US$1,200 per ounce and a C1 cash production cost of US$568 per ounce that includes labour and material to deliver run of mine ore to the surface. Exchange rate is based on NZ$0.80 (currently NZ$0.86).
The cash flow projection allows for a cumulative spend of NZ$1 million over 7 months to bring the Talisman Mine into positive cash flow in the 8th month of operations, and recovery of a total of NZ$1.3 million investment in the 18th month assuming a $1200 gold price.
This does not take into account the value of stockpiles that may provide additional upside if assaying and recoveries are positive.
Once the 18 month bulk sampling phase is completed the Company will then move into Phase One operations that will produce at an annualised rate of 12,115 ounces of gold and 36,000 ounces of silver.
LONG TERM POTENTIAL
Multiple discovery opportunities are available across the entire strike line of 4 kilometres that covers Mount Karangahake, Taukani Hill and Rahu Ridge (see Diagram, One Page Two).
There are a number of untested veins and chutes that run parallel to the Maria and Welcome /Crown vein systems. The newly discovered Mystery vein is indicative of this potential, where assays confirm a vein width of 1.8 metres at a grade of 52 g/t gold.
New Talisman Gold Mines retains a 20.8% interest in ASX listed Broken Hill Prospecting Ltd (ASX: BPL) that owns large pyrite and cobalt deposits that are located beside the Sydney to Adelaide railway link, and 25 kilometres west of Broken Hill.
A Scoping Study has been completed to process 7.5 million tonnes per annum of ore to produce 7,000 tonnes of cobalt per year, and generate significant volumes of sulphuric acid from the pyrite material. This acid could be sold as a building block to make fertiliser or utilised by the mining industry to extract metals from sulphides.
Cobalt is used in rechargeable batteries, environmental technologies and hard metals. LME cobalt is currently priced at US$13.45 per pound after reaching historic highs of US$50 per pound in 2007 to 2008.
COROMANDEL GOLD LTD (CGL)
Coromandel Gold Ltd (CGL) is a wholly owned subsidiary of NTL and has a separate board and management. CGL was established to ensure that exploration of the company's prospective ground did not distract from the strategic focus on the development of the Talisman mine. CGL owns EP 40-736 Golden Valley that is a broad strip of land that abuts Newmont's gold operations at Waihi. The Exploration Permit includes geological structures that appear to be analogous to the structures that produce gold in the highly productive Waihi district.
The Company also holds 1,100 hectares that are located 30 kilometres west of Whangarei that is prospective for gold and base metals.
CATALYSTS FOR 2014 AND 2015 - MOVING TO GOLD PRODUCER STATUS
- Completion of current one for two rights issue to raise up to NZ$2.26 million by early June 2014
- Complete metallurgical trial and secure gold and silver process agreement with toll treatment facility
- Retain contractors and mining team to install surface plant, refurbish mine tunnels and bring engineering works to mine faces, 6 months from completion of funding arrangements
- Commence toll treatment on high grade gold stockpiles to drive early cashflows
- Commence extraction of hard rock bulk samples from underground vein systems in 6 months from completion of current funding and continue into 17th month
- Update data from additional underground resource developments through mining IE Mystery developments
- Commence Phase One mining operations in 18th month from completion of current funding
ANALYSIS & VALUATION
New Talisman Gold Mines is currently capitalised at A$5.6 million, of which $0.3 million is cash and $0.75 million is the current market value of the interest in Broken Hill Prospecting, and places an Enterprise Valuation "EV" on the Talisman Gold Mine of $4.55 million or A$22.20 per ounce of JORC compliant gold resource (for 205,000 JORC Inferred Indicated and Measured ounces).
Valuations for small scale developers of higher grade underground gold resources include near term production from Octagonal Resources (ASX: ORS) which is developing the Union Hill Mine at Maldon, Victoria. Union Hill carries at Enterprise Valuation of $6 million for an Inferred JORC Resource of 245,000 ounces of gold for an EV of $24.49 per ounce.
A1 Consolidated (ASX: AYC) is developing the A1 Gold Mine in North Eastern Victoria. A1 is a very near term producer and carries an EV of $16.4 million for Inferred and Indicated Resources of 281,200 ounces of gold at 6.2 g/t gold and an EV of $58.32 per ounce. A1 Consolidated has also arranged to toll treat its ore off-site by an independent third party.
Both of these developers are small scale gold operators with a very similar gold resource base and grade, and represent a very fair comparison with operations that are under development at the Talisman Mine. These operations provide us with an Enterprise Valuation range of $24.49 to $58.32 per JORC resource ounce.
We note that A1 Consolidated, Octagonal Resources and New Talisman Gold Mines have seen share price depreciation over the past 12 months, and represent a peer group that carries extremely depressed valuations at a time when the gold price has shown volatility.
We believe that Talisman has strong potential to develop into a small scale producer based on the current business plan and resource potential. Gold resource EV should approach $58.32 per ounce as applied to A1 Consolidated, and as bulk sampling develops and validates the resource model at Talisman.
This should occur over the next 6-9 months, and we assign an EV of $11.96 million on current resource ounces, or A$0.021 per undiluted (pre-rights issue) share. Further upside will be garnered from an increase in gold resources and reserves, and additional potential upside may flow from an increase in the gold price.
Disclaimer
You understand and agree that no content published constitutes a recommendation that any particular security, portfolio of securities, transaction, or investment strategy is suitable or advisable for any specific person. You further understand that none of the information providers or their affiliates will advise you personally concerning the nature, potential advisability, value or suitability of any particular security, portfolio of securities, transaction, investment strategy, or other matter.
You understand that the Site may contain opinions from time to time with regard to securities mentioned in other products, including company related products and that those opinions may be different from those obtained by using another product related to the Company. You understand and agree that contributors may write about securities in which they or their firms have a position, and that they may trade such securities for their own account. In cases where the position is held at the time of publication and such position is known to the Company, appropriate disclosure is made.
However, you understand and agree that at the time of any transaction that you make, one or more contributors may have a position in the securities written about. You understand that price and other data is supplied by sources believed to be reliable, that the calculations herein are made using such data, and that neither such data nor such calculations are guaranteed by these sources, the Company, the information providers or any other person or entity, and may not be complete or accurate.
From time to time, reference may be made in our marketing materials to prior articles and opinions we have published. These references may be selective, may reference only a portion of an article or recommendation, and are likely not to be current. As markets change continuously, previously published information and data may not be current and should not be relied upon.
The contributors make every effort to ensure that the information and material contained in this report is accurate and correct and has been obtained from reliable sources. However, no representation is made about the accuracy or completeness of the information and material and it should not be relied upon as a substitute for the exercise of independent judgment. Proactive Investors does not accept any liability, including negligence, for any loss or damage arising from the use of, or reliance on, the material contained in this report. There are general risks associated with any investment in securities. Investors should be aware that these risks might result in loss of income and capital invested.
WARNING: No recipients should rely on any recommendation (whether express or implied) contained in this document without obtaining specific advice from their advisers. All investors should therefore consider the appropriateness, in light of their own objectives, financial situation and/or needs, before acting on the advice.
DISCLOSURE: Proactive Investors, its directors, associates, employees or representatives may not effect a transaction upon its or their own account in the investments referred to in this report or any related investment until the expiry of 24 hours after the report has been published.