The Chinese are hoarding it, and Warren Buffett is investing in it.
Prices and demand have been steadily increasing for years.
Precious few new mines of this metal are coming on line, and existing mines are being depleted at an alarming rate.
Tungsten is more than just an extremely hard metal. Indeed, modern life virtually revolves around it and, in most cases, there is no substitute.
But Hazelwood Resources (ASX:HAZ) is stepping up to the plate, and is now has the ability to provide an astonishing 25% of non-Chinese global ferrotungsten requirements.
HAZ boasts growing tonnages of high grade deposits at the exploration, development and production stages.
At its flagship ATC Ferrotungsten plant in Vietnam, production and grades are soaring, and customers are lining up… one quarter of planned output is now covered by offtake agreements.
Recent shipments averaged a record grade of 78.5%, and HAZ is looking at tungsten sales revenue of $50 million THIS YEAR…
Global majors won't want HAZ's tungsten footprint getting any bigger, and shares are currently trading well below our estimated fair value, which also makes for one very attractive takeover target.
Not that we'd like to see HAZ being acquired… the real upside will come from the unfolding growth story - right now.
GLOBAL TUNGSTEN POWERHOUSE
We know that sounds a bit of a stretch for a $40 million ASX junior… but Hazelwood boasts the ability to deliver 25% of non-Chinese world tungsten requirements - now.
Its ATC Ferrotungsten Plant in Vietnam began production last year, and has already pumped out over 800 tonnes of product.
These 800 tonnes generated around $30 million in cash for HAZ… remember its market cap is just $40 million!
It has a 60% stake in ATC - this is the largest and most advanced ferrotungsten plant outside of China - with an option to move to 100% via payment of US$7.5 million in cash or HAZ shares.
The ATC plant has a 50 year investment license, is located right on the coast, connected to grid power, and is adjacent to the largest port city in Vietnam.
This ideal location and access to infrastructure will help keep operating expenditures low for the life of the mine.
From April 2013 to January 2014 alone, HAZ produced over 10% of the non-China market for ferrotungsten, and sold to customers in Japan, Europe, Russia, Ukraine, USA, and Brazil.
What's involved in making ferrotungsten at the ATC plant?
Take some tungsten concentrate, add coke, add ferrosilicon, some scrap steel, electrode paste, then refine at over 3,000 degrees Celsius to produce >18 tonnes per day ferrotungsten output.
Crush the raw ferrotungsten product to end user requirements...and package for export.
Simple...err well no it's not...but that's why ATC is a major success story but known to only a few up until now.
HAZ's ferrotungsten product continues to meet specification requirements from foundries and steelmakers worldwide… and soon, by end of 2014, all the cash HAZ is bringing in will begin to outweigh operating costs.
When this happens, and HAZ starts raking in real, after tax profits, the market is really going to get interested…
There are just not that many mineral producers, that are producing on the scale that Hazelwood is, and verging on profitability, that are capped under $50 million.
MORE BIG NUMBERS
The upside here is unreal - HAZ is targeting 1,500 tonnes production in 2014, and further expansion into 2015.
HAZ's ATC plant has a max capacity of 4,000 tonnes per annum… once producing at capacity, HAZ will be pulling in A$150 million cash every single year: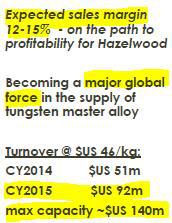 And that's not taking into account the expected rise in the value of tungsten!
HAZ is already achieving modest gross profits… net profits will be next.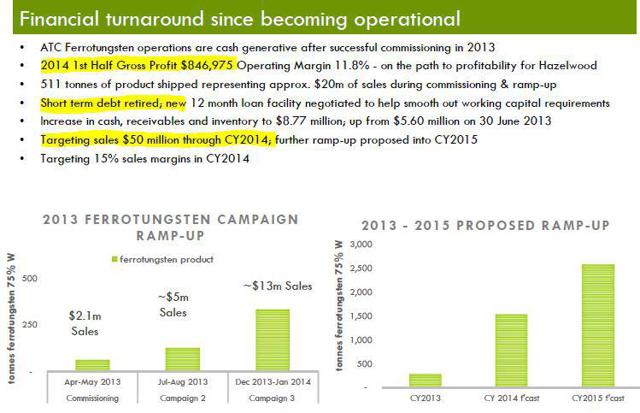 All that is just from its operations in Vietnam - HAZ also controls advanced tungsten assets in Western Australia - the high grade Big Hill and Mt Mulgine deposits.
These additional tungsten sources offer potential for future vertical integration, and a big increase in operating margins.
HAZ's WA tungsten deposits could supply its own ATC plant from 2015... so need to pay retail for feedstock! Think fatter profits.
In April, HAZ revealed a massive 340% increase in total tungsten resources, which now stand at 85 million tonnes at 0.17%.
At ATC in Vietnam, grades and production have been consistently rising: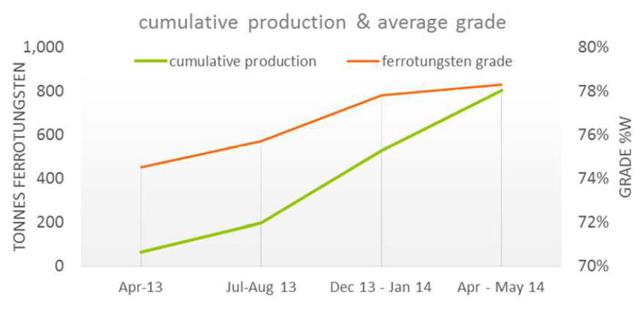 Hazelwood's ferrotungsten product is sold through Wogen Resources, a global specialty minerals and metals trading house that is also providing ongoing financial support.
FUNDING SORTED
In addition to Wogen, other big deal investors are now throwing money at Hazelwood, in order to share the financial rewards of its continued expansion.
In February a specialist resource investment fund, Siderian Resource Capital, agreed to provide a US$4 million working capital facility, which can be increased to US$6 million.
This was recently drawn down, and allows HAZ to continue the ramp up of ferrotungsten production to 1500 tonnes for this calender year.
In May, Hazelwood also secured $500,000 through a placement to a separate, Vietnam-focused investment fund at 3.5c, which was a premium to the share price at the time.
HAZ now maintains a robust bank balance of over $8 million.
When funds and industry heavyweights in a privileged position start backing a small company with big dollars, it usually pays to take a closer look.
A PERFECT STORM
In most current applications, there simply isn't a viable substitute for tungsten.
This gives tungsten a market quality that excites economists more than anything - price inelasticity.
What it means is that no matter how high the price of tungsten gets, commercial end-users will simply have to pay the price.
They have no choice - there is no cheaper replacement metal.
What that means for HAZ is ever-ascending profit margins. As tungsten prices increase, so will the income cascading into HAZ bank accounts.
The same thing happens again when tungsten demand increases - tungsten demand is relatively unaffected by cost increases.
Given that rising demand and higher prices go hand in hand, HAZ shareholders could be in for many years of bumper returns.
Everything HAZ has been working so hard for is now reaching an inflection point… and it is coinciding elegantly with an inflection point in world tungsten markets.
Most current producers of tungsten simply don't have the capacity to materially increase output.
China produces the majority of global tungsten supply, and has strict restrictions on how much its companies are allowed to export: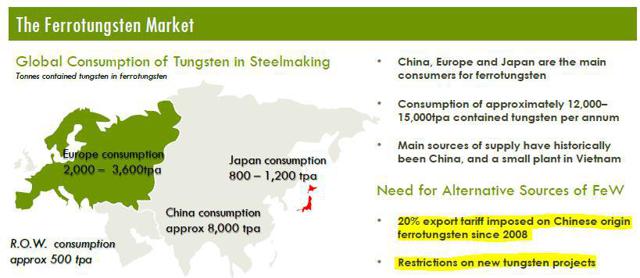 The largest tungsten mine outside of China - of North American Tungsten Corp's (NTC:TSX) Cantung mine in Canada - is already close to full capacity.
And even at current production levels it only has about 2 years left or ore reserves remaining.
After that it will just be a big hole in the ground, which will leave an equally big hole in the tungsten supply ecosystem.
So tungsten supply looks set to fall off a cliff, while tungsten demand continues its inexorable climb.
Inexorable because tungsten, more so than any other metal, follows GDP.
Most of the machinery, industrial equipment and metal construction materials that power economic growth require tungsten - just about anything that needs to be hard, strong or very resistant to heat.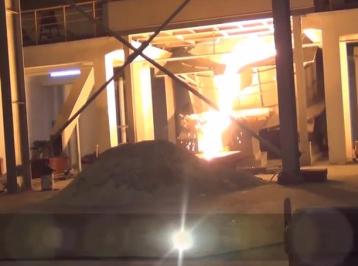 ATC Ferrotungsten Plant - Vietnam
Whilst the GFC caused a blip on the world growth radar, markets and economies are recovering across the globe - as they always do.
And now with technological revolution gaining ever more steam, tungsten demand looks likely to increase even more rapidly.
This is because tungsten is now also being used in the manufacturing of electrodes and components used in touch screens for smart phones and other portable devices.
Tungsten demand has been growing steadily at around 5% per year. Now with the proliferation of touch screens that number could soon move into double digits.
Experts estimate that one major new tungsten mine needs to come on-stream every year to maintain current supply/demand equilibrium.
But there aren't enough projects ready to begin production in the next 5 years to cope with the expected increase in demand, and the exhaustion of CanTung.
That's why HAZ is so valuable.
INEFFICIENT MARKET FACT
Efficient market theory just isn't true… it contends that financial markets value all assets fairly at all times, and that it isn't possible to "pick" undervalued stocks.
It sounds patently ridiculous, and it is.
Inefficient markets are an investor's best friend - they allow in depth research to uncover things the broader market may have missed, forgotten, not understood, or not recognised the significance of.
Market inefficiency is particularly prevalent at the small cap end, where there is a lack of research coverage.
Big fund managers with billions of dollars to look after need big cap stocks to invest in.
But the really big returns are made at the small end of town, by searching for hidden gems that the crowd overlooked.
This is the sort of opportunity that Hazelwood Resources presents.
With diligent research, risk is minimised, and returns can be astronomical…
HAZ is already in production, with a reliable and growing income stream, and funding in place.
They have passed the treacherous transition from mineral explorer to producer with flying colours.
Yet at just $40 million, its market cap still offers explosive growth potential… compounded by the constantly strengthening fundamentals of its main metal, tungsten.
HAZ was trading at 32c shortly before the GFC took its toll. But more pertinently, it was trading at over 20c just a few years ago, even after the devaluations that took place in 2008.
You can see the red dots on the chart below - they highlight positive, post-GFC revaluation events, and all of which are still as valid now as they were a few years ago.
The first was part of a broad market rally after world markets found a floor - HAZ rallied back to 10c, which was more just a reversion towards intrinsic value.

The second sharp share price increase was sparked after numerous high grade tungsten intersections were revealed from its Big Hill project in WA.
All of those intersections are still there of course, and have been followed by equally impressive hits and subsequent resource upgrades.
The third big rally was sparked by HAZ's acquisition of its 60% interest in the ATC Ferrotungsten Project.
This was a real game changer for HAZ and justifiably sent the share price back over 20c.
With this acquisition, HAZ was transformed into the global force in tungsten that it remains today.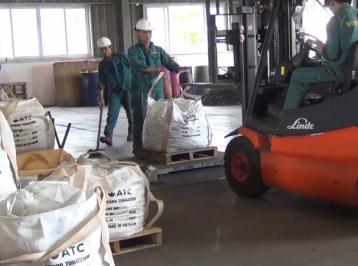 Packaging ATC ferrotungsten for export in Vietnam
So what changed since then to cause HAZ's share price to slide?
Certainly not the tungsten price - it has continued to forge ahead, and looks to be in a textbook uptrend: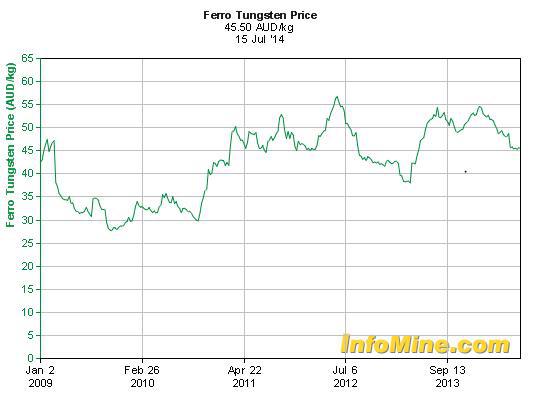 Certainly not falling equity markets - U.S. markets are now at all-time highs, and the local bourse is going from strength to strength: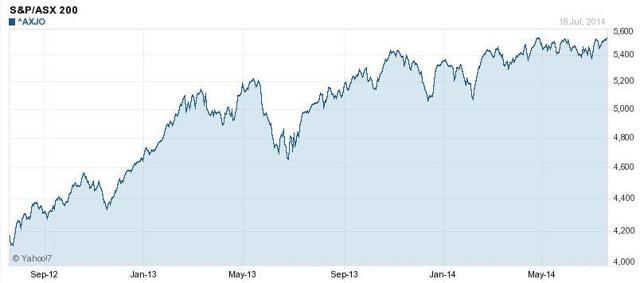 HAZ is so undervalued now simply because the market seems to have forgotten just how much it has achieved, the size of its resources, the amount of cash it's generating, and how much upside is ahead.
It's a classic case of an inefficient market, and when that inefficiency is corrected, HAZ should once again be trading well north of $0.10.
WARREN BUFFETT LOVES TUNGTEN
The world's most famous and most successful investor has repeatedly stated that he avoids mining investments.
But in 2012, Warren Buffett made an about face and invested in, of all metals, tungsten.
Tungsten is slowly making its way up the global critical metals list.
When Warren Buffett buys something, you should take notice.
When he makes a metals and mining investment you should REALLY pay attention.
Warren Buffett, via Berkshire Hathaway, poured $80 million into the Sangdong tungsten deposit and mine in South Korea, for a 25% stake.
It might be chump change to the Oracle, but it gives an insight into what he thinks about tungsten.
We think that if he was aware of Hazelwood Resources, he would have invested in that instead!
Forbes has a bit more to say about Warren's investment here:
http://www.forbes.com/sites/ciocentral/2012/03/14/the-world-is-running-low-on-tungsten-why-you-should-care/
It's not just us and Warren Buffett that are cottoning onto the investment opportunity that lies in tungsten…
Demand for tungsten is being driven higher by the proliferation of smart phones and tablets - tungsten is a critical component of these touch screens.
Soon the broader market will wake up and start buying quality tungsten shares like HAZ… but the idea is to get in before that happens!
HAZ - AN EMERGING MINING STAR
Every so often we come across a great Australian growth story that really captures our interest.
Hazelwood Resources is one of these, and it's starting to make some big waves on the global resources and investment stage.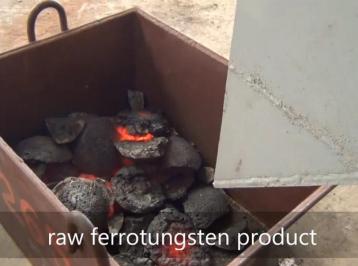 Raw output from ATC plant Vietnam
As production ramps up towards capacity, HAZ will become a profitable, fully self-funding tungsten producer in the near future…
With profitability should come increased market awareness and an appreciating share price.
If tungsten prices and demand keep increasing, then that steadily increasing share price could develop into windfall profits for current investors.
Additional near term share price catalysts for HAZ will the continued progression of tungsten projects in Australia, securing tungsten supply from these projects and securing another high profile offtake partner for ferrotungsten production from ATC.
The upcoming quarterly results may be an eye-opener too…
Potential upside with is phenomenal, and risk is now lower than in the vast majority of similar size companies, mining or otherwise.
We just don't think the market quite comprehends just how big this company is getting… its camouflaged by the small market cap.
Proactive Investors Australia is the market leader in producing news, articles and research reports on ASX "Small and Mid-cap" stocks with distribution in Australia, UK, North America and Hong Kong / China.