Anatolia Energy (ASX:AEK) is positioned to become a major force in the development of Western Asia's uranium production that will supply nuclear fuel to Turkey's burgeoning nuclear energy program.
Recently released Pre-Feasibility Study has estimated the Pre-Tax Net Present Value of the Temrezli In-Situ Uranium Project at US$191.1 / A$247.4 million requiring CAPEX of US$41.0 / $42.9 million to produce an Internal Rate of Return of 65%.
Temrezli will be one of the world's lowest cost producers of U3O8 with an all-in sustaining OPEX cost of US$30.12 per pound and cash cost of US$16.89 per pound.
Total output of U3O8 over a 12 year mine life is estimated at 9,907,630 pounds to generate US$345.5 / A$445.7 million in free cash flow.
Environmental Studies and permitting applications are nearing completion.
Discussions with financiers are underway for funding to allow construction of process plant and well field development in mid-2015, with In-Situ production of U3O8 forecast for mid-2016.
Additional uranium resources at Temrezli, Sefaatli and West Sorgun are expected to add to the current JORC resource of 13.3 million pounds of U3O8 at Temrezli for multi decade production.
Historic drilling at Sefaatli has indicated the presence of high grade U3O8 mineralisation at multiple locations, and current programs are having success at establishing the presence of significant satellite deposits within a 4.5 kilometre strike zone.
Proactive Investors notes that Anatolia Energy retains an international Board and Management team with multi decade experience in developing and financing In-Situ uranium operations.
Proactive Investors has calculated a 12 month share price target of $0.22 - $0.27 as the project is de-risked through funding, construction, commissioning and production.
Recommendation: Speculative Buy
Sector: Materials
ASX Code: AEK
12 month price target: $0.22 - $0.27
Share Price: $0.072
52 Week -
High: $0.094
Low: $0.060
Current Ordinary Shares: 309.7M
Milestone shares (max): 17.7M
Options: 68.4M
Cash: $4.0M
Market Cap: $22.3M
Enterprise Value: $21.4M
Major Shareholders: -
Azarga Uranium: 11.3%
Aterra Capital: 9.7%
Directors:
Non Executive Chairman: Dr. Hikmet Akin
CEO/Managing Director: Paul Cronin
Non Executive Director: Patrick Bourke
Technical Director: Robert Annett
BACKGROUND - FOCUS ON HIGHLY PROSPECTIVE TURKISH URANIUM PROJECTS
Anatolia Energy Limited (ASX: AEK) is an Australian listed exploration and resource company that is positioned to become a key developer of Turkey's uranium resources. Anatolia Energy has acquired a 100% interest in 18 exploration licences covering some 150,000 hectares of ground, including several advanced exploration and development opportunities, in the central Anatolian region of Turkey.
Turkish projects are managed via wholly owned local subsidiary Dur Madencilik, which is considered to be one of Turkey's foremost uranium exploration companies.
The most advanced stage project is the Temrezli Project with a stand-alone Mineral Resource Estimate of 13.3 million pounds of U3O8, and a major tenement holding in the Sefaatli area that includes the region's most significant occurrence of uranium mineralisation outside of the Temrezli Project area. Previous drilling at Sefaatli outlined uranium mineralisation over a strike length of over 9,000 metres. The Sefaatli exploration area is located some 35 kilometres from Temrezli.
Anatolia Energy also maintains a large portfolio of tenements in the same district which are considered highly prospective for further uranium mineralisation and include the West Sorgun Project.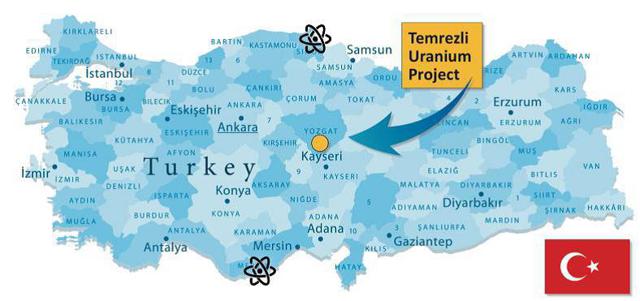 MAP ONE: LOCATION OF TEMERZLI URANIUM PROJECT, TURKEY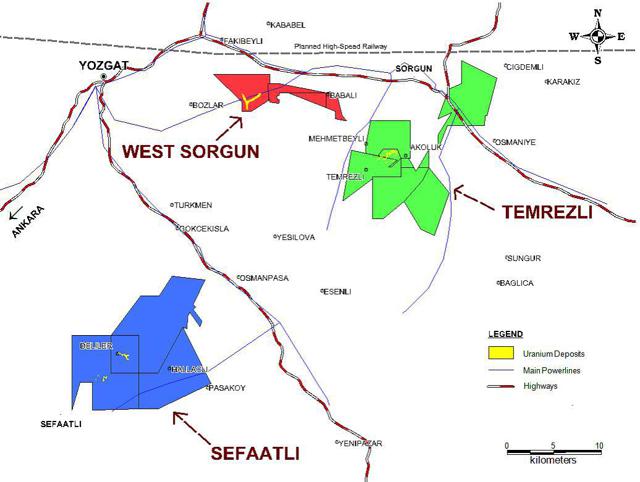 MAP TWO: LOCATION OF TEMREZLI, SEFAATLI, AND WEST SORGUN URANIUM PROJECTS
TEMREZLI URANIUM PROJECT -TARGETTED FOR PRODUCTION IN 2016
The Temrezli In-Situ U3O8 Project is 100% owned, and is located about 220 kilometres east from the Turkish capital of Ankara. Temrezli is accessible along well maintained bitumen roads and is serviced by an established infrastructure network. The main towns in the area are Yozgat which is the district capital with a population of 645,000 and the coastal resort of Sorgun.
Temrezli has a JORC compliant Measured Resource of 2,008,000 tonnes at 1,378 parts per million (ppm) U3O8 for 6.1 million pounds of U3O8, Indicated Resource of 2,178,000 tonnes at 1,080 ppm U3O8 for 5.2 million pounds of U3O8, and an Inferred Resource of 1,020,000 tonnes at 888 ppm for 2.0 million pounds of U3O8 for a total of 5,206,000 tonnes at 1,157 ppm U3O8 for 13.3 million pounds of U3O8 at a cut-off grade of 200 ppm. Note that 80% of the resource is already in the Measured and Indicated categories.
The U3O8 mineralisation is contained within sandstone units that are flanked by granite, has good hydrology and exhibits a recovery rate that exceeds 90% from a pregnant leachate. The sandstone units also exhibit good transmissivity, porosity, and recharge.
Over 87,000 metres of drilling have been completed to define shallow and low cost mineralisation that occurs in multiple stacked lenses that are between 1 to 16 metres thick. Uranium mineralisation exhibits good lateral continuity at depths from 30 to 200 metres.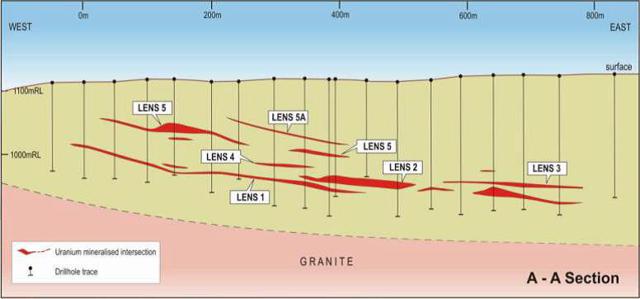 DIAGRAM ONE: CROSS SECTION OF MINERALISED LENSES AT TEMREZLI U3O8 PROJECT
The resource remains open and has potential for the definition of additional economic U3O8 resources.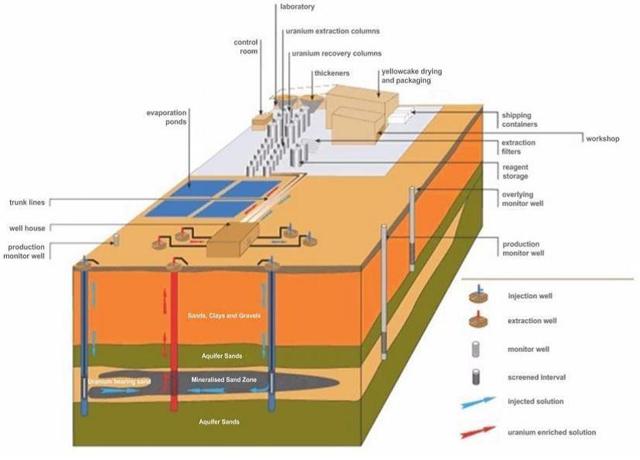 DIAGRAM TWO: LAYOUT OF PROPOSED ISR PLANT AT TEMREZLI
PRELIMINARY ECONOMIC ASSESSMENT
A Preliminary Economic Assessment was completed in July of 2013 and was independently verified by WWC Engineering of Sheridan, Wyoming. WWC has over 30 years of mining project experience that include development of major feasibility studies for a number of major ISR or In-Situ U3O8 recovery projects.
The Assessment confirmed a Life Of Mine of 10 years to produce 9,125,000 pounds of U3O8 at an up front capital cost of US$30.6 million / US$3.35 per pound of U3O8, and cash cost of US$22.30 per pound. Annual production of U3O8 was estimated at 1,000,000 pounds.
UPDATED PRELIMINARY ASSEMENT
In July of 2013 Anatolia completed a 46 hole drilling program, and in 2014 added 9 wells to provide additional data for resource estimation and well field engineering.
This confirmed a total JORC Measured, Indicated, and Inferred Resource of 5,206,000 tonnes at an average grade of 1,157 ppm for 13,282,000 pounds of U3O8.
In July of 2014 WWC completed an updated Preliminary Economic Assessment that included an updated mineral resource estimate prepared by CSA Global, and additional hydrologic pump tests conducted by HydroSolutions.
The updated study confirmed a Life Of Mine of 10 years to produce 9,209,000 pounds of U3O8 at an up front capital cost of US$30.2 million / US$3.28 per pound of U3O8, and a cash cost of US$20.22 per pound. Annual production of U3O8 was estimated at 1,000,000 pounds.
A series of pump tests were conducted during January of 2014 in wells for both hydrological and aquifer monitoring for preparation of an Environmental Impact Assessment.
Detailed modelling by HydroSolutions indicated that that there is sufficient head and acquifer transmissivity to allow wells to be pumped at rates of up to 38 litres per minute for sustained intervals, particularly in a typical 5 spot well pattern with an average well spacing of 20 to 30 metres.
More recent flow tests have upgraded the flow rate to 48 litres per minute from Lens 1 which contains almost 30% of the JORC resource. This indicated further room for reduction of operating costs and improvement of metallurgical recoveries of U3O8.
WWC Engineering and HydroSolutions have developed robust procedures for well field installation, increased confidence in development and production of U3O8, and confirmed lower costs for well installations that are now reflected in the current Preliminary Feasibility Study.
In January of 2015 MTA of Ankara confirmed very positive metallurgical recoveries of U3O8 of up to 84.9%, and confirmed rapid leach kinetics.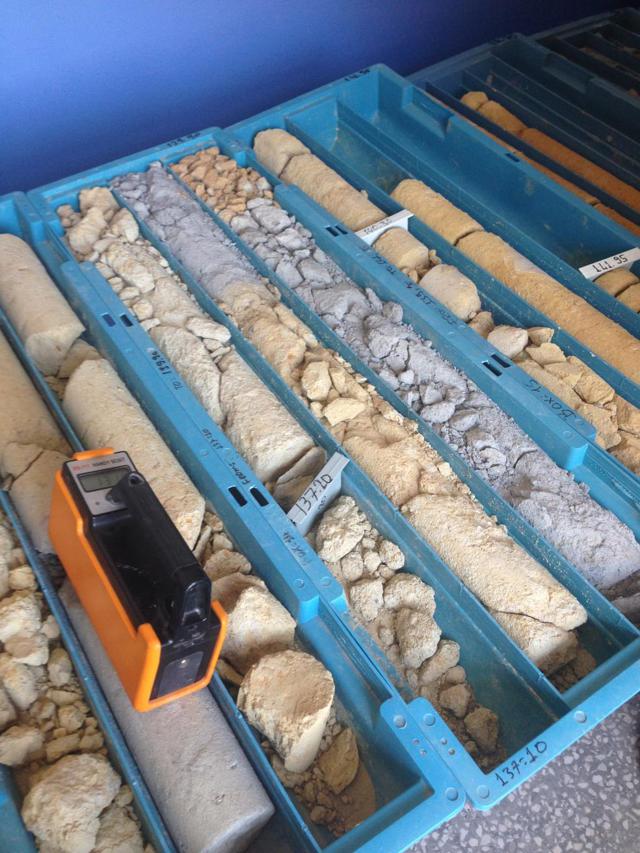 PHOTO ONE: MINERALISATION AT TEMREZLI LOCATED AT THE VISIBLE OXIDISED CONTACT THAT IS YELLOW TO GREY IN COLOUR
PRELIMINARY FEASIBILITY STUDY CONFIRMED AN INTERNAL RATE OF RETURN RANGE OF 65% - 95%
In February of 2015 Tetra Tech (a global leader in this field) completed a Preliminary Feasibility Study "PFS" that was assisted by SRK, Hydro Solutions, MTA, R&D Inc, and CSA Global. The Study confirmed that Temrezli is a technically low risk project that exhibits a high grade of U3O8, low CAPEX, low OPEX, and will become one of the globe's lowest cost producers of uranium.
The PFS confirmed that at a CAPEX of US$41.0 / A$52.9 million produces a Pre-Tax Net Present Value (discount of 8%) of US$191.1 / A$247.4 million, and Post Tax (discount of 8%) Net Present Value of US$145.6 / A$187.8 million. This generates an Internal Rate of Return of 65% at a long term U3O8 price of US$65.00 per pound.
Every US$5.00 per pound boost or decrease in the price of U3O8 will see the Net Present Value increase or decrease by US$27.8 / A$35.9 million.
Cash operating cost is estimated at US$16.89 per pound of U3O8 to generate a Life of Mine gross revenue stream of US$644.0 / A$833.7 million, and operating cash flow of US$345.5 / A$447.3 million. Pay back of CAPEX is a very short 11 months.
The central process plant at Temrezli is estimated to produce 9.9 million pounds of U3O8 over a Life of Mine of 12 years and total output was based on currently defined JORC resources of 13.3 million pounds of U3O8. The annualised base production rate is estimated at 825,636 pounds of U3O8, with a peak rate estimated at 1,154, 563 pounds of U3O98.
Production rates are based on utilisation of the entire JORC Measured and Indicated Resource, and 80% of the Inferred Resource.
Anatolia aims to reduce CAPEX further by utilising lower cost Turkish suppliers that may see CAPEX reduced by up to 30% to US$28.7 / A$37.0 million. This will result in a Pre-Tax (8% discount) Net Present Value of US$219.7 / A$283.4 million, total free cash flow of US$384.9 / A$496.5 million, boosting the Internal Rate of Return up to 95%.
A further boost in economics and mine life is anticipated by integrating the 100% owned satellite deposits at the nearby Sefaatli project that are currently under evaluation and development.
TEMREZLI CENTRAL PROCESS PLANT
The Central process plant is estimated to process 3,000 gallons per minute of pregnant leachate solution supplied by 66 header houses over the life of the mine. Each header house will be supplied by 20 five spot well patterns that include 20 production wells and 40 injection wells.
Additional capacity will be available to handle production from satellite projects as they come on line.
An evaporation pond capable of handling up to 20.2 cubic metres of system bleed per day will be constructed nearby the process plant, and will be capable of handling future scale up of production.
TEMREZLI IS PROFITABLE AT CURRENT U3O8 SPOT AND CONTRACT PRICING
The current spot price of U3O8 is at US$38.25, and at US$40.00 per pound the project is still quite profitable with total cash flow of US$110.2 / A$142.2 million , and Pre-Tax Net Present Value "NPV" (8% discount) of US$52.0 /A$67.1 million.
Current contract pricing for U308 is at US$50.00 per pound and produces a Pre-Tax NPV (8% discount) of US$107.6 / A$138.8 million, and free cash flow over the life of the mine of US$204.3 / A$263.6 million.
All in sustaining costs that include initial and sustaining capital costs are estimated at US$30.12 per pound of U3O8. Cash costs are estimated at US$16.89 per pound and are inclusive of owners cost, plant and well field reclamation, restoration and royalties.
The low CAPEX and OPEX of the project is driven by the abundance of low cost "off the shelf" ISR process equipment, low cost Turkish operating environment, excellent local infrastructure, and ability to pump waste water to an evaporation pond that avoids the expense of water disposal wells.
FUNDING PATHWAYS
The project is currently free from off-take agreements which provide maximum flexibility to arrange funding. Significant interest has been expressed by a range of potential financiers including equity partners, off-take partners, and debt providers.
PERMITTING
The first stage of the Environmental and Social Impact Statement or ESIA is expected to be filed with Turkish authorities early March 2015, with the final stage submitted in early Q3/2015.
An operating permit is typically granted within 14 days of ESIA approval and allows for mine construction and ongoing production to proceed, and is anticipated to occur in Q4/2015.
ADDITIONAL FIELD WORK T TEMREZLI AND REGION WIDE
On-going field work, sampling, and mapping are underway to the northeast of the Temrezli deposit where Tertiary sediments that are host rocks for uranium mineralisation carry an elevated radioactive response.
Remote sensing surveys to target the same rock type will also be carried out within the central Anatolian uranium district within the current calendar year.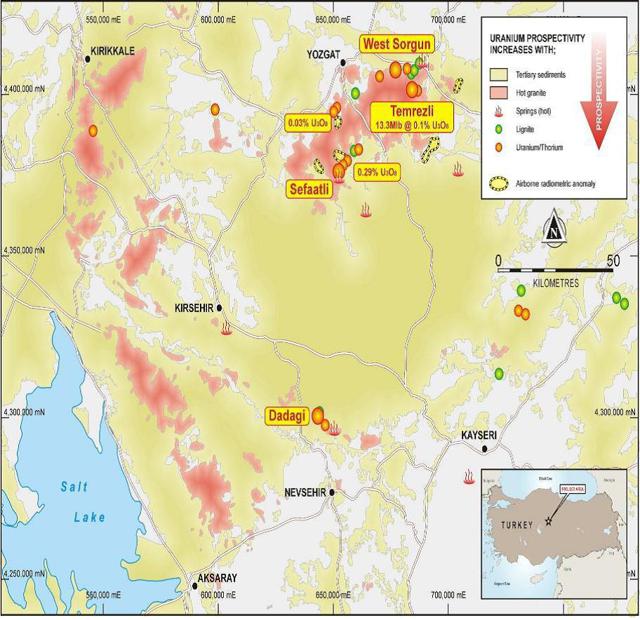 MAP THREE: CENTRAL ANATOLIAN URANIUM DISTRICT
SEFAATLI URANIUM PROJECT
The Sefaatli Uranium Project is 100% owned and is located 40 kilometres southwest of Temrezli, and is close to roads and local infrastructure.
The project area encompasses a combined 12,356 hectares that includes the entirety of the Sefaatli uranium occurrence that was discovered by the MTA in the mid 1980's. Drilling included 171 reconnaissance rotary core holes for 21,340 metres.
Uranium mineralisation was intersected in many shallow (no deeper than 150 metres) drill holes that were spaced at 100 to 300 metre intervals, and identified uranium resources at Tuglu Hill and Deliler.
These two areas include uranium mineralisation that each has a surface expression of approximately 1,500metres in length and 1,000 metres in width, and remain open in all directions.
A number of additional uranium occurrences have also been identified for further evaluation.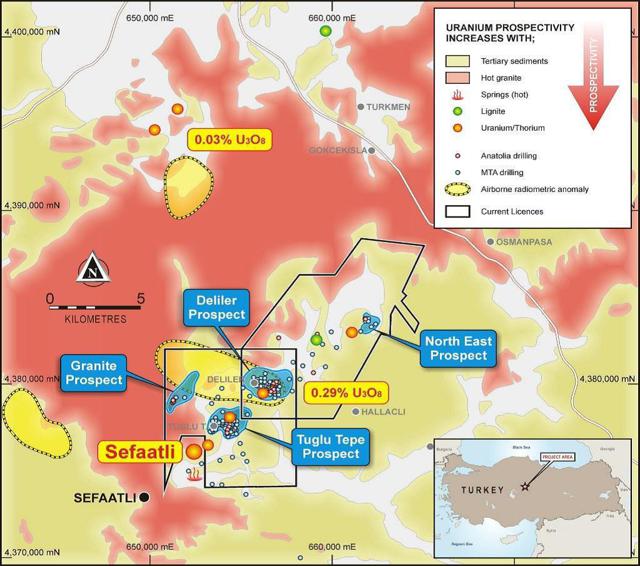 MAP FOUR: LAYOUT OF HISTORIC DRILLING AT SEFAATLI INCLUDING TULU TEPE AND DELILER PROSPECTS
In October of 2014 Anatolia commenced a Phase One drilling program of 56 drill holes for 5,664 metres at the Deliler Prospect. Earlier drilling had intersected uranium mineralisation in all holes. Most holes intersected two or more lenses, and one hole intersected five stacked lenses.
In November of 2014 Anatolia announced that all 29 step out holes for 3,154 metres at Deliler intersected uranium mineralisation. Hole SD42 had a highlight intersection of 6.2 metres grading 810 parts per million (ppm) eU3O8, and included 1.7 metres at 1,490 ppm eU3O8.
Anatolia has identified a consistently mineralised horizon that is located at a depth of 950 to 975 metres. This lies on the eastern side of Deliler, and appears open to the west, east, and south, and abuts an east westerly fault to the north Where the Drill hole SD42 highlight was obtained.
This cross cutting fault plays an important role in the formation of uranium mineralisation at Deliler and is being probed for additional uranium mineralisation along its 600 to 700 metre extension.
A second rig commenced drilling at Tulu Tepe, where an initial hole was drilled to the granite basement to better understand the local stratigraphy. An additional 26 holes for 3,400 metres are planned to follow up.
In December of 2014 Anatolia announced that two new uranium discoveries were made at Tulu Tepe. Drill hole SD60 intersected 2.5 metres grading 2,150 ppm eU3O8 from a very shallow 81.7 metres and included 1.2 metres grading 3,980 ppm eU3O8.
SD69 intersected 4.3 metres grading 930 ppm eU3O8 from 80.3 metres and included 0.5 metres grading 2,240 ppm eU3O8.
Drilling at the Deliler cross cutting fault included drill hole SD62 which intersected 1.8 metres grading 940 ppm eU3O8 from 75.4 metres and included 0.6 metres grading 1,940 ppm eU3O8.
Drill hole SD67 intersected 1.3 metres grading 580 ppm eU3O8 from 51.9 metres and included 0.5 metres grading 1,520 ppm eU3O8. Both SD67 and SD62 confirmed the presence of high grade uranium mineralisation along the Deliler fault.
All 21 drill holes at both Tulu Tepe and Deliler intersected at least two lenses of uranium mineralisation, and one hole intersected five stacked lenses.
These results indicate the presence of strong uranium mineralisation, and appear capable of being developed as a satellite operation that can feed uranium leachate into the proposed process plant at Temrezli.
A Phase Two drilling program at Sefaatli commenced on 9 February 2015 and will focus on in-fill and immediate step out drilling at Deliler and Tulu Tepe. A minimum of 40 holes for 7,000 metres is planned.
CATALYSTS FOR VALUATION GROWTH AT TEMREZLI
- Completion and lodgement of Stage 1 of the Environmental Impact Assessment March 2015.
- Additional drilling data to be generated from programs at Tulu Tepe and Deliler Q1, 2015, results ongoing into Q2, 2015.
- Permitting completed by ,Q4, 2015.
- Project finance and U3O8 hedges completed in Q4, 2015.
- Process Plant construction and well field development commenced at the end of Q4, 2015 and completed in Q3, 2016.
- Plant commissioned and U3O8 production to commence end 2016.
URANIUM MARKET - LONG TERM DEMAND IS GROWING
The number of global nuclear power plants (Pre- Fukushima) included 443 operable reactors, 62 reactors under construction, and 158 units on order for a total of 663 reactors. In the last calendar quarter of 2014 the global total had increased to 435 operable reactors, 72 reactors under construction, and 174 units on order for a total of 681 reactors.
China, India, Russia, and Korea are building or have ordered 168 new reactors. China has 29 reactors under construction.
UxC points to a growing uranium supply deficit that commences in 2016 and grows to a deficit of 80 million pounds by 2022. Additional supply of uranium cannot take place within the current low U3O8 pricing regime, and a pricing structure that approaches US$60.00 per pound is required to justify exploration and development costs of new uranium resources.
Trade Tech notes that the spot market which constitutes less than 10% of total utility activity is at US$35.40 per pound, and is now almost totally disconnected from tightening market dynamics.
Uncovered Utility requirements for 2017 to 2018 are estimated by Anatolia to be as high as 100 million pounds of U3O8 per year. Significant utility purchases are expected to get underway during the current year and create a strong re-bound in U3O8 prices.
TURKEY - ECONOMY AND URANIUM SECTOR
Turkey is Europe's sixth largest economy, which is largely a free market economy with a GDP growth rate of 3.8% (2013) and per capita income of US$15,300. The country has a long history of mining nickel, gold, boron, chromium, feldspar, coal, copper, and zinc that employs a transparent mining code with well understood permitting processes.
Turkey imports 98% of its natural gas and 92% of its oil, and its nuclear power ambitions will cut back on reliance on Russian and Iranian energy sources. Turkish authorities have approved the development of 8 nuclear reactors, with construction commencing in April of 2014. A further 4 nuclear reactors are planned to be brought on line by 2030.
The Turkish Government is very supportive of the Temrezli Uranium Project, which is the only advanced uranium resource asset within the country.
Anatolia obtained an operating license to develop Temrezli in October of 2013, and will be able to fulfil Turkish ambitions to produce uranium both for domestic and export markets.
ANALYSIS & VALUATION
Anatolia Energy carries a market capitalisation of $25.4 million, of which $4 million is cash, and has been extremely well supported by major shareholders that have recently contributed $6 million at $0.08 per share.
These funds will be sufficient to advance the Temrezli ISR project into funding and development. Major global resource investors include Sprott and RMB.
Proactive Investors notes that the uranium in sandstone style of mineralisation at the Temrezli Project and surrounding prospects are directly comparable to the roll front style of uranium mineralisation (contained in sandstone) found in the Powder River Basin of Wyoming.
The Powder River Basin hosts highly profitable ISR uranium recovery operations that generate extremely robust valuations.
Uranerz (NYSE MKT: URZ) which operates the Nichols Ranch ISR Project, at 200,000 -300,000 pounds of U3O8, and is permitted to produce 2.0 million pounds of U3O8 for a 6 year Life of Mine is subject to a merger agreement with Energy Fuels(NYSE MKT: UUU).
Nichols Ranch hosts 19.5 million pounds of U3O8 Compliant Resources and the merger attracts a fully diluted market capitalisation of US$134.3 / A$173.2 million for an Enterprise Valuation of US$101.9 million or US$5.22 / A$6.74 per pound of U3O8.
Peninsula Energy (ASX:PEN) is developing the nearby ISR Lance Projects in the Powder River Basin with 53.6 million pounds of JORC Compliant Resources and carries a market capitalisation of $131.3 million and sufficient cash to complete the first stage of ISR uranium production.
This equates to an Enterprise Valuation of $2.45 per pound of U3O8 JORC Compliant resources with completion of plant and well field development in mid-2015.
This de-risking process shows how the Enterprise Valuation increases from $2.45 per pound (for PEN) on pre-completion of plant and well field development to $6.74 per pound (for URZ) after 12 months of successful and growing production of U3O8.
Both Temrezli (Anatolia) and Nichols Ranch (Uranerz) carry the same head grade of 0.12%, whereas Lance (Peninsula) carries a lower grade of 0.049% U3O8.
Nichols Ranch reports total costs of US$34.00 per pound, Lance forecasts US$29.10 per pound, and Temrezli forecasts US$30.12 per pound of U3O8.
This confirms Anatolia's Temrezli project as a potential low cost producer within this ISR peer group, and will be advancing toward production within the next 12 months.
Proactive Investors has calculated an Enterprise Valuation range for Anatolia of A$2.45 - $6.74 per pound of U3O8 as it de-risks the project through funding, well field and process plant construction, commissioning and production of yellowcake.
We calculate an Enterprise Valuation of $89.6 million, or $0.22 - $0.27 per share on a partially diluted basis, allowing for milestone shares, but undiluted on a funded basis for production in mid-2016.
This makes no allowance for an increase in U3O8 resources from current drilling programs.


PHOTO TWO: DRILLING AT TEMREZLI
Proactive Investors believes that these drilling programs will add significant additional resources of U3O8 and further boost the Enterprise Valuation and share price within the next 12 months. Speculative Buy.
Disclaimer
You understand and agree that no content published constitutes a recommendation that any particular security, portfolio of securities, transaction, or investment strategy is suitable or advisable for any specific person. You further understand that none of the information providers or their affiliates will advise you personally concerning the nature, potential advisability, value or suitability of any particular security, portfolio of securities, transaction, investment strategy, or other matter.
You understand that the Site may contain opinions from time to time with regard to securities mentioned in other products, including company related products and that those opinions may be different from those obtained by using another product related to the Company. You understand and agree that contributors may write about securities in which they or their firms have a position, and that they may trade such securities for their own account. In cases where the position is held at the time of publication and such position is known to the Company, appropriate disclosure is made.
However, you understand and agree that at the time of any transaction that you make, one or more contributors may have a position in the securities written about. You understand that price and other data is supplied by sources believed to be reliable, that the calculations herein are made using such data, and that neither such data nor such calculations are guaranteed by these sources, the Company, the information providers or any other person or entity, and may not be complete or accurate.
From time to time, reference may be made in our marketing materials to prior articles and opinions we have published. These references may be selective, may reference only a portion of an article or recommendation, and are likely not to be current. As markets change continuously, previously published information and data may not be current and should not be relied upon.
The contributors make every effort to ensure that the information and material contained in this report is accurate and correct and has been obtained from reliable sources. However, no representation is made about the accuracy or completeness of the information and material and it should not be relied upon as a substitute for the exercise of independent judgment. Proactive Investors does not accept any liability, including negligence, for any loss or damage arising from the use of, or reliance on, the material contained in this report. There are general risks associated with any investment in securities. Investors should be aware that these risks might result in loss of income and capital invested. Proactive Investors received a fee for this report.
WARNING: No recipients should rely on any recommendation (whether express or implied) contained in this document without obtaining specific advice from their advisers. All investors should therefore consider the appropriateness, in light of their own objectives, financial situation and/or needs, before acting on the advice.
DISCLOSURE: Proactive Investors, its directors, associates, employees or representatives may not effect a transaction upon its or their own account in the investments referred to in this report or any related investment until the expiry of 24 hours after the report has been published.