We initiate coverage of Red River Resources (ASX:RVR) with a Speculative BUY rating and note that the Thalanga Zinc Project in Queensland is now significantly de-risked for near term production of zinc. This is based on the following factors:
- A recent internal study for the restart of the underground Thalanga operations forecast annualised LOM cash flow at $25M based on initial production rate of 34,200tpa of Zinc Eq and pre-production CAPEX of $17.2M.
- Cash Cost at US$0.18 per pound of zinc produced (inc. credits) provides a buffer against low zinc prices and represents a significant competitive advantage versus its peers.
- The low cash cost is driven by a high grade mine inventory of 15.2% Zinc Equivalent.
- Processing risk is considered low, as the existing treatment plant has a multi-year history of successfully processing over 10 million tonnes of mill feed into concentrate.
- Time line to restart of production at Thalanga is 6 months. Initial mine life of 5.25 years could be extended given exploration upside from quality targets. Drilling is underway at Far West.
- A recent placement that raised $3.9M at $0.105 per share eliminates funding risk and provides for an aggressive exploration program to expand JORC resources.
- Unlike its ASX listed peers, Red River has potential to be in production in 2016/17. There is also looming takeover appeal for Red River given an open share register and under-valuation based on the recent takeover price of Atherton Resources at $65M/$314t Zn Eq.
- This is against a current market valuation of Red River at an Enterprise Valuation of $14.7M / $56.80t Zn Eq. Red River has similar zinc resource grades and production output scenarios.
Proactive Investors has applied the same exit valuation to Atherton to Red River with a discount risk factor and calculated a 12 month share price target of $0.31.
ASX Code: RVR
Recommendation: Speculative Buy
Sector: Materials
12 Month Price Target: $0.31
Share Price: $0.09
52 Week -: High:$0.23 / Low: $0.08
Issued Ordinary Shares:214.7M
Options: 22.5M
Market Cap: $19.3M
Cash:$4.6M + Share Purchase Plan
Enterprise Valuation:$14.7M
Major Shareholders:-
Donald Garner: 3.6%
Mersound Pty Ltd: 3.3%
Hart Family: 2.3%
Top 20 own: 33.9%
Directors and Management:-
Non-Executive Chairman: Brett Fletcher
Managing Director: Melkon Palancian
Executive Director: Donald Garner
Non-Executive Director: Paul Hart
Non-Executive Director: Mark Hanlon
Non-Executive Director: James Black
Non-Executive Director & Company Secretary: Cameron Bodley
BACKGROUND - ACQUISITION OF THALANGA ZINC OPERATIONS
Red River Resources Limited (ASX:RVR) is an ASX listed exploration and development Company that was restructured in 2014 to acquire and re-develop the Thalanga Zinc Operations (in Northern Queensland) from the liquidators of Kagara Limited for $6.5 million.
In 2014 Red River appointed Mel Palancian (engineer) and Donald Garner (geologist) both with significant zinc experience to head a highly experienced team that included four senior members from Zinifex and OZ Minerals.
In July and October of 2014 the Company completed equity placements of $7.5 million and $3.6 million to acquire Thalanga and fund a Restart Study, technical studies, update and drill high priority targets and complete early stage reserve and resource assessments.
On 2 November 2015 Red River placed 36.8 million shares at $0.105 per share to raise $3.9 million.
SHARE PURCHASE PLAN
A Share Purchase Plan is currently underway that closes on 11 December, and may issue up to 14.3 million shares at $0.105 per share for up to $1.5 million. Shareholders will also be entitled to receive one new option for every two new shares.
Funds will be deployed to complete:
- Scoping Study at Liontown;
- Environmental Background Study at Waterloo;
- Ongoing exploration at Jasper Flats, Truncheon and Liontown;
- Care and maintenance at Thalanga; and
- Working capital.
Current burn rate is running at $0.9 to $1.0 million per quarter, with $0.7 million cash held at the end of the September quarter. Cash will fall into a range of $4.6 - $6.1 million on completion of the share purchase plan.
An additional $1.0 million may be raised from the recent sale of Liontown and Thalanga gold and silver stockpiles and tailings.
THALANGA - OPERATIONAL POLYMETALLIC MINES WITH HIGH EXPLORATION POTENTIAL
Thalanga Operations include existing processing plant with polymetallic mill feed capacity of 650,000 tonnes per annum, along with direct access to 3 high grade "near term production" polymetallic deposits at West 45, Waterloo and Far West.
Historic production (pre-2012 shut down) from within the project areas processed 10 million tonnes of high grade mill feed into concentrate.
The tenement package covers 420 square kilometres of some of the most prospective Volcanogenic Hosted Massive Sulphide "VHMS" style ground found in Australia (Figure 3) that is also located close to infrastructure, workforce, smelter, and export facilities (Figures 1 & 2).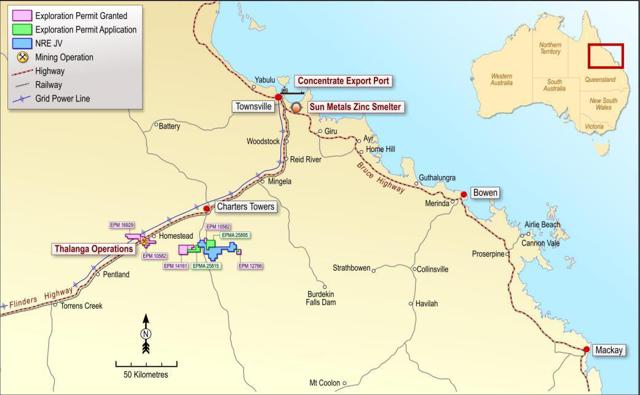 Figure 1: Location of Thalanga mining operations and exploration permits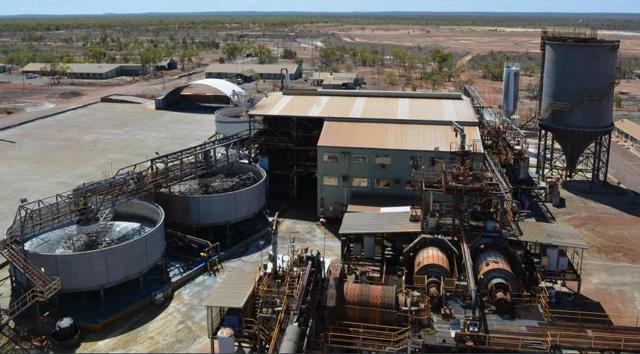 Figure 2: Process plant, tailings storage and management and employee facilities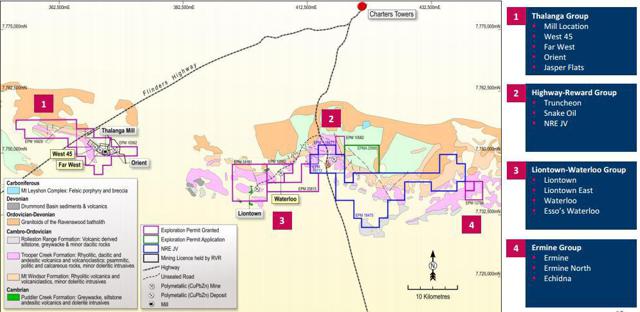 Figure 3: Four main project areas Thalanga, Highway Reward, Liontown-Waterloo and Ermine Group
An evaluation of early stage production targets generated reserves and resources of 1.7 million tonnes at a grade of 7.5% zinc, 1.4% copper, 2.1% lead, 0.5 grams per tonne gold and 54 grams per tonne silver, for a zinc equivalent grade of 15.2% (258,400 tonnes of zinc equivalent) with Mining One advising.
WEST 45 UNDERGROUND MINE - INTIAL PRODUCTION AREA FROM JORC PROVED RESERVES
Production rate is estimated at 300,000 - 450,000 tonnes per year of mill feed that will initially flow from West 45 with a Proved JORC Reserve of 421,000 tonnes at a zinc equivalent grade of 15.0%.

Figure 4: JORC Reserve at West 45 completed by Mining One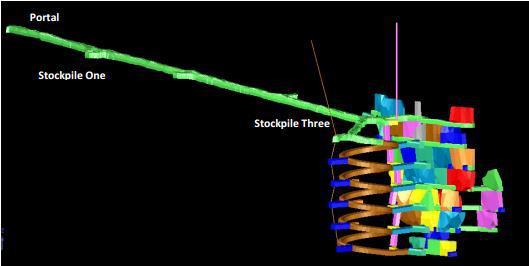 Figure 5: West 45 Mine design completed by Mining One
Mining One recently completed an optimised mine design and production schedule for West 45 that utilises the existing 550 meter decline extending to a depth of 100 metres and into ore body development. This will supply approximately 2 years of high grade mill feed.
West 45 is located approximately 1.4 kilometres from the process plant and will employ a contractor to extract ore (from benches) and deliver mill feed.
Red River has completed dewatering of the underground mine along with a channel sampling program.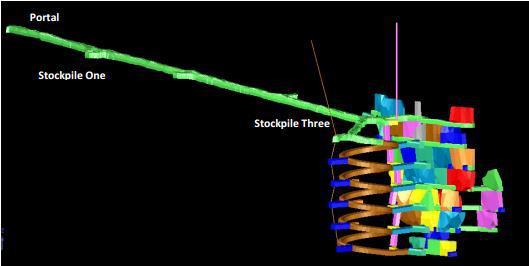 Figure 6: Channel sampling at West 45 956E
Highlights of the sampling at West 45 956E ore drive confirmed the presence of an exposed orebody with a width of 2.6 metres grading 38.6% zinc equivalent (from 7 channel samples along its 45 meter length).
Proactive Investors notes that this is a very impressive "first pass" evaluation of the underground workings at West 45 and reinforces our opinion that the project will continue to surprise to the upside.
An evaluation of the rock bolt system that was installed in 2011 and 2012 confirmed that the system is in good condition, exceeds current safety requirements and does not require replacement.
This reduces pre-startup CAPEX by $0.55 million, from $17.7 to $17.2 million estimated in the Restart Study.
WEST 45, FAR WEST AND WATERLOO ADDITIONAL JORC RESOURCES FOR NEAR TERM MINING
The Restart Study also completed a Resource Estimate for proposed mining operations to extend to Far West and then Waterloo. These additional resources fall mainly within the JORC Indicated and Inferred categories.
We note that the resource is already at a significant size of 2.5 million tonnes and with a high Zinc Equivalent grade of 16.0%.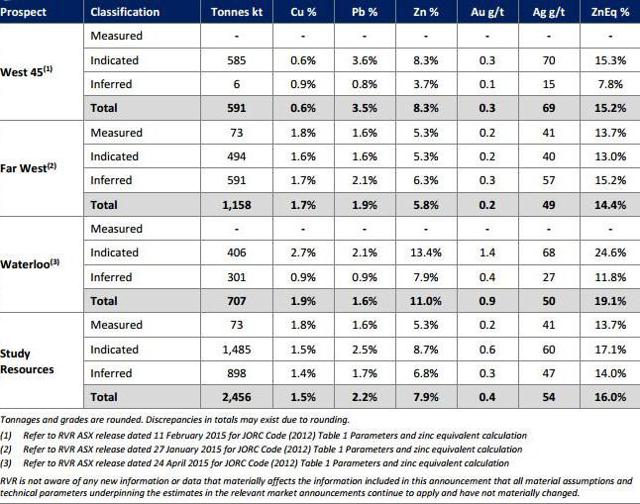 Figure 7: Restart Study JORC Resource Estimate completed by Mining One
FAR WEST MINE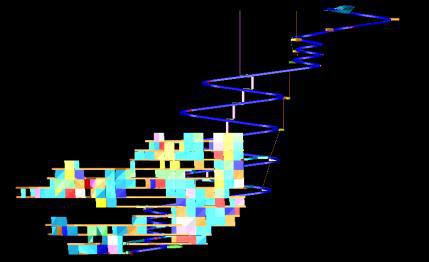 Figure 8: Far West Mine design completed by Mining One
The Far West deposit is located approximately 500 metres from the process plant and 1 kilometre from West 45.
Ore will be extracted from the steeply dipping orebody using long hole stoping, and then backfilled with cemented rock fill and unconsolidated waste rock fill.
Far West's historic current resource is 1.16 million tonnes grading 1.7% copper, 1.9% lead, 5.8% zinc, 0.2g/t gold and 49 g/t silver. The conceptual exploration target at Far West is 500,000 - 7,500,000 tonnes grading 10%-15% zinc equivalent, and falls outside the current resource estimate.
An upper level drill program is underway at Far West into the up dip projections of the current resource area which aims to add to the mineral resource inventory (Figure 6). The definition of additional resources in the Far West Up Dip Extension is likely to have a material positive impact on the overall economics of the Far West development and the Thalanga Zinc Project.
A proposed decline to access target areas will allow for drilling and evaluation of extensions at depth and along strike. There is strong potential to extend resources.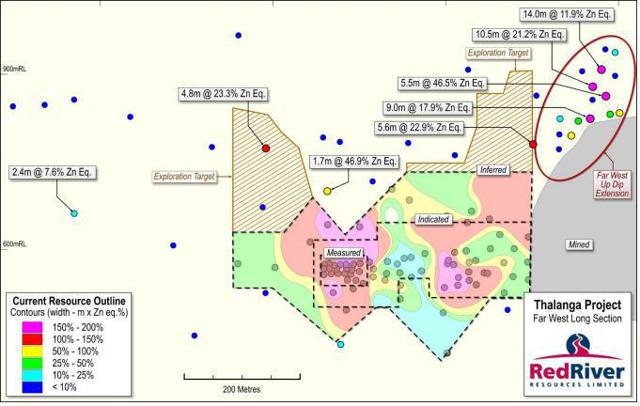 Figure 9: Proposed target areas for mineralised extensions located over many hundreds of metres in multi directions
The modelling includes the cost to develop the Far West decline through the area of the Far West Up Dip extension, but not the benefit of being able to successfully mine additional tonnes from this area.
WATERLOO MINE
Waterloo is located approximately 50 kilometres from the process plant.
It is Red River's highest grade deposit with a resource of 707,000 tonnes grading 1.9% copper, 1.6% lead, 11.0% zinc, 0.9g/t gold and 50 g/t silver; zinc equivalent of 19%.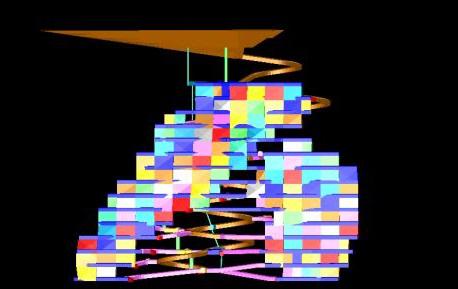 Figure 10: Waterloo Mine design completed by Mining One
Ore will be extracted by use of long-hole stopping and artificial crown pillars (using cemented rock fill) will be utilised for support and to increase recoveries.
ORIENT AND LIONTOWN - ADDITIONAL ORE RESOURCES
These resources are not included in the planned production target established in the Restart Study. They fall mostly into the Indicated and Inferred categories and already represent a very significant medium to long term mill feed source. The company is planning a mining study on Liontown in 2016 focussing on the higher grade zones of the resource.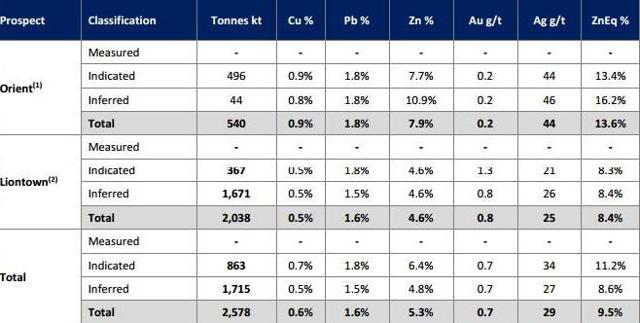 Figure 11: Orient and Liontown Resources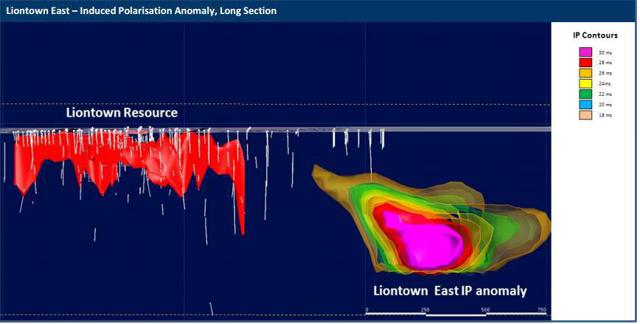 Figure 12: Liontown resource (in red) and Liontown East IP Anomaly
A recent IP Study has confirmed the presence of a major anomaly at Liontown East.
Base metal anomalism is present in shallow historic drill holes up dip of the Liontown East IP Anomaly which extends over a strike length of approximately 800 metres.
Liontown and Liontown East have a combined strike extent of around 2,000 metres, with further resource potential at depth to be evaluated.
HIGH BROWNFIELDS POTENTIAL AT TRUNCHEON AND SNAKE OIL
Significant exploration potential surrounds the historic Highway and Reward Mines which produced 3.8 million tonnes from 1998 to 2005, grading 6.2% copper and 1 gram per tonne gold.
A coincident gravity, IP and geochemical anomaly at Truncheon (3 kilometres northwest of Highway) is interpreted as a conceptual massive sulphide pipe similar to pipes at Highway and Reward.
Snake Oil is another coincident gravity and geochemical anomaly that is located 1 kilometer south of Highway and Reward.
A historic drill hole intercepted 11 metres grading 0.6% copper, 3.7% lead, 10.4% zinc, 1.2 grams per tonne gold and 83 grams per tonne silver, at a downhole depth of 136 metres.
Mineralisation remains open at depth and represents a poorly tested stratigraphic horizon.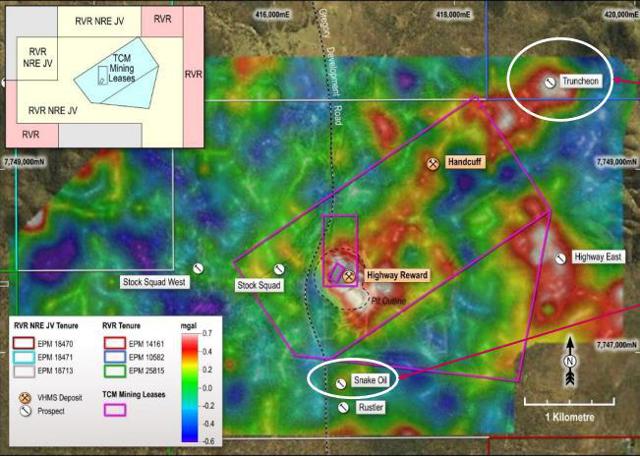 Figure 13:Truncheon and Snake Oil Prospects
RESTART STUDY CAPEX AND OPEX - CONFIRMS VERY LOW FUNDING COSTS
Red River recently completed a "Restart Study" that was based on a technical, economic and geological assessment with Mincore advising on plant restart and costs and Mining One consultants advising on mining aspects. The "Restart Study" consits of a feasibility study level assessment for West 45 and scoping study assessments for Far West and Waterloo.
The Study concluded that a pre-production CAPEX of $17.7 million would produce (on an yearly basis) 21,400 tonnes of zinc, 3,600 tonnes of copper, 5,000 tonnes of lead, 2,000 ounces of gold and 370,000 ounces of silver in concentrate for an initial Life of Mine of 5.25 years.
This produced an extremely high Net Present Value (discounted by 8%) of $84 million, Internal Rate of Return of 61% and generates free cash flow of $25 million per year on average. Pre-production CAPEX pay back occurs within the first year.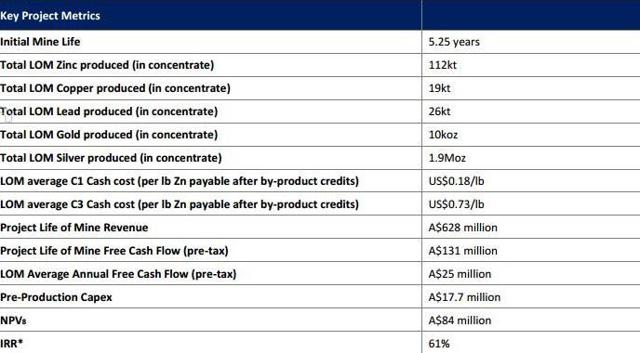 Figure 14: Restart Study
The Restart Study estimated CAPEX at $17.7 million.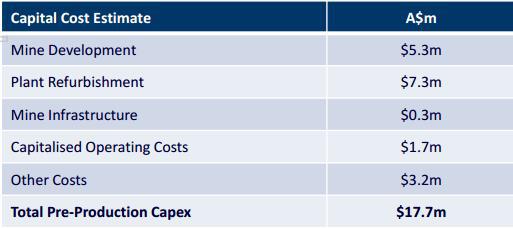 Figure 15: CAPEX breakdown
Life of Mine OPEX estimated post credits C1 Cash Cost of US$0.18 per pound of zinc, and a C3 Cost (total cost) of US$0.73 per pound of zinc which represents a low operational cost for zinc production.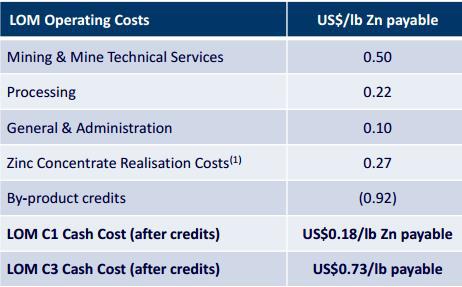 Figure 16: OPEX breakdown
VAST UPSIDE EXPLORATION POTENTIAL FROM VOLCANIC ENVIRONS
The Thalanga Project area and its extensions cover a significant portion of the Mount Read Volcanics that along with the Mount Windsor Volcanics of Tasmania formed during the Cambro-Ordovician period.
These Volcanics are Australia's most prolific generators of volcanic-hosted massive sulphide deposits "VHMS" with total historic production of approximately 12 million metric tonnes of copper, lead and zinc.
VHMS deposits typically occur in clusters, which are clearly documented here with historic production from Thalanga, Highway and Reward Deposits.
Current Leases and Permits held by Red River cover 441 square kilometres and include:
- 5 granted Mining Leases that include the West 45, Far West and Orient Compliant JORC Resources.
- 6 granted Exploration Permits that cover 245 square kilometres and include over 50 base metal prospects and the Waterloo and Liontown JORC compliant Resources.
- 3 granted Exploration Permits that cover 196 square kilometres and are under Joint Venture with Natural Resources Group (earn-in starting at 51% with 90% on completion). These Permits surround the mined out Highway and Reward deposits and include more than 50 base metal targets identified for further evaluation.
New IP technology has opened up multiple "blind targets" that were hidden by the tertiary aged "Campaspe" which includes highly conductive and poorly consolidated gravels and clays that extend to a depth of up to 100 metres.
These barren layers served as a barrier to historic geophysical techniques that failed to penetrate to bedrock in areas of moderate to deep cover.
In November of 2014 Red River completed a trial using cutting edge and high powered deep seeking dipole-dipole Induced Polarisation System. The IP System utilises a 50Kva transmitter that is coupled with a 32 channel receiver and is recognized as the highest powered system currently available in country.
THALANGA - NEW TARGETS GENERATED BY IP SURVEY
The trial was an outstanding success with complete penetration of the Campaspe cover and accurate location of known mineralisation that resulted in the identification of 10 untested VHMS anomalies.
Red River also utilised geochemical and vegetation anomaly studies to further define these targets.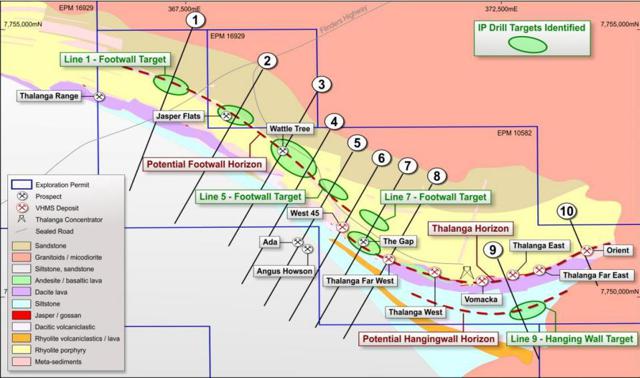 Figure 17: Thalanga 10 VMS targets identified by advanced IP Survey technology
Two of these new and key brownfield targets were generated at Wattle Tree and Jasper Flats that are located 3 to 4 kilometres from the Thalanga process plant.
Three recent drill holes at Wattle Creek intersected zones of mineralisation that are indicative of feeder zones known to be associated with massive sulphide mineralisation at Thalanga and Far West deposits.
A Downhole Electromagnetic survey is planned to test for off drill-hole conductors that may be representative of massive sulphide mineralisation, and then plan for further drilling.
Jasper Flats covers a coincident IP, geochemical and geological anomaly.
A recently completed drill-hole intersected highly altered host rocks and veined and disseminated base metal sulphides that confirm the presence of a significant hydrothermal system.
A Downhole Electromagnetic survey is planned to test for off drill-hole conductors that may be representative of massive sulphide mineralisation, and then plan for further drilling.
LIONTOWN AND WATERLOO - NEW TARGETS GENERATED BY IP SURVEY
A total of 15.9 line kilometres of IP Survey were also completed across the project area that resulted in the definition of 9 new targets. An additional 3 known targets were "re-confirmed" by the technology.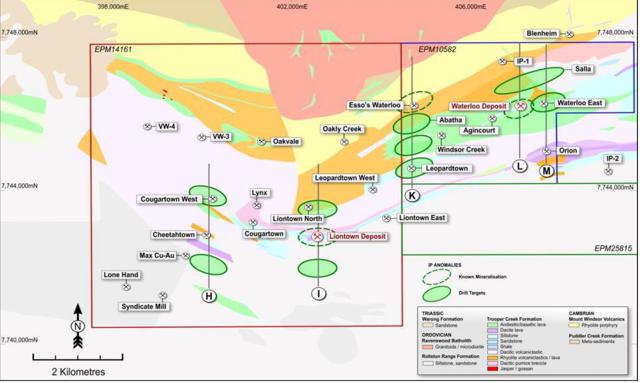 Figure 18: Liontown and Waterloo 9 additional drill targets identified by advanced IP survey technology
Recent reprocessing of historic geophysical, surface geochemical and drilling data at Esso's Waterloo confirmed that a number of historic high grade drill intersections aimed into an outcropping and shallow gossan failed to test a significant IP anomaly that is located next to the gossan (Figures 17 & 18).
Esso's Waterloo is located approximately 2 kilometres east of the Waterloo deposit.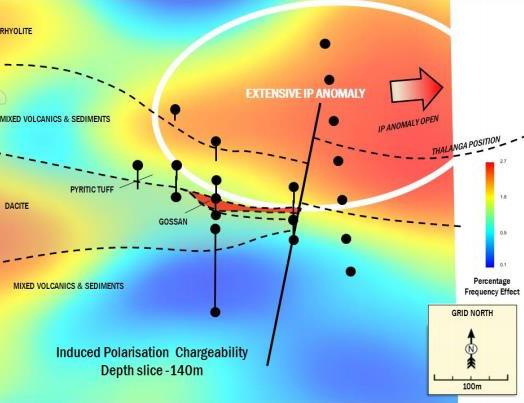 Figure 19: Esso's Waterloo anomaly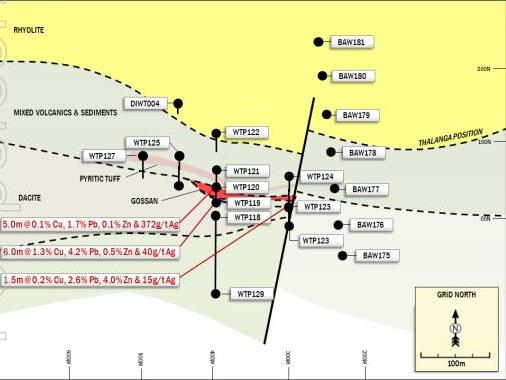 Figure 20: Significant metal values obtained within the gossan
ERMINE PROJECT AREA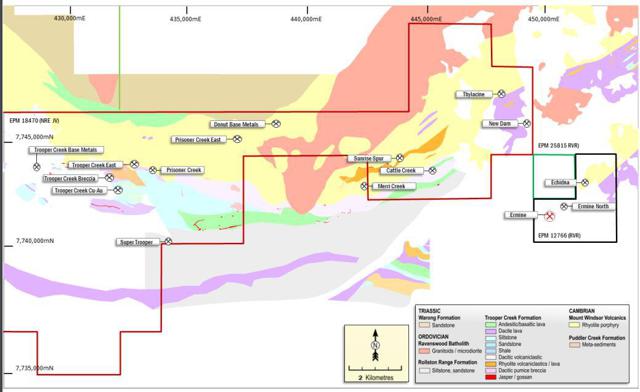 Figure 21: Ermine Project area with Ermine and Echidna located in the southeast corner block
Ermine is considered to contain major brownfields targets that were identified by historic drilling carried out by Plutonic in 1992 that intersected significant and shallow base metal values over multiple holes up to 29% zinc and 7.9% lead (Table 22). Base metal sulphide mineralisation consists of massive sulphide clasts hosted within a sub-marine avalanche that transported mineralisation down slope from a significantly zinc rich VHMS deposit.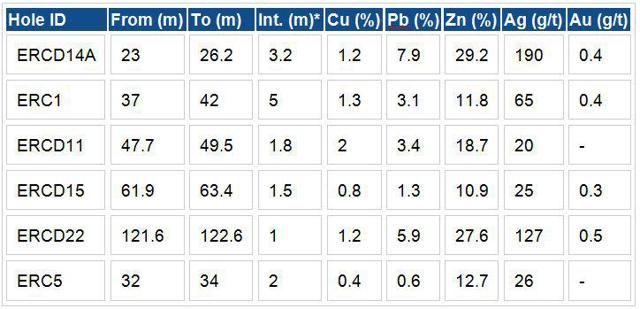 (*) Intercept based on down-hole thickness. True width unknown
Figure 22: Historic Ermine Drilling
A review of historic exploration data has identified an extensive linear geochemical anomaly coincident with a discreet linear zone of chargeability that extends over 2 kilometres from Ermine and towards Echidna that will help determine the source VHMS deposit and future exploration has the potential to add material high grade resources to the Thalanga Project.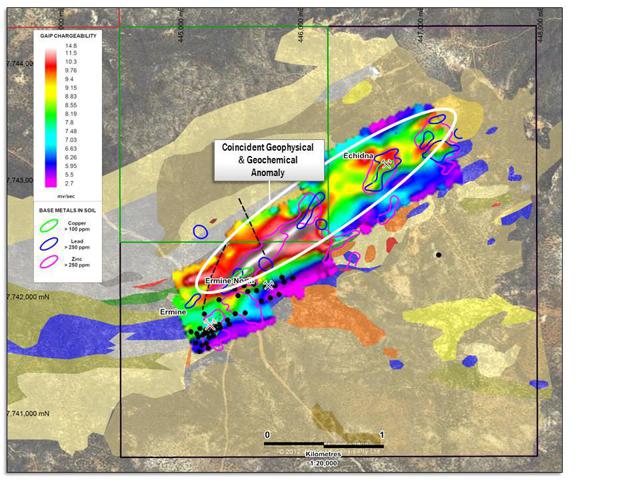 Figure 23: Ermine Project Gradient Array Induced Polarisation (Chargeability) & Historical Drill Collars
A drill program is being designed to evaluate the VHMS target.
ZINC MARKET
The spot price of zinc has reached 5 year lows at around US$0.68 per pound, and continues to outperform in a weakening local currency at A$0.95 per pound.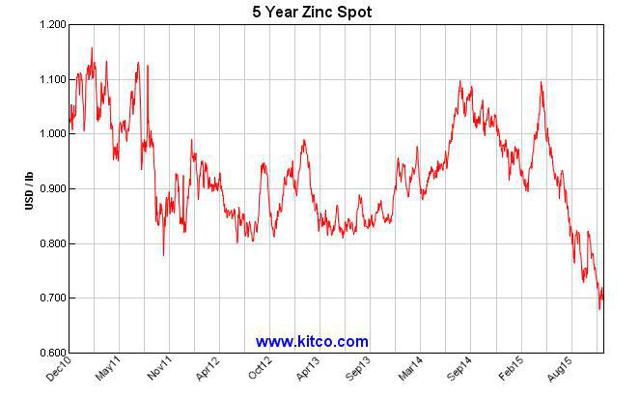 Figure 24: U.S $ LME zinc price
This has occurred at a time when LME stockpiles have declined to 5 year lows (Figure 25), and is illustrative of a market that is severely oversold, suffering from the near term effects of a China slowdown and trader liquidation to maintain liquidity.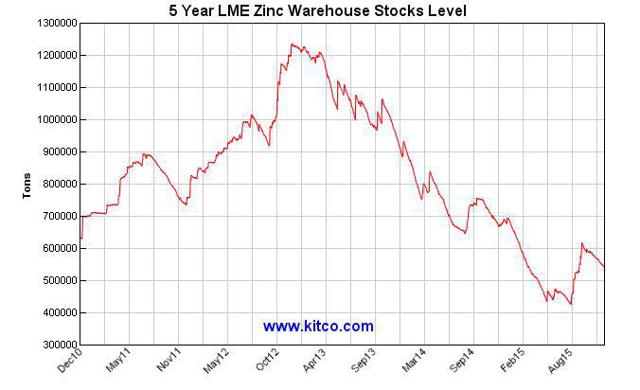 Figure 25: LME stockpiles in a medium term and ongoing "free fall"
Near term pricing support is provided by Glencore which announced annualised zinc production cuts of 500,000 tonnes, amounting to one third of its total output. The Company continues to struggle with a US$30 billion debt load and US$19.2 billion market capitalisation.
Chinese zinc producers will also cut production by 500,000 tonnes in 2016, representing a 20% cut in national production.
Additional global production drops include the closure of the Century Zinc Mine with 500,000 tonnes of annualised zinc production (second largest global producer) and closure of Lisheen with 175,000 tonnes of annualised zinc production.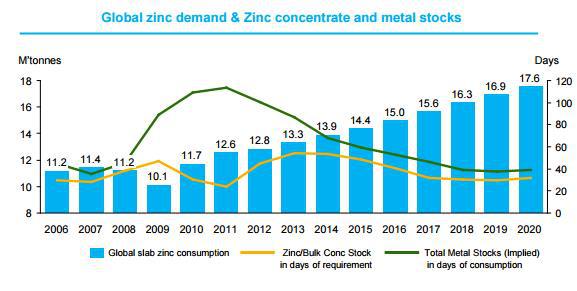 Figure 26: Wood Mackenzie projection of zinc output and demand
Wood Mackenzie forecasts slab zinc consumption to increase by 3 million tonnes per year over the next 5 years (Figure 26). They estimate that this will require a spot zinc price of at least US$1.64 per pound to support capital and production costs for new mine output to meet forecast supply deficit.
The International Lead and Zinc Study Group forecasts a zinc supply deficit of 152,000 tonnes in 2016, and Proactive Investors notes that current LME stockpiles of 536,000 tonnes amount to a 14 day global supply of zinc metal at current consumption levels of 14 million tonnes per year.
Westpac forecasts world economic growth to improve to 3.6% in 2016 and 3.8% in 2017, which will have a very positive impact on zinc demand.
There is a strong possibility that U.S. elections at the end of 2016 will see the United States turn economic policy away from the Washington / Wall Street axis and onto Main Street. These very pro-growth policies will be aimed at small business and an economic revival of the middle class and minorities.
This will include heavy infrastructure spending that will consume large volumes of iron ore and base metals that include zinc utilized in galvanizing. U.S. demand for zinc could increase by up to 500,000 tonnes per year and reach local consumption levels last seen in 1999 that preceded the China boom.
NEAR TERM TIMELINE / SHARE PRICE CATALYSTS
- Drilling at Far West to test known mineralisation which sits outside the resource model, should lead to an increase and upgrade of current JORC Compliant Resources - Commences mid-December 2015 and assays due in early 2016.
- Follow up drilling at Truncheon, Ermine, North/Echidna, Liontown East and Esso's Waterloo which are to be adjusted in response to positive assays - First half of 2016.
- Reprocessing of historical geophysical data, may also incorporate a program of targeted Induced Polarisation surveys across project areas - First half of 2016.
- Scoping study on the Liontown Resources may further extend the life of the project.
- Review of restart plans may further reduce capital startup costs of the project.
VALUATION AND PEER GROUP COMPARISON
Red River Resources Limited has a current market capitalisation of $19.3 million and (est.) $4.6 million in cash.
This equates to an Enterprise Valuation of just $14.7 million for the Thalanga Zinc Project, mining plant and infrastructure, mining permits and exploration leases and abutting tenements held in a Joint Venture with Natural Resources Group.
The closest peer company to Red River is Atherton Resources Ltd (ASX:ATE) which recently received an on market takeover offer at $0.20 per share. Atherton was a spin-off from Kagara Ltd and had a similar (forecast) zinc equivalent production profile, at lesser grades, higher cash cost and higher CAPEX than Red River.

The takeover by Auctus Chillagoe Pty Ltd was for a cash consideration and valued Atherton at $65.0 million and provides a direct valuation comparison for Red River as well as highlights the obvious takeover appeal for Red River given its significant undervaluation to Atherton, low funding costs, near term production profile and an open share register.
Proactive Investors estimates that Red River carries an Enterprise Valuation of $56.80 per tonne of zinc equivalent. This reflects an undervaluation / discount of 81.9% when compared to the Enterprise Valuation of $314 per tonne of zinc equivalent that applied in the Atherton takeover completed in November 2015.
Proactive notes that Red River currently carries approximately 258,400 tonnes of zinc equivalent metal (generated from the Restart Study), and applying the Atherton exit acquisition multiple and Enterprise Valuation of $314 per tonne, equates to a valuation of $81.3 million and a valuation of $0.38 per share. We have applied a risk factor discount and arrived at a 12 month price target of $0.31.
A high impact exploration program is underway at Thalanga with potential to materially improve the Thalanga Zinc project economics. Favourable exploration and project economic results would result in a revised price target.
Proactive Investors Australia is the market leader in producing news, articles and research reports on ASX emerging companies with distribution in Australia, UK, North America and Hong Kong / China.
DISCLAIMER
You understand and agree that no content published constitutes a recommendation that any particular security, portfolio of securities, transaction, or investment strategy is suitable or advisable for any specific person. You further understand that none of the information providers or their affiliates will advise you personally concerning the nature, potential advisability, value or suitability of any particular security, portfolio of securities, transaction, investment strategy, or other matter.
You understand that the Site may contain opinions from time to time with regard to securities mentioned in other products, including company related products and that those opinions may be different from those obtained by using another product related to the Company. You understand and agree that contributors may write about securities in which they or their firms have a position, and that they may trade such securities for their own account. In cases where the position is held at the time of publication and such position is known to the Company, appropriate disclosure is made.
However, you understand and agree that at the time of any transaction that you make, one or more contributors may have a position in the securities written about. You understand that price and other data is supplied by sources believed to be reliable, that the calculations herein are made using such data, and that neither such data nor such calculations are guaranteed by these sources, the Company, the information providers or any other person or entity, and may not be complete or accurate.
From time to time, reference may be made in our marketing materials to prior articles and opinions we have published. These references may be selective, may reference only a portion of an article or recommendation, and are likely not to be current. As markets change continuously, previously published information and data may not be current and should not be relied upon.
The contributors make every effort to ensure that the information and material contained in this report is accurate and correct and has been obtained from reliable sources. However, no representation is made about the accuracy or completeness of the information and material and it should not be relied upon as a substitute for the exercise of independent judgment. Proactive Investors does not accept any liability, including negligence, for any loss or damage arising from the use of, or reliance on, the material contained in this report. There are general risks associated with any investment in securities. Investors should be aware that these risks might result in loss of income and capital invested.
WARNING: No recipients should rely on any recommendation (whether express or implied) contained in this document without obtaining specific advice from their advisers. All investors should therefore consider the appropriateness, in light of their own objectives, financial situation and/or needs, before acting on the advice.
DISCLOSURE: Proactive Investors, its directors, associates, employees or representatives may not effect a transaction upon its or their own account in the investments referred to in this report or any related investment until the expiry of 24 hours after the report has been published.