Protean Wave Energy (ASX:POW), formerly Stonehenge Metals (ASX:SHE), is acquiring patented wave power technology that is designed to convert ocean wave energy into a useful form of energy.
The Protean™ Wave Technology design has been over 10 years in development and comprises a small, durable ocean buoy that is tethered to a weight on the ocean floor.
If this is successful, commercialisation of the Protean™ WEC technology for small island nations could begin rapidly with Hanimaadhoo Island in the Maldives, where the company already has an agreement in place which supports deployment of a commercial pilot wave farm.
We are joined exclusively by Bruce Lane, managing director, Protean Wave Energy, in Proactive Q&A Sessions™.
PROACTIVE INVESTORS: Welcome Bruce.
First of all, what is the technology designed to achieve and how does this differ from other listed wave energy technology companies?
Bruce Lane: The Protean technology is designed to convert ocean wave energy into a useful form of energy. In our recent demonstration we generated compressed air which was in turn converted into electricity.
The technology is different to others in that it is designed to be small and modular so that it is simple and inexpensive to build, deploy and maintain.
Our objective is to reduce the main wave energy adoption barriers which have dogged the industry namely high capital cost, difficulty with permitting and poor survivability.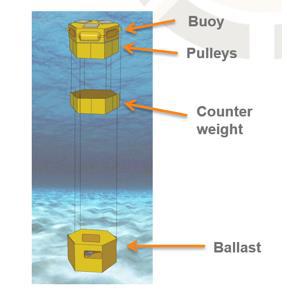 The buoys are designed to be small and inexpensive to manufacture and install - in that respect they are designed to be similar to solar panels.
However that's where the similarities end because unlike the sun which only shines intermittently, we know that the ocean's waves are very energy dense & much more consistent and predictable as an energy source than solar or wind energy.
The Protean™ buoys float on the ocean surface and all 6 degrees of motion created from swell and waves are converted into compressed air.
The air is transported to shore via a poly pipe where it drives an air motor attached to a conventional electrical generator - so it's designed to be like a diesel electricity generator but with an air motor instead.

Individual buoys are designed to connect closely together to form arrays and arrays are joined to create a larger wave farm.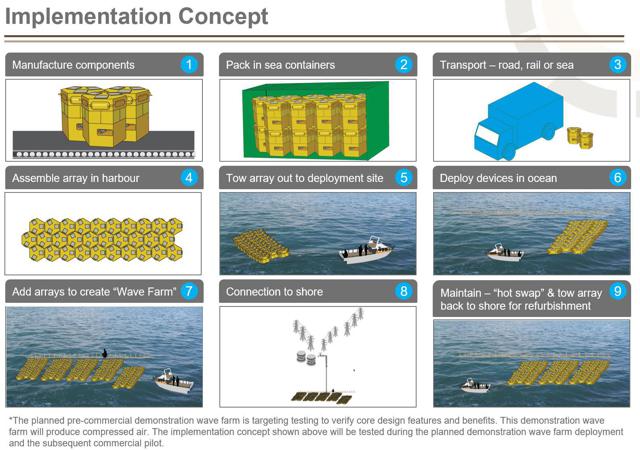 We aim to demonstrate that Protean™ wave farms can be easily deployed in the ocean, close to shore, at relatively low cost and with minimal disruption to the environment.
The already funded 30 buoy wave farm off Bunbury in Western Australia will test and verify the Protean WEC™ technology design features, and provide data with which to conduct initial economic analysis and project feasibility modelling. When do you envisage this wave farm will commence operations?
Bruce Lane: The demonstration wave farm is currently under construction and its deployment is expected to commence in the coming months.
Given the users of the technology are likely to be small island nations which currently pay for imported diesel to provide electricity, how would the costs of the Protean WEC™ technology wave farm compare to deliver base load electricity per kilowatt?
Bruce Lane: It is too early for us to provide definitive numbers and each wave resource location can have different economic outcomes due to a number of factors however at this stage we believe that the system has the potential to show attractive economics in locations where diesel power costs 30 cents per kilowatt hour.
What would be the potential capital cost to Protean Wave to supply a 250kW supply?
Bruce Lane: Once again it is too early for us to provide definitive numbers however our objective is to be able to provide this sort of system at a capital cost which is at least competitive with that of wind and solar although once again each wave resource location can have quite different economic outcomes due to a number of factors.
What major technology companies are taking an interest in the technology, and do you believe this could lead to partnering joint ventures and/or a license fee model?
Bruce Lane: Wave energy as a concept has been around for a long time and many companies have explored its potential to provide clean renewable energy and water. The latest of these is Microsoft who recently trialled an underwater data centre off the Cal Poly pier, at Avila beach, California.
Microsoft has stated that stage two of their project will involve looking at ocean renewable energy to power submerged data centres.
Interestingly Protean also has an agreement with Cal Poly to test the Protean wave energy converter technology off the same pier at Avila beach during 2016.
The company has an agreement in place with Clean Energy Maldives who have approval to deploy a commercial pilot wave farm on Hanimaadhoo Island in the Maldives. What would be the timeline on achieving this milestone?
Bruce Lane: We have secured an option over Clean Energy Maldives, a Maldivian company that has approval to install a wave farm at Hanimaadhoo Island. This is where we plan to deploy our first commercial pilot to supply electricity and desalinated water.
The feasibility study for this deployment will draw on what we learn from the first few months of operation and data collection from the demonstration wave farm deployment at Bunbury.
We hope to be able to finalise a feasibility study for the Maldives towards the latter part of 2016.
Finally, what are the details of the current fund raising, and why should an investor consider investing in Protean Wave Energy?
Bruce Lane: We're currently seeking to raise $2.5 million with oversubscriptions up to $5 million through a public offer to accelerate commercialisation of the Protean technology.
The new shares are being offered at $0.025 including a "one for one" free attaching option with a strike price of $0.0375.
We believe that the Protean technology offers a truly unique approach to harnessing ocean wave energy and that it potentially offers one of the more attractive commercialisation models for companies transitioning away from the resources sector.
We believe that the patented technology has the potential to facilitate our entry into the multi-billion dollar global renewable energy market.
Our initial market focus is the 60 small island nations in the world that mostly still use high cost and high carbon emitting diesel generators for power.
You can view our prospectus on the Stonehenge Metals website (CLICK HERE) and on the ASX, which contain full details of the offer or you can contact CPS Capital, the lead offer manager.
PROACTIVE INVESTORS: Thank-you Bruce.
Proactive Investors is a global leader reporting financial news, media, research and hosts events for listed emerging growth companies and investors across four continents.