Dart Mining (ASX: DTM) is a Victorian based exploration company that is developing the world class Unicorn Deposit hosting significant resources of molybdenum, copper and silver within a climax style porphyry intrusive that is located near Corryong, in north east Victoria.
Drilling at Union has confirmed a maiden JORC Inferred and Indicated Resource of 105 million tonnes at 0.07%Molybdenum equivalent including an Indicated JORC Resource of 29 million tonnes at 0.09% Molybdenumequivalent. The deposit is open at depth with the resourcing calculated to 450 metres but with known mineralisation extending to at least 560 meters.
Drilling has re-commenced at Unicorn with the intent being to upgrade the indicated JORC resource to measured status and to increase the size of the resource from surface to 250 metres. Further drilling is planned including moving the inferred resource to indicated status and exploring g the
Importantly, a Scoping Study on the Unicorn project is due to be initiated with a planned release date of late fourth quarter 2012.
Multiple targets have been defined along a 40 kilometre long structural corridor contained within Dart Mining's 2000km2. These targets and the rest of Dart Mining's extensive tenement holdings are generally underexplored and provide significant upside opportunity to identify further deposits like Unicorn as Climax style porphyries generally occur in clusters.
At its current market valuation of $21.4 million and Enterprise Value of approximately $17.3 million , it does not take into account the size of the current resource at Unicorn, its development potential and Scoping Study milestone nor the discovery and potential value of a new mineralised porphyry province.
Share Price: $0.115
Issued Shares: 186.0m
Market Cap: $21.4m
Top 20: 38%
Cash: $4.1m
EV: $17.3m
ANALYSIS
The Dart tenements around Corryong and the Union Molybdenum copper silver deposit cover approximately 2,000 square kilometres. These assets are all within the highly prospective Lachlan Fold Belt / Gilmore Suture that hosts numerous world class porphyry mines at North Parkes, Cadia, and Ridgway in New South Wales; and the VMS Stockman project at Benambra in Victoria, which is nearby the Unicorn Project area.
Dart Mining is in the early stages of developing a pipeline of base metals and gold projects.
The Company has already established a maiden JORC Inferred estimate of 105 million tonnes at 0.07%Molybdenum equivalent at Unicorn that contain both copper and silver credits.
This estimate includes an Indicated Resource of 29 million tonnes at 0.09% Molybdenum equivalent in the upper 250 metres of the mineralised structure that appears to be accessible by low cost open pit mining methods. The resource and its undefined depth extensions has been compared with the world class Climax / Henderson type deposits found in North America.
The Unicorn resource has been drill tested to a depth of 450 metres for resource estimation, with some holes extending into mineralisation at a depth of 570 metres.
Dart is mounting a drilling program of approximately 4,000 metres that is intended to expand the size of the resource and upgrade it from an Indicated to Measured Status. Drilling will also test a massive IP anomaly that may contain significant volumes of copper that abut the Union Deposit, as well as test targets that may hold mineralisation around the proposed mining area.
Initial stream sediment sampling and ground reconnaissance indicates that the Union Deposit appears to be a small part of a district wide distribution of porphyry style systems.
Dart's Unicorn Project is the only known Australian host of Climax style porphyries which are proven hosts of world class mines around the world.
MANAGEMENT AND SHAREHOLDINGS
Chris Bain serves as Chairman. He is a geologist and mineral economist with over 30 years experience in resources having worked in underground mine geology in Mt Isa and Tasmania, and exploration around Broken Hill. Since joining the finance sector he has been instrumental in mining project divestitures and acquisitions, evaluations, valuations, capital raisings including several initial public offerings and ASX listings, and is currently the Chief Investment Officer of Phillip Resources Fund, member of the Australasian Institute of Mining and Metallurgy, and the Australian Institute of Company Directors.
Lindsay Ward serves as Managing Director and Chief Executive Officer, and is an experienced senior executive having worked in a broad range of industries including ports, mining, mineral processing, rail haulage, electricity generation, transport and logistics at both General Manager and CEO level. He was General Manager of Patrick Ports and Pacific National Bulk Rail, a business unit of Asciano Ltd, and was the CEO of the Port of Geelong. Before joining Patrick Ports, Lindsay was General Manager of Production at Yallourn Energy, and prior to this appointment he spent 15 years working with various mining companies in Western Australia, Queensland, New South Wales and Victoria. These roles ranged from Mining Engineer through to Mine Manager, and experience in gold and base metals exploration, as well as a detailed knowledge of the Victorian approvals process.
Dean Turnbull serves as Executive Director and is an exploration and mine geologist with over 20 years experience within Victoria and southern New South Wales. He has specialised in 3D geological and structural modeling producing geological and exploration models on Victorian gold projects at Bendigo, Glen Wills, Costerfield and Castlemaine; and was instrumental in the discovery and subsequent exploration of the Unicorn Porphyry project and has built a knowledge base in porphyry systems.
Stephen N Poke serves as Non Executive Director, and has in excess of 25 years experience in all forms of surface diamond and RC drilling, as well as extensive experience in underground drilling. He has been involved with and managed some of the largest drilling programs in Australia.
Richard Udovenya is a Non Executive Director and Partner of the law firm
ResourcesLaw International, advises the Company on legal issues, and has 20 years legal experience with a focus on corporate and commercial law.
Directors and management control a 7.9% interest in the issued capital.
FUNDING
In April, Dart successfully raised $2.8 million (before expenses) by way of an oversubscribed capital raising with the issue of 23.41 million fully paid ordinary shares at $0.12 per share.
The Company holds cash of approximately $4.1 million which is sufficient to maintain the current exploration tempo that is estimated to cost $1.0 million to the end of June of 2012
A further 8.35 million options exercisable at $0.15 by the end of the current calendar year may provide funding of up to $1.25 million.
DART EXPLORATION LICENCE 4726
Dart Mining retains a 100% interest in the Dart Exploration Licence, which covers 680 square kilometres and includes prospects at Unicorn, Morgans, Donovan's Hill and Mountain View.
The Dart tenements are contained within the Lachlan Fold Belt, which also hosts major porphyry style mineral resources at Cadia with 7.1 million ounces of gold and 0.6 million tonnes of copper, Ridgeway with 5.9 million ounces of gold and 0.9 million tonnes of copper, and North Parkes which currently produces approximately 60,000 tonnes of copper and 50,000 ounces of gold per year; and the nearby VMS style Stockman /Benambra Mine with 126,000 tonnes of copper, 4.2 million ounces of silver, and 96,000 ounces of gold, and confirm the highly prolific nature of resources identified within the Belt.
The tenements also lie across another major structural zone known as the Gilmore Suture, which flexes across into Victoria with a series of splay faults that focus mineralisation and adds to the exploration potential.
The flagship project is the Unicorn Project which hosts a maiden JORC Indicated Resource of 29 million tonnes at 500 ppm Mo, 900 ppm Cu, and 4.2 g/t Ag for a 900 ppm Molybdenum equivalent, along with an Inferred Resource of 76 million tonnes at 350 ppm Mo, 450 ppm Cu, and 2.7 g/t Ag for a 570 Molybdenum equivalent; for a total Indicated and Inferred Resource of 105 million tonnes at 400 Mo, 570 ppm Cu, and 3.1 g/t Ag, for a 670 ppmMolybdenum equivalent.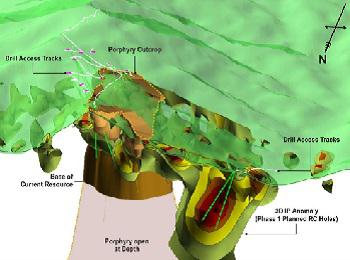 Unicorn Deposit
The currently defined Indicated Resource is contained within the upper 250 metres of the proposed open pit area within the M1 and M2 Zones, and will be upgraded with the drilling of an additional 15 Reverse Circulation holes. This is expected to increase the size of the upper section of the resource and convert Indicated Resources to Measured Resources, with an update completed in the second quarter of the current calendar year.
Peripheral targets in the in the southern breccia zones will be tested and 2 Reverse Circulation scout holes will be drilled into a major IP anomaly which is adjacent to Unicorn and located approximately 120 metres below the surface.
This IP anomaly has potential to be a feeder structure for known copper mineralisation and may be a large mineralised system within the main porphyry system. Drilling will seek high grade copper values within the IP anomaly, and has potential to sharply upgrade the value of the resource.
Unicorn has the potential to develop into a world class Molybdenum, copper, and silver porphyry mine. The current JORC resource remains open at depth and carries a very low strip ratio, which will reduce costs.
Early metallurgical studies have been very positive and indicate recoveries of 92.3% for Molybdenum, 96.1% for copper and 82.6% for silver. Separate saleable concentrates have been produced from drill core material that contains 51% Molybdenum and 23% copper and silver. These recoveries have been achieved at a 75 micron grind, but coarser grinds are possible and will be fully evaluated to lower costs still further. The ball mill index has been confirmed as being low to medium.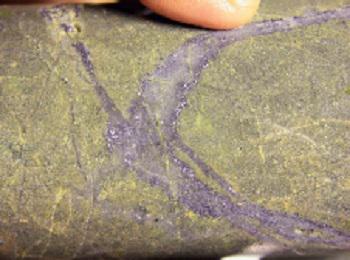 Conceptual mine studies are evaluating a process rate of from 5 to 10 million tonnes of ore per year from an open put resource that outcrops with a very low waste ratio of 0.3 to 1.0 of ore.
Operational costs can be gauged from the Endako Mine operated by Thompson Creek (TSX: TCM) in British Columbia. This is a pure Molybdenum producer with a Proven and Probable Resource of 400 million tonnes at 0.046% Mo, and a Measured and Indicated Resource of 63 million tonnes at 0.030% Mo, producing 74% recoveries at a cash cost of $8 to $9 per pound that includes smelting costs.
The project has local community and government support and is located on unrestricted crown land that is available for mining. The area around the proposed mine has established power, water, and roads; and is located near the town of Corryong which has a variety of service clubs, hospital and schools.
The intersection of significant ground water at the base of the mountain supports Dart Mining's scoping study assumption that processing water for a future plant facility will potentially be sourced from a bore field rather than a local river.
This is likely to have a positive effect on the overall economics of the Unicorn project.
Dart intends to complete drilling and preliminary studies so that a scoping Study can get underway in August of 2012.
Additional targets within the Dart Exploration Licence include the Mountain View prospect which has potential for more than 5,000 ounces of gold that have been identified along a high-grade gold zone contained within a 150 metre strike line. Highlights of drilling results include 6 metres at 7.8 g/t Au, and include 2 metres at 19.3 g/t Au, and 4 metres at 8.72 g/t Au, and include 1 metre at 18.75 g/t Au.
Dart has commenced its fourth drilling program at Unicorn with the key objective of increasing the size of the current JORC compliant Indicated Resource and also to advance it to JORC Measured status.
This will involve drilling approximately 15 reverse circulation (RC) holes from surface to 250 metres. The first results from the southern breccia drilling are expected by late May.
The drilling program will be completed during June with the resource update remaining on schedule for Q3 2012.
The first two RC holes into the southern breccia have intersected visible Molybdenum in fresh breccia fragments with the first hole ending in strong mineralisation at 180 metres.
This hole is scheduled for a diamond tail following the completion of the RC component of the program.
Molybdenum is used in the manufacture of steel where it adds strength, hardness and toughness as well as increasing resistance to corrosion. The metal has a range of chemical uses that include sulphur removal from refining of crude oil, and is utilised in the paint, plastics industry, production of solar panels, and has potential to separate hydrogen and oxygen to produce hydrogen energy.
The global market for Molybdenum is currently estimated at approximately 220,000 tonnes per annum, with a long term annual growth rate forecast of around 5%. The metal is traded on the London Metals Exchange with spot pricing at US$31,000 per tonne / US$14.09 per pound, and 15 months future pricing is indicating a seller at US$33,200 / US$15.09 per pound.
BALANCE OF REMAINING VICTORIAN TENEMENTS ARE HIGHLY PROSPECTIVE
Dart also holds a number of additional tenements that are located in close proximity to the Union project area.
Satellite imagery studies have been completed across 1,500 square kilometres of the tenements to identify potential photogeologic anomalies that may host additional porphyry style deposits and were compared to the porphyries that have been successfully drill tested at Unicorn and Morgan and identified six other high priority targets and two lower order targets.
Drilling at Fairley's has also confirmed the presence of a very large disseminated sulphide related gold system that is up to 22 metres in width.
A large stream sediment sampling program was carried out over 50% of the tenements and an additional survey will be conducted to complete total coverage. Porphyry style deposits typically occur in clusters, and current exploration results are already indicating the presence of porphyry style mineralisation at multiple locations within two mineralised corridors known as Zulu and Unicorn, that extend for approximately 40 kilometres.
ANALYSIS
Dart has world class deposits of Molybdenum, plus mineable grades of copper and silver in the region. The company has rated the 0.07 per cent Molybdenum equivalent grade as comparable with the world's largest primary deposits at Colorado's Climax mines.
Dart's Unicorn project is the only known Australian host of Climax style porphyries which are proven hosts of world class mines around the world. It also has Grades superior to many other ASX Moly explorers and the Endako Mine in British Columbia.
Promisingly, if Dart's Unicorn is to become the first Molybdenum mine in Australia, Unicorn has surface outcrops and a low strip ratio, resulting in minimal wastage.
The Project is imbued with renewable power, water, community support and an available workforce added to the mine's prospects. The mine will likely be a "dry" operation to minimise water use and will have little or no impact on agricultural land. Valued at $US33,000 a tonne, the deposits could be worth up to $2 billion of recoverable value.
Unicorn carries a world class higher grade, does not need any substantial infrastructure development and will be operate at lower cash cost.
Dart has strong short term valuation drivers for which will include assay data flowing from the current and ongoing drilling program, drilling of the IP anomaly that is located adjacent to Unicorn, testing of peripheral targets, and resource upgrade expected in third quarter of 2012. In addition, a robust Scoping Study and results would provide a medium term catalyst for further valuation gain.
At its current market valuation of $21.4 million and Enterprise Value of approximately $17.3 million, it does not take into account the size of the current resource at Unicorn, its development potential and Scoping Study milestone nor the discovery and potential value of a new mineralised porphyry province.
Value accretion could be significant as there are catalysts for re-rating of share price in 2012 including Phase 2 drilling results from Unicorn; resource upgrade in June and scoping study.
Proactive Investors is a market leader in the investment news space, providing original ASX "Small and Mid-cap" company news, research reports, StockTube videos and One2One Investor Forums.