WHL Energy Limited (ASX: WHN) has transformed itself into a growing international oil and gas explorer since the acquisition of its flagship Seychelles offshore oil and gas permits in October 2010.
The company's market capitalisation has mirrored this transformation, soaring from A$6 million when it made the Seychelles acquisition, to the current A$66 million.
More recently WHL Energy has garnered institutional support for the development of its Seychelles assets that has matched the continuing growth in global interest in East Africa's petroleum prospectivity.
In addition, the company has grown its portfolio through the acquisition of quality Australian assets in the offshore Carnarvon and Otway basins.
Share Price: A$0.047
Issued Shares: 1.4 billion
Market Cap: A$65.8 million
Cash: A$9 million
EV: A$54.19 million
ANALYSIS
Interest in East Africa's oil and gas prospectivity exploded following Anadarko Petroleum's (NYSE: APC)Windjammer gas discovery in February 2011. Subsequent successful exploration and appraisal wells in the Rovuma Offshore Area 1 off Mozambique have resulted in the identification of a resource of more than 30 trillion cubic feet (tcf) of recoverable gas.
Further discoveries have since been made by Eni with a potential 10 tcf find off Mozambique; Statoil making a 5 tcf find off Mozambique's northern neighbour Tanzania; BG and Ophir Energy (LON:OPHR) looking seriously at liquefied natural gas options after increasing their Tanzanian reserves to 7 tcf of gas; and Tullow Oil (LON: TLW)and Africa Oil Corporation (CVE: AOI) making the first ever oil discovery in Kenya.
Little wonder then that East Africa focused Cove Energy's (LON:COV) decision to put itself up for sale has drawn bidders such as Thailand national upstream oil and gas company PTTEP and Royal Dutch Shell - which are each offering more than US$1.8 billion for Cove, drawn no doubt by Cove's 8.5% stake in Rovuma Offshore Area 1.
Since then, Cove's directors have unanimously recommended PTTEP's offer.
At the beginning of 2010, Cove's market capitalisation was just under US$100 million, not dissimilar to WHL Energy's.
Africa Oil Corporation's market capitalisation has also grown from C$413.3 million in January 2011 to its current C$1.09 billion, while Ophir has seen its market capitalisation grow from £914.8 million on 8 July 2011 to £1.99 billion.
All this interest has drawn institutional investors to WHL Energy, with its Seychelles permits having independently assessed, unrisked, prospective resources of about 3.5 billion barrels of oil equivalent (boe) spread out over 21 leads.
WHL Energy is also in talks with 3 very large companies interested in taking up interests in its Seychelles permits, which cover 21,426 square kilometres, in return for funding a drilling program that is expected to start in 2013.
Success in this this farm-out is expected to significantly re-rate WHL Energy and its Seychelles acreage and could be cause for an uptick in WHL Energy's valuation.
MANAGEMENT
John Chandler serves as Chairman and was originally appointed as a non executive director in 2011. John brings key oil and gas management and corporate experience to the Chairman's position. He is an attorney with over 30 years of commercial and legal experience, and is also a non executive director of Sino Gas & Energy Holdings Ltd.
Steve Noske was appointed as Managing Director at a key time in WHL Energy's emergence as an up-and-coming international oil and gas company. He is mechanical engineer with 28 years of upstream oil and gas experience with Woodside, Shell, and BHP Billiton. He has worked internationally in Brunei, Indonesia and Malaysia, and was most recently involved for 7 years in gas business management and general business development with Mitsui.
David Rowbottam serves as Executive Director of Finance, and was previously the founding managing director ofExoma Energy Limited. He also held roles as a senior financial executive with international and Australian experience with Antares Energy Ltd, Alinta Group, and BHP Billiton.
The Company maintains a highly experienced technical team that is led by Matt Fittall as Exploration Manager. Matt is a geologist with 27 years of technical, commercial and management experience in oil and gas exploration, field development and production with major operators such as BHP Billiton Petroleum, Delhi Petroleum, Mitsui and Total. He has been involved in many commercial discoveries and successful field development projects in his career.
Kim Morrison is WHL Energy's Business Development and Exploration Advisor with over 25 years of senior technical and managerial experience with energy majors such as Woodside, Shell and Marathon Oil, and with smaller explorers and developers such as Fletcher Challenge and Hartogen. He has been involved in numerous discoveries in Australasia, Asia, Gulf of Mexico and North Africa.
Michael Wilson is the Chief Geophysicist with over 30 years of exploration experience with Esso/Exxon, Woodside Petroleum and Premier Oil, and has covered Australia, the Gulf of Mexico, the Vietnamese offshore basins and Libya.
FUNDING AND SHAREHOLDINGS
The Company has just raised A$7.94 million through an issue of 180.45 million shares at $0.044 to Australian and International institutions along with sophisticated and professional investors.
The funds will be used to underpin its 2012 Seychelles exploration program, which includes shooting 2D infill seismic to firm up a number of selected high grade prospects that will in turn pave the way for the planned 2013 drilling program and also support the farm-in negotiations.
WHL Energy held cash reserves of A$9 million as at the end of the April 2012 quarter.
The company has 169.8 million listed options exercisable at A$0.075 cents that will expire on 30 June 2012.
An additional unlisted 306.55 million options are exercisable within a range of $0.001 - $0.085 prior to the end of 2013; with 205 million of the $0.001 options subject to a farm-in agreement that commits the venture partner to spending the greater of A$10 million or 50% of the work commitment, or the share price of the ordinary shares to trade above A$0.10 for more than 10 days before 31 December 2013 for these options to be successfully exercised.
The Seychelles Government is a cornerstone and the largest investor in WHL Energy holding 65 million shares via the Seychelles Petroleum Company; R.A. Healy holds 58.68 million shares and P Bartter holds 34 million shares.
SEYCHELLES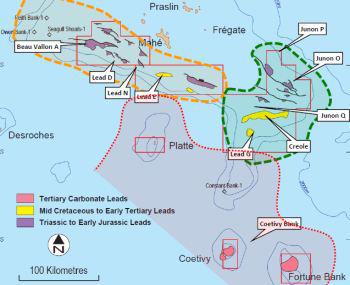 The company controls a 100% interest in a granted exploration acreage position of 21,426 square kilometres around the islands of the Republic of the Seychelles, which is located 1,500 kilometres east of mainland Africa
The country is well known for maintaining a stable and effective democratic government that is pro-business, coupled with an attractive fiscal regime that does not give the Seychelles Government any back-in rights into successful projects and allows contractors to recover 100% of their costs from 100% of the production.
Royalty rates are a flat 5% while revenues incur an Additional Profit Tax that ranges from 30% to 45% depending on previous production revenues.
The exploration acreage covers parts of the East Africa Conjugate margins that host potential as a significant hydrocarbon storehouse. WHL Energy has expended $12.5 million and acquired the SY10 multi-client 2D seismic survey of 7,966 line kilometres that was independently assessed by leading international petroleum consultant Netherland Sewell, & Associates of Dallas, Texas, as containing developed, unrisked net mean prospective P50 resources in the 21 most advanced leads and prospects of 3.5 billion barrels of oil equivalent.
An internal analysis completed by WHL Energy estimated unrisked, net mean P50 prospective resources in over 27 leads and prospects of 5.5 billion barrels of oil equivalent.
During the second half of 2011 the company completely updated and rebuilt the geological model and exploration portfolio that included updating and developing regional geological concepts, developing petroleum system models, mapping earlier data and portfolio generation, and developing new exploration concepts.
The company addressed key technical risks by mapping a Cretaceous source basin or "kitchen" in the south east section of the permit area that provides evidence of a recent oil and gas expulsion that allowed hydrocarbons to flow up into shallower reservoirs; and is positive evidence that points to the presence of a significant petroleum system.
Seismic interpretation indicates the presence of a Karoo reservoir that extends across the main features, along with a regional Cretaceous and Paleocene seal that has been mapped and is present over much of the area. Studies continue on the interpretation of the Cretaceous seal. The presence of the reservoir is understood and is generally not at risk, and the presence of the Paleocene is widespread.
An expanded Cretaceous section has been mapped on the southeastern flank of the Seychelles platform, and is interpreted to be a Mascarene syn-rift section with potential for thick marine shale and Cretaceous turbidite. The system is mapped and extends into deep waters on the south east margin, where Amoco drilled Owen Bank-1 in 1980 and intersected Cretaceous shales.
The Eastern Fairway contains leads numbered Junon O, P, W, Z, X, Q, Creole East, Creole West and Lead Y. Junon Q, which is also known as Junon South, appears to be a focal point for this interpreted oil migration and is estimated to contain 212 Million Stock Tank Barrels. Additional seismic work is required to mature this prospect, along with several others in the acreage, for drilling - along with a Full Tensor Gravity Feasibility Study that maps density changes within the target reservoir.
The diversity in the portfolio extends to deep water that contains Lead Y. This is located to the south of Junon Q and exhibits a potential target zone within the Cretaceous at a depth of 5000 metres that has a width of at least 2 kilometres and length of 10 kilometres.
Other significant targets include Beau Vallon, which is a large regional structure that covers an area of 250 square kilometres and is located in the western end of the Seychelles project area. Beau Vallon is surrounded by numerous follow up features to the east and north, along with a Jurassic charge from the south and east.
WHL Energy is completing additional seismic work and ongoing geological studies that will complement the infill seismic so that additional key prospects and leads can be firmed up as drilling targets. The Company is aiming to complete a farm-out agreement with a major oil company with the intention of drilling Junon Q4 in 2013.
WA-460-P, WESTERN AUSTRALIA
WHL Energy announced in October 2011 that it had secured a 33.33% interest in this offshore Carnarvon Basin permit, which is located 70 kilometres west of Cape Range, and lies adjacent to Shell's wholly-owned WA 384-P.
Of special interest is the Palta structure that is interpreted to hold up to 13.3 tcf of gas. WHL Energy believes that 20% of the structure is located in WA-460-P.
This could expose WHL Energy to significant near term leverage as Shell is planning to test the structure with the high impact Palta-1 exploration well this year.
VIC/P67, OFFSHORE OTWAY BASIN, VICTORIA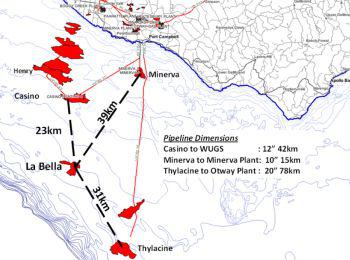 WHL Energy was recently awarded a 100% interest in the 2011 Australian Acreage Release block V11-2 now titled VIC/P67 by the Commonwealth - Victoria Offshore Petroleum Joint Authority. VIC/P67 is located 200 kilometres west, south west of Melbourne, and is located close to existing infrastructure including the Santos operated Casino gas development, Origin Energy's Otway gas project, the BHP Billiton operated Minerva development, and TRU Energy's Iona gas plant.
The company will immediately book 2C contingent resources of 158 petajoules (149 billion cubic feet) of gas and 1.2 million barrels (MMbbl) of condensate for La Bella. In addition to La Bella, further upside lies in the exploration potential of surrounding structures which totals some 510 petajoules of gas and 3.7MMbbls of condensate of unrisked mean/ mid case prospective resources.
WHL Energy plans to shoot high resolution 3D seismic over La Bella and other high impact leads within the permit in 2013, and is in discussions with potential farm-in partners.
The development of large scale gas resources in Queensland for the export LNG market is expected to lead to a 50% increase in pricing for natural gas along the entire East Coast of Australia as local gas supplies will be influenced by export pricing.
The company believes that the demand growth for gas supplies from the Otway Basin will lead to commercialisation and production from La Bella and surrounding structures in 2016, and that such development will benefit from the very significant amount of infrastructure that is already in place.
U.S. OIL AND GAS INTERESTS, KENTUCKY
WHL Energy has appointed an independent sales agent to dispose of a small number of operational assets that remain in the United States, and will then wind up the local subsidiary, and completely cease operations in that country.
U.K. WIND FARM PROJECT
WHL Energy has elected that it will not pursue its UK Renewable Energy Project, known as the Wings Law Wind Farm, and has relinquished all of its obligations.
ANALYSIS
With East Africa now one of the petroleum "hot spots" thanks to the number of large gas discoveries in recent years, WHL Energy's Seychelles permits have drawn considerable interest from institutional investors and potential partners.
This, together with the company's skilled and experienced management and a technical team that is working to develop prospects and manage farm-out negotiations, make it likely that an attractive deal can be reached that would accelerate exploration and development of its Seychelles assets.
This would be a major driver in improving the company's valuation and could act as a springboard for the company to take up additional East African opportunities.
WHL Energy is undertaking discussions with a number of multi-billion dollar companies interested in taking up interests in its Seychelles permits. Success in negotiating a farm-out is expected to significantly re-rate WHL Energy and its Seychelles acreage and could be cause for a sizeable increase in WHL Energy's valuation.
WHL Energy also manages a highly prospective Australian portfolio that includes the WA-460-P permit that exposes shareholders to a near term drilling opportunity in Western Australian waters, and V11-2 - which presents an early opportunity for commercialisation and partnering of significant gas assets in offshore Victoria.
A success by Shell at Palta would add to the value of WA-460-P and WHL Energy, while V11-2 provides a low risk option for production and cash flow for the Company.
Proactive Investors is a market leader in the investment news space, providing ASX "Small and Mid-cap" company news, research reports, StockTube videos and One2One Investor Forums.