Market Overview
U.S. stocks are approaching an all-time high as the Dow Jones Industrial Average nears 22,000. Many companies have already reported earnings, beating expectations, contributing to a continued global bull market. Caution in the market stems from the recent White House administration staff shakeup, and the possibility of changes in monetary policy. Other major market shocks could lead to a pull-back as well.
Industry Overview
            In order to get a closer look at the industry as a whole, we can take a look at the iShares Nasdaq Biotechnology ETF (IBB). As of today, August 1, 2017, the IBB is trading at $319 and saw an intraday change of -1%. The NAV Total Return as of 31-Jul-2017 YTD is 21%, indicating a strong year for biotechnology firms. This growth is expected to continue in correlation with the market. This ETF represents an index tracking biotechnologies and pharmaceuticals equities on the NASDAQ.
Investment Thesis – Healthy, growing and stable 
After a brief quantitative analysis of three key ratios, ABBV appears healthy and profitable. Both of their top-line drugs, Humira and Imbruvica have contributed to high cash flows. Quantitative analysis suggests that ABBV has a profitable ROIC, a PEG suggesting no overvaluation, and a healthy Quick Ratio of 1.23, which may increase in the near future.  
ROIC- Return on Invested Capital
This ratio tells us how well a company is turning invested capital into profits. By looking at this profitability ratio over the last twelve months, we as analysts can see AbbVie's performance compared to its competitors. The chart below shows that as of today, August 1, 2017, ABBV has an ROIC of 15.22%, and in 2016 and 2017, AbbVie has outperformed relative to its competitors.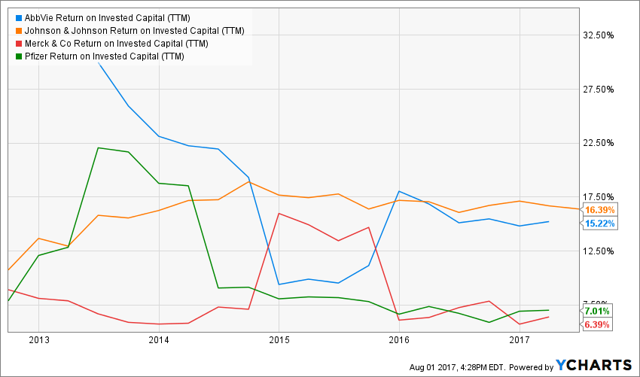 On July 28, 2017 ABBV reported a Q2 EPS of 1.42, beating expectations by $0.02. Humira represents the most revenue generating drug under ABBV, which reported sales of $4.7B. This drug is driving revenue and profit, and will continue to do so in the medium-long term.
PEG
To get a closer look at the growth rate of ABBV, let's look at their PEG ratio. As of August 1, 2017, ABBV's PEG ratio is 1.21, and has been stable over the last 6 months. This ratio is calculated by dividing a company's P/E ratio by its annual growth in earnings per share (EPS). In this industry, a PEG ratio of around 1 indicates a fair valued price. Because, the ratio is not significantly over 1, it is my opinion that ABBV is not overvalued.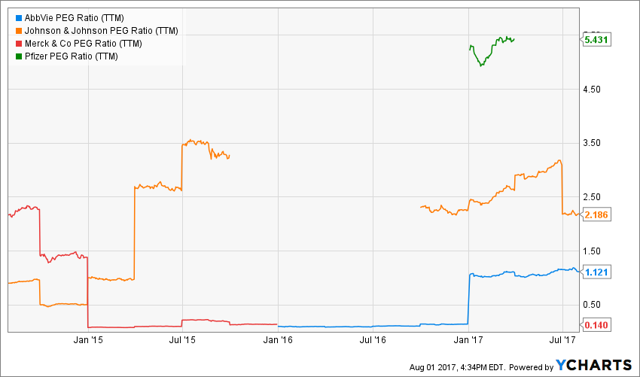 Quick Ratio
Finally, let's take a look at the Quick Ratio. As of today, the Quick Ratio of ABBV is 1.235. This calculation is found by current assets minus inventory, divided by short-term obligations. In the biotech industry, this ratio is relevant because it can indicate how much a new drug that has hit the market will contribute to the overall financial health of the company. In March of 2016, the FDA approved the drug Imbruvica, which now drives about $7B of revenue for ABBV. Imbruvica's success explains the improved financial health of ABBV and the increased Quick Ratio this year.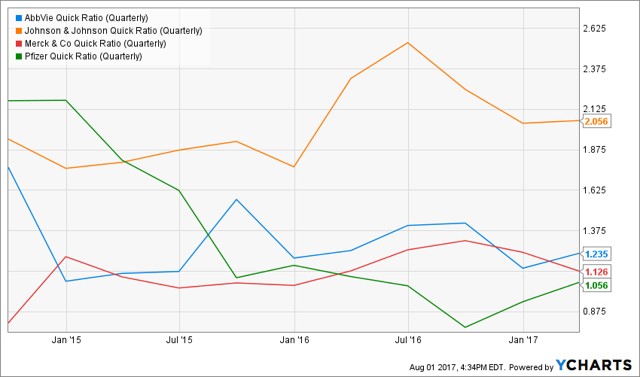 Price Target And Recommendation- $74
Across 11 of the top analysts that cover AbbVie, five list as a strong buy, one as a buy, and six recommend a hold. The 12-month consensus price target is $74, as listed on the Nasdaq website. If you don't already have a position in AbbVie, a possible entrance opportunity could reveal itself in the coming week or two. Current and future investors will likely enjoy a nice divided for the foreseeable future.
Disclosure: I have no positions in any stocks mentioned, and no plans to initiate any positions in the next week.
I wrote this article myself, and it expresses my own opinions. I am not receiving compensation for it (other than from Seeking Alpha). I have no business relationship with any company whose stock is mentioned in this article.
Disclosure: I/we have no positions in any stocks mentioned, and no plans to initiate any positions within the next 72 hours.