There is no hiding it.  Stitch Fix has had a brutal past month. After hitting a high of 52.44, it slumped to 44.67 prior to reporting numbers.  It reported revenue of 318.3 million (+23% year over year), and GAAP EPS of $0.18, which crushed the $0.04 estimate.  However, the company missed on the revenue end which had a 318.9 million estimate.  The stock got hammered, plunging to roughly $22.00 a share at its lows.  That is a far cry from its 52.44 mark just a little over a month ago.  Lets take a look at the facts.
What was good: 
EPS $0.18 versus $0.04 Est. (+23% annually)
Active client count 2.74 millions (+25% annually)
Fiscal 2019 guidance of +20 to 25% upside ( $1.47 billion to $1.53 billion)
What was Bad:
Slight miss on revenue 318.9 est., 318.3 reported.
Active client count slight miss (2.82 million est.)
October revenue guidance lower than expected est $354-360 million (consensus of $360.1)
Finally because of the U.K. launch, as well as the kids line SFIX is planning on $20-40 of adjusted EBITDA in fiscal 2019, which is a far cry from the $54 million in adjusted EBITDA produced in fiscal 2018.
Honestly, I don't see the quarter in such a negative light.  While some of the numbers missed (slightly), the company is already profitable.  Many growth companies take years after becoming public to make a buck.  Stitch Fix has already proven they can turn on the profit engines.  Furthermore, this quarter and the next 1-2 seem to be management tapping on the money making breaks, and focusing on the further expansion of the company (kids line, U.K. launch).  The U.K. being one of the most densely populated areas in the Western World, I cannot think of a better place to diversify into.  Conjecture aside lets look at some fundamentals.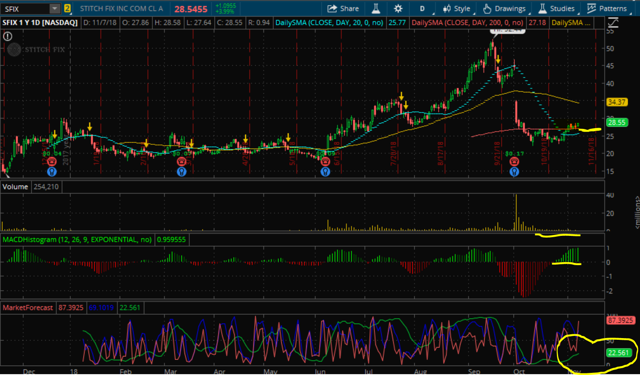 It is clear to see that Stitch Fix is off its recent lows, and has broken through the 200 day moving average.  This will be a critical level, and will serve as its primary level of support as it attempts to take a crack at the 50 day.  It is clear to see that the volume is returned back to normal indicating that those who have sold the stock are flushed out, and stability is back.  The MACD Histogram which is a good indicator of momentum is strongly in the green, serving as a bullish indicator that the 200 day support will be maintain (near term).  Finally, at the bottom of the image the Market Forecast, which is a reliable indicator of over bought oversold conditions shows the green line pointed in the upward direction (bullish), and it is just slightly above the 20 mark.  The 20 mark and below indicates an oversold positions meaning that at 22, SFIX has a long way to climb.
Barring any major market sell off, I believe SFIX has found its support above the 200 day average, and will see sustained upside from current levels.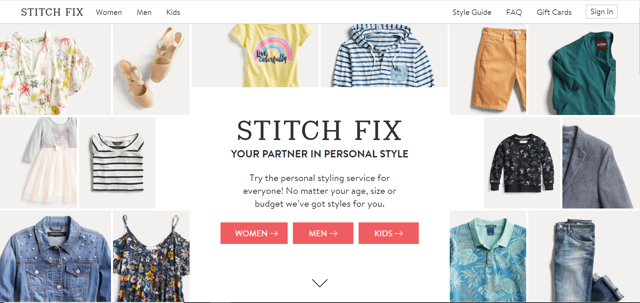 With the U.K. site expected to go live at the end of Fiscal 2019 (July 2019), SFIX has a strong debt to asset management which will allow them to expand aggressively to combat a slowing active user base in the United States. They are currently maintaining 417,006 (7/28/18) in total assets, which is strongly up from 197,762 (7/29/17).
  Furthermore, they are keeping manageable liability levels of 166,513 (7/28/18) which is only slightly up from 153,122 (7/29/17).  
 This shows Stitch Fix's ability to expand responsibly, and bring security to the overall company.  Unchecked expansion is the demise of any small, fast growing company.  With the maintenance of this near 4:1 asset to liability ratio, I feel comfortable riding out the highs and lows of the next year to reap the benefits of a U.K. expansion.
Final Comments:
It is no surprise that the company appeals to the younger demographic.  With an extremely easy user experience the consumer is not only paying for the clothes, but the convince.  Furthermore, by having the option to send back items that you do not like, Stitch Fix has an ability to better tailor products to those who loyally use the service for the long term.  In addition, with the rise of voice assistants such as Google Echo, or Amazon Alexa, Stitch Fix customers will have an easier ability to manage their subscriptions, and online services will become more common.  By continuing to target young adults this strategy will only continue to pay off as the population around the world is aging, and making way for a younger demographic.  With the new child line, U.K. expansion, a bullish stock chart, and a quarter that was more mixed than bearish, I believe Stitch Fix is a great long term play.    
Disclosure: I am/we are long SFIX.
I wrote this article myself, and it expresses my own opinions. I am not receiving compensation for it (other than from Seeking Alpha). I have no business relationship with any company whose stock is mentioned in this article.