This article is a recap and case study of the second investment idea that Reid Green & Co published after its inception in April 2016; Avation Plc.
Avation Plc is a specialist commercial passenger aircraft leasing company managing a fleet of aircrafts which it leases to airlines across the world.
Interestingly it was a client who introduced us to the idea, as they wanted to know what we thought about the company (if you have any ideas you are considering feel free to send them in).
After further investigation of the company's business model, business performance, balance sheet over the last 5 years and its stock price, we suspected we had an undervalued company on our hands, as illustrated by from this excerpt from the report we subsequently wrote on the stock:
"Avation Plc is currently trading at a market cap of £79million while their book value is £88 million ($127million) of which £75 million ($108million) is cash. Meaning they can be bought at a price below their tangible book value and just above their cash value."

So on the 21st of April 2016 we published a report, giving a bullish case on why we thought the stock was undervalued.
Excerpts of initial assessment on company 
Below are some excerpts on our initial assessment of the company from the report we wrote back in 2016, giving an overview of the company and what we thought it might be worth:
"Avation Plc has grown their revenue consistently over the last 5 years from $27million in 2010 to $60million in 2015. Their net book value has grown from $36million to $127million and their net income has grown from $3million to $13million during the same 2010 to 2015 period. 
Meanwhile as indicated by the chart above Aviation's share price has remained fairly stable between 2013 and 2015 ranging from £1.02 to £1.77. Over the last 3-5 years the company has been over valued compared to its business fundamentals.
2016 is the first time the business fundamentals have caught up to the stock price and the company has traded a price below its book value and at a price that doesn't reflect the company's growth prospects, thus making the company currently undervalued. "
We then went on to say:
"Our estimation of the company's value is roughly 255p per share, which equates to a market cap of £141 million. Our valuation takes into account the company's tangible assets which are mostly comprised of their aircraft fleet, but mostly it's simple, clear but aggressive growth strategy of using leverage to acquire aircrafts and leasing them out to airlines. 
In light of the above, with a market cap of £79m and an estimated value of £141 million we believe that Avation Plc is trading at a 55% discount to its underlying value (implying a 78% upside)."
What happened after we covered the stock:
At the time of writing (4th August 2017) Avation's share price is & market capitalisation is 245p and £148 million. This represents a 72% increase from our initial report a year ago when the share price & market capitalisation was 142p and £79million.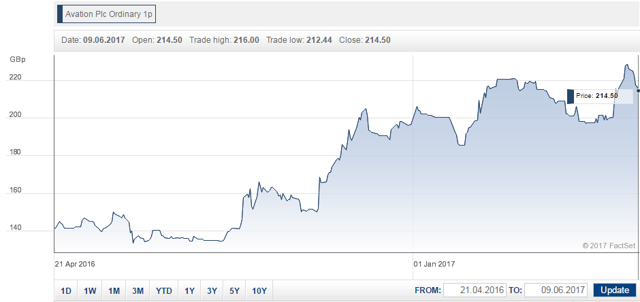 Our thesis on the company was based on being able to grow its revenue and earnings through the acquisition of additional aircraft for leasing, funded by debt secured against the aircrafts.
On September 30th the company announced its 2016 full year results, which highlighted a number of points in line with our thesis:
During the financial year, the value of Avation's aircraft assets increased by 67.0% to US$725 million.
Avation has added nine aircraft to its fleet on a net basis.
Lease revenue increased by 25.0% to US$71.2 million (2015: US$56.9 million)
Operating profit grew 35.6% to US$45.6 million (2015: US$33.6 million)
Total profit after tax increased 37.6% to US$18.3 million (2015: US$13.3 million)
Operating cash flows increased 20.9% to US$52.5 million (2015: US$43.5 million)
Then on the 16th of February the company released its 2017 first half results, which further confirmed our view of the company's growth prospects. This is best highlighted from the table below published by the company: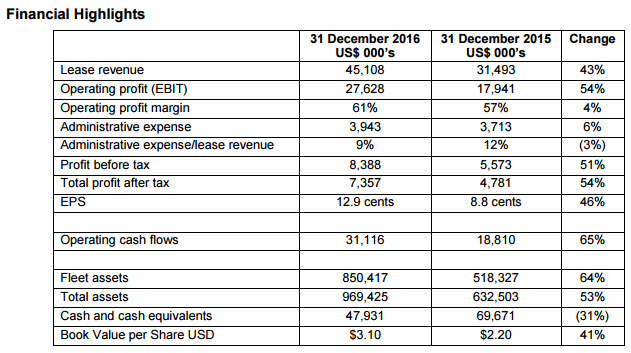 Lease revenue increased by 43% to $45.1 million;
Earnings before interest and tax ("EBIT" or "Operating Profit") grew 54% to $27.6 million;
Profit before taxation increased by 51% to $8.4 million;
Total profit after tax increased 54% to $7.4 million;
Operating cash flows increased 65% to $31.1 million; and
Earnings per share ("EPS") increased 46% to 12.9 cents.
The end result of the Avation's continued growth in earnings, revenues and cash flows due to its expanding fleet and improving fleet metrics, lead to it's meaningful appreciation in stock price after Reid Green & Co covered the stock.
A Demonstration of the Reid Green & Co approach
I believe this example clearly demonstrates how Reid Green & Co approaches the investment problem. As in the case above, we do not spend time reading broker reports, worrying about the macro environment, trying to guess price changes in the short run or doing complex modelling of discounted cash flows.
We study individual companies, the securities they issue, the industries they operate in and how they are financed; from the bottom up, one company at a time.
Because we know the future is always incredible uncertain, we avoid ideas that require detailed forecasts and complex calculations.  Instead we seek safety and profit from the price we pay. As was the case with Avation, at the time we covered the stock the company traded at price equal to its cash per share. This meant that you paid for the cash and got the business and its growth prospect for free. There was no spread sheet required just a 15 minute look at the company's balance sheet, earnings and cash flow record and a quick glance at the current price on Google finance.
Although we were attuned with the macro environment as it related distress in the oil markets, mainly because we were shorting oil companies on announcements of dividend cuts, asset impairments and profit warnings, in studying Aviation's prospects and business value compared to its share price no macro factors were considered.
In summary sometimes the markets does throw up opportunities that doesn't require lots of work to understand. However it does take knowing what you're looking for, what variables to focus on and what factors to ignore.