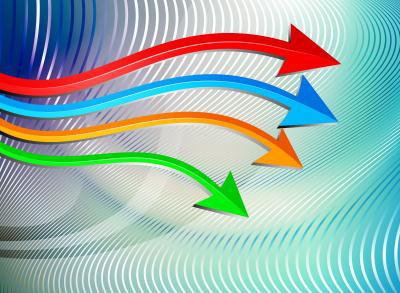 This analysis attempts to find the simplest screen possible that will outperform the S&P 500 by adding just one criteria; the price-to-sales ratio (P/S). Why? Many individual investors who want to control their own portfolios may not have access to analytical tools, and want a simpler approach. What follows is a process that will sort S&P 500 companies based on just a "Bulletproof" screen and P/S ratio.
Price-to-Sales Ratio
The P/S ratio attempts to value a company by comparing its market value to its annual revenues. Divide the total revenues for the previous 12 months (NYSE:TTM) by the current market cap, and one gets the P/S ratio. The theory, among some, is that a higher P/S ratio means that one is paying more for a company than for one with a lower P/S ratio.
There are a few gurus who have their opinions about P/S ratios. Ken Fisher, who popularized the ratio, looked for companies with a P/S lower than 0.75 as a best case scenario. Fisher was willing to go as high as 1.5, which is similar to what Jim O'Shaughnessy recommends. The American Association of Individual Investors recommends a level no higher than 1.2 for their Shadow Stock Portfolio, though it should be noted they do limit its universe to micro-caps. The P/S ratio is also used as an indicator to avoid certain stocks. Fisher recommended selling a stock when the ratio was greater than three, and Harry Domash warns against buying stocks with a P/S greater than five.
What the Data Tells Us
I wanted to research how the P/S ratio performed over time, since 1999. First, I found the average return for the S&P for the same time period. I assumed that component in the index was equally weighted, with rebalancing every year. I performed a rolling backtest for each one year holding, and used four week intervals. The overall market returned an annual average of 11.39%. Average down-market returns were -13.91%, and average up-market returns were 20.45%.
Chart 1 shows how the market performed depending on the P/S ratio. The same criteria were used for the rolling backtest.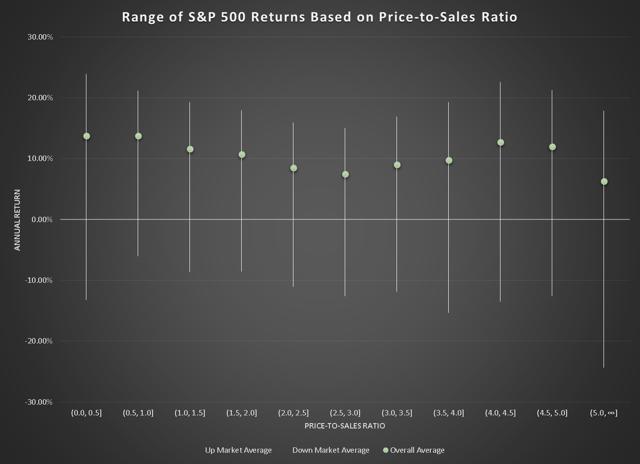 Chart 1
Interestingly, the data shows that companies with a P/S ratio lower than 1.5 outperformed the overall market, but companies with a P/S ratio between 4.0 and 5.0 also outperformed the overall market. In statistics, this is called a bimodal distribution, where two peaks occur in the data. Given that I do not want to complicate the process, let's just say that Fisher and O'Shaughnessy were right about finding companies a P/S less than 1.5 is preferred if one wants to beat the market.
Building a Basic Screen
Sticking to the original thesis, I will use the following criteria for a screen that anyone can use. I want to use the "Bulletproof" rules that I use on all of my screens, but just make the one change with the new P/S ratio data. My version of the "Bulletproof" screen is a modified form from Harry Domash. Remember, the screen is limited to S&P 500 companies only. There is nothing so exotic here that would keep one from performing this screen on a site like Zacks on their own.
P/S Ratio < 1.5
Positive Free Cash Flow
Current Ratio > 1.5
Quick Ratio > 1.0
Debt-to-Equity Ratio < 0.4
Net Profit Margin > 0%
Performance
The screen performs well over time. Since 1999, the screen averages an annual return of 17.47% (±22.60%), with a very low beta (0.29), but a high alpha (12.55%). The rolling backtest shows that the screen does perform well over different periods with similar results (17.61%). All companies were equally weighted, and there is no assumption for trading costs, carry fees, taxes, etc.
What happens when one eliminates the P/S criterion? Well, the effect is pretty dramatic. When the same criteria were screened again, without the P/S < 1.5 component, the screen averaged an annual 9.29% (±23.05%). That is a significant difference, and the rolling backtest showed the same loss of performance (10.92%).
These are the companies that currently pass the screen.
| | |
| --- | --- |
| Ticker | Name |
| | Archer-Daniels-Midland Co |
| BHI | Baker Hughes Inc |
| | Cummins Inc. |
| | Expeditors International of Washington Inc. |
| | FedEx Corp. |
| | Fluor Corp |
| | Harman International Industries Inc. |
| | Humana Inc. |
| | Jacobs Engineering Group Inc. |
| | National Oilwell Varco Inc |
| | News Corp |
| | Quanta Services Inc. |
| | Urban Outfitters Inc |
| | Valero Energy Corp |
Why Does This Matter?
We were recently prospected by Fisher Investments as potential clients. Never being one to automatically say, "No," to people, we did hear them out. They analyzed our portfolios, and made their recommendations. When we received their report, there was a number that just simply bothered me. The proposal from Fisher had an average P/S ratio of 3.0. I found this troubling, given that I always viewed Ken Fisher as a value investor who advised us to avoid stocks with such high valuations. When I asked the solicitor about this, he fell silent. He eventually said, he would have to get back to me. He never did. I did compare the differences in screening for S&P companies with P/S ratios over 3 to those who are cheaper (P/S < 3), and there was a 389 basis point difference between the two standards.
So why does this matter? One should never have to over pay for a company or bad advice.
Keep it simple, don't over pay, avoid troubled companies, and you will be fine.
Happy Investing!
Disclosure: The author is long CMI, NOV.