Who are they? $TTC
Founded in 1914, The Toro Company was built on a tradition of quality and caring relationships. Today, the company is a leading worldwide provider of innovative solutions for the outdoor environment including turf maintenance, snow and ice management, landscape, rental and specialty construction equipment, and irrigation and outdoor lighting solutions. Through a strong network of professional distributors, dealers and retailers in more than 125 countries, they offer a wide range of products across a family of global brands to help golf courses, professional contractors, groundskeepers, agricultural growers, rental companies, government and educational institutions, and homeowners – in addition to many leading sports venues and historic sites around the world.
Sector-Industry-Microeconomics data
Sector

Industry

Companies in the industry

$TTC

Is there a reason for this bullish movement?
The Toro Company Reports Record First Quarter Results
-First quarter sales increase 10 percent to a record $603.0 million
-Reported quarterly EPS of $0.55; adjusted quarterly EPS of $0.51, up 6.3 percent over comparable 2018 period adjusted EPS of $0.48, includes $0.03 acquisition related expenses
-Strength of new products across the portfolio drove positive performance for the quarter
BLOOMINGTON, Minn.--(BUSINESS WIRE)--Feb. 21, 2019-- The Toro Company (NYSE: TTC) today reported net earnings of $59.5 million, or $0.55 per share, on a net sales increase of 10 percent to $603 million for its first quarter ended February 1, 2019. In the comparable fiscal 2018 period, the company delivered net earnings of $22.6 million, or $0.21 per share, on net sales of $548.2 million. Adjusted 2019 first quarter net earnings were $55.2 million, or $0.51 per share, compared to adjusted net earnings of $52.1 million, or $0.48 per share in the comparable 2018 period, an increase of 6.3 percent, including $0.03 of acquisition related expenses in the quarter.
"Our professional businesses delivered another good quarter, led by strength in landscape contractor sales, increased golf and grounds channel demand, and positive momentum in our BOSS® business," said Richard M. Olson, Toro's chairman and chief executive officer. "New products were again the key to success, as customers responded favorably to the latest lineup of our Exmark® Lazer®, and Radius® zero-turn riding mowers, and the BOSS® Stainless Steel XT V-Plow, which offers enhanced productivity and maneuverability for operators. Recent snow events in key regions also helped bolster sales of both professional and residential snow and ice management products in the quarter.
"At recent industry trade shows, our team showcased several new products with the latest technology, designed to help our customers do their jobs more effectively. Key product lines like the Greensmaster® eTriFlex™ fully electric riding greensmower that effectively eliminates the potential for hydraulic leaks, while offering superior cutting performance, generated excitement among customers. The Outcross® 9060 continues to be a crowd favorite as customers learn more about the various attachments and versatility this machine offers to help address some of their biggest challenges. Our new Dingo® TXL 2000 also continues to impress with its vertical lifting capacity and telescoping arms for increased productivity and ease of use.
"We are very excited about the recent announcement regarding the acquisition of Charles Machine Works, known as 'The Underground Authority,' with a portfolio of businesses including Ditch Witch®, and other leading brands in the underground construction market. As mentioned during our conference call last week, this acquisition will align very well with our strategic priorities and will naturally complement our existing business. Similarly, the cultural alignment, commitment to innovation and the importance of community shared by the two companies, should position us well for a successful integration.
"Looking ahead, we remain committed to effectively balancing tariffs and related commodity pressures, with productivity gains and pricing strategies. While we maintain our prudent approach to expense management, we will not sacrifice important investments in new product development, technologies or operating efficiencies. These factors, paired with the good work and dedication of our team, positions us well to execute in the future."
Assuming the acquisition of Charles Machine Works closes in the third quarter, we expect adjusted earnings per share of $1.15 to $1.20 for the second quarter. This includes an estimated $0.07 for the impact of acquisition-related expenses and share repurchase curtailment. These items are in addition to the $0.03 of acquisition expense incurred in the first quarter. This results in an adjusted earnings per share estimate of $1.66 to $1.71 for the first six months, which equates to operational performance of $1.76 to $1.81, excluding acquisition-related impacts. We expect to update our guidance at, or after, the closing of the acquisition.
SEGMENT RESULTS
Professional
-Professional segment net sales for the first quarter were $455.0 million, up 12.7 percent from $403.7 million last year. Strong performance across our professional businesses drove positive results for the quarter. Our Exmark® businesses benefitted from strong sales of zero-turn mowers across the portfolio. In our golf and grounds business, increased shipments of our Groundsmaster® mowers and Workman utility vehicles generated momentum. Similarly, our BOSS® snow and ice management business also saw the benefits of favorable snowfall in key regions, as well as momentum generated by new products like the Exact Path™ drop spreader and the Drag Pro™.
-Professional segment earnings for the first quarter were $88.0 million, up 15.9 percent from $75.9 million in the same period last year.
Residential
-Residential segment net sales for the first quarter were $145.2 million, up 1.9 percent from 142.5 million last year. Increased demand for snow throwers driven by higher snowfall totals across the Midwest and solid sales of walk power mowers led to the positive results for the quarter.
-Residential segment earnings for the first quarter were $13.1 million, down 16.8 percent from $15.7 million in the comparable period last year.
OPERATING RESULTS
Gross margin as a percent of sales for the first quarter was 35.8 percent, a decrease of 150 basis points compared to the prior year. Increased commodity and tariff-related costs, as well as the unfavorable accounting impact related to the acquisition of a distributor partner within the first quarter contributed to the decline, partially offset by pricing and productivity improvements.
Selling, general and administrative (SG&A) expense as a percent of sales for the first quarter was 24.2 percent, a decrease of 90 basis points from the same period last year. The decrease was primarily due to the prudent leveraging of expenses over higher sales volume. SG&A improvement was offset by continued investment in our key strategic initiatives, including new product development and acquisition related growth opportunities.
First quarter operating earnings as a percent of sales were 11.6 percent, a decrease of 60 basis points compared to 12.2 percent in the same period last year.
The effective tax rate for the first quarter was 15.0 percent, compared to 66.0 percent for the first quarter of last year. The fiscal 2018 first quarter reported tax rate was significantly impacted by one-time items associated with the enactment of U.S. tax reform. The fiscal 2019 first quarter adjusted tax rate was 21.2 percent. The company continues to expect its full year effective tax rate to be about 21.5 percent.
Accounts receivable at the end of the first quarter were $225.5 million, up 13.5 percent from last year. Net inventories were $416.7 million, down 5.2 percent from last year. Trade payables were $281.5 million, up 5.6 percent from the comparable period last year.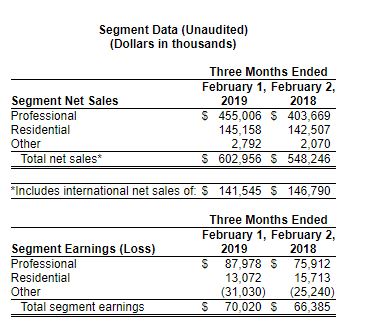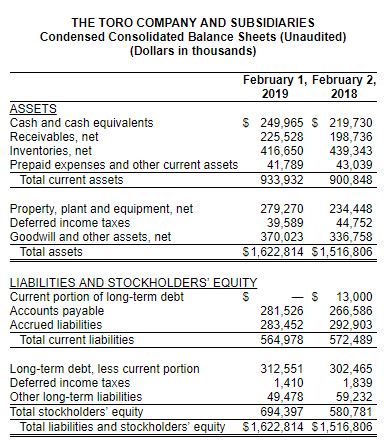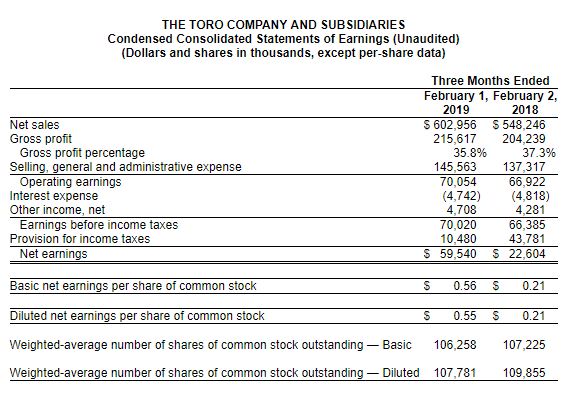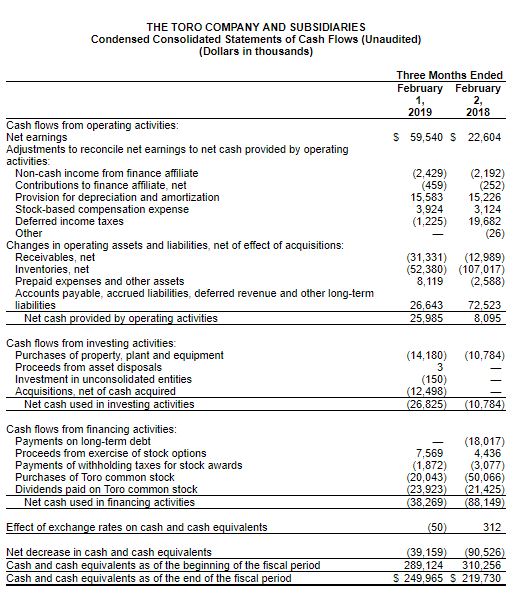 Technical analysis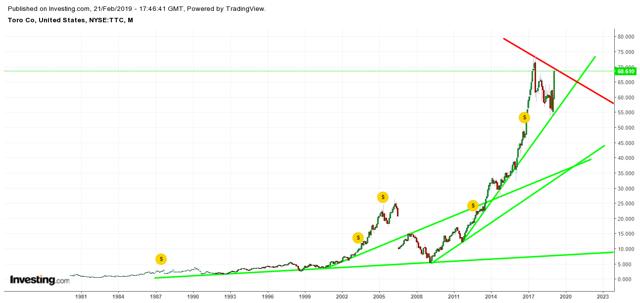 Monthly chart. Completely visible the uptrend and all its recoveries.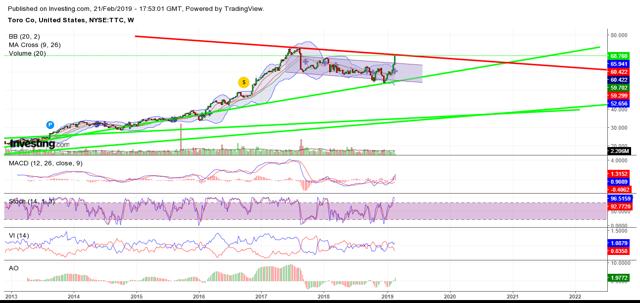 Weekly chart. Indicators and a purple channel. It is about to go through the red line. Is it going to be able to end the day above the red line or instead of that it will finish in the middle of the said line and the upper line of the channel?. It is crucial to know it.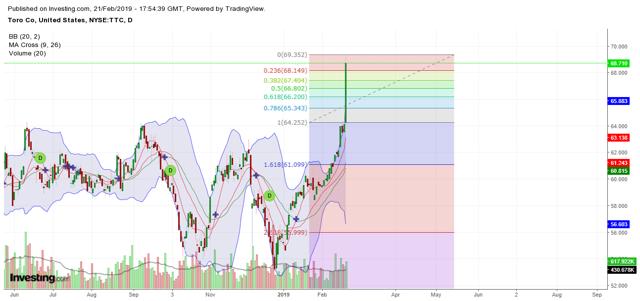 Daily chart. Fibonacci's Retracement. It does not recovered to the yellow zone. As a trader, It is a pattern that I have detected as time goes by.  Let's see if it will recover it at the end of the day.