$CLLS is not in its best moment, price of share around 20$. It is a low level, but that gives us a really good opportunity to buy. At least, to look for bullish movements. It can bounce, it can do it even more if we know how many drugs they are working on. The industry of biotechnology is a good one to invest. Let's see the pictures below
(Biotechnology's industry belongs to the healthcare sector).
Source : Finviz
It is the second best option to invest in long-term. 
Before getting into depth information, we must know who they are.
"Cellectis is a clinical-stage biopharmaceutical company that harnesses the immune system to target and eradicate cancers. Unlike autologous CAR-T immunotherapies that require a custom immunotherapy product for each patient, Cellectis uses gene editing to create cost-effective, "off-the-shelf" (allogeneic) products (UCART) from healthy donors that can be immediately available for patients across all geographies. What's more, for patients without enough T-cells for autologous CAR T therapy, Cellectis can create T-cells based on patients' own T-cells.
TALEN® is a registered trademark owned by Cellectis."

Source : Finviz
They have strategic partners :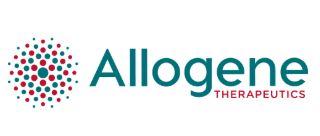 Allogene therapeutics catalyzes cancer treatment. They develop allogeneic chimeric antigen receptor T-cell (CART T). This goes directed at blood cancers and solid tumors as well.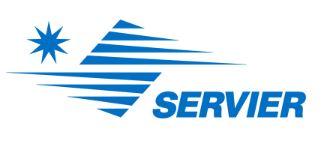 Cellectis and Servier are working together on 5 targets, UCART19 too, with ongoing pediatric and trials with adults. All of this is sponsored by Servier in United Kingdom. Something important, Servier is leading the pharmaceutical market in France, as an independent company.
World Class Clinical Centers

For 16 years to 2016 Weill Cornell Medicine has been ranked in No. 1 in New York (as a hospital). It is in the top ten hospital's ranking in USA.
UCART123 is being developed by Cellectis and WCM for Acute Myeloid Leukemia.

If we take different surveys and news, we can consider MD Anderson Cancer Center is the best hospital in its field of cancer care in USA.
UCART22 and UCART123 are the drugs Cellectis and the mentioned center are working on.
Exclusive license

Cellectis has got a license to TALEN gene editing technology. This allows them to think about how they develop drugs to fight off diseases. Gene function study, drug discovery are a few ways they have to accomplish their goal.
Last pictures source : CLLS
We have already seen it. They have many sources of support (France and USA) and they are very important ones, known in this sector and industry as well. That means something, their drugs are interesting, they could be important too. At the end, that could mean revenues.
Drugs data 

Source :  CLLS
Development of a product candidate takes place in several stages
DISCOVERY
Identify a new potential target that could end as a product candidate.
PRODUCT DEVELOPMENT
Engineering of "Chimeric Antigen Receptor" (CAR) T-cells is one of their technologies developed to advance the drug to be a candidate. TALEN® is used to modificate targeted genes and provide new attributes to the drug such as levels of safety or compatibility.
PRECLINICAL STUDIES
- In vitro studies : To get results on the activity of the product candidate. This is perfomed on cell lines (specific ones).- In vivo studies : Before further investigation, this is used on animals in order to get results on the dose (toxicity and activity of a potential product candidate).
IND FILING (OR FOREIGN EQUIVALENT)
The Investigational New Drug consists of submitting to the FDA the required studies documentation to obtain the permission to advance to the next level : Clinical investigation.
CLINICAL STUDIES
Product candidate is used on humans.
Phases of clinical trials
PHASE I : Level of toleration (DRUG) in humans is checked. PHASE II : Trials are designed for examining if the drug has clinical activity. PHASE III : Assessment of the treatment effect on a clinically endpoint. PHASE IV : Additional information is gained by post-marketing studies.
Drugs KEY
FDA : Food and Drug Administration
ALL : Acute Lymphoblastic Leukemia
AML : Acute Myeloid Leukemia
IND : Investigational New Drug
NHL : Non-Hodgkin Lymphoma
CAR T : Chimeric antigen receptor T
MM : Multiple myeloma
UCART19 : A gene edited allogeneic CAR T cell (it is a product candidate). It treats expressing malignancies, but initially it was developed to treat ALL. On November 18, 2015, to acquire worldwide rights to keep developing and commercializing UCART19, they got into a collaboration agreement with Servier. Clinical trials in adult and pediatric patients in Europe in June 2016 & USA in 2017 represent the Phase I.
First results were released in December 2018. The percentage of remission rate across the adult and pediatric patient was of 82.
UCART123 : First wholly-controlled product candidate. It is a gene edited T cell. An antigen for patients with AML. Just in the USA, 21,450 new cases are expected for 2019, with an estimated death rate of 50,90%.
In February 2017, they received an IND approval from the FDA. Phase I is based on clinical trials with the said drug in patients with AML.
An amendment for UCART123 was approved in May 2018 by the FDA (Phase 1 clinical trial in AML).
UCART22 : It is an allogeneic and a gene edited T cell (product candidate). It has a important feature (off the shelf). It has been designed for the treatment of B-ALL. For 2019 in United States, it is estimated (including adults and children) about 5,930 new cases and a percentage of death of 25,29. The sixth month of 2018 Cellectis received the IND's approval by the FDA to initiate the Phase I. UCART22, a drug to treat B-cell acute lymphoblastic leukemia in adults.
This drug also treats NHL. In 2019, there are 74,200 estimated new cases, death rate of 26,91%. It is another allogeneic (off the shelf). It has been approved by the FDA for clinical trials in United States.
ALLO-501 : Another CAR T. The product received IND by the FDA in January 2019. The first phase trial will begin around the first half of this year. The sponsor will be Allogene.
UCARTCS1 : Allogeneic designed for the treatment of CS1-expressing hematologic malignancies and being developed in MM.
ALLO-715 : ALLO-715 & UCARTCS1 share same features.
UCARTCLL1 : There is just one difference with the last ones. It is in preclinical development. It would treat patients with AML.
ALLO-819 : Another CAR T. It targets FLT3 (licensed to Allogene). Treatment is for patients with relapsed/refractory AML.
In a nutshell. 9 drugs are being developed. We must wait to see how they improve as time goes by. Many people are affected by diseases that these drugs can treat. 
Important events that can affect the said drugs and their development : 
1) Title of the activity : Cambridge Healthtech Insitute's 4th Annual Cancer Immunotherapy
Place : Francisco, CA, USA.
Date : March 11 to March 13 (2019)
Name&Surname : Laurent Poirot
Position : Vice President Immunology Department
Activity : TALEN gene-editing for allogeneic CAR T-cell Immonutherapy
2) Title of the activity : Bioprocessing summit europe 2019
Place : Lisbon, Portugal
Date : March 19 to March 21 (2019)
Name&Surname : Jean-Charles Epinat
Position : Head of Process Development
Activity : Developing Manufacturing Processes for the Production of Gene-Edited Allogeneic CART-Cells.
3) Title of the activity : Oppenheimer's 29th annual healthcare conference
Place : New York, NY, USA
Date : March 20 (2019)
Name&Surname : Simon Harnest
Position : Vice president of Finance and Investor Relations
4) Title of the activity : 22nd annual meeting of the American Society of Gene & Cell Therapy
Place : Washington, DC, USA
Date : April 29 to May 2 (2019)
Name&Surname : Philippe Duchateau
Position : Chief Scientific Officer
Activity : Presentation of Universal Gene-Edited CAR T-Cell Immunotherapy.
In this and next month, many events will affect different drugs, maybe a positive effect. We have to keep an eye open because these meetings and conferences are crucial for the company. They open doors to another country in Europe, Portugal. The expansion to different countries mean an evolution on their research and development.
Before ending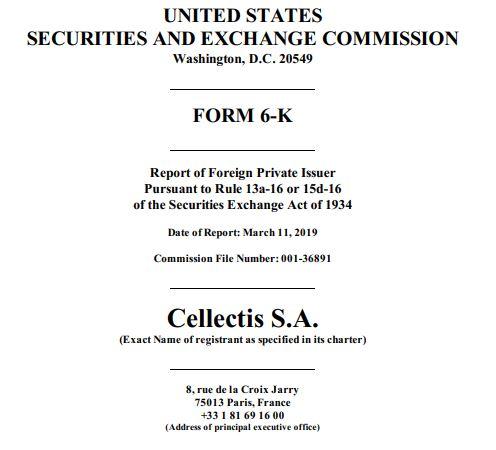 SEC filings
We have the 4th quarter and full year 2018 financial results.
Dose escalation clinical trial is in process (Phase 1 of UCART123)
B-all patients are going to be treated because of the dose escalation clinical trial of UCART22, because it has received FDA and IRB approvals for Phase 1.
Servier and Allogene showed a good progess of first clinical allogeneic CAR T-cell (which one was developed for adults and pediatric patients). We are talking about UCART19
A new manufacturing facility will be placed in North Carolina for advancing commercialization capabilities for UCART portoflio. This is a lease agreement of Cellectis through Cellectis Biologics Inc.
Cash position has increased $155M (December 21, 2018).
Do you remember about what happened with North Carolina?. "IMPACT site" is the name of the said manufacturing facility.It is planned to be ready to start operating by 2021.
They are going forward on their drugs, expanding the company and getting more financial strength. All together can create a great equation, but let's see the financial results.
Financial Results
Cash: The last year, the difference in cash if we compare it with 2017 is of $118M.
We have seen all the improvement of the company the last year and how it is going for them this 2019, so I think we can keep watching an uptrend the next years. 
Revenues and Other Income: However, the revenues and other income difference was of -$13M. This is due to a decrease in recognition of upfront payments plus cost reimbursements (therapeutic collaborations).
If they are able to continue on their way, I would say they will exceed this.
R&D Expenses: Expenses has decreased ($2M). More R&D headcount, higher purchases and external-other expenses. Moreover, social charges on stock option and reduction of non cash stock based expenses are the reasons of this difference.
More cash and less expenses, it speaks itself. Really good mix.
SG&A Expenses: 2017 ($45M), 2018 ($47M). Main reason is the increase in wages and purchases at Calyxt. Smaller cause, lower non cash stock based compensation.
Before, they reduce in $2M but here, this amount of money sets the expenses in a draw.
Net Loss Attributable to Shareholders of Cellectis: $20M. Net loss has been considerately reduced. Why?, net financial gains has the fault.
This says a lot about all the net financial gains they earned in 2018. Will they earn more this year?. I see it has many odds. 
Adjusted Net Loss Attributable to Shareholders of Cellectis: $11M of net loss.
A brief summary : Less net loss, a draw if we talk about expenses, less revenues and more cash. Many drugs are being developed, important events are coming and after them, we must see how the drugs react from them and all the support they have already had and all the support they are also getting. My advice, keep in mind $CLLS, because the evolution could arrive, this year.
Disclosure: I/we have no positions in any stocks mentioned, and no plans to initiate any positions within the next 72 hours.
I wrote this article myself, and it expresses my own opinions. I am not receiving compensation for it (other than from Seeking Alpha). I have no business relationship with any company whose stock is mentioned in this article.