Context
It's time to talk about something quite important. Something that can occur in a few months and can help us to deduce where the stock is going to aim.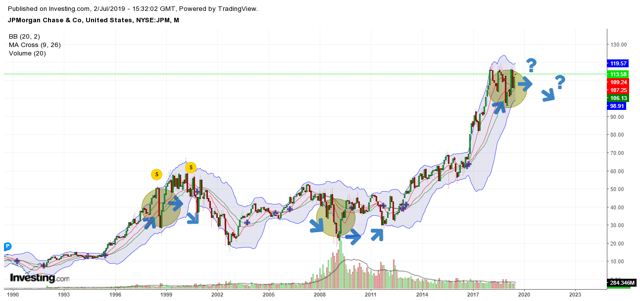 Beforehand, as you can see, the price action is reaching the highest level of its history again. Now, focus on the "V" movement that $JPM has done twice, how it has been its behaviour after the event and the previous trend before all. The arrows indicate what I think it was the trend before, in and after the "V". Actually, that's what I keep in mind to predict the reaction in this third "V". In my point of view, there is a coincidence if we compare the last evidence of the pattern with the first one.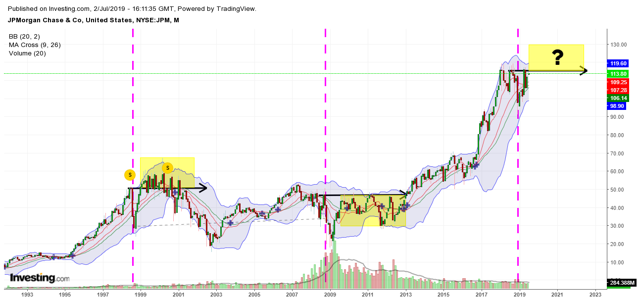 In this picture, we perceive that in a bullish trend, it seems to stay above the black arrow, creating in this way, a support line. Meanwhile in the next one, it was the reverse, a resistance line. But now it has come from a bullish trend again, so, must we think the last black arrow will play the role of support line?. We also have the cyclic lines, which show us that all the "V" have occured in the vertical lines and that is not a coincidence. The movements are similiar and the perdiod of times too.
Now you know the context, now you must know the performance of its sector: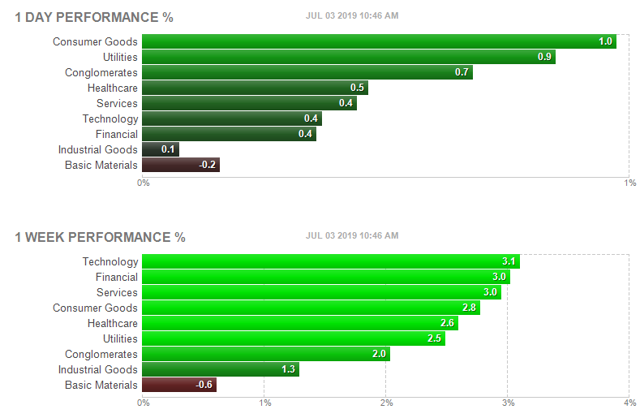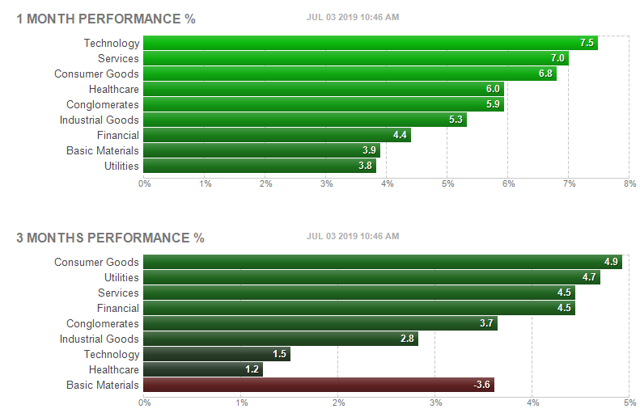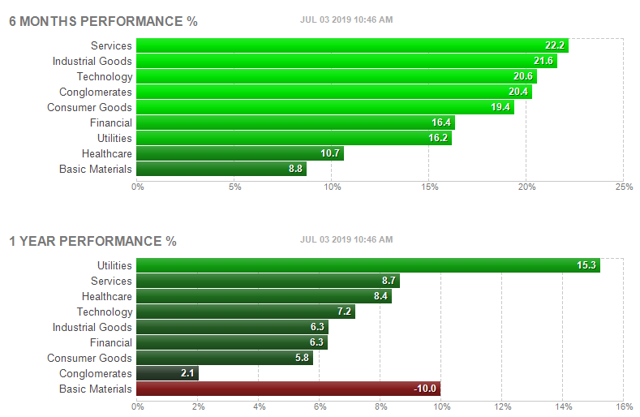 Everything green for the financial sector.
I think all of us already know about $JPM but if someone doesn't, this is going to be useful.

"JPMorgan Chase (NYSE: JPM) is one of the oldest financial institutions in the United States. With a history dating back over 200 years, here's where we stand today:
We are a leading global financial services firm with assets of $2.6 trillion.
We have a presence in over 100 markets.
We have over 250,000 employees.
We serve millions of consumers, small businesses and many of the world's most prominent corporate, institutional and government clients.
We are a leader in investment banking, financial services for consumers and small businesses, commercial banking, financial transaction processing and asset management.
Our stock is a component of the Dow Jones Industrial Average."

SEC filing
New York, 06-27-2019-JPMorgan Chase & Co. announced that the Federal Reserve Board does not object to the company's capital plan under the concluded 2019 "CCAR". JPMorgan Chase's Board of Directors wants to increase the quarterly common stock dividend from 0.80 per share to $0.90, effective the third quarter of the current year and has authorized gross common equity repurchases of up to $29.4 billion between July 1, 2019 and June 30, 2020 under a new common equity repurchase program.
The Chairman and CEO of the company, Jamie Dimon said: "The strength of our franchise has allowed us to continue to use our capital to grow and invest in our businesses to support our customers, clients and communities around the world. We are pleased to have the capacity and flexibility to return excess capital to our shareholders as we maintain a fortress balance sheet that provides the ability to withstand extreme stress."
If someone asks about their "strength", read what's below.
"JPMorgan Chase net income for the quarter ending March 31, 2019 was $8.753B, a 6.25% increase year-over-year."
"JPMorgan Chase net income for the twelve months ending March 31, 2019 was $31.224B, a 25.75% increase year-over-year."
Upcoming event
JPMorgan Chase & Co.: Remaining conference calls to review financial results:
Second-quarter 2019–Tuesday, July 16, 2019 at 8:30 a.m. (Eastern)
Third-quarter 2019–Tuesday, October 15, 2019 at 8:30 a.m. (Eastern)
Fourth-quarter 2019–Tuesday, January 14, 2020 at 8:30 a.m. (Eastern)
Approximately 6:45 a.m. (Eastern) the financial results are going to be released on the dates above.
Very important dates that if I were you, I would note them.
Financial results
Less words and more data. Here you have the financial results of the first quarter of 2019.
1. 1Q 2019 Financial highlights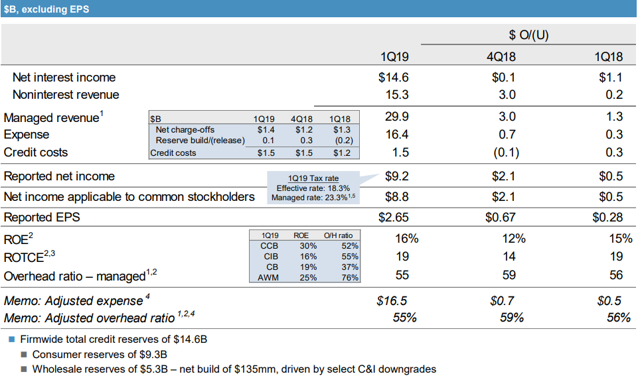 2. Fortress balance sheet and capital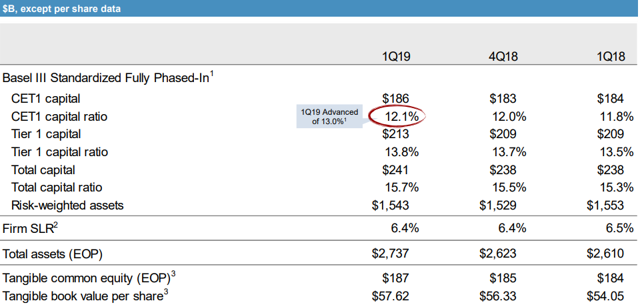 3. Consumer & Community Banking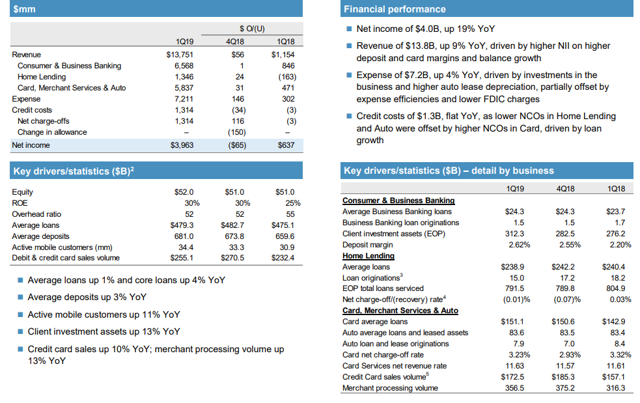 4. Corporate & Investment Bank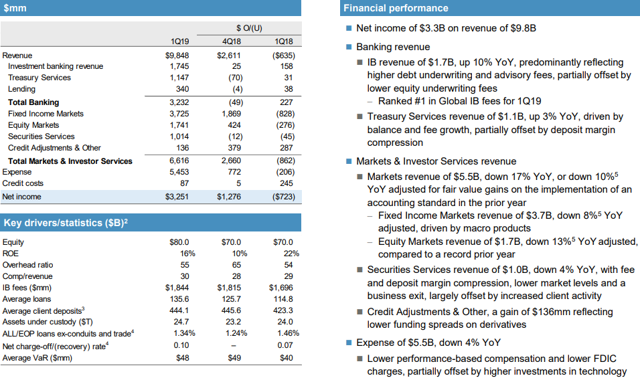 5. Commercial Banking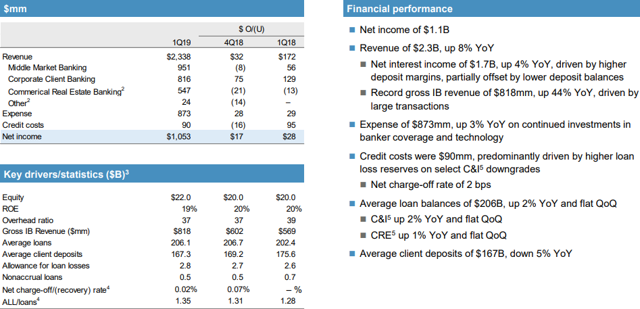 6. Asset & Wealth Management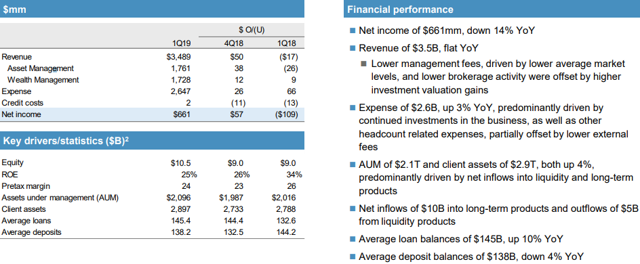 7. Corporate 

8. Outlook