Conducting research to find the next big mover among the thousands of stocks out there is a lot like mining for gold. How so? Well, gold miners might go for months and months before hitting a vein. What keeps them going is sheer persistence, along with the knowledge that it will all be worth it once they hit the mother lode.I'm glad – and I have to admit, relieved – to announce that I've hit the mother lode after months of painstaking research, having sifted through hundreds of companies that just didn't make the cut. The reason it took so long, and the reason I don't make announcements like this very often, is because my criteria are super strict: I only put my capital into the absolute best of the best, those rare companies that are truly ahead of their time and haven't been discovered by the mainstream media yet, but surely will be soon.Before I could narrow my search down to a specific company, I had to find an industry that was in the early stages – something on an upward trajectory but with plenty of room for growth, much like the Internet in the early 1990s or cryptocurrencies five years ago. I was looking for a sector of the economy that is expanding at a rapid pace but still has massive upside potential. Frankly, it's like trying to find a needle in a haystack, and I knew this beforehand.But persistence pays off, and it's the job of the financial researcher to keep trying until BAM – one day the mother lode is discovered and everything becomes crystal clear. For me, this moment came when I was collaborating with Kenneth Ameduri of Crush the Street, who is no slacker himself when it comes to deep research. We were discussing trends in the tech sector and came to the conclusion that the next massive wave, which has already started and is building at an incredible pace, is in the field of artificial intelligence, also known as AI or machine learning.The huge potential of this niche is undeniable. It's a global phenomenon, as we can see in the following chart: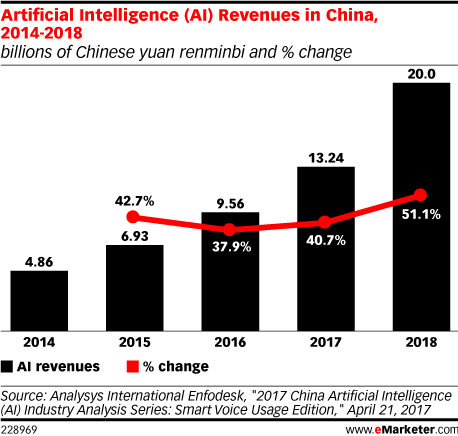 Courtesy of Analysys International EnfodeskBoth in terms of yuan renminbi and on a percentage basis, AI revenues in China are on a steep upward slope, and it's clear where it's going from here. The global foothold and rapid spread of machine learning adoption is undeniable and unstoppable.It is truly gratifying to find such a rich vein and to bring it to you today. Even now, I just keep finding more and more corroborating evidence that AI is in the infancy stages and will be taking over the world in short order. Check out this chart and note the 11x expected growth that is to come in the next few years: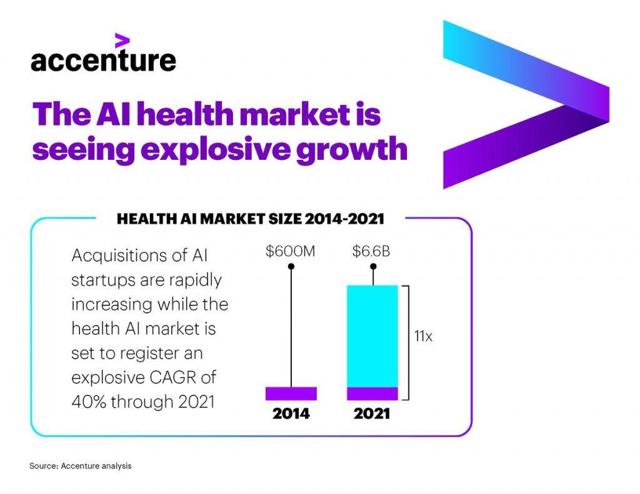 Courtesy of AccentureBusiness and professionals in practically every field, from medicine to human resources to cybersecurity and video game development, will have to adopt artificial intelligence soon or face the prospect of being left behind by the competition.Even after discovering this rich vein of potential profits, I still had to find a company that's poised to capitalize on this incredible opportunity: a pure-play AI company, something extremely rare. After a great deal of research (and some frustration along the way), the team at Portfolio Wealth Global have discovered the only company that meets and exceeds all of my criteria: Globalive Technology (TSX-V: LIVE, OTC:LVVEF). This company has visionary leadership with founder and CEO Anthony Lacavera, who has already made millions with other firms and is now at the forefront of the AI revolution with Globalive.I even discovered a piece of breaking news: Globalive and leading Canadian private-label credit card issuer Flexiti Financial are developing a mobile wallet to put a full suite of payment and lending services using fiat and cryptocurrencies at consumers' fingertips. This represents a quantum leap forward in the AI space, and a brilliant opportunity to profit from the upside move that is sure to come with this leading-edge technology.There's more to this story, and it only gets better from here. For an exclusive look at the latest findings on AI and Globalive, go to PortfolioWealthGlobal.com/live and read the free report today.
Disclaimer: The ideas, projections and views expressed are those of PortfolioWealthGlobal.com and are not ideas, views or recommendations of Globalive or any of its officers or directors. Any forward looking statements are based on our assumptions, projections, beliefs and expectations, however, there is no guarantee that these statements will prove to be correct and are subject to risks and uncertainties. This work refers to joint ventures or investments that Globalive is a party to. Some of the joint ventures may be subject to further negotiation or documentation. Never base any decision off of our emails. PortfolioWealthGlobal.com stock profiles are intended to be stock ideas, NOT recommendations. The ideas we present are high risk and you can lose your entire investment, we are not stock pickers, market timers, investment advisers, and you should not base any investment decision off our website, emails, videos, or anything we publish. Please do your own research before investing. It is crucial that you at least look at current public filings and read the latest press releases. Information contained in this profile was extracted from current documents filed with the public, the company web site and other publicly available sources deemed reliable. Never base any investment decision from information contained in our website or emails or any or our publications. Our report is not intended to be, nor should it be construed as an offer to buy or sell, or a solicitation of an offer to buy or sell securities, or as a recommendation to purchase anything. This publication may provide the addresses or contain hyperlinks to websites; we disclaim any responsibility for the content of any such other websites. We have entered into a three year agreement directly with the company. We plan to purchase shares on the open market as a long-term holding, we have also been compensated eight hundred thousand dollars, eight hundred thousand options, and been given one million nine hundred thousand RSUs. Please use our site as a place to get ideas. Enjoy our videos and news analysis, but never make an investment decision off of anything we say. Please review our entire disclaimer at PortfolioWealthGlobal.com.