"Buy the rumor" is a time-tested adage in the stock market, and it's a perfect formula for strong returns if you get into the right company. And I've been hearing rumors about a company that's a perfect investment target for beverage giant Coca-Cola; the buzz is getting louder and the breakout is imminent. Plus, there are several catalysts creating just the right conditions for Coca-Cola, PepsiCo, or another firm to make a move very soon.
Portfolio Wealth Global spoke recently with a gentleman who happens to work day in and day out in the beverages industry: Mr. Chris Miller, CEO and Founder of KOIOS Beverage Corp. (CSE:KBEV, OTC:KBEVF), which you can visit at MentalTitan.com. Chris is also an authority in the CBD (cannabidiol) market, which has been growing exponentially and has caught the eye of Coca-Cola as a likely target for massive capital infusion.
Unlike THC, which is more heavily regulated, CBD is the non-psychoactive chemical found in marijuana plants and can more easily be bought and sold; for example, there are third-party sellers offering CBD-based products on Amazon right now. CBD does not produce a high for the user, so it is more family-friendly and it has been used for medical purposes, including easing inflammation, pain, and nausea.
Big beverage firms have expressed strong interest in CBD's in 2018. First, Constellation Brands, the maker of Corona beer, announced last month that it is investing an additional $4 billion in a Canadian cannabis company. Then, Coca-Cola announced its own interest in a particular Canadian cannabis company to possibly include CBD in some of their drinks.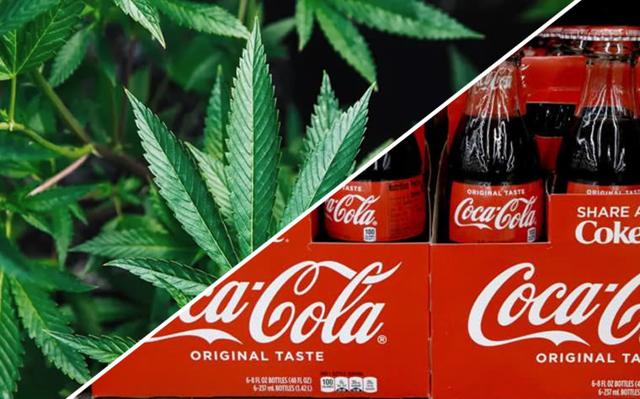 Courtesy of thebrag.com
The result: the targeted CBD companies received a huge boost and shareholders enjoyed big-time profits. What company will be the next "buy the rumor" moneymaker? Portfolio Wealth Global is prepared to take a long position in a company that's likely to be next in line for a capital infusion from a company like Constellation Brands or Coca-Cola.
Plus, there's another catalyst: The 2018 Farm Bill, an $860 billion agricultural spending bill that is currently working its way towards becoming the law of the land. If the Farm Bill passes – which is almost 100% certain at this point – it will remove hemp (from which CBD is derived) as a controlled substance, thus making it fully legal under federal law.
This is huge, and it's still in the "buy the rumor" phase, meaning that investors should take their positions before the catalyst happens in order to generate maximum profits. We know that a company like KOIOS Beverage Corp. is ideally positioned to capitalize on this, so we asked Chris Miller for his thoughts on these latest developments in the CBD space.
As Mr. Miller explains it, a company like Coca-Cola could give KOIOS Beverage Corp. an option to pick up a portion of the company and then give them distribution. According to Chris Miller, that's exactly what happened with Bai Brands, a small beverage company that was bought by Dr. Pepper for $1.7 billion.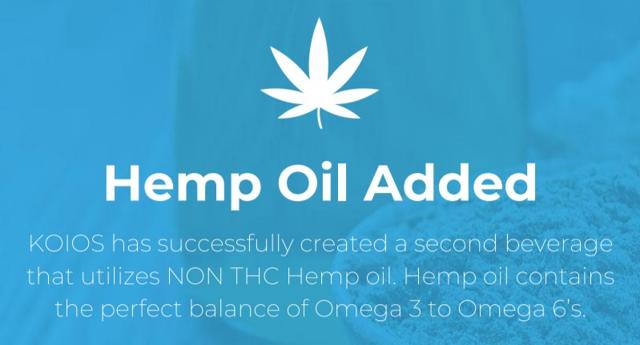 Courtesy of KOIOS Beverage Corp. Investor Presentation
What gives KOIOS the early-mover advantage among beverage companies, according to Chris Miller, is their line of healthy drinks that are infused with non-THC hemp oil. These all-natural, CBD-rich beverages contain a proprietary blend that balances Omega 3's and Omega 6's, and can boost mental clarity, energy, memory, and concentration without the use of chemicals, medications, caffeine, or sugar.
According to Chris Miller, this enables KOIOS to be both hands-on and hands-off with cannabis: his company is not actually producing the cannabis product, and they never actually "touch the plant." Yet, KOIOS is able to offer cannabis-infused beverages, and they are able to do this without being exposed to any risk in the market.
It's a win-win for the company and the consumers, as well as for the investors. Plus, with the Farm Bill ready to become law and big beverage companies scrambling to get into the CBD-infused beverage space, KOIOS Beverage Corp. and shares of KBEV/KBEVF are ready to make a stunning move in the markets.
Don't miss Portfolio Wealth Global's full interview with Chris Miller, which includes an in-depth analysis of this nutritional beverage company that's innovating in the CBD space. Plus, you can go here to access our highly informative report on how you can capitalize on the CBD and performance-beverage markets in 2018.
Disclosure: I am/we are long KBEV / KBEVF.
Additional disclosure: This work is based on SEC filings, current events, interviews, corporate press releases and what we've learned as financial journalists. It may contain errors and you shouldn't make any investment decision based solely on what you read here. It's your money and your responsibility. Never base any decision off of our emails. portfoliowealthglobal stock profiles are intended to be stock ideas, not recommendations. The ideas we present are high risk and you can lose your entire investment, we are not stock pickers, market timers, investment advisers, and you should not base any investment decision off our website, emails, videos, or anything we publish. Please do your own research before investing. It is crucial that you at least look at current SEC filings and read the latest press releases. Information contained in this profile was extracted from current documents filed with the SEC, the company web site and other publicly available sources deemed reliable. Never base any investment decision from information contained in our website or emails or any or our publications. Our report is not intended to be, nor should it be construed as an offer to buy or sell, or a solicitation of an offer to buy or sell securities, or as a recommendation to purchase anything. This publication may provide the addresses or contain hyperlinks to websites; we disclaim any responsibility for the content of any such other websites. We have entered into an agreement for three hundred thousand dollars and five hundred thousand options paid for directly by the company. We have also purchased shares and are long the company. Please use our site as a place to get ideas. Never make an investment decision off of anything we say. Information contained in this profile was extracted from current documents filed with the SEC, the company web site and other publicly available sources deemed reliable. The information herein is not intended to be personal legal or investment advice and may not be appropriate or applicable for all readers. If personal advice is needed, the services of a qualified legal, investment or tax professional should be sought.

Please read our full disclaimer at PortfolioWealthGlobal.com/disclaimer