It's truly mind-blowing to think about the progress that has been made in just the last couple of years in the legalized cannabis space.
We're finding new ways to profit from this growing market, and with marijuana stocks outperforming other market sectors, there's no need to settle for anything less than the fantastic gains that we've seen in legal cannabis stocks.
Here's the rundown on the global cannabis market: the total capital spent on legalized marijuana worldwide is projected to exceed $57 billion by the year 2027, and the largest group of legal cannabis consumers will be in North America, where the market will leap from $9.2 billion in 2017 to $47.3 billion in 2027.
Big companies are taking notice and deals are being made. The likes of Coca-Cola, Constellation Brands (the maker of Corona beer), Molson Coors, and Heineken have been positioning themselves to profit from the flourishing North American and global cannabis markets.
In fact, when Constellation Brands made a deal to get into cannabis-infused products, investing giant Goldman Sachs served as an advisor on the deal and Bank of America Merrill Lynch financed it. Meanwhile, big Canadian investors like Canaccord Genuity and BMO Capital Markets have been making substantial cannabis company deals of their own:

Courtesy: Dealogic, cnbc.com
Our data analytics team has been watching these deals and strategic alliances very carefully, and we receive numerous inquiries every day asking for the best way to capitalize on this fast-growing trend in the cannabis market. In response to this, we narrowed our choices down to companies with the most diverse holdings, the most lucrative partnerships, and the best leadership in the business.
What we soon discovered is that it's not easy to find a cannabis company that satisfies all of these criteria. However, through a thorough scouring of the markets, we did finally uncover one company that actually has a robust network of top-tier holdings throughout the entire vertical of the North American cannabis industry including software, analytics,  capital support, intellectual property management, and more.
It's a vertically integrated North American cannabis company that's diversified into the most profitable areas of the cannabis ecosystem, and its name is TILT Holdings Inc. (CSE: TILT). At each touch point in the supply chain, TILT's diverse suite of cannabis-centered holdings provides comprehensive operations and business technology software solutions to dispensaries across the U.S. and Canada.
Well-positioned to support the rapid growth and demands across the industry, TILT is rapidly broadening its foothold in the legalized cannabis market through a pipeline of infrastructure expansions, acquisitions, and partnerships with the goal of delivering the highest-quality products and services.
Co-Chairman and CEO, Alexander Coleman, has assembled a proven management team with complementary experience leading the diverse portfolio of companies.
Moreover, TILT expects to broaden their geographical capabilities even further.
In addition to acquisitions already closed or under letters of intent, TILT has a significant pipeline of additional opportunities with several license holders across Arizona, Colorado, Maryland, Nevada, Ohio, and Europe, each of which will add substantial value to investors. With capabilities spanning across cultivation, processing, distribution, retail and delivery, T ILT plans to expand its best-in-class products to emerging and top performing markets.
As you can see, deals are ready to be made, and we expect the revenues to be outstanding. With access to millions of consumers through a presence in over 1,000 dispensaries across 25 U.S. states, Canada, Puerto Rico, and Jamaica, TILT has a proven track record of engaging consumers and optimizing dispensary operations and revenue that no competitor can match or even come close to.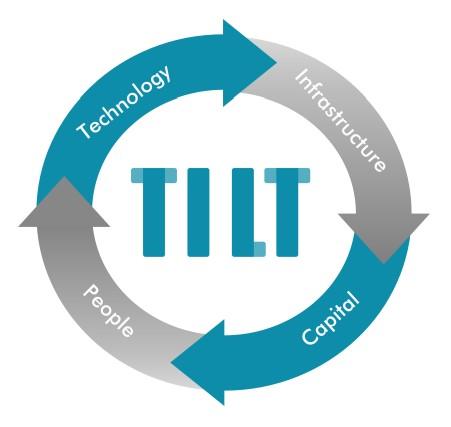 Courtesy: TILT Holdings Inc.
We're making the call right now: TILT Holdings Inc. is the next superstar in the high-powered legal marijuana market. Windfall profits are coming; there's no need to look anywhere else because TILT is your best vehicle for spectacular returns in legalized cannabis.
Disclosure: I/we have no positions in any stocks mentioned, and no plans to initiate any positions within the next 72 hours.
Additional disclosure: Wallace Hill Partners LTD, a Canadian company, which is owned by the same parties as Portfolio Wealth Global, has been compensated three hundred and twenty five thousand dollars, directly by the company for a one year digital marketing campaign. stock profiles are intended to be stock ideas, NOT recommendations. The ideas we present are high risk and you can lose your entire investment, we are not stock pickers, market timers, investment advisers, and you should not base any investment decision off our website, emails, videos, or anything we publish. Please do your own research before investing. It is crucial that you at least look at current SEC filings and read the latest press releases. Information contained in this profile was extracted from current documents filed with the SEC, the company web site and other publicly available sources deemed reliable. Never base any investment decision from information contained in our website or emails or any or our publications. Our report is not intended to be, nor should it be construed as an offer to buy or sell, or a solicitation of an offer to buy or sell securities, or as a recommendation to purchase anything. This publication may provide the addresses or contain hyperlinks to websites; we disclaim any responsibility for the content of any such other websites. Please use our site as a place to get ideas. Enjoy our videos and news analysis, but never make an investment decision off of anything we say. The information herein is not intended to be personal legal or investment advice and may not be appropriate or applicable for all readers. If personal advice is needed, the services of a qualified legal, investment or tax professional should be sought.

This work is based on SEC filings, current events, interviews, corporate press releases and what we've learned as financial journalists. It may contain errors and you shouldn't make any investment decision based solely on what you read here. It's your money and your responsibility. The information herein is not intended to be personal legal or investment advice and may not be appropriate or applicable for all readers. If personal advice is needed, the services of a qualified legal, investment or tax professional should be sought.

Never base any decision off of our advertorials. Pure Blockchain Wealth stock profiles are intended to be stock ideas, NOT recommendations. The ideas we present are high risk and you can lose your entire investment, we are not stock pickers, market timers, investment advisers, and you should not base any investment decision off our website, emails, videos, or anything we publish. Please do your own research before investing. It is crucial that you at least look at current SEC filings and read the latest press releases. Information contained in this profile was extracted from current documents filed with the SEC, the company web site and other publicly available sources deemed reliable. Never base any investment decision from information contained in our website or emails or any or our publications. Our report is not intended to be, nor should it be construed as an offer to buy or sell, or a solicitation of an offer to buy or sell securities, or as a recommendation to purchase anything. This publication may provide the addresses or contain hyperlinks to websites; we disclaim any responsibility for the content of any such other websites. Please use our site as a place to get ideas. Enjoy our videos and news analysis, but never make an investment decision off of anything we say.

Please read our full disclaimer at PortfolioWealthGlobal.com/disclaimer