The buzz and buildup surrounding CBD or cannabidiol have reached epic proportions in North America. Discovered back in 1940, but stuck in legal limbo until December of 2018, CBD as a healthy ingestible ingredient has been highly sought after for many years due to its numerous reported benefits.
The problem was that CBD was classified in the same category as THC, but these are two completely different things, and it took a long time for the U.S. government to recognize this. While THC can have euphoric effects, CBD has no euphoric or mind-altering impact and is a part of the hemp plant that's safe for adults to consume.
In fact, studies have found that CBD has no negative effects on blood pressure, heart rate, pH levels, glucose levels, red blood cell volume, or potassium and sodium levels. Not only that, but many people have reported anti-anxiety, anti-inflammatory, pain relief, and other types of health benefits from CBD-infused products: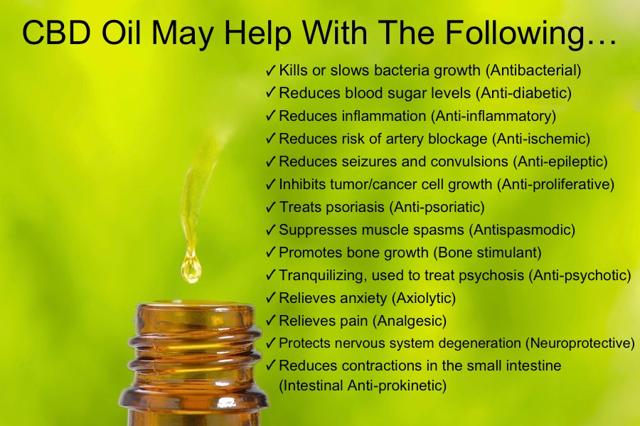 Courtesy: cannabisnetworknews.com
Millennials, baby boomers, and other consumer demographic segments have expressed strong interest in CBD products for years, but they were unsure of the legal status and availability of these products. This all changed when the United States Congress and President approved the Farm Bill in December, as this bill legalized hemp, and therefore CBD, on a federal level.
Investors have found it challenging to find ways to profit from the incredible surge in CBD product sales: most people don't really want to ingest a CBD-infused product unless it comes in a convenient format that tastes good and is readily available.
Concurrent with the CBD explosion is the increase in demand for healthy beverages, as consumers insist on drinks that aren't loaded with sugar and chemicals. The emergence of CBD technology fits perfectly into this trend towards more mindful beverage choices: "It rides the waves of so many global food and health trends, as a substitute for opioids, towards more natural health alternatives and functional ingredients," explains Brightfield Group's Bethany Gomez.
An excellent way to cash in on these consumer preferences is with an investment in an up-and-coming company that has benefited immensely from the opportunities provided by the passage of the Farm Bill. The company is KOIOS Beverage Corp. (CSE: KBEV, OTC: KBEVF), whose products are natural, drug-free, and designed to improve focus, memory, mental drive, clarity, and energy.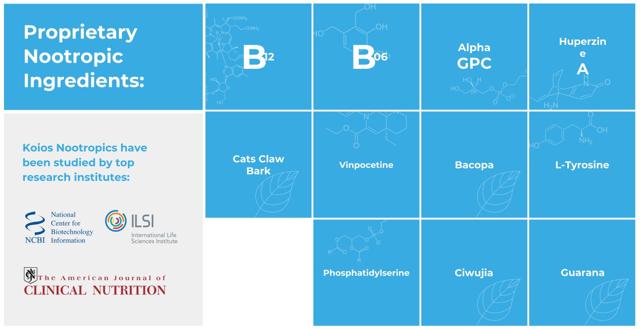 Courtesy: KOIOS Beverage Corp. Investor Presentation
Instead of using sugar or prescription medications with side effects, KOIOS's beverages contain nootropics, which are natural brain-enhancing supplements and other substances that enhance the brain and body functions for optimal performance. And KOIOS also has a very popular line of beverages infused with CBD – 100% legal nationwide, thanks to the Farm Bill.
As I've mentioned, consumers want products that are convenient and easy to obtain. Fortunately, KOIOS has a very large retail presence, with products available at GNC stores, 7-11, Conoco, Gold's Gym, True Fit Gym, and Total Nutrition, as well as online through Amazon, Wishing-U-Well, and KOIOS's website, MentalTitan.com.
Now that CBD is legal to buy, sell, and consume throughout all of North America, KOIOS Beverage Corp.'s CBD-infused drinks are taking the company's sales and revenues to the next level. Participating in the CBD revolution has never been easier – or more profitable – than it is right now, with a position in KBEV/KBEVF stock.
Disclosure: I am/we are long CSE: KBEV, OTC: KBEVF.
Additional disclosure: Legal Notice: This work is based on SEC filings, current events, interviews, corporate press releases and what we've learned as financial journalists. It may contain errors and you shouldn't make any investment decision based solely on what you read here. It's your money and your responsibility. The information herein is not intended to be personal legal or investment advice and may not be appropriate or applicable for all readers. If personal advice is needed, the services of a qualified legal, investment or tax professional should be sought.

Never base any decision off of our emails. PortfolioWealthGlobal.com stock profiles are intended to be stock ideas, NOT recommendations. The ideas we present are high risk and you can lose your entire investment, we are not stock pickers, market timers, investment advisers, and you should not base any investment decision off our website, emails, videos, or anything we publish. Please do your own research before investing. It is crucial that you at least look at current SEC filings and read the latest press releases. Information contained in this profile was extracted from current documents filed with the SEC, the company web site and other publicly available sources deemed reliable. Never base any investment decision from information contained in our website or emails or any or our publications. Our report is not intended to be, nor should it be construed as an offer to buy or sell, or a solicitation of an offer to buy or sell securities, or as a recommendation to purchase anything. This publication may provide the addresses or contain hyperlinks to websites; we disclaim any responsibility for the content of any such other websites. We have entered into an agreement for three hundred thousand dollars and five hundred thousand options paid for directly by the company. We have also purchased shares and are long the company. Please use our site as a place to get ideas. Enjoy our videos and news analysis, but never make an investment decision off of anything we say. Please review our entire disclaimer at PortfolioWealthGlobal.com.

Please read our full disclaimer at PortfolioWealthGlobal.com/disclaimer