Top management, capital backing, strategic partnerships, production-ready land... mining stock pickers have to be extra selective and have their criteria ready if they're going to reap the biggest rewards. For me personally, I invest in nothing but the cream of the crop, and I only buy at deeply discounted prices. That's been my key to success as an investor.
I also prefer to look in places where others don't because it's the under-the-radar opportunities that bring the strongest returns. We all know that the corporate media hardly ever talks about gold and silver, not to mention copper, which I actually see as the better sector to get into right now.
The copper sector has reacted very positively lately whenever a tiny bit of progress is made towards a resolution of the tariff war between the U.S. and China. Just recently, copper prices went up six days in a row – not on any sort of trade deal, but just tiny hints that they might be closer to a deal.
Imagine what will happen to the price of copper when a full-on trade deal is struck: it will be greener than a St. Patrick's Day parade. Copper miners, particularly the best ones with access to a copper-rich region, will shoot to the moon. The question is: would you rather buy when prices are low or wait until they're sky-high?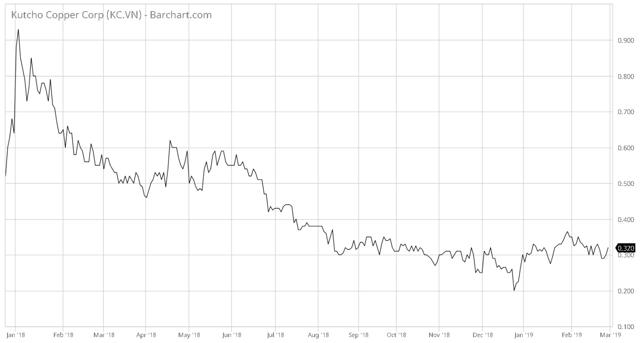 Courtesy: barchart.com
Take a look at this price chart of Kutcho Copper (TSX-V: KC, OTC: KCCFF) and you'll see what I'm talking about. I took profits when KC shares were almost a dollar at the beginning of last year. Now I'm sending out the buy signal again because there's no doubt in my mind that the shares will reclaim that level in the near future.
As I mentioned earlier, my strategy is to wait patiently until my favorite companies' stock shares are substantially down in price. Kutcho is a perfect example of buying low and selling high: now you can buy shares at a 70% discount. It has very little downside risk and lots of upside potential.
I also mentioned strong leadership, and Kutcho Copper President and CEO Vince Sorace has assembled a management team of the best mining and finance experts in the business. As for Mr. Sorace himself, he's got 25 years' worth of experience in capital markets, including roles as the founder, president, and CEO of multiple private and public resource companies.
Vince Sorace has raised over $200 million in equity and debt financings, and with his extensive experience in development, management, and public company governance in the resource and alternative energy sectors, he's building Kutcho Copper into the go-to investment for copper bulls worldwide.
A true legend in the mining industry, Vince Sorace has developed a surefire, four-pronged strategy for Kutcho Copper that will increase the size of the project itself while enhancing the company's and shares' upside potential: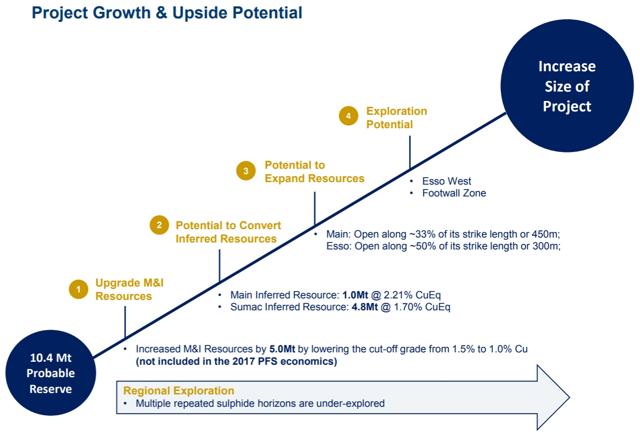 Courtesy: Kutcho Copper Investor Presentation
As the process moves up the ladder through the four-step process, the rewards for investors are increased dramatically from upgrading their measured and inferred resources to converting and expanding those resources (i.e., the drilling phase), all the way through to the exploration step, which has the highest reward potential.
Helping the company achieve all of these objectives is Wheaton Precious Metals Corp., which has provided Kutcho Copper with a major boost of encouragement and financing in the form of a $100 million investment in the Kutcho project. This isn't something that happens every day – Wheaton only chooses one company every 18 months, and they only pick the best of the best.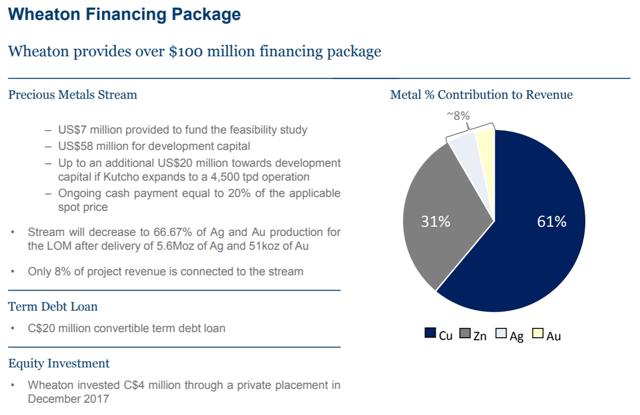 Courtesy: Kutcho Copper Investor Presentation
With Wheaton's backing, Kutcho is making huge moves in the copper mining space. With each step in the four-point plan, they're returning tremendous value to shareholders and realizing Vince Sorace's vision of creating the world's premier copper exploration company.
With a U.S.-China trade deal due any day now, you definitely don't want to wait on this profoundly lucrative opportunity. With low price, low risk, and a strategy to ensure great rewards, KC/KCCFF shares are, hands down, easily the best copper play in the market.
Disclosure: I am/we are long TSX-V: KC, OTC: KCCFF.
Additional disclosure: Legal Notice:This work is based on SEC filings, current events, interviews, corporate press releases and what we've learned as financial journalists. It may contain errors and you shouldn't make any investment decision based solely on what you read here. It's your money and your responsibility. Information contained in this profile was extracted from current documents filed with the SEC, the company web site and other publicly available sources deemed reliable. Gold Standard Media who has the same owners as Portfolio Wealth Global has been compensated five hundred thousand dollars for a three year marketing agreement. We are also shareholders of the company and consider the position a long term holding.  The information herein is not intended to be personal legal or investment advice and may not be appropriate or applicable for all readers. If personal advice is needed, the services of a qualified legal, investment or tax professional should be sought. Please read our full disclaimer at PortfolioWealthGlobal.com/disclaimer