Do you remember the last time you bowled a perfect game at the bowling alley? I can't say I have that story to tell but I do remember my first 'ten-bagger' stock … a small investment that skyrocketed 1,000%. It's a small investors dream and every single time, it's just as memorable.
I'd like to tell you about my 'ten-bagger' record! In 2002, after the 'internet bust' had crushed technology stocks I bought a small search engine company called AskJeeves (ASKJ) for $2 a share. At the time the company had more than $3.50 a share in cash on the books and it seemed like a solid asymmetrical bet. Three years later the company was bought out by what is now Interactive Corp. (IAC) for $26 per share.
The next ten-bagger, was a company called ZELTIQ Aesthetics (ZLTQ), a name I first highlighted in August of 2012 selling at just $5 a share. This 'razor and razor blade' medical concern was purchased by Allergan (AGN) earlier this year for $56 a share.
Currently in my personal portfolio is a small cap concern called CymaBay Therapeutics (CBAY) — which is up more than 400% since late last year, and more than 1500% above my average cost of 94 cents a share.
So what do these 3 ten-baggers have in common? Each of these stocks was a 'Busted IPO' when I purchased them.
Busted IPOs are stocks that have been public for 18 months to five years that are trading substantially under their IPO prices. I have found once the analyst hyperbole blows over and stock lockups expire around Busted IPOs, many of these "once loved" equities can be had for .25 to .50 cents on the dollar from when they first became public.
What is the Busted IPO Forum?
As lucrative as this niche has been for my portfolio over the years, I have never found a service or newsletter that covered this segment of the market. So I created the Busted IPO Forum hypothetical $150,000 portfolio investment service here on Seeking Alpha.
The goal was to build a portfolio of 15-20 small cap and mid cap Busted IPOs which consistently outperform the Russell 2000 over time. As of market close 4/16/18, the model portfolio is up 9.91% versus 5.83% for the Russell 2000. Currently, we publish exclusive research on 15 positions and will be increasing that count to 20 in May 2018.
Disciplined and successful [a subscriber's review]


"Bret has a very disciplined approach and, in the short time since the inception of the forum, has been very successful."
Why the Busted IPO Forum?
Because with all this tax business, we want to give you a deduction that is far less complicated. This is your free shot at the next ten-bagger … you can participate in the Busted IPO Forum for a trial period of 2-weeks, cost-free and risk-free. While the 1000% profit obviously will not happen during your free trial period, you'll get the insight to my winning strategy. And if you don't stick around — well, at least you have that perfect bowling game story to recount. It's a win, win either way.
And the number one reason to get in now is — our subscription prices are going up soon! In May, we are increasing the annual membership fee of the Busted IPO Forum which will allow us to provide more benefits to subscribers including:
Expanding the model portfolio from 15 to 20 stocks
Increasing frequency of updates to a weekly status
Kicking up the Live Chat community with active posting
What's Included in the Busted IPO Forum?
Model stock portfolio of the most attractive small and mid-cap Busted IPOs.
Trade alerts and immediate updates on any company moving events in the portfolio.
Portfolio updates and performance metrics against The Russell 2000.
Deep dive analysis on new additions to the portfolio and other exclusive content.
Answers to any questions around these Busted IPOs.
Don't miss out on this opportunity → Click to Subscribe ← and enable your risk-free trial period now and lock-in a yearly membership at the lower cost of subscription. Please note there is a time limit, this membership offer will expire with the tax deadline TODAY — all good things must come to an end.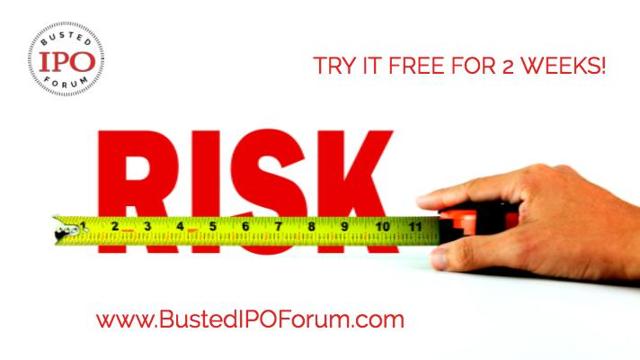 We are not all in the same boat. [a subscriber's review]

"The forum is as much about education as it is about investing. I appreciate not only the optimism regarding investments, but the on-going reminder to temper my optimism in terms of managing my exposure. We are not all in the same financial boat and need to keep in mind that what makes a reasonable investment (and sometimes gamble) for one person is not a reasonable or wise opportunity for another. I think the forum gets that point across."

Join the Busted IPO Forum today to check out the portfolio and get insight into my strategy!
We look forward to your participation. 
Bret Jensen, Founder
Busted IPO Forum | The Insiders Forum | The Biotech Forum