Looking For That Home Run Swing?
Please Note: Blog posts are not selected, edited or screened by Seeking Alpha editors.
Every strike brings me closer to the next home run."― Babe Ruth
Has a good part of your portfolio done little over the past 18 to 24 months? You are neither alone nor imagining things. While the S&P 500 remains up in the mid-teens so far in 2019, it is basically trading at the same levels seen in mid-2018. Small caps have fared even worse and trade slightly down from where they were to start 2018. Even the so-called FAANG stocks have provided little succor. Since hitting an all-time high with an approximately combined market value of $3.7 Trillion in mid-2018, they are off around 12% since then collectively. As you can see below, the Russell 2000 is almost exactly where it stood two years ago.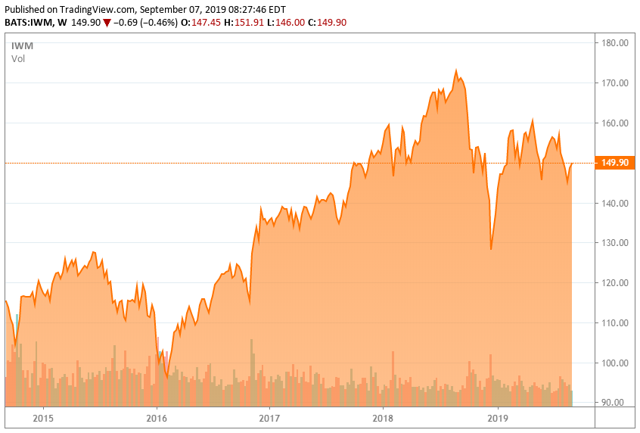 One niche I have found that has managed to beat the market by a wide margin over the past two years are 'Busted IPOs'. Busted IPOs are stocks that have been public for 18 months to five years that are trading substantially under their IPO prices. I have found once the analyst hyperbole has blown over and stock lock ups have expired around these Busted IPOs, many of these once loved equities can be had for 25 to 50 cents on the dollar from when they first came public.
There is where most of my ten-baggers over my three decades of investing have come from including Ask Jeeves (ASKJ) in the early 2000s and Zeltiq Aesthetics (ZLTQ) that went from $5.00 a share when I first recommended it in November 2012 to $56.50 a share when it was bought out by Allergan (AGN) in February of 2017.
Why does this niche consistently seem to over performed the overall market? I have several theories on that.
1. After deep declines since their debuts, a lot of 'bad news' is baked into these Busted IPO stock prices and many times they have over corrected.
2. Sentiment tends to be deeply negative on these issues since they have done little but destroy shareholder value since their IPOs. The slightest 'whiff' of good news can significantly boost their shares in the market.
3. These names get little in the way of analyst coverage as analysts have moved on since touting them at their debut on the markets. If the company starts to turnaround, analysts tend to come back to these names to 'discover' them once again.
As lucrative as this niche has been for my own portfolio over the years, I have never found a service or newsletter that covered this segment of the market. So I created my own called The Busted IPO Forum that launched two years ago here on SeekingAlpha.
How have we done? As of the market close Friday, our model portfolio has generated an overall return of 24.90%. This compares to a slight loss of .34% for the Russell 2000 over the same time frame. On our hypothetical model portfolio of $200,000 spread across 20 original holdings, that is a difference of just over $50,000 in two years.
This type of investing is not for everyone as it involves investing in high beta parts of the market (small caps, biotech, energy, etc...), but overall it has been very successful. Our picks tend to be 'home runs' or 'strike outs' with a few walks (breaking even picks) mixed in.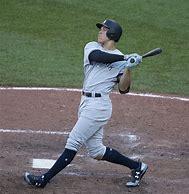 In this way, our investment philosophy is very much like where baseball has gone over the past few years. Gone are the days of 'small ball' of eking out runs by methodically advancing runners with bunts, sacrifices and singles. This era was dominated by high average single hitters like Wade Boggs and Rod Carew with little power.
Baseball is now dominated by conversations about launch angles and home run swings. It has become a true three outcome (home run, strike out, walk) game where power hitters like Aaron Judge and Pete Alonso represent the new paradigm of the sport. While this has produced more intra-game volatility as far as runs scored in any given game, it has also resulted in many more runs being scored in an overall season. Sounds like The Busted IPO investment strategy, doesn't it?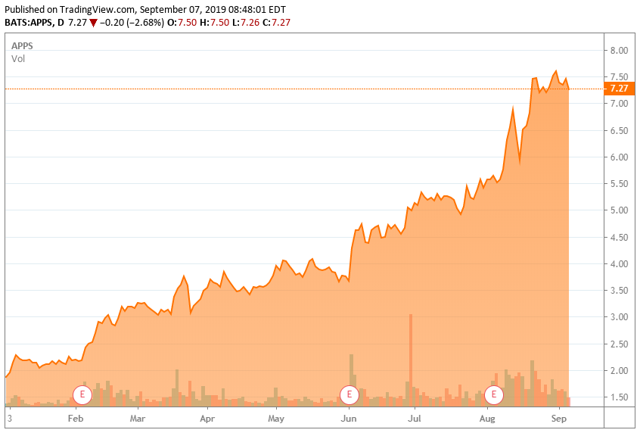 After taking almost 220% profits in Digital Turbine (APPS) last Friday after putting that name in our portfolio to start 2019, our model portfolio is sitting on over $85,000 in 'dry powder'. This will allow us to make eight new selections in the coming weeks and months as new 'Busted IPO' opportunities present themselves.
To celebrate, we are giving this very special offer to the first 100 people that take advantage of it. 30% Off your first year of membership! This is the biggest discount we have ever been able to offer the general SeekingAlpha community. Just be one of the first hundred people to fill out this form with your SeekingAlpha handle.
This will allow us to send you a special discount link that will entitle you to 30% off your first year of membership into The Busted IPO Forum. A savings of over $100! This link will be available to you to activate for 30 days before it expires. In addition, you will get a 14 day free trial period to determine if The Busted IPO Forum is for you risk free! Peruse our investment archives, download our model portfolio and participate in Live Chat during the trading day.
So don't delay, sign up now by clicking HERE!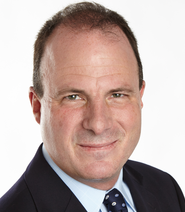 Thank You & Happy Hunting
Bret Jensen
Founder, The Busted IPO Forum
Seeking Alpha's Disclosure: Past performance is no guarantee of future results. No recommendation or advice is being given as to whether any investment is suitable for a particular investor. Any views or opinions expressed above may not reflect those of Seeking Alpha as a whole. Seeking Alpha is not a licensed securities dealer, broker or US investment adviser or investment bank. Our analysts are third party authors that include both professional investors and individual investors who may not be licensed or certified by any institute or regulatory body.