As investors, we are always looking for stocks that can guarantee returns above the average. However, it's hard to find the new Apple or the new Amazon before they become giants .
First of all, we need to look for high-growth stocks with interesting margins but still with low capitalization. In fact, it is evident that companies with significant dimensions are less likely to guarantee stellar growth rates in the future.
Furthermore, it is preferable to move towards securities that are not in the spotlight of large investment funds and therefore "neglected" by Mr. Market, with potential still unexpressed.
In an age where anyone, through a screener, is able to find stocks that meet these criteria, it can become difficult to find some hidden gem.
it can become difficult to find some hidden gem.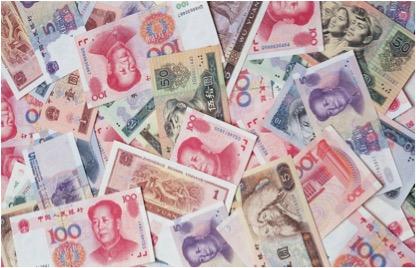 Source: Internet 
However, Yirendai has attracted our attention because it seems to possess an interesting Business Model, a convincing growth story (accompanied by exceptional margins and consistent cash flows) and a current market valuation that we believe does not express the real intrinsic value of the company.
What does Yirendai do?
Yirendai Ltd was incorporated in September 2014 as a spin-off of Creaditease, one of the leading players in the fintech sector in China.
Yirendai is an online consumer credit platform that directly links borrowers with investors who have money to lend. The P2P (peer to peer) loan model is similar to that of LendingClub (LC.N), but Yirendai offers a much higher growing market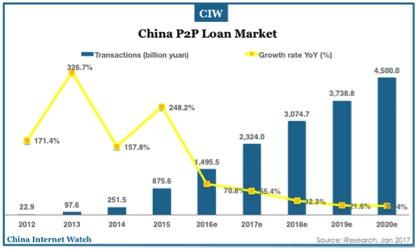 Source: China Internet Watch
Loans through the online platform are aimed at home renovations, purchase of durable goods, travel and more. 
On the one hand, those wishing to access credit must complete an online form with some information necessary to verify the potential solvency, in relation to the type of loan requested.
This system offers an almost instant credit approval, allowing applicants to receive a preliminary response in about 10 minutes.
On the other hand, investors can choose to lend money according to different available forms .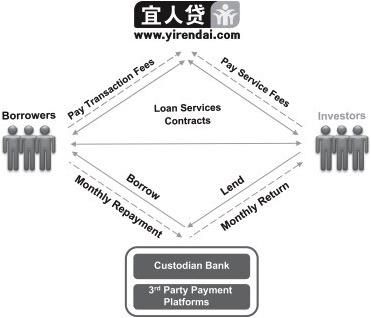 Source: company website
You can choose automatic investments that require continuous payments over time and without the possibility of choosing the counterparty.
Alternatively, you can opt for a direct investment; in this case the investor can directly choose the counterpart among hundreds of options, also helped by means of filtering the required loans, according to various parameters such as amount, maturity and interest rate.
Yiarendai then maintains a secondary market of loans on the platform, thus offering investors the opportunity to get out of their investments without waiting for the deadline.
The company competes with Ren Ren Dai and Lufax.
The Bullsandbears investment thesis
Yirendai's sales increased almost steadily in the last 10 quarters, surpassing the 1,500 million RMB in Q3 2017.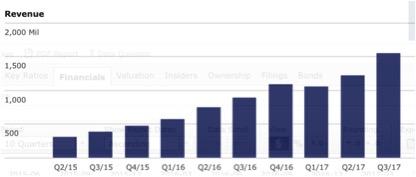 Source: Morningstar.com
Margins did not grow with the same intensity in 2017, partly due to an increase in operating expenses.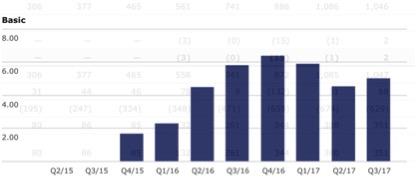 Source: morningstar.com
In any case, Yirendai continues to present an extremely profitable business with a Net Margin of more than 25% and a ROE of over 60%!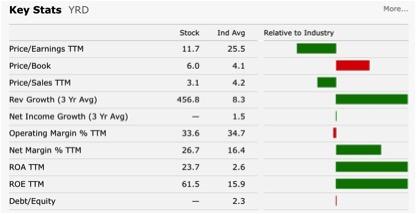 Source: morningstar.com
Recently, the stock was particularly penalized and, compared to the highs of $ 53.5 per share achieved last October, it lost almost 40% falling below $ 34 per share.

Source: morningstar.com
At these prices Yirendai is very low in P/E and P/CF multiples, also considering its relative growth potential.
But ... where are the risks?
When we look at a company that seems extremely undervalued regarding its fundamentals, we must always ask ourselves whether Mr Market is really offering us an opportunity or whether we are not incorporating some important variables into our valuation model.
In the case of Yirendai, valuations remain depressed due to concerns about the poor transparency of the P2P lending market in China.
Recently, the Financial Times highlighted how the P2P lending market in China is extremely crowded and a significant number of players have declared bankruptcy since 2011 (more than 3,500 platforms)
The case of Ezubao, which in fact has cheated about 900,000 people for about 7.6 billion dollars in the largest Ponzi project ever implemented in the country, is also striking.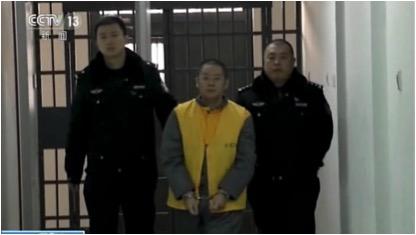 Source: Internet
To respond to this and other scandals that have cast doubts on the entire P2P lending market, Chinese regulators have tightened regulations on P2P lenders, limiting loans from a single site to 200,000 yuan ($ 28,800) and limiting the maximum P2P loans to 1 million yuan per person.
Further regulations are expected in the future according to the Financial Times; this has helped to significantly compress the prices of the fintech companies shares on the market.
Conclusion
In our opinion, in the next few months, the P2P lending industry in China will experience a considerable concentration following the strict regulations made by the regulators.
However this could be positive for the players who will manage to stay on the market.
On the one hand there will be fewer competitors; those who succeed in having larger dimensions can count on the competitive advantage typical of platform business (you can read here a very interesting article by Harvard Business Review on the characteristics of this type of business model).
Furthermore, greater regulatory transparency could restore confidence in a segment with enormous growth potential, if we consider the demographic trends and consumption patterns of Chinese society.
In this scenario we believe Yirendai has all the characteristics to be one of the winners.
With a business value of just $ 2.0 billion and a strong sales and earnings growth trend, Yirendai seems to have much room for growth.
Furthermore, it appears to be among the companies that first obtained licenses and elements of compliance with the new regulatory system.
If on the one hand this entails higher costs to achieve compliance with the new rules, on the other hand it could guarantee an important competitive advantage for the most virtuous companies.
Long story short, Yirendai seems to us a classic example of a company with an amazing potential but with equally high risk, both on the lack of transparency of the market and on possible macroeconomic conditions such as a recession or a credit crunch that could undermine the entire system.  
Stay tuned!
Disclosure: I am/we are long YRD.