Tether & Bitcoin: The Domino Effect
Please Note: Blog posts are not selected, edited or screened by Seeking Alpha editors.
Seeking Alpha Analyst Since 2017
Don't trust, verify. Husband, Tennis player, Waterman, Technophile, Gardener, Investor, Bitcoin Enthusiast, Gold Bug, believer in sound money, among other things.
Summary
New articles on Tether but still relatively few large media outlets covering.
Domino effect of the collapse in Tether, then Bitcoin, could lead to more bubbles popping.
Google Trends for "Bitcoin" and "Tether" paint an interesting picture.
Round up of further Tether articles and posts worth reading.
The end is nearer.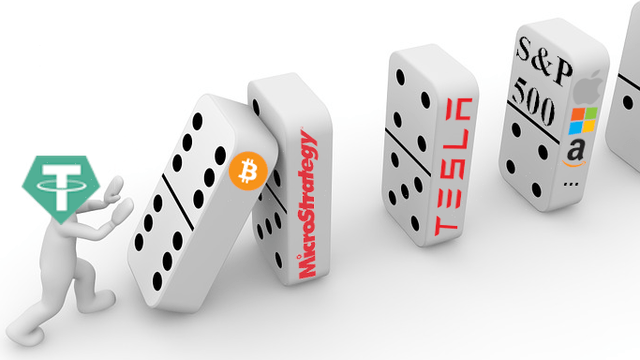 This is a follow-up to my original article on 8 January 2021, Bitcoin & Tether: Where Is The Media Coverage?, for which I recommend you read first if you have not done so already. What I wrote in that article is still valid, though there has been some updates for which I will cover here.
Bitcoin & Tether - more mainstream media coverage finally appearing
In the past number of weeks there has finally been some recent mainstream articles covering Tether/Bitfinex and it's affect on the Bitcoin price, see below:
However these articles are still relatively few compared to the many articles lately about Bitcoin that fail to mention Tether (USDT) even once. Also some of the articles, such as the one from the Financial Times, are just news pieces and don't dig in to the history and unanswered questions regarding Tether. This is particularly strange considering how large and important Tether has now become to Bitcoin and cryptocurrencies in general, and how Tether continues to grow.
Domino effect of the collapse in Tether, then Bitcoin, could lead to bubbles elsewhere popping
There are many asset bubbles at the moment and not just in Bitcoin primarily as a result of the hot air of Tether pushing it up ever higher when measured in USDT/USD.
Below is a chart of the Buffet Indicator, the ratio of total US stock market valuation to GDP from 1990 up to 11 February 2021: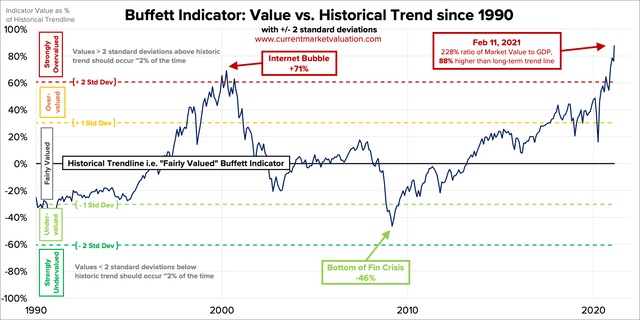 Source: Current Market Valuation Buffett Indicator as of 11 February 2021
Below is the Bitcoin (BTC/XBT) chart from 28 April 2013 through to 15 February 2021: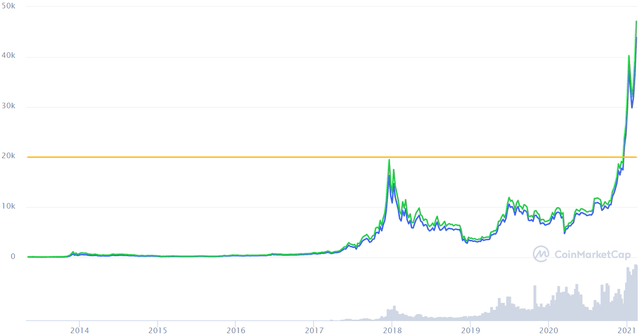 Source: CoinMarketCap Bitcoin as of 15 February 2021
And finally below is the Tether (USDT) chart from 6 March 2015 through to 15 February 2021: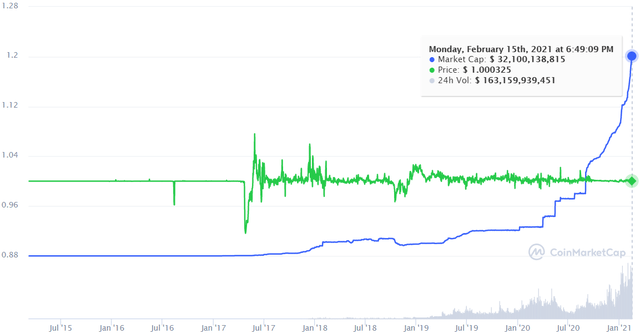 Source: CoinMarketCap Tether as of 15 February 2021
What is significant to note is that while Tether was arguably behind much of the 2017 Bitcoin and cryptocurrency run up in prices it is far more important now in 2020 and even more so in 2021 than it has ever been, given it's ballooning market capitilization due to ever more USDT printing.
Any company that dips it's toes, feet, or entire company (i.e. MicroStrategy) in to Bitcoin or cryptocurrencies is thus also tied at the hip to the Tether-inflated Bitcoin & cryptocurrency bubble. Tesla is itself notably one of the biggest bubbles and it is interesting that it has chosen to tie it's future, at least partly, to another highly speculative bubble. In the case of Tesla it is perhaps most interesting that it decided to put almost exactly the same amount of money that it earned in selling carbon credits (1.58 billion USD) in to purchasing Bitcoin (1.5 billion USD). Bitcoin uses a huge amount of energy relative to it's actual use (# transactions and # active wallets) when compared to other cryptocurrencies and the financial system as a whole. A lot of that energy is non renewable.
Perhaps Tether has become, or wants to become with it's ever increasing printing of Tether (USDT), "too big to fail". And perhaps the authorities, governments, and most of the mainstream media are now happy to turn a blind eye to avoid having Tether and Bitcoin set off a domino effect in collapsing bubbles one after the other. Maybe companies such as MicroStrategy and Tesla believe this is the more likely scenario, and thus they feel the risk/reward is worth it (as I presume they must know about Tether and they just don't want to bring attention to it).
Google Trends for "Bitcoin" and "Tether" paint an interesting picture
As I wrote in my previous article, even with Bitcoin more than double the 2017 high price, Google Trends for the term "Bitcoin" are still not yet at the levels of December 2017. This has still yet to change, despite Tether artificially stimulating demand by pushing the price of Bitcoin ever higher.
Google Trends for the search terms "Bitcoin" and "Tether" for the past 4 years (as of 16 February 2021) can be seen below: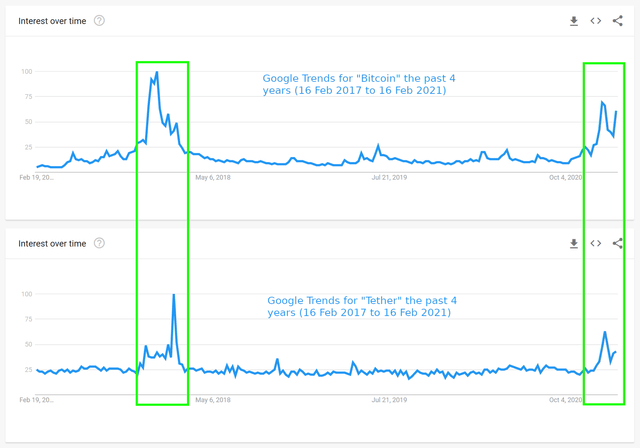 Source: Google Trends for "Bitcoin" and "Tether" for the periods 2017-02-16 through to 2021-02-16
It is noticeable that the Bitcoin peak was 17-23 December 2017 while the Tether peak was five weeks later. The Tether peak and Bitcoin price falling coincided with "worries that the bitcoin price was manipulated on a major exchange called Bitfinex by a cryptocurrency called Tether".
In 2021 however they both appear to have peaked in January around the same time, and while some rebound is being seen recently, the top for 2021 may be in, though should there be a major move up or down in the price of Bitcoin, or some major news, then this could change.
What is interesting and perhaps could explain, at least partly, the recent move by the Central Bank of Nigeria in banning cryptocurrency transactions in Nigeria's banking and payment systems, is that Nigeria is far ahead compared to other countries when it comes to interest in Bitcoin in particular:

Source: Google Trends for the search term "Bitcoin" for the past 1 year showing the interest by region as of 16 February 2021
Not to draw a conclusion, but Nigeria also has had a high rate of Internet crime and a large amount of Bitcoin transactions have been for illegal activity. This may have also been a factor in the decision by the Central Bank of Nigeria, thus not only the booming popularity of Bitcoin in the country which may have been seen as a threat.
Further Tether articles and posts worth reading
Some more recent posts and articles regarding Tether, as well as some important older ones which I missed in my previous article, can be found below:
Also CoinDesk did a interview with Nouriel Roubini that was uploaded on 11 February, and while I partly disagree with some of what Nouriel has to say with regards to Bitcoin in particular, he is right on many points, in particular regarding the manipulation by Tether.
The end is nearer
It will be interesting to see what, if anything, will happen this week with regards to Tether/Bitfinex and the NYAG investigation. The ever increasing rate of USDT issuance lately to sustain the price of Bitcoin and other cryptocurrencies shows that demand needs to be supported with USDT or else prices will fall. This is far from stable and sustainable. One thing is for sure, the situation of Tether artificially pumping Bitcoin is an ever evolving one, and which is going to end, sooner or later. The longer it takes the worse that ending will be. Those who will be worst affected will be the many persons (and even companies) new to Bitcoin and cryptocurrencies who have been shielded by the lack of mainstream news regarding Tether and the role it has played in pumping the price of Bitcoin. For everyone else who has luckily been made aware despite the lack of widespread mainstream media coverage, they can't say they were not warned.
Don't trust, verify.
Analyst's Disclosure: I am/we are long BTC-USD.
Seeking Alpha's Disclosure: Past performance is no guarantee of future results. No recommendation or advice is being given as to whether any investment is suitable for a particular investor. Any views or opinions expressed above may not reflect those of Seeking Alpha as a whole. Seeking Alpha is not a licensed securities dealer, broker or US investment adviser or investment bank. Our analysts are third party authors that include both professional investors and individual investors who may not be licensed or certified by any institute or regulatory body.