Preface
Resonant Inc's story has been a battleground for both bulls and bears for about 5 years. Today, we're going to be taking a deep dive into the thematics, developments, opportunities, and risks that will either fuel or impact Resonant's growth.
                                                Thematics
An Explosively Growing Industry:
Before diving into the company, let's take a step back and focus on the past and projected growth of the RF Front-End (RFFE) and filter markets.
According to Resonant's most recent investor presentation (8/6/19), the RFFE and filter markets are projected to grow from $19 and $12 billion in 2019 to $40 and $28 billion respectively in 2025.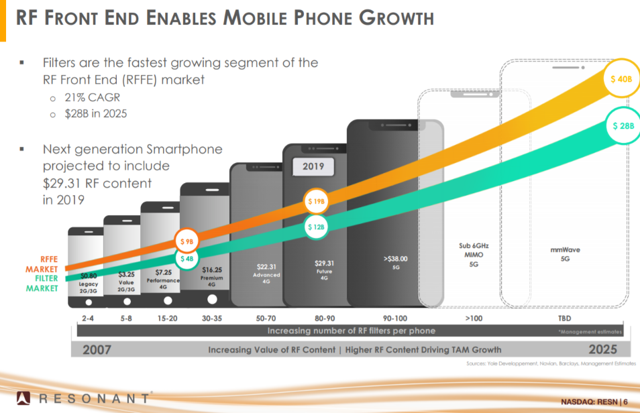 In addition to the staggering growth in the overall market, the number of filters per device will increase from 50-70 in 2019 to greater than 100 by 2025. This is an important number to consider as these next-generation filters will need to be smaller and more complex.
This metric is vital because manufacturers and OEMs will demand filter designers to increase design output beyond current capacity. According to Qorvo's company website, the approach to filter design starts with a team of industry experts. This conventional design method has worked in the past but will not continue to scale with the rising demand for filters of higher complexity. The solution to this problem? A software tool that allows designs to be created and tested in house. This is where the value of Resonant's intellectual property (IP) is blindingly clear.
                                                The Value
Intellectual Property:
It is clear to myself and many of the analysts that cover Resonant that the value lies in its team, software, design library, and patents. By leveraging their software platform Infinite Synthesized Networks (ISN), Resonant is in the unique position of having the capabilities to provide valuable designs to their customers quickly and at a lower price.
The slides below are also from Resonant's August 6th investor presentation: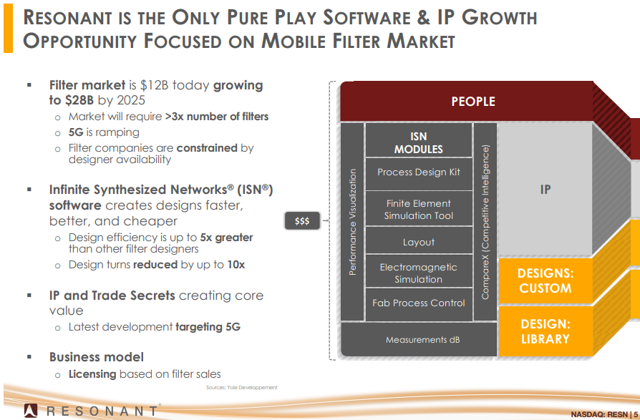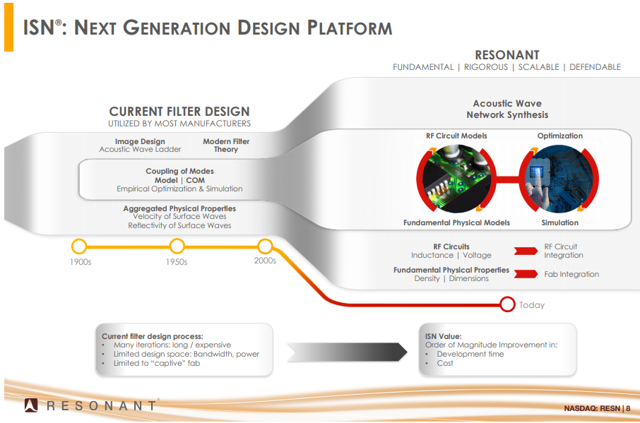 With an improvement in design efficiency pushing 5-times more than other designers while using 10-times fewer turns, it's quite clear that Resonant has a platform that can save buyers time and money. This is where Wall Street gets the company dead wrong. While many will be laser-focused on short term milestones like quarter to quarter filter sales we find ourselves watching customer engagement closely. This is where we catch a glimpse into the future of this growth story. When we see top-tier companies like Murata signing multi-million dollar contracts with this small company, our eyes open to what could be coming next.
                                            Opportunities
The Murata Deal:
While many are focused on the lower than expected revenues we find ourselves pleasantly surprised by a development that is much more meaningful. Murata has agreed to purchase $7 million in RESN stock through an offering and to pay $9 million in prepaid royalties through a commercial agreement. This commercial agreement will be paid in 4 equal parts with the first sum being paid upon signing. In addition to a bolstering of Resonant's cash position, these agreements provide validation of their XBAR technology.
This puts the company and investors in a very exciting position. The number one RF filter supplier for Samsung believes Resonant's tech is worth the investment. In addition to Samsung, Murata sells to the vast majority of mobile device manufacturers. With a supplier that owns 75% of global front-end modules with integrated duplexers, it's quite clear to us that something big is just around the corner.
More Connections to Apple:
Something that very few seem to be talking about is the strengthening of connections to Apple. In addition to having Apple RF supplier Murata on board, they just took a superstar on to their board. His name is Ruben Caballero, a former Vice President of Engineering at Apple. Cabellero has extensive knowledge of wireless and telecommunication technologies. I think like me, you find it interesting that the majority of Wall Street isn't asking "Why would a former VP of Engineering at Apple join a company as small as Resonant?". This is because the informed investor knows exactly why Caballero decided to sign on.
With this, an important question can be asked. Does this mean we could see a Resonant part in an iPhone or an iPad? I think this interesting prospect is quite possible in the future.
A Growing Design Base:
Here are some charts that I included in my post after Resonant's Q4 2018 call: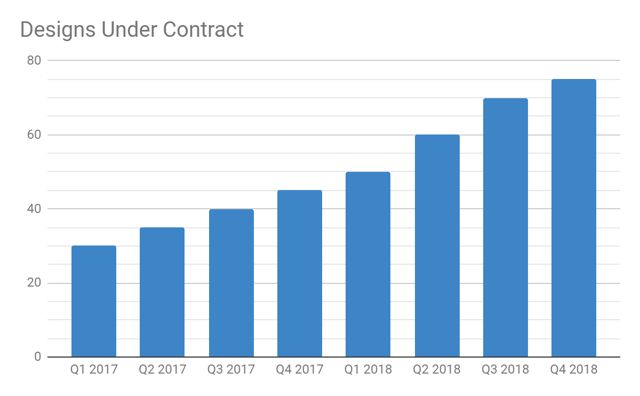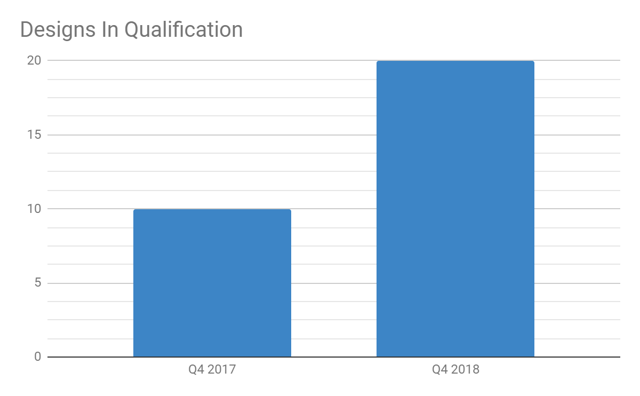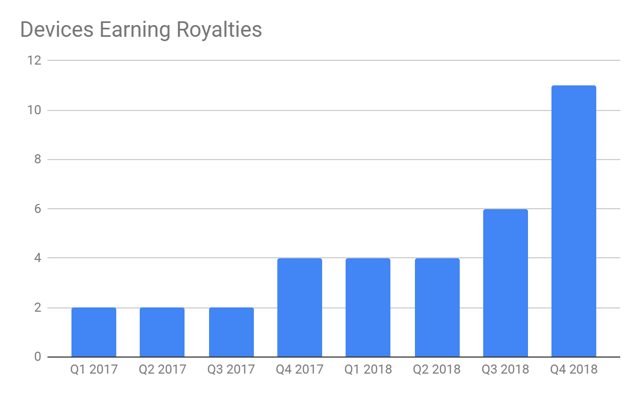 Though these figures are from Q4 2018 they outline something worth reiterating. The ramp is real and it's happening whether Wall Street likes it or not. Between all of these metrics, management has set a growth goal of 14-100% per year. What we did not know then is that Murata is on board and very interested in what Resonant has. See the taller bars on the right? I'm thinking those bars will look puny in comparison to the ones coming.
                                         Short-Term Risks
I think we all know that no investment comes without risk. Considering Resonant's size, that risk is obviously amplified. With this all in mind, let's break down what could happen and my opinions on the likelihood of these events occurring.
Murata Backs Out:
Though incredibly unlikely in my opinion, this would cause a massive hit to Resonant's roadmap and credibility. I still believe the company would still grow filter sales without Murata, but this would be bad news for the bulls and would most certainly give the bears some ammunition.
Cabellero Leaves:
The event of Ruben Cabellero leaving would most likely be a large bear story. In addition, to fear stoked by his departure, his expertise and connections to Apple would be a lost opportunity. With his experience in the industry and a big shift from working at Apple, I cannot see this happening without it being a fluke of some sort. A good example of this was when Michael Seifert stepped down after only a short time at Resonant. It seemed like bleak news at the time, but after speaking to George I was assured that it was for personal reasons rather than a flaw with the company.
                                                  Conclusion
If you have been following my work on Resonant for a while you will be aware that I have always been a net bull on the company. This is not without reason. I have closely witnessed the execution from management over the past 4 years and am excited for the staggering opportunities ahead. Friends, this Murata deal is exactly what we have been waiting to see. Murata obviously sees the growing amount of Resonant's parts hitting the market and may feel the need to acquire Resonant upon the completion of its corporate agreement for XBAR filters to secure the IP before someone else does. To say this right now is pure speculation, but I think it is more possible than many would think. It is because of this and the core business that I am more bullish than ever on Resonant's future.
Thanks for reading.
More Info on Resonant:
My other blog posts:https://seekingalpha.com/account/authorboard/instablog 
My Twitter: https://twitter.com/MichaelSWolman 
Lou Basenese: 
Lou has some of the most thorough articles I've read on Resonant, key players, and the state of 5G. Simply put, you cannot do DD on this company without reading Lou's work at  https://disruptivetr.com/ 
Lou's Twitter: https://twitter.com/LouBasenese  
Legal Disclaimer
This material is intended for informational purposes only and is not intended as a recommendation or an offer or solicitation for the purchase or sale of any security or financial instrument. Michael S. Wolman is not a licensed broker, broker-dealer, market maker, investment banker, investment advisor, analyst or underwriter. I cannot and do not provide personalized financial or investment advice for any individual. Readers should be aware that investment markets have inherent risks and our past performance does not assure the same future results. The use of my research is at your own risk. You should do your own due diligence before making any investment decision with respect to securities covered herein.
Disclosure: I am/we are long RESN.