Norfolk_Southern_Corporation.xlsx
DCF Valuation method gives us a tremendous opportunity to enjoy the Norfolk Southern Corporations' price appreciation. 
Trade tensions are looming and providing an increasing source of worry for investors. It is quite possible that new tariffs eventually will be imposed on $781 billion worth of U.S. imports, representing 27% of the total. So we will look for U.S. companies that derive close to 100% of their sales domestically.
The possible turmoil will urge investors to choose companies which operate in the US. A convenient haven for this situation is Norfolk Southern Corp. (NSC). The company generates 0% of its revenues from non-US sales. Norfolk Southern Corp. is primarily engaged in the rail transportation of raw materials, intermediate products, and finished goods primarily in the Southeast, East, and Midwest and, via interchange with rail carriers, to and from the rest of the United States. The Company operates in the rail transportation industry which is a mature industry, so we would try to find the real stock value. Despite the fact that Norfolk Southern Corp. pays dividends, the dividends payout ratio is only 15%, that's why I would prefer to use discounted cash flow valuation method than DDM. The company generates $19.17 EPS, but it only pays $2.88/1.77% in dividends. On the other hand, the company has sufficient cash flow history, and the company's free cash flow align with the company's profitability within a forecast horizon.
So, as a starting point, I have chosen CFO (Cash Flow from Operations) because CFO incorporates adjustments for noncash expenses as well as for net investments in working capital. At the same time, in 2017 the company has 224% increase in net income, while the revenue has only 6.7% gain. This is due to the fact that on December 22, 2017, the Tax Cuts and Jobs Act ("tax reform") was signed into law. Tax reform lowered the Federal corporate tax rate from 35% to 21% and made numerous other tax law changes. GAAP requires companies to recognize the effect of tax law changes in the period of enactment. As a result, "Purchased services and rents" includes a $151 million benefit for earnings generated from reductions to net deferred tax liabilities at certain equity investees and "Income taxes" includes a $3,331 million benefit primarily due to the remeasurement of our net deferred tax liabilities to reflect the lower rate.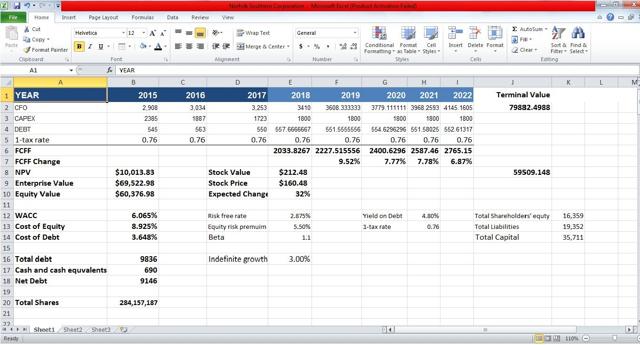 To forecast the CFO, I have used "Forecast" formula in Excel to continue the trend automatically, while in the calculation of the CAPEX I used $1.8 billion static number, as in 2017 capital expenditures were $1.723 billion and in 2018 management increased its fixed capital spending to $1.8 billion. After the new tax cuts, the management hopes to reach to 24% effective tax rate which I will use valuing FCFF.
For discounting factor we will use WACC, which is the weighted average cost of capital. The risk-free rate is US 10Y Coupon 2.875%, equity risk premium is 5.5%, and Beta is 1.1.
To calculate the enterprise value I have chosen multistage DCF model, where I consider that the company would grow at 2.5% rate indefinitely after 2022, which is the average GDP growth rate. I have adopted this approach because we used to see that the companies in mature industries tend to grow at the same speed as the total economy. 
I have attached excel file covering the valuation steps.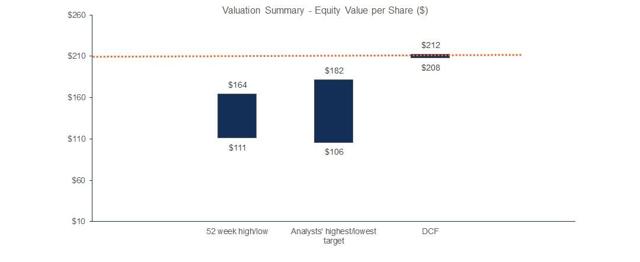 Source: Yahoo Finance
Finally, we have $211 per stock value, which represents 32% gain opportunity. Though the analyst's max estimate is $182 for the stock, I consider that the stock is quite undervalued and we could see 32% price appreciation in the near future. The main catalyst is the looming trade war which would trigger the Norfolk Southern Corporation's stock to soar to its real place.
Disclosure: I/we have no positions in any stocks mentioned, and no plans to initiate any positions within the next 72 hours.
I wrote this article myself, and it expresses my own opinions. I am not receiving compensation for it (other than from Seeking Alpha). I have no business relationship with any company whose stock is mentioned in this article.