The addition of the Whopper-coin made me write this piece. Which Speculators find to be once again "revolutionary".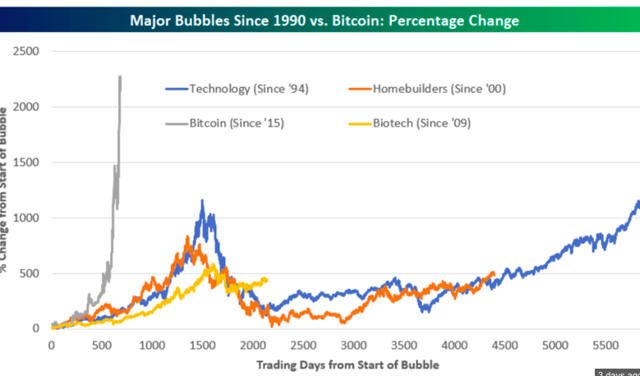 - In 1999 The Nasdaq increased from 2900 and peaked at 5048 in 2000. "Investors" Bought tech stocks and paid a large premium because they believed the technology was "revolutionary". Nearly every speculative choice came crashing down as the revolutionary technology did not pan out.
- It appears these same animal spirits have returned to the markets in a different form. These so called "investors" many of which don't even understand the process of mining the coin, are stating it's going to become the new reserve currency. Nearly all in this situation are retail investors that are buying a given "digital currency" because its rising quickly or they are following greater fools theory. 
A. Nearly every day new speculators are trying to create their own currencies backed by something new and raise funding from retail "investors".
B. Extreme Caution should be taken regarding "digital currencies". 
C. In the short run prices may continue to spike as many holders are trying to expose "digital currencies" to new retail investors to increase the prices.
D. Speculators are betting on future technology to be revolutionary.
Some "Digital Currencies" include: Bitcoin, Cat Coin, Doge Coin, Whopper-coin, Ethereum.
Doge Coin Was Created Based on an Internet Meme. We will see if it turns out to be truly revolutionary.
Warren Buffett 1985 Chairman's Letter:
Ben Graham told a story 40 years ago that illustrates why investment professionals behave as they do: An oil prospector, moving to his heavenly reward, was met by St. Peter with bad news. "You're qualified for residence", said St. Peter, "but, as you can see, the compound reserved for oil men is packed. There's no way to squeeze you in." After thinking a moment, the prospector asked if he might say just four words to the present occupants. That seemed harmless to St. Peter, so the prospector cupped his hands and yelled, "Oil discovered in hell." Immediately the gate to the compound opened and all of the oil men marched out to head for the nether regions. Impressed, St. Peter invited the prospector to move in and make himself comfortable. The prospector paused. "No," he said, "I think I'll go along with the rest of the boys. There might be some truth to that rumor after all."
"And those who haven't been through cycles before are probably a little more prone to speculate than people who have experience the outcome of wild speculations." - Warren Buffett
I also advise readers to research the 1636-1637 Tulip Mania phenomena.
Disclosure: I/we have no positions in any stocks mentioned, and no plans to initiate any positions within the next 72 hours.