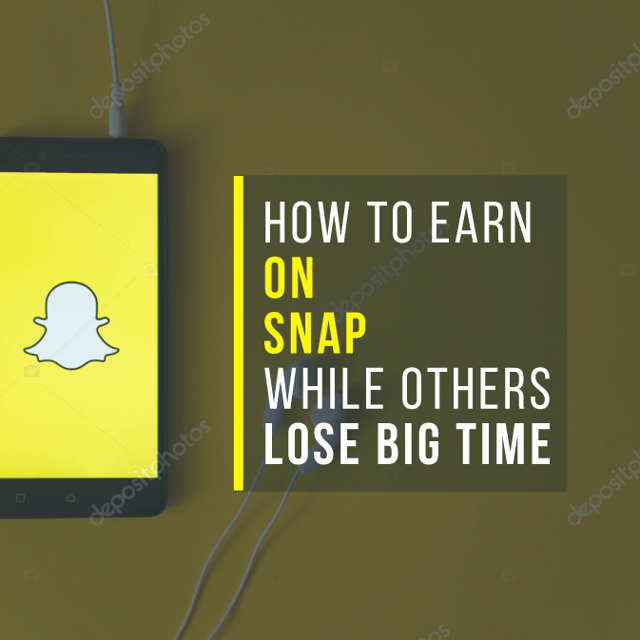 There's no denying the popularity of Snapchat. It was the hottest app on the market for the whole of 2017, with more than three billion Snapchats sent every day and 173 million daily users worldwide. A little more than a year ago and right in line with this popularity, Snap - the owner of Snapchat - went public with an IPO price of $17.
Those who invested in Snap after IPO bought it for $22 and above and anyone still holding onto their stock in the hope of a price increase has already faced losses of around 49%. Safe to say that such a disastrous investment landscape has seen many people lose big money, including enthusiastic millennials who invested out of authentic belief in the product.
Anyone who has invested in SNAP and still holds the stock is at a loss because Snap is at its lowest point right now. Why? Because a revenue growth slowdown announced in early May 2018 saw shares fall by 27% to an all-time low.
So, the big question remains. How can such investors avoid further losses and even turn a profit by investing in Snap? It might sound ambitious but it can definitely be done…
Finding a Stock Dips Indicator
Knowledge is power, which is why I went in hot pursuit of an indicator that would accurately warn of such stock dips. I started testing various stock indicators using the StockMetrix App and its trading simulation facility. My chosen indicators included technical, fundamental, social sentiment and macroeconomics. I wanted to cover all angles in order to identify the one indicator that gave a signal every single time in advance of Snap's stock fall.
I found my indicator but the answer may come as a surprise. It's the options market.
The idea is deceptively simple but the outcomes are impressive. Following this indicator when investing in Snap would have potentially made 5% annual returns, instead of losses up to 60%.
Now it's time for us to address the obvious question – exactly how and why this indicator can predict stock highs and lows quite so accurately. The options market trades in anticipation of stock market movements. When any unusual or unexpected trading activities take place in the options market, this is solid proof – and a great indicator - that its participants are aware of key information that has not yet made its way down to the stock market.
How it all Works
Now let's take a look at the viewing process from a technical position. When the implied volatility (an estimate of stock's future volatility) exceeds the actual volatility, this means that a large price swing should be anticipated. However, the price could swing to very high, very low, or both. Now, being aware of the possibility of a future price swing we need to determine which way it is expected to go – up or down.
That is when the put to call ratio comes into play. This is the volume of traded put options divided by the volume of traded call options. When this ratio is a small number it's a strong sign because more people are buying up call options. In other words, they intend to buy the stock in the future and vice versa.
It's important to note that when the put to call ratio shows a very small or very large number, this does not necessarily mean the options market is strongly anticipating up or down movement. It's when the implied volatility is higher than the stock's normal (historical) volatility that you need to sit up and take note.
Conclusion
Now that you've read this guide, you should understand the stock market activity that little bit better and know how to position your investments for best returns using the most cutting-edge technology available.
This indicator is readily available in the StockMetrix app. No calculations are required on your part and you can use it free of charge on any USA listed stocks. This makes it super-easy to use for everyone from first-time to old-school investors who are seeking an intelligent way to support their investment activity and make the highest possible returns.
Disclosure: I/we have no positions in any stocks mentioned, and no plans to initiate any positions within the next 72 hours.
I wrote this article myself, and it expresses my own opinions. I am not receiving compensation for it. I have no business relationship with any company whose stock is mentioned in this article.