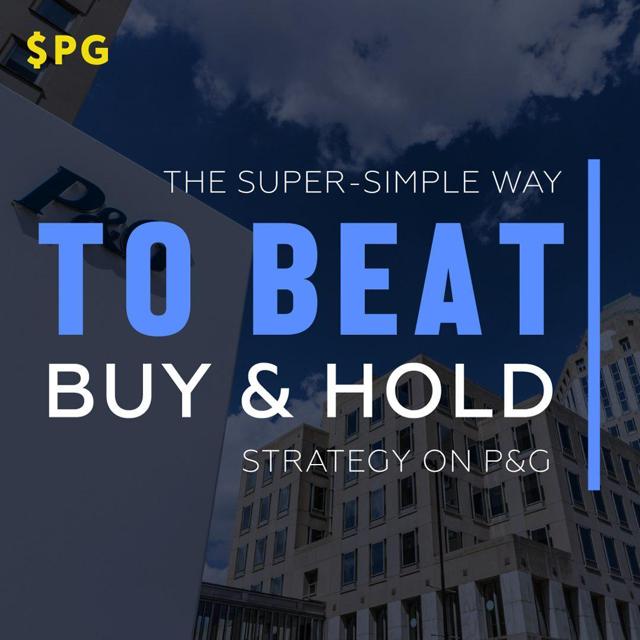 Fact: Did you know that buying and holding P&G stock for the past 18 years would have increased your wealth by 4.4% per annum?
Claim: There are two key indicators that could get you almost twice the buy and hold return rates in the same period of time.
Action: What are the indicators, where can you find them and how can the average Joe use the StockMetrix app to capitalize on this strategy?
Savvy investors are always on the lookout for ways to gain important insights into how to play the market and make a decent profit. With Procter and Gamble (P&G) representing one of the most potentially profitable sources of blue-chip stock investment, many people are failing to achieve optimal returns because they lack knowledge about the key indicators that should be used to get the results they want.
Despite fluctuating sales in recent times, P&G boasts an established market position, historical dividend yield, and innovative market vision. The latter has seen the company expand their dividend and adopt a growth strategy by selling off their sub-brands that had a poor impact on the company bottom line, leaving only the strongest core players in the P&G portfolio.
How to Make a Profit
Using the StockMetrix app to provide super-high-speed stock analysis, we identified two key indicators and back tested their combined signal on Procter and Gamble stock over a trading simulation period of 18 years.
The good news is that we obtained results representing 7.91% annual returns*. While this may not seem ground-breaking and it won't necessarily beat the market, it's certainly a good, strong result for blue-chip stock of this quality.
It's all about taking the right road and following the correct indicators to reach your ultimate investment destination. So, how did we do it and how can you do the same to take advantage of market opportunities?
Using Historical Averages to Predict Future Activity
The first of the indicators that we used was the stock valuations model, Median P/S (Price/Sales). This works by calculating the company's P/S ratios for the previous decade where the intrinsic value is equal to the P/S value multiplied by revenue (the trailing twelve months or TTM).
We then calculate three values of Median P/S by using the minimum ratio, average value and maximum value of the P/S over the previous ten-year period.
Once we have these figures, we can then compare the current stock price to the derived minimum, maximum and average Median P/S values. If the current stock price is much higher than the average Median P/S, and closer to the Maximum Median P/S value, then it means the stock is probably overvalued.
A Flexible and Reliable Indicator
At the time of writing, the current stock price is higher than the average median P/S which means that StockMetrix has graded it as in "Negative" state. This is just one of the ways that the app provides transparent guidance on your investments and helps you to show when you should, and should not, take further action.
We hold Median P/S in high regard as an effective valuation method because it assumes that the stock valuation will revert to its historical average in terms of Price/Sales Ratio. It is a more flexible measure as it comes independent of profit margins to apply to a broad range of situations.
It also gives investors more insight as we can compare the values to the competitive comparison data for companies in the same industry, country, and close market capitalization. This all helps to give a wider understanding of the stock market and help you become a more savvy and knowledgeable investor.
The Macroeconomic Perspective
As we mentioned earlier, this research used a series of two indicators to gain results. Now let's take a look at the macroeconomic perspective with our second indicator - the Redbook Index. We like this because it's a wide-reaching indicator that measures growth in US retail sales using sales data of around 9,000 large general merchandise retailers - or more than 80 percent of the equivalent 'official' retail sales series collected and published by the US Department of Commerce.
It is also updated every week so that you can be sure the information is as reliable and fresh as possible.
Using the StockMetrix app evaluates the data in the following way: higher index values indicate healthier economy. By comparing the index with its historical values, we gain a reliable overall image of the profits and stock performance data for the company.
The most recent Redbook index was at 4.3% with the Index offering an all-time high of 5.70%. This means StockMetrix has graded it as "very positive" at this time.
Conclusion
During our analysis, we set trading simulation over an 18-year period from 01/01/2000 to 05/06/2018. As we mentioned earlier, this marked a 7.91% annual return or a 4.4% annual return with a buy and hold strategy (buying on 01/01/2000 and selling on 05/06/2018). Either way, the profits look positive.
We hope that this post has helped you to understand blue chip stock market activity a little bit better and gain insight into the different type of indicators and technology available to help you achieve the best possible investment returns.
The indicators outlined above are readily available in the StockMetrix app. No calculations are required on your part and you can use it free of charge on any USA listed stocks. This makes it super-easy to use for everyone from first-time to experienced investors who are seeking an intelligent way to support their investment activity and make the highest possible returns.
*All research was carried out using StockMetrix mobile app.
Disclosure: I/we have no positions in any stocks mentioned, and no plans to initiate any positions within the next 72 hours.
I wrote this article myself, and it expresses my own opinions. I am not receiving compensation for it. I have no business relationship with any company whose stock is mentioned in this article.