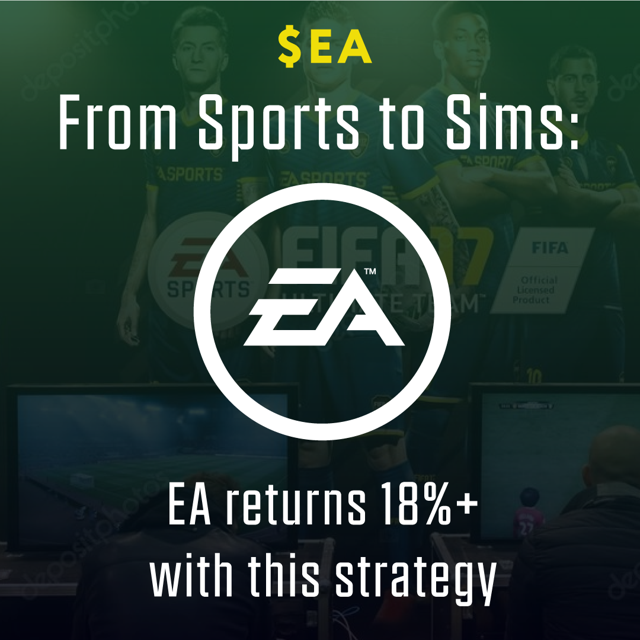 For anyone who has played videogames for any length of time, they have undoubtedly come across Electronic Arts (NASDAQ:EA) products. Over the years, the company has rolled out popular products from The Sims series under the Maxis brand, to their most notable titles that span the gamut of professional and amateur sports.
Since bottoming in the depths of the recession in 2009, the stock has been on a tear, going from a low of just under $20 per share, to current prices of nearly $140. Buying and holding this stock would have yielded compounded annual returns of 11.14% over 10 years. With a current price to earnings ratio of 41x the stock appear to be stretched in its valuation. But, like any astute investor, the question remains, is there a better way to invest in this company? This article evaluates a backtest from the StockMetrix app utilizing Short Interest Float (30% weighting) and Operation Cash Flow Ratio (70% weighting).
Short Interest Indicator
Short interest in a company refers to the number of shares that have been sold short by investors. These investors are effectively betting that the stock will go down. Because shorting a stock involves borrowing shares from another entity, shorting any company involves both carrying cost and additional margin risk. Investors with short positions must maintain adequate funding in their accounts in order to cover the position. If they do not, they can be forced to liquidate their positions. When this occurs on a large scale it's often called a "Short Squeeze" which leads to a quick and significant jump in a share's price. The indicator used in this study refers to short interest ratio, or the number of shares sold short relative to the total number of shares that are available for trading.
Operating Cash Flow for the Industry
Operating cash flow ratio looks at a company's cash flow divided by itsrevenues. When performing the calculation across the industry, each company's ratio is weighted equally and then the average of those is taken. Companies or industries without solid cash flow relative to their revenues typically spend too much to generate each sale, which compresses gross margin. Looking across an industry gives an idea of how much of a premium the industry garners for its products. A declining margin environment may also point to increased competition, which puts pressure on margins. Healthy margins across an industry point to the staying power of the business.
The Quantitative Backtest
TIn the study the operating cash flow for the industry, weighted at 70%, and the short interest float, weighted at 30%, are used to generate buy and sell signals over the test period. Operating cash flow looked back one year, with short interest looking back two weeks. The indicators were graded on a scale of 1-10, with 5 being when the indicator was around the historic average. The grades were traded as follows:
0 to 2: Very negative (Bearish) – All the company's shares currently held are sold
2 to 4: Negative (Bearish) – 50% of shares currently held are sold
4 to 6: Neutral state – No transactions
6 to 8: Positive (Bullish) – 50% of outstanding cash used to purchase shares
8 to 10: Very Positive (Bullish) – All of outstanding cash used to purchase shares
Looking out over a 10 year period the following results were generated:
Buy & Hold (Annual return compounded): 11.14% for 10 years
Indicator strategy (Annual return compounded): 18.45%
Backtest period: 06/08/2008 - 06/08/2018
Initial investment: 100.000 USD
Final investment value in 10 years: 544.060 USD
Net Gain: 444.060 USD
Maximum drawdown: 58.210 USD
Number of transactions: 95
The simple yet effective strategy garnered nearly 8% more annually than the simple buy and hold strategy.
Anyone Can Test Their Strategy
While it may seem like buy and hold would have performed remarkably well during the last 10 years, the test here clearly indicates opportunities that exist to enhance returns. Best of all, these strategies don't require complex understandings of the market, or inside knowledge. What's amazing is that anyone can perform these simple strategy backtests using the Stockmetrix app. The app allows users to compare and contrast various backtests across a variety of indicators and metrics to determine what fits their style of investing. The intuitive interface allows anyone of skill level to try out their own strategies easily and effectively.
Disclosure:
I have no interest in any stocks mentioned, and no holdings in those companies. This article presents only my opinions. I am not receiving compensation for it. I am not in any way associated with any company mentioned in this article.
Disclosure: I/we have no positions in any stocks mentioned, and no plans to initiate any positions within the next 72 hours.