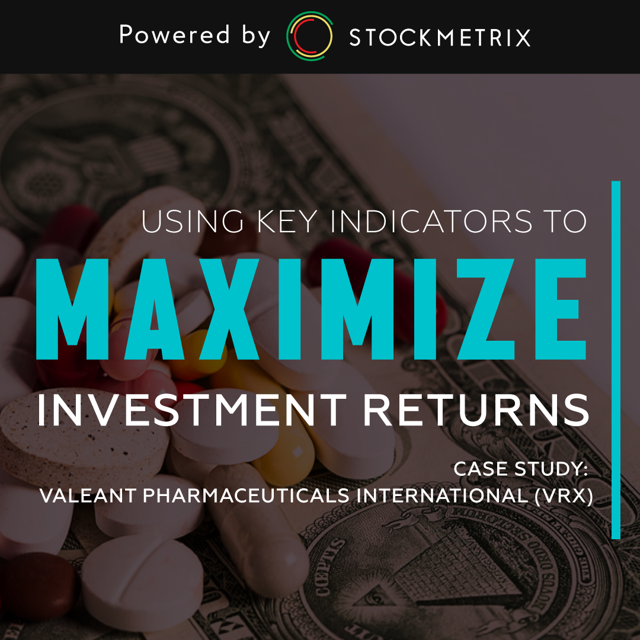 If you want to make a decent profit from your stock market activity, it's important to understand the market at a slightly deeper level. We always find that using case studies to explore more complex stock market activity really helps bring the concepts to life. That's why this article will focus on Valeant Pharmaceuticals International (VRX) - a multinational specialty pharmaceutical company based in Laval, Canada.
Let's take a quick look at some facts to give some context. VRX's main products include drugs in the fields of dermatology, neurology, and infectious disease. As of 2017, their net income was USD$2.404bn and their total equity was USD$5.849bn.
VRX is a major fixture on the stock market, so how can the average Joe make a profit by investing in this company?
Identifying Stock Activity Indicators
At StockMetrix, we firmly recognise the value of key indicators to predict stock performance. We previously talked about this in a post on making a profit by investing in Snap, and now we have identified two indicators that you're going to want to know about.
When we used these two indicators, our backtest results gave an impressive 22.10% annual return, which beats the market hands down. This is also a good result when we consider that a Buy and Hold strategy would have given just 11.8% annual return (all compounded).
So, let's take a closer look at the two indicators to understand how it works.
The first is the intrinsic value model Median P/S (Price/Sales). This measures a company's intrinsic equity value by calculating the company's P/S ratios for the previous decade where the intrinsic value is equal to the P/S value multiplied by revenue (the trailing twelve months or TTM).
How the Macroeconomic Indicator works
The second indicator is the performance of Macroeconomic indicator called NFIB business optimism index in relation to its future estimates. This Index is a composite of ten seasonally adjusted components calculated based on the answers of around 620 NFIB members.
The questions cover a broad range of factors and performance indicators including plans to increase employment, make capital outlays and raise inventories. Members were also asked questions that gave more context to the situation and created a tailored testing model for the most accurate results. This included questions on expectations for improvements in the economy and higher real sales, as well as their current inventory and job openings, expectations for better credit conditions, a better time to expand, and earnings trends.
The estimate for this indicator is released well in advance of the actual value. When actual indicator value beats the estimates, i.e., performs better than the estimate, it is a positive sign for stock market. On the other hand, when actual indicator misses estimates, it's is a negative sign that can bring stock prices down.
Testing the Combined Signal of our Two Indicators
We used the StockMetrix app to backtest the combined signal of these two indicators on Valeant Pharmaceuticals stock. 36% weighting was given to the Median P/S Model and the remaining 64% allocated to the NFIB business optimism index. As we mentioned earlier in the post, this backtest gave a strong 22.10% annual return across a trading simulation period of 10 years (from 06.22.08 - 06.22.18).
In more accessible terms, this is the equivalent to an initial investment of USD$100.00K and a final investment of 1.05m USD, and a net gain of 947.28k USD.
What the Results mean for Investors
The current VRX stock price should be around 108.74 USD (according to the Media P/S model). The current stock price is actually closed at 24.7 yesterday. As you can see, the current stock price is much lower than the stock price value given by Media P/S model. This means it has the potential to considerably increase. When we look at the investment opportunity with a wider lens and using what we have learned about the NFIB business optimism index for context, things are certainly looking positive for investments into VRX. The most recently released Redbook index reported 107.8 index points - the highest it has ever reached, beating its estimate in the latest quarter.
Conclusion
Now that you've read this guide, you should understand how to use the StockMetrix app and its super-sophisticated technology to deepen your understanding of stock market activity and increase the possibility of maximising your profits.
Both of the indicators outlined above are readily available in the StockMetrix app. No calculations are required on your part and you can use it free of charge on any USA listed stocks. This makes it super-easy to use for everyone from first-time to old-school investors who are seeking an intelligent way to support their investment activity and make the highest possible returns.
Disclosure:
I have no interest in any stocks mentioned, and no holdings in those companies. This article presents only my opinions. I am not receiving compensation for it. I am not in any way associated with any company mentioned in this article.
Disclosure: I/we have no positions in any stocks mentioned, and no plans to initiate any positions within the next 72 hours.