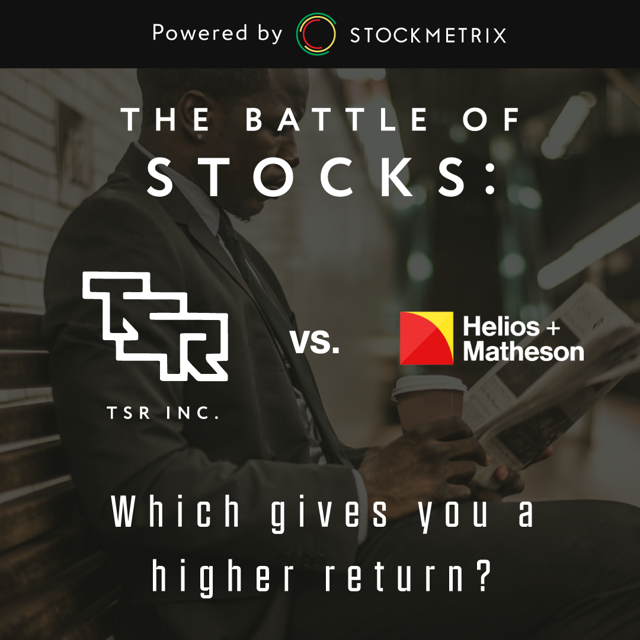 Moviepass seemed like a deal that was too good to be true. For a low monthly fee, subscribers could get unlimited tickets to first-run screenings. The intention being that with all the data collected from the users, Helios & Matheson believed they could monetize their information. As the company flirts with bankruptcy, they spend each day hemorrhaging cash.
Compare that to TSR Inc. The little-known company recently made headlines when the Hughes family, which own 41.8% stock in the company, asked them to pursue a sale. The contract computer company based out of Hauppauge, New York provides staffing for IT areas. When you compare the two companies, which would you rather consider for an investment?
Fundamental Comparison: TSRI Wins
It probably comes as no surprise that TSR Inc. dominates Helios & Matheson on nearly every fundamental level. Helios & Matheson has no earnings to speak of during most of its history, negative return on assets, equity, and capital, negative operating margin, and pretty much everything else. However, on a quarter over quarter basis they are at least showing some signs of improvement with positive ROE and ROI ratios. The one thing that they do boast is significant and growing revenue. The only problem is that their operating income is going negative nearly as fast.
On the other hand, TSR Inc. has shown slow, but steady improvements in their operating incomes and margins over time. They maintain a positive free cash flow, and actually have earnings to speak of. The one major downside is their return on investment and interest coverage ratios, which declined quarter over quarter. Additionally, the company hasn't really shown any legs to grow its top line.
Technical Comparison: TSRI Wins

Helios & Matheson's chart is about as bad a chart as exists. The stock at or near its all-time lows, and is effectively priced for bankruptcy. Consequently, due to high volume from low share prices, as well as high new coverage, technical indicators become somewhat ineffective down at the lower price levels. Small positive changes can cause wild swings in indicators, and can't reliably be used to provide prognostication.

With TSR Inc. the recent news regarding the Hughes family asking for the sale of the company, share prices shot up nearly double overnight. The wild price action threw most technical indicators out of whack, leaving their utility for the forecasting fairly diminished in the near term. However, whether the company will agree and at what level they can reasonably expect to get a sale remains to be seen.
Sentiment & Popularity
Helios & Matheson dominates the news cycles nearly every week. Conversely, you have to scour the far reaches of the internet to find any information on TSR Inc. If institutions own shares in Helios & Matheson at this point it's likely due to a lack of liquidity, or simply a bet that the company won't go belly up. However, any news event big or small can send the stock swinging wildly on a percentage basis.
Interestingly, TSR Inc. has one family that represents their largest stakeholders, though they are not a majority shareholder. While more common in smaller businesses, it's still fairly unusual to see such concentration of holdings to one entity or group. Because of the clout they hold when they send a letter asking for the board to pursue a sale, they hold a substantial amount of power to persuade them to do so. Keep an eye out for updates on the stock because even though they may be few and far between, their importance is likely extremely high.
And The Winner Is…TSRI
If you want to bet day to day on a double in a penny stock or have some reason to believe that any amount of intrinsic value exists in Helios & Matheson, you could see the stock take swings in multiples of itself quickly. But, from a fundamental and technical standpoint, no one should be within 10 feet of this disaster.
TSR Inc. can be evaluated in two ways. First, if you believe that they will pursue a sale, then analyzing what price they will sell at per share will allow you to determine whether to invest short or long. The second is to analyze whether the company will pursue the sale or not. Determining the likely outcome can help you decide whether to play the company from the long or short side.
Disclosure:
I have no interest in any stocks mentioned, and no holdings in those companies. This article presents only my opinions. I am not receiving compensation for it. I am not in any way associated with any company mentioned in this article.
Disclosure: I/we have no positions in any stocks mentioned, and no plans to initiate any positions within the next 72 hours.