With a 1-star rating from Morningstar, and a -0.13% SEC yield it's hard to imagine why anyone would invest in BIZD. Miraculously, they have a small $180MM in assets, generating $17.4MM in expense fees to Vaneck Associates annually. Any broker who has facilitated a trade on behalf of a client for BIZD should lose their Series 7 & related licenses immediately as there is no circumstance where a licensed professional should see this in a client's best interest.
The ETF is a passive strategy that tracks the "VanEck Vectors US Business Development Companies Index" that has only 27 holdings, see below: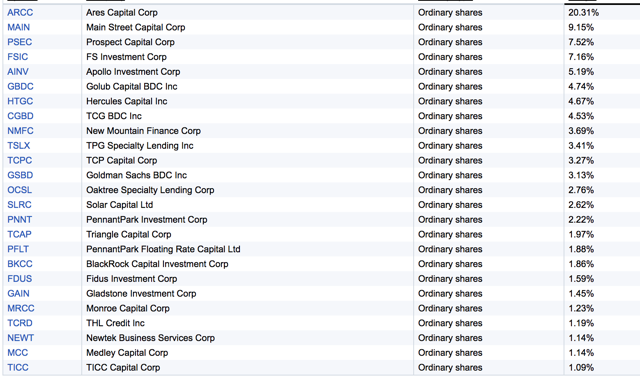 Source: Fidelity Investments
The companies held are typically high yielding, and overall the strategy appears fine, but with expense fees of this nature it is blatantly misleading investors - particularly the elderly. Fortunately, ETF's like this are vulnerable to arbitrage, and that's exactly what we have done.
We are long their underlying index and short BIZD. This is an ETF that deserves to be arbitraged to death, or restructured to have fees which don't take advantage of the elderly, which is the reason we are now publicly disclosing the position. We believe this long/short presents an opportunity to profit from those who have preyed on the elderly and should be ashamed of themselves.
Disclosure: I am/we are short BIZD.
Additional disclosure: We are long all underlying index of BIZD, in exact proportions to BIZD's holdings.