Late filings of SEC forms are generally not a good sign. SMCI was issued a non-compliance notice in regards to a late filing of 10-Q and 10-K. From our research, we believe there is a high probability of revenue statement manipulation. Because of this probability, we are short on SMCI, and believe their relatively good looking financial statements cannot be trusted. We are urging SMCI to provide full transparency to shareholders to show their true financial statements so the public can make a proper decision on their holdings. We are urging institutional investors of SMCI to consider potential risks of holding long positions in SMCI given the allegations.
Numerous Law Firms have been Investigating
Seen below are a few of the law firms that are investigating and suing SMCI for false and misleading activity. We strongly urge shareholders who have suffered losses from SMCI to contact a law firm and exercise your rights. Should SMCI be proven guilty of accounting fraud, even after selling, you may be eligible to enter a class action suit.
Bronstein, Gewirtz & Grossman, LLC
Beneish M-Score Indicates Accounting Manipulation
The Beneish M-Score has been a popular metric for targeting potential accounting manipulators. SMCI has a Beneish M-Score of -1.47, indicating a high probability of manipulation. Scores above -1.78 suggest likelyhood of manipulation. For more details on the Beneish M-Score, this article on SeekingAlpha does a good job of explaining the factors involved.
To point out the obvious, accounting manipulation is used to make some factor of a company look better on paper than it is in reality. The most common culprits here are of course EPS and Revenue mis-statements, both of which analysts set high pressure targets for.
Of the Beneish M-Score factors, a few stood out as major red flags:
The most common way to manipulate revenues is accelerating (or falsifying) accounts receivable notes, which go into revenues. Comparing the ratio of accounts receivable to overall revenues from 2016 to 2017, there is a significant 50% jump:
(Recievables_17/Revenue_17)/(Recievables_16/Revenue_16)
= 1.49
Yet sales growth only increased by 14% from 2016 to 2017.
Comparing the ratio of gross profits/revenues between 2016 and 2017:
(Gross Profit_16/Revenue_16)/(Grossprofit_17/Revenue_17)
= 1.05
So in 2017 gross profits relative to revenue has decreased by 5%, indicating either a lack of efficiency in cost control or overstatement of revenues.
Looking at The Balance Sheet
Looking at SMCI's historical data, revenue growth appears impressive - smooth and consistent growth averaging 24.1%/y since 2003:

Source: GuruFocus
Historical EPS growth has been more volatile, and averaging 18.2%/y growth since 2003:

Source: Gurufocus
Revenue growth has been eerily smooth and consistent, and of course is one of the most popular items on a balance sheet to manipulate, e.g. by accelerating or over-reporting revenues. To gauge likelyhood of manipulation here, we now compare the rate of change of Revenue/Assets to the rate of change of ROIC%: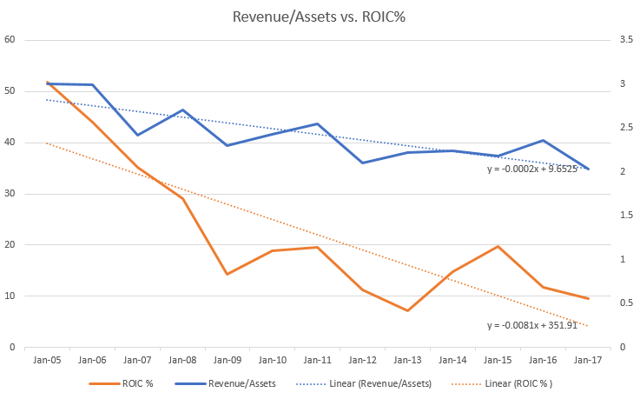 This may appear to be an abnormal comparison, since ROIC% and Revenue are somewhat independent of eachother:
ROIC = Operating Profit/Capital Invested
Operating Profit = Revenue - Expenses
Capital Invested (leads to) Asset accumulation net of depreciation.
When a company makes a capital investment, this is treated as a capital expenditure (not an expense) and therefore ends up on the balance sheet as an asset and doesn't net out from operating profits. Ideally, having more capital expenditure such as equipment to manufacture more goods is done to meet a demand for more customers, and shareholders would expect revenues to increase.
As seen in the graph above, Revenues/Assets decreases slightly from ~3x in 2005 to ~2x in 2017, a 33% decline. But ROIC% decreases substantially more, at ~40 in 2005 to ~5 in 2017, a 87% decline. The company appears to be generating a reasonable amount of revenue but from their investments, but ROIC is declining at a substantially higher rate. The obvious conclusion to this would be a significant increase in expenses, but this is hardly the case: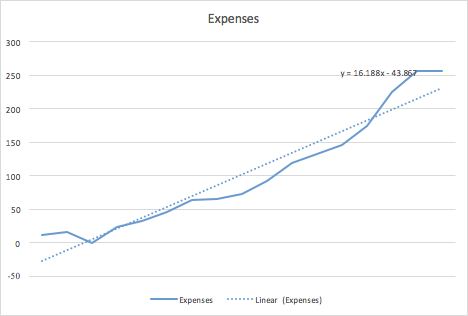 Expenses have increased, but at a linear rate. Revenues have increased, but at an exponential rate. Of the common accounting manipulation tricks, let's compare what we would expect:
1. Capitalizing what should have been expensed: This would explain the low expense growth rate, and would also drag down their Revenues/Asset ratio and ROIC proportionally. Not observed, as ROIC falls significantly more than Revenues/Assets.
2. Delaying or Understating of Expenditures: This would help the ROIC value by boosting profits, but not the Revenue/Asset value as this would remain unaffected. Also not observed.
3. Accelerating or Overstating Revenues: This would cause Revenues/Assets to appear significantly better than ROIC for a continuous period of time. This was observed.
We find the most likely case of accounting manipulation, to be acceleration or overstatement of revenues. The revenue growth trendline appears to have a significant degree of control with little volatility, and this thesis matches well with the data supplied above.
Conclusion
With the abnormal delayed filings, and suspicious revenue profiles relative to capital and standard expenditure we believe there is a significant probability of SMCI engaging in revenue manipulation to meet analyst targets they were not able to obtain by overstating revenues in accounts receivable. Baenish M-Score's has hovered in the 'manipulator' range since 2013. If found to be true, class action lawsuits will be won, shareholders will lose trust in SMCI, and their stock price stands to fall substantially as they will be forced to alter their balance sheet to reflect the reality of their revenue growths.
For this reason, we are short SMCI.
Disclosure: I am/we are short SMCI.