Simple Valuation Exercise On CVM
Please Note: Blog posts are not selected, edited or screened by Seeking Alpha editors.
Summary
Valuation based on US/EU market only. Multikine on H&N indication only.
Simple valuation at $7bn ($140 per share) with 7 years of exclusivity.
$10bn ($200 per share) valuation in an acquisition case is justified.
Blue sky case would be even higher -- subject to pricing, efficacy, affordability, policy, exclusivity period and etc.
There has been an increased discussion on CVM as we are drawing close to the data announcement.
Firstly, allow me to pay tributes to Sushi, Frugal Norwegian, Fosco and other CVM community members who have contributed a lot.
I am a newer CVM investor comparing to many of those who have been with the firm for over a decade or two.
I have done a basic modelling/rNPV on CVM (Multikine only). By all means, they are basic and some of those assumptions can be further improved in terms of accuracy. Feel free to comment and I can change the assumptions to see how it goes. 
Market Exclusivity
Patent expiry in 2023 for US, Germany 2025, China 2024, Japan 2025 (Ref. 10K 2019), EU 2026 and etc. Although the manufacturing is said to be a trade secret, it's not patent protected.
Having said that, Multikine will be give 7 years of exclusivity under Orphan Drug Exclusivity (ODE). (FDA.gov)
A general rule of 10 years should be sufficient here.
Pricing
Geert did mention in the past that the price would be around $100k.
Note that SOC costs around $212k (https://doi.org/10.1177/0194599820921401), Blincyto (BiTE therapy costs $178k), Keytuda $150k, Opdivo $170k and CAR-T is at the higher end with Kymriah at $475k and Yescarta at $373k.
In this instance, $100k is probably a good price to charge as a drug to use ahead of SOC.
Incidence
You can find loads of information on Cacner.org, CVM presentations, different foundations.
I'll just take there will be 60k per year for H&N cancer in the US annually, 105k in the EU annually. RoW market are a bonus to CVM. Different countries have different pricing mechanism, reimbursement policies, approval process etc.
For a conservative estimate, I have only included US+EU in to the model. Say FDA approval in 2021, and EMA in 2022.
Penetration rate
Now, this is a difficult topic. This is the part I need some advice on.
It is supposed to be used for everyone if this improves a patent's survival rate.
Below are the criteria of inclusion on the Multikine Phase 3 trial (clinicaltrials.gov)
Untreated SCCHN of oral cavity/soft palate, categories T1N1-2M0,T2N1-2M0,T3N0-2M0,T4N0-2M0 (T4 allowed only if invasion of mandible is negligible) scheduled for SOC
Primary tumor and any positive node(S)measurable in 2 dimensions
normal immune function
no immunosuppressives with 1 year
KPS>70
Age>18
Male or Female (non-pregnant)
Life expectancy >6mo.
Able to take oral medication
Able to provide informed consent
Technically speaking 90.5%+ of the patients have a life expectancy of +6 months for H&N patients (10.1371/journal.pone.0223154).
Apart from the criteria above, there are also concerns on affordability, availability, specific situations with different patients and etc.
In this case, peak penetration rate is set to be 40% with a take up rate 30% initially and ramping up to 100% of the peak penetration in 4 years' time.
Costs:
Manufacturing should be relatively cheap. CAR-T can do semi-automatic manufacturing nowadays with 10% sales as COGS or even lower. Multikine can do the same. Also reference to other cancer drugs. 10% should be manageable.
Conclusion and final thoughts
Here is the screenshot of it.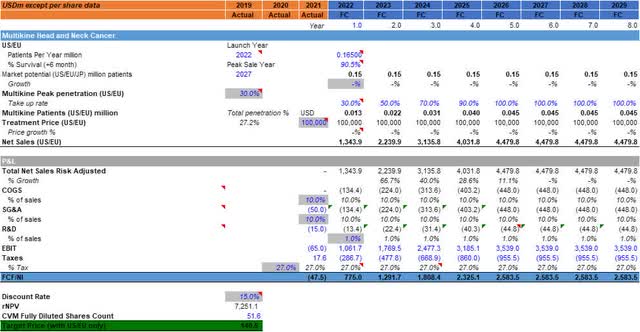 Discount rate of 15% per biostrat.dk on late stage biotech company (range 9% to 20%)
In my opinion, if the drug is approved, the model gives a USD 7bn valuation for a 7-year period of exclusivity (until 2029), which gives a share price of around $140.
This model is based on the assumptions above which only includes the US and EU market. There is only more upside going forward. (Japan is about 1/3 of US population, China has a much larger market but much lower affordability and lower pricing points. However, these markets should give Multikine another half of the US/EU's value, at around $3.5bn, resulting a total of $10.5bn or $200 ps)
Obviously, there are a lot of variables here. For instance, a better Phase 3 results would certainly increase the peak penetration rate and perhaps the price as well. A sensitivity table is made to see the changes of price, peak penetration and share price.

Finally, this is based on only one product and one indication – Head and Neck cancer. If Multikine can be extended to other indications, CVM would be worth more and also if LEAPS can produce some results, there is more upside. For the time being, we can leave that out.
After running this little exercise, it's clear to me that an acquisition case of $10bn (or $200 ps) is actually justified.
Analyst's Disclosure: I am/we are long CVM.
Seeking Alpha's Disclosure: Past performance is no guarantee of future results. No recommendation or advice is being given as to whether any investment is suitable for a particular investor. Any views or opinions expressed above may not reflect those of Seeking Alpha as a whole. Seeking Alpha is not a licensed securities dealer, broker or US investment adviser or investment bank. Our analysts are third party authors that include both professional investors and individual investors who may not be licensed or certified by any institute or regulatory body.