Hubspot showing sustained decrease in revenue growth rate
Below are key financial results measures for Hubspot Inc over the last 4 years obtained from that company's website financial reports like 10-K, 10-Q filed with SEC. So, hopefully they are telling the truth at the surface level about their revenues, because of the inherent weaknesses in so-called external auditing (read their acknowledgement on page 57 of Annual Report)
Figure below shows that revenue growth rate measured both at an annual change basis (last column) and as a quarter-over-sequential quarter (second last column) has continued to decline.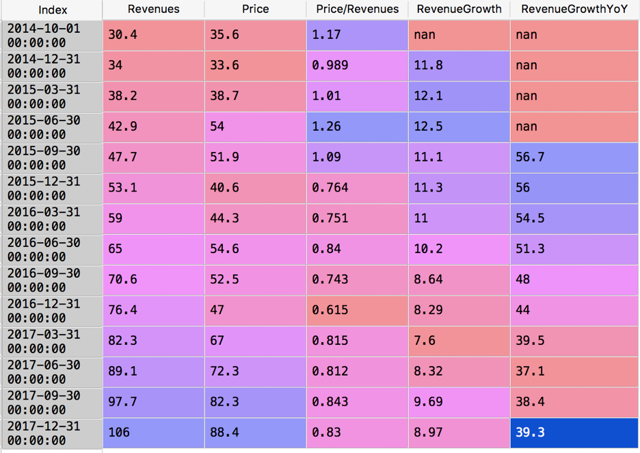 Revenue growth rate at Hubspot Inc. has continued to decline from Sep 2015 at 57% annually to 39% at Dec 2017. The year over year revenue growth rate has plateaued to around 39% when reported each quarter for 2017. Quarterly growth rate has gone down from 9.69% to 8.97%
With the business maturing in revenue growth, Hubspot has now resorted to dressing up its financials to look prettier. Of the seven very-well known financial shenanigans a CFO can resort to when the business is declining, the first and most used is to indulge in "Recording revenue too soon" Financial Shenanigans was written by Howard Schilit after the era of Internet stock pump and dump from 1999 – 2002, and when Worldcom and Enron frauds came to light causing investors to lose their shirt. The main objective of these financial shenanigans was to show ways companies do alter their financial accounting reports to reflect a much attractive appearance of their company's health and growth when that company is instead running into severe trouble and about to hit a ceiling and come crashing down. There are different ways the company can accomplish this and Schilit gave us "Seven Shenanigans" that companies use deliberately to misguide the investor's point of view towards the performance of the company. 
So, how is Hubspot going about recording revenue too soon. Well they have started increasing the deferred revenue on their books. Reading Hubspot's FY17 annual report page 37 shows its balance sheet has worsened in last 12 months: deferred revenue has jumped from $96mm to $139mm. They say:
All subscription fees that are billed in advance of service are recorded in deferred revenue. Subscription based revenue is recognized net of consideration paid to Partners when the Partner purchases the subscription directly from us, as in these instances our customer is the Partner and our remaining obligations are to the Partner.
So, over 2017, this firm has essentially been stuffing its sales channel and this shows up as an increase in deferred revenue. Deferred revenue refers to payments received in advance for services which have not yet been performed or goods which have not yet been delivered. These revenues are classified on the company's balance sheet as a liability and not as an asset. So, $139 - $96 mm or $43 mm have been just vaporware revenues for Hubspot. That revenue may not be realized at all but it has been recorded to mislead and show a continuing revenue growth rate for this business and tricking uninformed investors who simply focus on increasing revenue figure rather than digging deeper into its financial statements. By channel stuffing, Hubspot is giving the illusion of more revenue than previous quarter, whereas it might not be able to collect on that revenue.
Despite the apparent increase in revenues this quarter Q4, 2017, their net loss has not decreased commensurately, so the business is burning cash more now than three months back.
Hubspot balance sheet has become very precarious in 2017
Over the last 12mos $HUBS balance sheet leverage has increased much more to a precarious level.  Annual report page 31 says: "We incurred indebtedness in the aggregate principal amount of $400.0 million in connection with the issuance of our 0.25% convertible senior notes" So, over 2017, Hubspot added NEW debt by way of convertible bonds and increased deferred revenue, and its Total liabilities jumped from $141mm (Dec 2016) to $502mm (Dec 2017) shown on page 37 of its Annual Report
Adding so much debt has made the stock price much more prone to going down. It admits on page 29 of its AR that "Servicing our debt may require a significant amount of cash. We may not have sufficient cash flow from our business to pay our indebtedness , and we may not have the ability to raise the funds necessary to settle for cash conversions of the 2022 Notes or to repurchase the 2022 Notes for cash upon a fundamental change, which could adversely affect our business and results of operations"
 Financial academia has documented evidence over decades of research that issuance of convertible bond debt is a clear, unmistakable negative signal that corporate managers/insiders believe their own stock is overvalued. Read  Why do firms issue convertible bonds? Evidence from the field  http://cfr.ivo-welch.info/readers/2017/dong-dutordoir-veld.pdf
They issue convertible bonds instead of straight equity to raise capital simply because they want to raise the capital through backdoor equity financing, hoping to not scare the market about the impending massive $400 million dilution in equity that'll happen when those convertible notes convert to stock. However, this massive equity dilution is now baked in the cake of this business and will tank the stock price further sometime in the future when the stock price momentum cools down and investors start evaluation its valuation metrics more.
By piling on $400mm of convertible bond debt, the business will also need to follow FASB accounting regulations for convertible bonds that require Hubspot to report additional lower net income or higher net loss in their financial results (they admit it on page 32 of their Annual Report)
2018 is the year when long-term interest rates are projected to rise dramatically, going to maybe 4% on the benchmark 10 year Treasury rate. Such an increase in interest rates will dramatically reduce the stock price because of higher interest expense and increased carrying cost of the convertible debt on its balance sheet
 Hubspot insider ownership gone down dramatically in 2017
Insider ownership of the stock has gone from 44% in 5/2017 to 6% in 2/2018 as the corporate insiders have cashed out of their stock ownership knowing the stock is more than fully valued. Now it is outsider lemmings that are holding on to the bag, buying the stock on the 'greater fool theory', ie price momentum will continue, so if they buy it at 104, they can sell it to another fool at 110, so long as Wall street banks keep talking only the positives and increasing the price target without mentioning the gross overvaluation.
Balance between revenue growth and valuation
Early stage growth companies used to be valued mainly on their revenue growth rate, and not their raw increase in revenues, so strictly quoting its valuation using Price/Revenue masks its overvaluation problems because the price target keeps getting raised higher by BofaML as soon as revenue rises, without someone bringing your attention to its overvaluation. If stock research analysts for Hubspot were bound by CFA code of ethics, they would not blithely increase price targets and be CFA ethics code-bound when making statements in their research reports. But, I guess BofAML and Morgan Stanley can't help avoid their conflict of interest in having taken this stock public and being a market-maker in this stock
BofAML research report of Feb 2018 does admit to a possible future P/E of 388 (if and when the stock actually has an E (earnings)) !! So, the stock is priced to perfection, and could easily be deci-mated (Greek deci means to make one-tenth) in price to $10.5 and still be richly valued with a future, projected P/E of 38.8 if it ever sports any earnings
This stock is a screaming strong sell when evaluated by digging deep dispassionately into its financial statements. However, a price runup has happened from mid-2016 to Feb 2018 because of unscrupulous research analysts such as at BofAML and Morgan Stanley, so they can corruptly support their HUBS client and earn their compensation bonuses. Reminds me of Henry Blodget and Jack Grubman and their 1999-2000 pump and dump schemes all over again :) Remember, Grubman was pumping Worldcom stock he owned even 2 days before it declared bankruptcy and he had not even passed the simplest Series 7 stock brokers test, as was revealed in later SEC investigations. Such is the pathetic state of Wall Street stock 'anaysts' :(
Conclusion:
Rapidly maturing business does not deserve ever higher valuations being given by unprofessional sell-side bank research analysts by way of increasing PT to round numbers without justifying the balance between valuation and growth in its sales metrics.
Price targets being unethically raised by sell-side Wall Street firms to support their insider ownership and market making operations
Over the second half of 2017, Hubspot has become over-leveraged and a disaster waiting to happen in its stock price with insiders having cashed out of their concern for their stock and financials being dressed up to look good.
This stock will have the same pump-and-dump fate as did internet IPOs of 1999-2002 era, caused once again by investors chasing a rising price line and unscrupulous sell-side research analysts fanning the flames leading lemmings into a greater fool theory for continuing price increase
Investors should evaluate the overvaluation of HUBS with the eye of an intelligent investor like Warren Buffet as in the long-run the stock market is a weighing machine while in the short-run it is a voting machine
The best way to trade HUBS is to sell it short now when it is at a $105 and enjoy a great return as its valuation comes down to $50 a share within a few months.
Disclosure: I/we have no positions in any stocks mentioned, and no plans to initiate any positions within the next 72 hours.