Early each morning, I scan and synthesize market-moving news. I look at macro themes, currency moves and global economic indicators that support or challenge my thinking on the Big Picture and help me take the mood of the market. I like to assemble these data points and turn them into context for my clients. While surveying the market landscape, I am also actively looking for new momentum and value trades for my Live Trading Room and some may even make it into my Live Portfolio, Brokerage-Triggered, Trade Alerts! To catch all the live trading action, join me 9:00am - 12:00pm ET every trading day. I look forward to fishing with you!
Market Thoughts
Today was a perfect example of how Headlines are manipulated for supportive of markets' advance. Treasury Secretary Steve Mnuchin talked up how well US-China talks are going ("90% completed" after just last month in May saying they were "95% done"). At the SAME TIME, news hit of a series of Fed comments trimming hopes of a big July rate cut!
Markets chopped from open to close while Bitcoin stampeded higher intraday and then was whipsawed in afterhours. including a power outage at Coinbank (reminiscent of Last Winter when sellers couldn't exit at highs due to 'technical difficulties'). Micron (MU) did have a decent earnings report which helped chip stocks – we chased at open in my live trading room along with Overstock – but other than Oil running 4% on a large inventory draw (largest since 2016), there was very little range after SPX gapped up 15 pts (only to later fade end of day).
Thursday we get the final US GDP print, Jobless Claims, PCE QoQ and Pending Home Sales (MOM). Let's see if 'bad news is good news' or more likely, 'bad news is bad news since market has already priced in 100% chance of July rate cut.
Trade War News and Such
And you thought Brexit was on holiday!
'Do or die' Brexit Boris Johnson has toughened his Brexit rhetoric with a "do or die" pledge to leave the European Union on Oct. 31. He then said he would scrap Theresa May's withdrawal agreement and seek a completely new deal before then, as minor changes would not satisfy him. Not only has the EU said it will not reopen the withdrawal agreement, but the timetable would be extremely tight as parliament is in recess over the summer. Seeking Alpha
And I bet you thought Mueller was done too!!
Robert Mueller will appear before House lawmakers on July 17 to answer questions about his Russia report, setting up what may be one of the most dramatic hearings of the Trump presidency. He agreed to testify before the Judiciary and Intelligence panels under subpoenas. "Presidential Harassment!," Trump tweeted.
Oh, And did you really think American Tech companies wouldn't find a way to sell to Huawei?!
U.S. technology companies have resumed selling certain products to Huawei Technologies Co. that comes down to a loophole based on how "American" American tech companies are,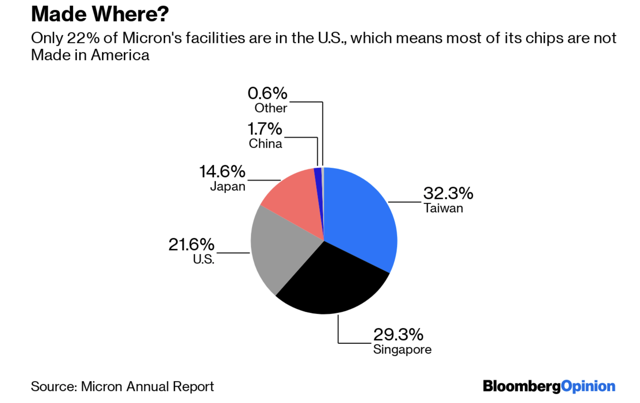 ---
Stocks of Interest in the News
MU – reported pre-market sending shares up 10% with an additional 3.3% rise from open.

Stronger-than-expected earnings from Micron Technologies (NASDAQ:MU) helped boost investing sentiment overnight as the semiconducter maker stuck to its forecast of a second half rebound in the memory chip market and resumed shipments to Huawei,
TSN – looks like a nice short on the weekly and now I understand why (note sympathy plays PPC, SAFM)

Chicken producers on watch as price-fixing case gets more serious
AVGO – 'antitrust' fears are either delayed or investors were distracted chasing Bitcoin as stock was in the green today.

EU antitrust authorities are investigating Broadcom. Competition regulators are examining whether the chipmaker uses exclusivity restrictions to block rivals
TSLA – has Yuge put buying today…$6.6M premium purchased in July $215P and another traunch of $6M for August $220P, not to mention serious size puts for this week.

TSLA has forecast it will deliver 90,000 to 100,000 cars in Q2 after handing over just 63,000 vehicles to customers in the first three months of the year. Shares have slumped 34% YTD, in part due to demand concerns that Musk has repeatedly downplayed.
Macro Matters
Market Perception Meet Reality
The Fed finally gave in to the idea of rate cuts – one or two for next year anyway – that's2020 NOT July!
When you start out (late 2018) thinking robust economy and several rate hikes only then within weeks to shift to a Fed "pause" and then a few months later rate cuts but next year to a month further debating whether a 25 bps or 50 bps one to start with in July, things must be going sour very quickly.

Rate cuts are not going to be insurance; they are the alarm bells.Jeff Snider, The Speed Of Sour: LIBOR Now Inverted, Too
What about the value/weaponization of the USD?
A dollar that perpetually depreciates would mean faster inflation with higher interest rates to follow, and it would probably only happen as a result of a serious economic slowdown. A weaker dollar is no kind of long-term solution to the worries about global growth, but for the next few months, it could make all those problems much easier to ignore and allow for one last U.S. gasp in the bull market in stocks. John Authers
---
Economic Data Disappoints
Durable goods orders this morning fell -1.3% versus expectations of a -1.00% fall. The laggards were planes and autos and if you strip those out, orders actually rose by 0.3%.
Orders for U.S. durable goods fell in May for the third time in four months, held down by a canceled deal for Boeing's troubled 737 Max jet. Yet business investment perked up in a somewhat reassuring sign that companies haven't frozen spending amid a tense trade fight with China and signs of a slower U.S. economy. Orders for long-lasting goods slid 1.3% last month, the government said Wednesday. Economists polled by MarketWatch had forecast a 1% decline. Orders in April were also weaker than initially reported. Yet if cars and planes are stripped out, orders actually rose 0.3% in April to break a string of three declines in a row. Transportation often exaggerates the ups and downs in orders because of lumpy demand from one month to the next.

Orders for commercial aircraft sank 28% in May. Boeing canceled a large order of Max planes destined for India after a struggling carrier ceased operations. The company has received barely any orders since Max flights were suspended globally after a pair of deadly crashes earlier this year. Orders for autos rose 0.6% in May. Orders also increased for heavy machinery, primary metals, computers and networking gear.
Core Capex Orders came in better than expected, a potentially good sign about business investment. However, the pace of investment is still quite weak overall: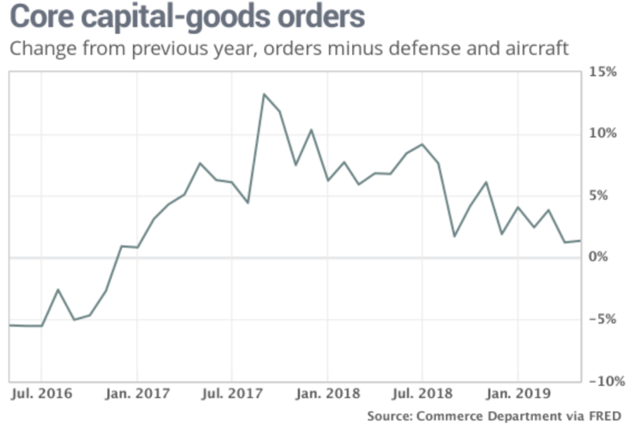 The Advanced Trade in Goods report showed a wider than expected trade deficit for May. That higher deficit could be a drag on growth in the second half of the year.
Marketwatch notes: An early look at U.S. trade patterns in May points to a wider-than-expected trade deficit. The advance trade deficit in goods widened 5.1% to $74.5 billion, according to the Commerce Department. The government's advance report on wholesale inventories showed a 0.4% rise in May. And advanced retail inventories increased 0.5%. Nonauto retail inventories were up 0.3%. The advance report includes trade in goods but not services. The full report will be released on July 3. The U.S. historically runs a surplus in services surplus that does not fluctuate widely from month-to-month.

What happened: Both imports and exports rose in May, but imports rose at a faster pace. The 3.7% gain in imports was led by autos and industrial supplies. Exports growth of 3% was led by food and consumer goods.

Big picture: The surprisingly larger May trade deficit will be a modest drag on second-quarter GDP. A larger deficit is a negative for U.S. economic growth.
---
U.S./CHINA TRADE WAR has effectively brought global trade growth to a halt with biggest slide in volumes since the Great Recession: John Kemp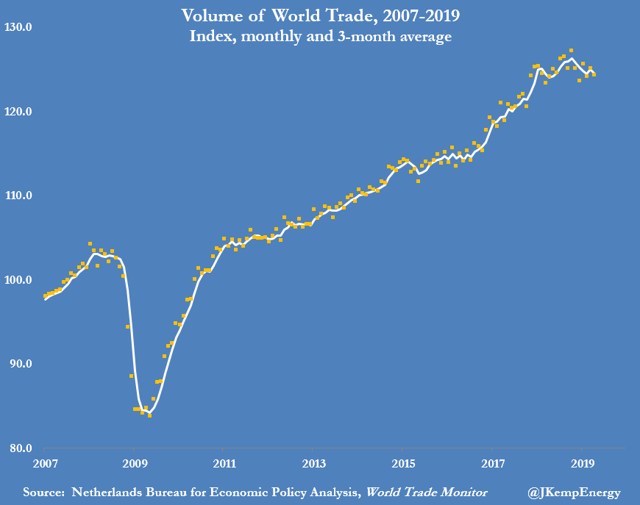 Thanks for reading and please consider joining me in my LIVE Trading Room where I take macro and market-moving news, give it context, and work through Value and Momentum trade ideas and set ups every trading day! For additional education, I provide my LIVE Trade Alerts from Interactive Brokers and my Gone Fishing Newsletter.
---
At LaDucTrading, Samantha LaDuc leads the analysis, education and trading services. She analyzes price patterns and inter-market relationships across stocks, commodities, currencies and interest rates; develops macro investment themes to identify tactical trading opportunities; and employs strategic technical analysis to deliver high conviction stock, sector and market calls. In addition to running a LIVE Trading Room, Samantha offers her Macro-to-Micro trade set ups through a LIVE Portfolio (across multiple time-frames) with Real-Time, Brokerage-Triggered Trade Alerts (sent via SMS/email/Web). Every trade has a Time-frame, Thesis, Trigger, Entry/Stop/Profit Price based on the underlying asset as well as Option Tactic. Samantha excels in chart pattern recognition, volatility insight with some big-picture macro perspective thrown in. Follow her on Twitter: More Macro: @SamanthaLaDuc More Micro: @LaDucTrading
---
Important Disclosure: LaDuc Trading/LaDuc Capital LLC Is Not a Financial Advisor, RIA or Broker/Dealer. Trading Stocks, Options, Futures and Forex includes significant financial risk. We teach and inform. You enter trades at your own risk. Learn more.