US equities progressed without significant pullbacks during the past few weeks. This is typical price action for 3rd waves. However, the market reached a junction that should see further strong and committed price action to the upside if we are dealing here indeed with a 3rd wave and not something different. Not seeing that most likely means that the swing up fades into a bigger correction soon. Momentum is picking up on the daily scales, which may indeed signal that the rally continues within the yellow trend channel.
Another couple of percent gains are highly likely and the black count suggests that US equities will pick up another all-time high during the next weeks. However, we are approaching a point where we have to take into account that we could be wrong with our forecast. It is good to know where we could be wrong and prepare for the consequences. The party to the upside could finish after another couple of percent already. This would be the case if we misinterpreted the wave structure. The consequence is being caught in a cyclical turn that eventually leads into a double-digit correction. That is a process, which takes multiple months and some emerging markets, Brazil and China most importantly, probably entered their respective correction already. Other risky assets will follow during this phase of a top building process.
Forecasting is about odds and we assigned very high odds to a sharp rally even if markets fail to reach a new all-time high back in February. Our call was confirmed by double-digit rallies among the major world indices. Forecasting new all-time highs at this very point means that indices are really getting stretched. Some indices even need false breakouts of multiyear trends at the current junction. That's not unusual and will happen on some indices. Others will fade into a correction. The key takeaway is that equity market risk increases along with the market ticking up.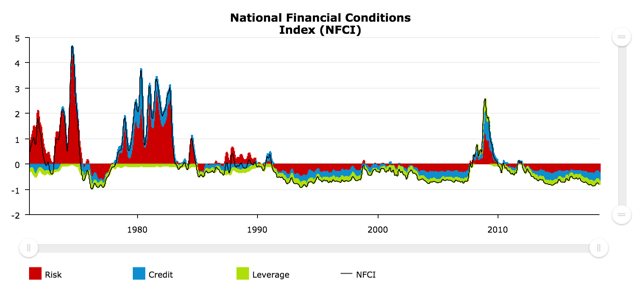 All in all, we observe constructive setups for more gains in US equities at this point. Liquidity and sentiment gauges appear constructive. Moreover, most major global equity indices look constructive as well. Past equity bear markets were signaled ahead by liquidity constraints. The National Financial Conditions Index issued by the Chicago Fed contracted for example ahead of the start of bear equity markets. That's not the case at this moment. Moreover, sentiment indicators are not sending over complacent signals, which are usually observed around major turning points. Last but not least, world indices look constructive for some followthrough. Especially the Japanese and Indian market do not look done to the upside. Europe is knocking on a breakout point as we publish this update. The bottom line is that those are tailwinds for another 10% or so to the upside. 
Therefore, we remain with our forecast of another all-time high and will reassess if the yellow trend channel gets penetrated convincingly to the downside.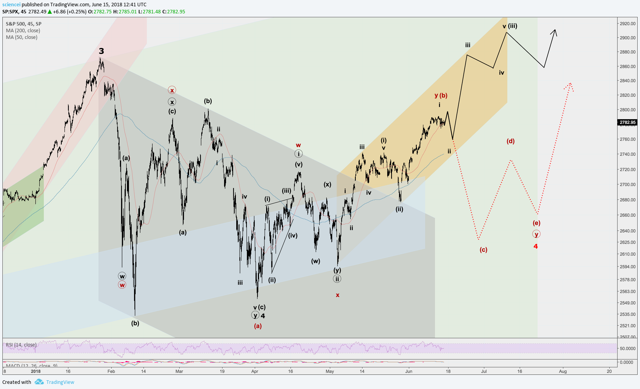 Disclosure: I am/we are long SPY, QQQ.