How I found Portofino Resources (POR.V)(TSXV:POR)
I recently discovered this company when reading a good article about Lithium Energi Exploration (LEXI) by Peter Epstein.

Chart date 11/1/17, Source: Sexy LEXI
I follow Epstein. He is the reason I became interested in NRG Metals, Lake Resources, and Lithium Energi Exploration. This list of his has evolved with successive articles. In reference to this list of companies, he says "These are specially screened companies that are heavily or entirely focused on lithium brine projects in Argentina." 
Notice the gains these companies have had since September 20th.

Chart date 9/20/17, Source: NRG jump

As of 11/2/17, Lithium Energi Exploration has gone up 80% and now has a 42m market cap. I made a quick chart to do the work for you.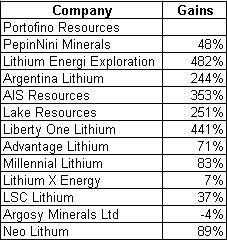 Notice how the biggest gains are biased to the smallest market cap companies. It is pretty incredible that this has happened in such a short period of time. Knowing how well the companies on Peter's list have performed, I was obviously anxious to learn about the newest addition, Portofino Resources.
Promising Property
Portofino is an early stage, Canadian lithium explorer. They have little news as you would expect from a miner with only a 1.4m market cap (11/2/17). Lately they have had a news release about every month, with the most recent release giving updates on their lithium prospects. They have two properties; one is approximately 3900 hectares (15 sq miles), the other is 1804 hectares (7 sq miles). They are a bit ambiguous on describing where they exactly are, they describe the location of the 1804 hectare area as follows "The claims encompass a combined 1,804 hectare claim block and are located within the world-class, Salar del Hombre Muerto, where FMC Lithium is currently producing lithium carbonate and Galaxy Resources is developing its Sal de Vida project." 
They describe the location of the 3900 hectare location as "located 10 kilometres from the Chile border. It is situated between Neo Lithium Corp's 3Q project to the south-west and the Antofalla salar currently being developed by Albermarle Corporation to the northeast."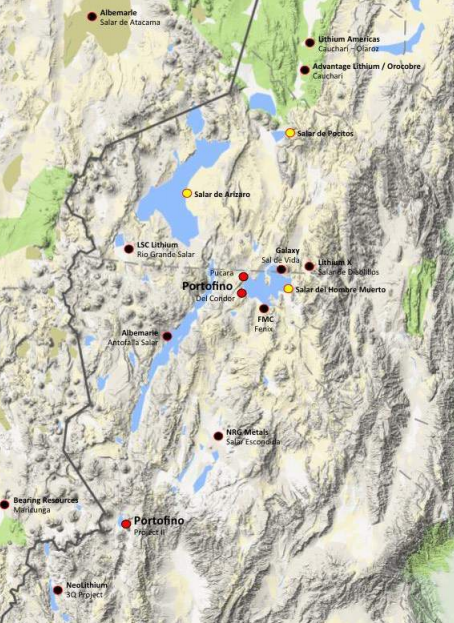 The Hombre Muerto properties are what made me take a position in Portofino. NRG Metals recently completed a NI43-101 report to determine if their property in Hombre Muerto merited drilling. A CSAMT (Controlled-source Audio-frequency Magnetotellurics) geophysical survey was performed on NRG's property, and it yielded promising results.

"At depth, the interpreted CSAMT results outline large, deep resistivity target areas that should be drilled and tested for lithium enriched brine. Given these factors, and the acknowledgement of long-term lithium brine production in the salar by FMC Lithium at their Fenix Mine and the brine mineral Resource and Reserve estimates by Galaxy Resources, M&A judges the Project as a property of merit and warrants additional investigations in order to advance to a phase of exploration drilling, testing, and sampling and a level for Preliminary Economic Assessment (PEA)."
The NRG properties are in red. Per Portofino's company map, their properties should be located somewhere in the blue box below.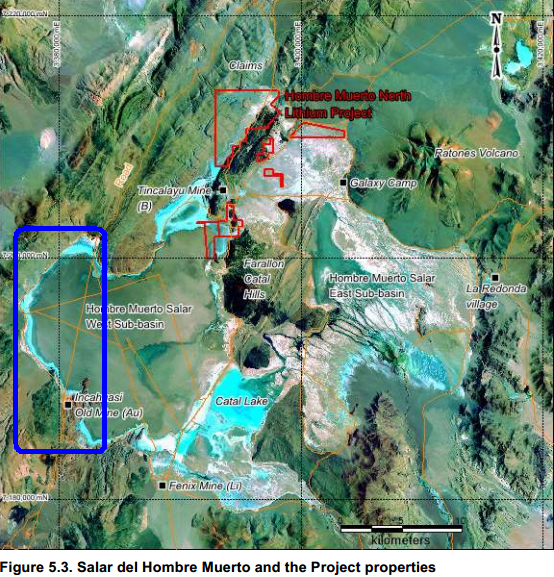 NRG's CSMAT survey was performed on the three northern most properties. These properties either lie on the edge of the salar basin, or outside of it. Knowing this, Portofino's Hombre Muerto properties also have a good chance to yield positive survey results. It is worth noting that the day after NRG published the report, they announced a strategic alliance with Chinese lithium supplier Chemphys.

Portofino's properties have existing studies that were performed by the vendors. These are surface studies, but still provide promise that these properties contain lithium. 
"Both properties are highly prospective, yet under explored. Historical exploration work completed in 2012 by the vendor included geological mapping, surface and auger sampling, and grade distribution analysis for lithium and potassium. At Project 1, results of the surface and auger sampling averaged 257 mg/L of lithium and 8,710 mg/L of potassium while Project 2 averaged 274 mg/L of lithium and 7,521 mg/L of potassium."
Obviously they have good odds, between these two locations, to find a decent resource. Also, there may be new properties in the works, as the company states in a recent news release "the Company is in advanced discussions with other lithium brine concession owners within the Catamarca, Argentine lithium triangle region."
Highest Risk / Highest Return
This company has just started down the path of lithium exploration. There are many things that may go wrong at this stage. Though their management has experience in other mining ventures, this is the first time they have tried mining lithium. They may lack the experience to move this project forward. 

The big risks with nano-cap stocks is the lack of information available, possible bankruptcy, and low liquidity. The lithium outlook is bright, but it is certainly possible that Portofino will not succeed. They they may go bankrupt, not be able to raise funds for drilling or production, or their property will fail to produce quality results.
If Portofino had a 30m market cap, I wouldn't pay them much attention. I dont think they hold enough property to be a big player. However, they look similar to AIS Resources in that they have smaller, but decent potential property. AIS had a stock price of .21c on September 20th, and has been steadily increasing. The only news to substantiate the gains is their financing offering, and that "the Company has negotiated an Option Agreement to purchase the Guayatayoc, Guayatayoc III and Laguna Vilama projects in Argentina.", which was released October 16th (this isn't really news, as the original agreement to purchase this property was about a year ago). On November 1st AIS Resources had reached a share price of 70c. 
What I am saying is that it only takes a little positive news and Portofino will advance to the 10m market cap territory. Some catalysts could be striking a deal on more land, performing a CSMAT survey, or performing a capital raise to fund drilling. If they manage to reach drilling stage and hit a good resource, we could be talking 50m or more market cap. I think people can do the math and see why this brand-spanking new lithium explorer excites me. 
Conclusion
Portofino Resources is very high risk. However, with how the market has been favoring Argentina lithium miners over the last few months, Portofino is bound to be noticed (ahem), and with a little positive news, move up quickly.
If this is too much risk to stomach, my other articles provide lower risk lithium stock picks.
UPDATE 11/10 - Portofino announced a fully subscribed private placement for C$715,000. They are now well funded to move their projects forward. I expect more good news in the near future. 
UPDATE 11/20 - Portofino just added 8500 hectares (33 sq miles) of promising property in the Rio Grande Salar, which neighbors property held by LSC Lithium. 
Disclosure: I am/we are long TSXV:POR.